I always grew up in a house with a gun in it. As I ventured into adulthood, there were times I joined the boys at the desert shooting range; but only to get the basics. I am a bit of an amateur here but guessing some others might be as well. Join my journey to my online shopping and local Big R to find other weapons to add to my one and only 22.
Here's my thoughts, some will agree and disagree; If rioters end up on my street and start breaking in houses, hurting people, and stealing things… I want to defend my home and children. One 22 might not be enough. To me, even if we have enough 'look a likes' that each older son is carrying around our yard from different angles, it might look fierce enough to discourage any vandals from my home.
We do need something efficient that will do some damage if an enemy runs up on us with a knife, bat, or fist… even a gun. All the gun stores are on back order in our state. We do have open carry and limited laws in owning guns, so that is a plus.
Related: How To Prepare Your House Against Looters
I began searching online. At first, I purchased another cheap Crossman with Co2 cartridge and a frightening looking Crossman Co2 Air Rifle.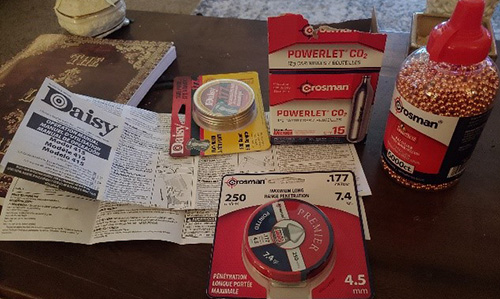 I am not bashing on Crossman, but these were failures for me.
The little pistol worked as badly as the ones before I got my boys in the past. The air of the Co2 leaks out while installing, leaving the copper pellets to fall right out the front after loading.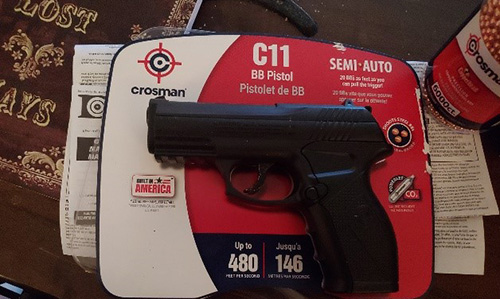 And while the Crossman Rifle Air Gun at 60$ looks frightening… you got to pump that baby up 10 times to get one shot.
If you aim right it will do damage… but in a suddenly violent situation, it just will not work fast enough. Too boot, any dangerous character will see you pumping and know it is a harmless BB gun.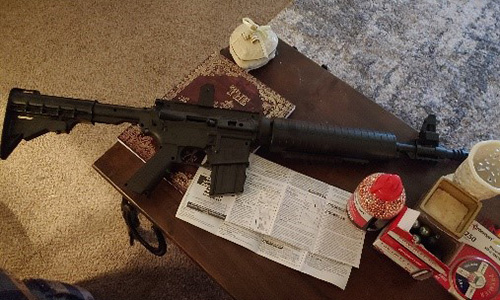 Not recommended, unless they are just for show.
I upped my game. I went to Youtube and Amazon and found many Air Rifles that actually kill bore! That would equal a gun in self defense. Sadly, after all my other prepping I couldn't afford these high powered air rifles and had to pass. If you have the money for a gun, but can't find one, I highly suggest you look these up… starting about 300$ you can find some decent ones.
Then I remembered Big R down the street. I tend to find things much cheaper there. The Ammo and Guns are all sold out. I waited for help and headed to the Air Rifle department. I wanted a pistol for me. I'm smaller and it's easier for me to handle. I love shooting them, less complicated.
I saw the Crossman and knew it wasn't for us, but next to that was a Daisy 21 Shot Powerline 415 Semi-Auto Air pistol. Hesitant it would be like the little Crossman, the clerk said they were very effective.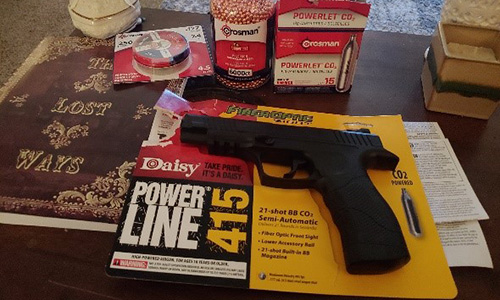 Boy, was he right. I got that little puppy home and it not only sounded like the real thing, but was sharp like a razor. The Co2 went into the pistol without a sound, I loaded the 21 copper BB's and headed out to my backyard.
I have a very thick plastic lawn chair that most bb's won't penetrate. And if anything does go through it, I know it will go through skin, perhaps lodge in a bone. Not that I really want it to kill anyone, but if SHTF, you have to do what you have to do.
It was amazing, the 415 Auto-air pistol was spot on, sounded like the real thing so much I thought someone might call the police (they never did).
I shot all my 21 rounds very quickly with decent aim. I tore that ½ of an inch hard plastic like no ones business. I had such a good time, I used up another cartridge and several hundreds of pellets before retiring.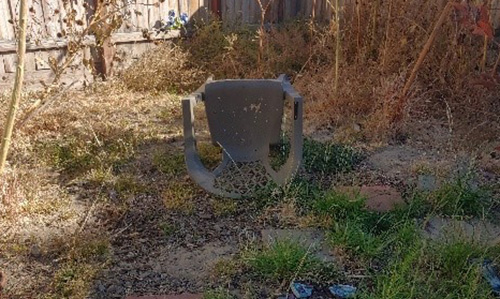 If anyone were running at myself or my boys who had this air pistol, it wouldn't just slow them down, it would cause damage. The closer the better.
I immediately went back to Big R and bought one more.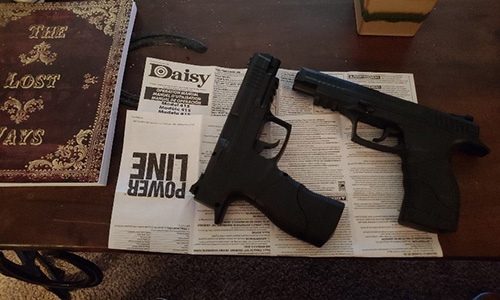 Then I saw THIS: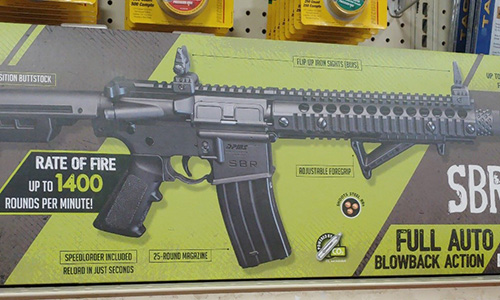 This would be the most affordable next best thing to a bore killing Air Rifle. Please click the link below for the gun over-view and interview with the Big R associate:
[responsive_youtube https://www.youtube.com/watch?v=7lhAGwZlSzQ&t=1s]
In addition to powerful Air Pistols and Rifles that use Co2 for power instead of pump, there are some other things that are helpful. When my daughter worked at a gun store in another town she gave us high powered sling shots for Christmas. Just a few practice shots and the accuracy is above par.
There are steel pellets, white marbles, regular marbles, and you can even use jagged rocks. This doesn't have the speed coming against on oncoming predator, but used with a real gun, powerful air rifles, Sumari swords (one of my son's owns)… you're family could be a force to be reckonned with.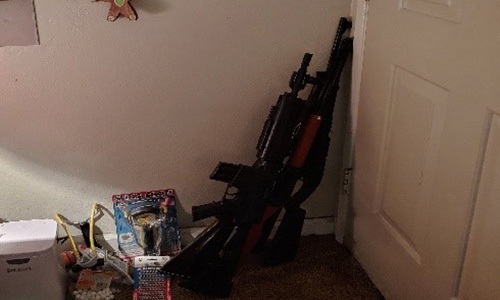 Other articles here will best address where to put your guns when the time comes. Or whether you make a show of force or not. I believe it depends on the situation. If 5 members of my family all have a rifle sling on their back and even if the bb rifles in the sling look real from a distance, while holding air pistols that effectively shoot and cause damage… it may be intimidating enough to hold off a small un-gunned mob. There are times weapons shouldn't be shown as well.
Some may be critical of this article, and there are those with more experience, however this was my journey. And after all the point is to use what you can get and what you have to protect your family if S does HTF.
You may also like: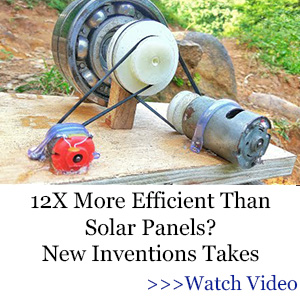 25 Things We Did as Kids That Would Get Someone Arrested Today
70 Projects You Need to Outlast Any Crisis (Video)
5 Ammo Stockpiling Mistakes You Are Probably Making Right Now
How To Make Apple Butter With 2 Years Shelf-Life
Firearms for Emergency and SHTF Situations