The pioneering lifestyle didn't really lend itself to long leisurely lengths over the stove. If you weren't married and, on the prairie, running cattle, trapping or logging, well, you would still need to eat but no one would be at home cooking for you.
The idea behind perpetual soup was that, with a well-managed fire, you could simmer broth and other ingredients in your kettle all day, maybe even for days.
The soup would be ready whenever you got time to swing by camp and you could add to it as you were paid or when you happened across some new ingredients.
Sometimes called Skilligalee, the perpetual soup was the answer they needed to help fuel their busy lives as homesteaders, ranchers, and cowboys. The pioneering lifestyle was brutal by today's standards.
This is but one of the many ingenious ideas the pioneers developed in order to forge west and discover the unbelievable treasures of this great land.
Understanding Perpetual Soup
At its very base, perpetual soup is, well, soup. Soup is an ancient food item. In fact, Monsieur Boulanger, Frances first restauranteur served what he called "Restoratives" that were basically broths. Broths are not stocks.
Stocks are soup and sauce bases that are made from bones and vegetables and herbs. These are simmered for hours and strained.
Broth demands the inclusion of meat in a slow simmer. It's usually the product of slow simmer bones and meat together. The perpetual soup or Skilligalee would include both meat and bones so its base would certainly be that of a broth.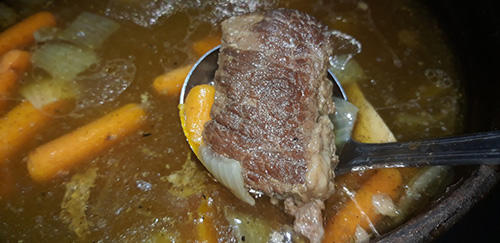 The soup would also require that you use hardy vegetables in the soup, as well. This mixture would simmer for days at a time and would be added to along the way. Something like the stone story you read as a child.
The Skills to Make Perpetual Soup
One skill would be of the utmost importance when it came to making perpetual soup. That would be managing your fire or controlling heat.
Controlling Heat
The most important part of making perpetual soup is consistent and low heat. This means you must understand your fire or cooking your skilligalee in a Dutch oven at home.
We started our perpetual soup on the stovetop to get it simmering and we cut heat even further overnight.
Controlling the heat round the clock would be very tough. Therefore, we chose to use cast iron. It holds heat longer. We also kept the soup covered. This was very important once the soup moved outside.
Using the Right Ingredients
There are many more "right" ingredients for perpetual soup than there are wrong ones. You are cooking this soup for days and that means that you need ingredients that are going to hold up to the heat for days on end.
Hearty root vegetables are going to do the best. These are things like onions, potatoes, turnips, rutabagas, garlic, carrots, and parsnips.
Some ingredients that would be very bad choices would be things like rice and pasta. These two ingredients constantly absorb water and they will become mush after a few hours of cooking. So, stay away from these.
Related: Bean and Rice Survival Soup – Easy and Adaptable Recipe
Make Your Own
If we are going to make perpetual soup than we need to do it properly. That is over an open fire. We need this soup to cook over coals for a couple of days. We can add to the fire and add to the pot and the soup will get better and better as time goes on.
Tools
Cast Iron Dutch Oven
Ladle
Ingredients
Cheap Cut of Beef
Beef Soup Bones
Onions
Carrots
Garlic
How to Make Perpetual Soup
#1. I used about 2lbs of boneless beef ribs mostly because they were on sale and cheap. No matter what cut of beef you put into the pot it's going to be tender after 2 days of cooking.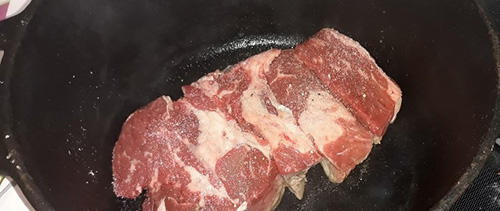 Sear your meat in the Dutch oven until you get some good brown color on the sides. Then add your soup bones to the pot before covering it all with cold water.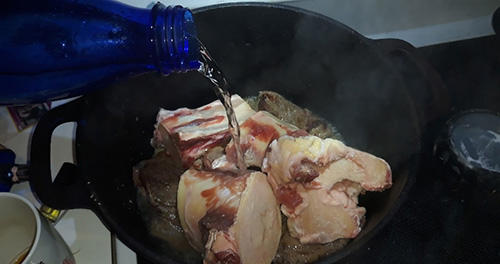 Cold water is key to drawing the flavor from bones. When making traditional stock you want to start with cold water and bring it up to a simmer very slowly.
#2. We let the soup cook for 24 hours at a low simmer. I used my metal ladle to remove the foam and excess oil from collecting on the top of the soup. Dip the ladle just below the surface of the water and allow the fat and scum that is floating on the top to fall into the ladle. This is going to make a much better soup.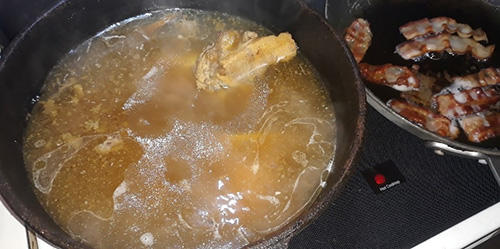 Then we added a dried cayenne chili and a couple dried shitakes from our logs.
#3. We added our vegetables to the mix the next day and allowed that to simmer for another 12 hours. This was one of the most hands-off parts of making the soup. I did not ladle the scum or anything to see how it would look after 12 hours of cooking.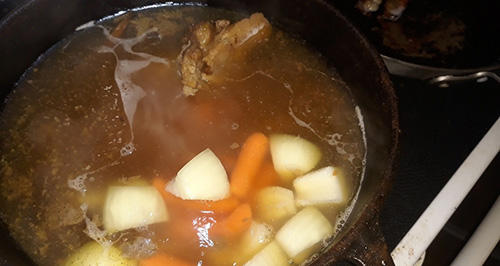 It was our way of simulating how the soup would cook while people might be away from camp.
#4. Then we finished the soup outside over the fire to keep it a bit authentic. The beef was incredibly tender, and the vegetables were a little overcooked, as you can imagine. Some of the vegetables began to breakdown into the broth and the soup got murky from this.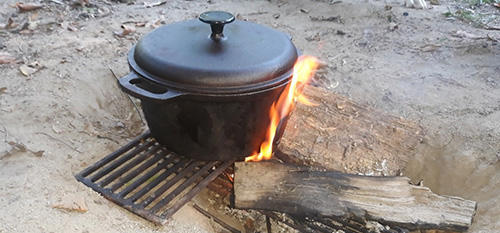 #5. The soup was ladled into bowls and served with some hard crusty bread.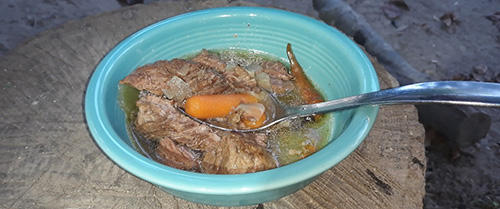 In our modern age, we have men who are very insecure. They think that by forgoing skills like cooking they are somehow becoming more of a MAN.
This shortsighted view of what a man is leaves out the fact that cowboys and pioneers who were not yet married or on the range, did all their own cooking.
They couldn't swing by Hooters for dinner. These men, who were savage forces of nature, cooked, cleaned and did their own laundry. Can you imagine trying to check one of these 19th-century frontiersmen on their "manhood" for cooking?
This perpetual stew is an example of how ingenuity was used to feed those who were hungry but too busy to sit around the fire and stir or flip a meal.
You may also like: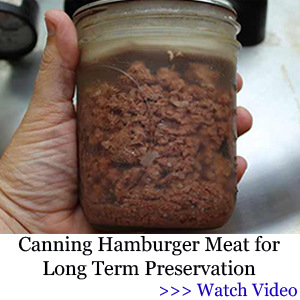 What Foods Can You Bury Underground For Winter?
Cheap and Easy to Build Root Cellar in Your Own Back Yard (Video)
5 Survival Foods Made By Soldiers During WW2 On The Normandy Front
Pemmican vs. Spam. Which is the best food for survival?