Editor's note: Back in August we posted an article on how a veteran would prepare their home for a SHTF scenario. It would be fair to say this article generated some comments, and they weren't all agreeing with what it said. Quite a few people pointed out that preparing a house for defense, military-style, is pretty obvious. If you're screening your windows with chicken wire, putting barbed wire obstacles in the yard and digging foxholes in an outer defense ring, everyone's going to know you're prepared to fight to keep intruders out of your home.
Of course, some people are going to wonder what you have in your home that you're so determined to protect. If you're bugging in, the answer is pretty much everything – your gear, your food supplies, your water source and your home itself. That's a tempting target for looters or desperate refugees; is fortifying your house, and showing the world you're ready to fight for it, actually going to put you in more danger?
That's a question that probably doesn't have an easy answer. At the point where your home is attacked, you're more likely to successfully defend it if it's been prepared like the article describes. Soldiers know how to defend a house; it's part of their training, and the techniques they use work. But in some circumstances those techniques could draw attention and make an attack more likely.
If you live way out in the middle of nowhere the odds are you can turn your house into a fortress and nobody will know. Any gang of raiders that does stumble on it is in for a nasty surprise. But what if you're in a more populated area? Giving your house the Stalingrad look will probably both annoy your neighbors and draw the gaze of people you'd rather not attract. So can you still prepare your home for a crisis without too many visible changes?
The good news is that yes, you can. In this article we'll look at a few things you can do to prepare for a secure bug-in without breaking out the chicken wire. I'm not going to make any promises on sandbags, though.
Securing The Area
You can't keep your home secure unless you can control the area around it. If bad guys can get right up to your walls, you're likely finished. The trick is controlling the area without being obvious about it.
The first thing you need to do is work out the dead ground around your house – anywhere you can't see from at least one of your windows. Those are locations where attackers can form up for an assault, so they need to be defended. Letting them get overgrown with brambles is a good way to do it; you can also put in a low wire entanglement – short stakes with barbed wire strung between them – and let the grass grow to conceal it. These are discreet, passive measures that will deny the dead ground to attackers.
Noisemakers, whether it's a tripwire that fires a 12-gauge blank, a flock of geese or just some old cans strung on a wire, will let you know intruders are around and might even deter them. They're also not that unusual, and shouldn't draw too much attention (until someone sets them off, of course).
Self-protection
Of course, you're not going to be able to keep the bad guys far enough away that they won't be able to shoot at your house. A few people made great points about modern building methods after the last article; the way most houses in the USA are built these days, they're not even going to stop a .22 or a handgun round. If someone opens up with a rifle, chances are the bullets won't even notice your walls as they zip through.
If there's any chance of your house becoming a target, you need to have protected areas inside it. That's going to include the windows you use as firing positions, and possibly a redoubt for noncombatant family members to shelter in. Sandbags are the best material for this, but heavy furniture or stacks of books will also give some protection.
Firefighting
Screening your windows with chicken wire will reduce the risk of someone burning your house down with a Molotov, but it's pretty obvious. If you want to keep things discreet you're going to have to accept a higher risk of fires, and that means being ready to put them out before they get established. Keep fire blankets in every room. Buckets of sand are also good – but never use water to put out a Molotov. It'll just help the burning gasoline spread.
Outlasting A Siege
Something else that was mentioned in the comments on the last article was what tends to happen in a siege. Historically, most sieges did end with the fortress surrendering or being successfully stormed – but that doesn't really apply here. Anyone attacking you after the SHTF is after your supplies, and maybe your home itself. It's not like your house is a strategic location that has to be captured to win a war; if you make it a tough enough target, looters will eventually move on and look for easier pickings.
There are two keys to lasting out a siege. One is to be well enough defended that the price of an assault is too high for the potential reward. If a gang of thieves can see that an attack will leave a significant number of them dead and wounded, waiting you out becomes their only viable option. How long will they wait for? Probably not long. If you don't come out with your hands up in a couple of days they're most likely going to go looking for a softer target.
So the second key is being able to hold out for that vital couple of days. When you add up your supplies, what counts here is what you have inside your inner defense perimeter – which, most likely, is the walls of your house. That's the reserve you'll rely on to wait out besieging raiders. It doesn't matter if you have a well in the yard that can provide unlimited clean water; if you can't reach that well without getting shot at, you're stuck with whatever water you have stored inside the house. Even if you have a safe water supply close to home you should keep enough for at least a week in the house; that should be more than enough to last through any likely siege.
Water is the main priority; it's unlikely any attackers will stay around long enough for you to actually starve. However they're likely to steal any supplies they can get their hands on, so as much as possible of your other resources – especially food and medicines – should be inside that inner perimeter too.
Related: Shocking Foods That People Ate During the Leningrad Siege
Home Sweet Home
Finally, don't forget one of the most important things about using your home as a bug-in location; you have to live in it. How comfortable will it be without electricity, running water and all the other luxuries that will vanish when the SHTF? Can you light and heat it without electricity? Will you be able to have a bath or shower? If you believe in self-sufficiency the answer to these questions should be yes, but does that still apply if you're confined to the house itself for days or weeks? To successfully bug in, it needs to.
Preparing your home for a bug-in doesn't have to be obvious, and apart from a few things like building reinforced firing points it doesn't have to get in the way of everyday life either. Just a few simple steps will help keep bugging in open as an option, by making it a lot less likely you'll be forced to leave. And, if you have to, you can get it pretty well prepared without your neighbors noticing.
You may also like: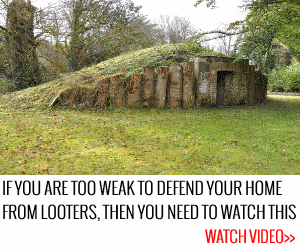 Spider Hole Tactics to Defend Against Looters
World's Smallest Battery Powers House For 2 Days (Video)
How To Set Up Your BlackOut Kit
What Do You Do When Someone Asks For Food in a Crisis?