Arguments about the best carry pistol will probably never end, but if there is a right answer it's "The one you have when you need it." You're much more likely to be carrying if your chosen handgun is one that you like and are comfortable with, and that makes it a matter of what you personally prefer. It's easy to "prove", with figures about muzzle energy and ammunition capacity, that a custom 1911 loaded with .45 +P rounds is a better defensive weapon than a Walther P22, but a .22 plinking pistol in your hand is a lot more useful than a 1911 that's locked in a cabinet at home because you got fed up with its weight and bulk. The best carry gun for you is the one you like. And many people like revolvers.
There are good arguments in favor of semi-automatics as carry guns. They tend to be cheaper than revolvers, in general. Almost all of them hold more ammunition, and they're faster to reload. A big plus is that they're flatter, making them easier to conceal – a revolver's cylinder can produce an obvious bulge in clothing.
Revolvers have their strong points too, though. They're more reliable, for one thing. That gap has narrowed, as a good modern semi-automatic is very dependable, but revolvers still have an edge. Even the best semi-auto can be stopped in its tracks by a misfire, forcing you into a stoppage drill – and, even for a trained soldier who's used to doing it in the stress of combat, that eats up potentially vital seconds. If a revolver has a misfire all you need to do is pull the trigger again, bringing a fresh round under the hammer.
It's true that semi-automatics hold more rounds, but a revolver can pack more of a punch in a smaller platform. Sure, there are semis chambered in Magnum loads, but they tend to be massive. A .44 Magnum Desert Eagle is nearly eleven inches long and weighs over four pounds; a Smith & Wesson Model 69 in the same caliber is three inches shorter and half the weight. If you're looking for a .44 Magnum you can carry every day, which makes more sense?
If you don't shoot much, and just want a carry gun for self-defense, revolvers have one final huge advantage: They're as simple as it gets. Just draw the weapon, point it at the target and pull the trigger. There are no decockers, slide release catches or even (usually) safeties to worry about. As long as you keep your finger off the trigger when you don't plan to fire, however, modern revolvers are still very safe to carry. Finally, because there's no magazine spring to lose strength under constant compression, you can keep it loaded for as long as you want without increasing the risk of a stoppage.
Related: When Is It Okay to Open Fire on Intruders?
The minimum recommended caliber for a pocket revolver is .38 Special, and if you go for this round it's best to get a gun that can handle higher-pressure +P loads – they're significantly more effective. A .357 Magnum will also fire any .38 Special load, making it very flexible and probably the best choice for a pocket revolver. You should look for a double action design, so you can fire by simply pulling the trigger, and a spurless hammer or "hammerless" design (where the hammer is concealed in a built-up frame) reduces the risk of the gun snagging in your pocket. Low-profile sights and the ability to reload with speedloaders or half-moon clips are also nice features to have.
Anyway, that's enough talk; here's our choice of six of the best pocket revolvers.
Ruger LCR Model 5450 (.357 Magnum) 
Ruger's LCR is one of the most modern revolvers out there. A five-shot shrouded-hammer design, it combines a stainless-steel frame and cylinder with a polymer trigger group, so it weighs in at just 17 ounces. A 1.87-inch barrel keeps overall length down to six and a half inches. Ultra-low profile sights and the smallest-diameter .357 cylinder on the market improve concealability and help eliminate snags.
The LCR was designed to accept Crimson Trace Lasergrips right out of the box, and that adds up to a fantastic self-defense package – this gun has plenty of power, and the laser lets you put it on target every time. It's also amazingly controllable, even with full-power Magnum loads.
There are six available calibers, starting with .22LR and taking in .22WMR, .38 Special +P, 9mm and .327 Federal Magnum, but the .357 is the sensible choice. It makes the biggest hole, and you can also fire .38 through it.
Smith & Wesson Airweight Centennial Model 642 (.38 Special)
A S&W J-Frame, with a stainless two-inch barrel, shrouded hammer and lightweight aluminum frame, the 642 is rated for continuous +P use. It holds five rounds in a compact stainless-steel cylinder and comes with ergonomic rubber grips as standard. It's just 6.3 inches long and weighs under fifteen ounces.
If .357 is a bit of a handful for you, the Model 642 is a great choice. It's small and light, with low-profile integral sights to help avoid snags, and very controllable to fire. The 642 and its non-stainless relative, the 442, are the most popular J-Frames, and there's a reason for that.
It's also available with a key-operated trigger lock. This isn't something you want to use on a carry gun, but if you have kids at home it might be worth looking at.
Smith & Wesson M&P 340 (.357 Magnum)
If you like the compactness and light weight of the 642, but aren't so keen on the caliber, the Military & Police 340 is basically the same gun but chambered for .357 Magnum. It's the same size, has the same five-round capacity and the same snag-free profile.
There is one big difference – the weight. Unloaded, the M&P tips the scales at just under 14 ounces. It manages this by having a frame cast from super-light scandium alloy, supporting a stainless barrel and cylinder.
One side-effect of the extreme low weight is ferocious recoil, but in return you get a pocket powerhouse that weighs as close to nothing as a full-bore handgun ever will. Its only real limitation is that you can't use bullets under 120 grains – S&W say they leave the case too quickly, and burning powder can erode the frame.
Related: 23 Motives to Prep Even If Doomsday Never Arrives
Rossi R46202 (.357 Magnum)
Rossi's R46202 is a bit chunkier than the guns we've looked at so far – it weighs 26 ounces – but it's still only 6.5 inches long with a two-inch barrel. It's also not quite as snagless, thanks to its exposed hammer. On the other hand, if you're looking for a full-bore revolver on a budget this is a good option – the recommended retail price is just $359.
Made in Brazil in the same factory as sister company Taurus, the polished stainless R46202 is a lot of gun for the money. It comes with nice rubber grips, and the integral sights are low-profile but effective. As a bonus, it has a full six-round capacity and a traditional double action lock.
Colt Cobra (.38 Special)
Another six-shot gun with a conventional hammer and traditional double action, Colt's Cobra weighs 25 ounces and is 7.2 inches long over all with a two-inch barrel. That makes it slightly larger than any of the others we've looked at, but the upside is that it allows a more controllable grip configuration. Combined with its weight that makes it remarkably accurate for a snubby revolver, and it has decent low-profile sights to make the most of that – the rear-sight is the usual notch in the frame, while the front blade has high-visibility fiber-optic inserts. It's rated for continuous +P use, too.
Related: Nuclear Protection Supplies You Need To Have Ready
Charter Arms Bulldog (.44 Special)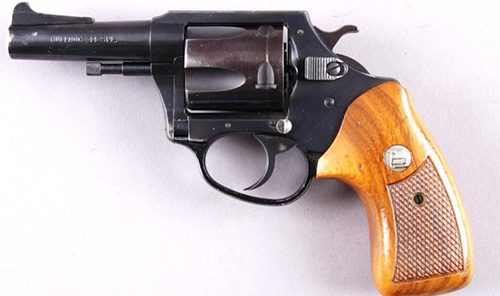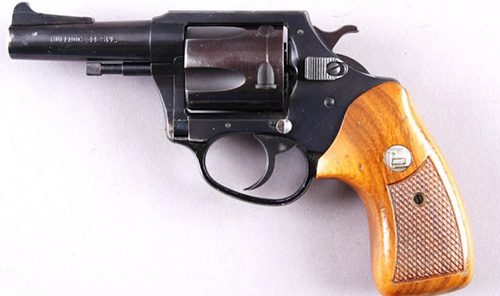 If you want a bigger bullet without growing your gun too much, the famous Charter Arms Bulldog is for you. With a 2.5 inch barrel it's actually lighter than either the Colt or Rossi, at 21 ounces and 7.2 inches long, but packs in five rounds of .44 Special. This caliber doesn't have the brutal recoil of .44 Magnum, but a good self-defense load (try a fast 200-grain bullet) delivers a fair amount of thump to the target and leaves a satisfyingly large hole in it.
The Bulldog has been around for a while, but it's still one of the most concealable large-bore pistols. The frame has no sharp edges to snag, and the traditional double action mechanism has a good trigger pull in either mode.
If you want something even more concealable, Charter's new Boomer is a Bulldog-based snubby with a two-inch ported barrel, spurless hammer and no front sight.
You may also like: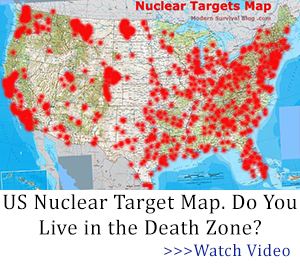 How to Conceal Weapons in Your Vehicles
How to Make Your House Invisible to Looters (video)
The 6 Golden Rules of Surviving Martial Law
Potassium Permanganate: Why You Need It in Your Survival Kit