Editor's Note: This article was gladly contributed by one of our beloved readers, Larry. He is a Vietnam veteran, retired law enforcement, CPP (highest recognized level of security professional); was Director of Security for a Fortune 500 company; and served with several federal agencies (FEMA, FPS, ICE, CBP). Larry was involved in several shooting situations, from war to law enforcement to international terrorism. He is currently retired.
Having read a lot of opinions about firearms and having some experience with many types of situations, I'd like to ask you all to read the following and determine for yourselves which firearm best fits your situation. I do not hold myself out as an expert but only offer my own opinion on firearms for emergency and SHTF situations.
The best firearm is the one you have with you when you need one. It's cliché but true. Training and practice before you need to use deadly force will account for a portion of what you'll need in a life-or-death situation.
You will also need the will to defend yourself or loved one to shoot or kill another human being. Keep in mind that the mental anguish after a shooting can be compounded by legal proceedings, which can cost a lot to defend yourself even if it's 100% justified.
Each state has different firearm laws and regulations, so choosing a firearm for your own use and your own foreseeable need should take priority over whatever optimum firearm any "expert" recommends.
Personally, I shy away from weapons that appear to be military or "tactical" even though I can see a need if there is a complete breakdown in society and a black plastic weapon is needed. Appearing to be a military fanatic does you no good in court. If I need one, I'll pick one up from someone unable to use it.
There is no replacement for common sense and good judgement in an emergency. Your brain is your most formidable weapon, so learn to use it in both a defensive and offensive mind-set to survive and thrive.
Mental conditioning is the key to keeping you focused and in control. Avoiding panic and reacting almost automatically with good judgement and common sense to gunfire, explosions, gas attacks, fire, etc., are a result of good training and the optimum reactions to any emergency. If you have ever been in a car wreck or other emergency situation and everything appeared to be in slow motion, prepare your mind to experience that again.
Every situation will be different, but don't expect a zombie apocalypse like in a video game. If it comes to large groups becoming a threat, they will learn to use military-type tactics to attack.
According to FBI statistics, most shootings involve between two and three shots to effectively end a self-defense situation, so most handguns or shotguns would be appropriate with proper ammunition. In a more intense SHTF situation, with lawlessness, roving gangs, or riot conditions, two or three shots may just be the beginning of the fight.
Now let's address some common handgun misconceptions: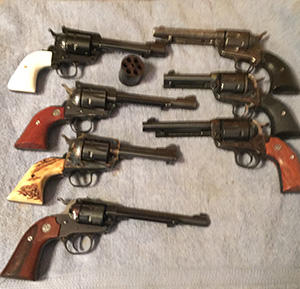 #1. While not my first choice for every emergency, a single-action firearm is better than nothing. There are some true experts with single actions that are both quick and accurate. They are chambered in many useable calibers, from the lowly 22 rim fire up to the most powerful calibers, including some rifle calibers. If this is the only handgun available to you, learn to use it, and it will serve you quite well for many years.
Many old-style revolvers are not safe with all cylinders loaded, so these should be loaded with an empty chamber under the hammer.
Newer firearms have a transfer bar that is only put into position to fire when the trigger is pulled, and it is safe to load all chambers. They are slower to reload than double-action and semi-auto pistols. Older models may need some TLC as springs are subject to wear and tear and may even break.
Newer models, like Ruger makes, are very strong and, if kept clean, will serve several generations without fail. Some are available with two cylinders for optimal ammunition use. Easily changeable cylinders like 357 mag to 9mm, 45 ACP to 45 Colt, or 44 Special to 44-40 offer a wide field of ammunition to choose from.
They can be both powerful and reliable if kept clean and serviceable. If you have an older weapon that you aren't sure about firing, have a competent gunsmith check it out. Many single actions are used for hunting and can take large game. Check with your state laws.
Related: What To Do When Gun Control Gets Really Bad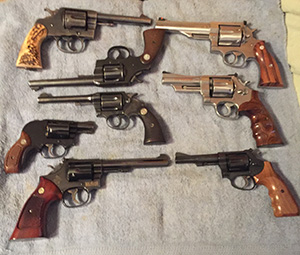 #2. Double-action revolvers are also chambered in many calibers. They have served in both military and police roles for over a century. They offer reliability, and one trigger pull results in two actions (cock the hammer and fire).
They are easier to reload than single actions, especially with speed loaders. With a little practice, they can be reloaded in the dark simply by feel. Revolvers are also both powerful and reliable if kept clean and serviceable.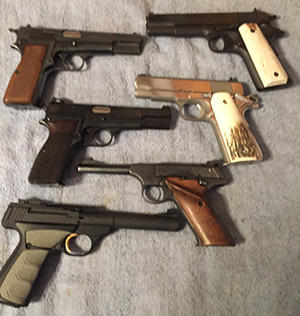 #3. Semi-autos are quite popular. Some from quality gunmakers are quite reliable; others, like some cheap imported copies, are not quite so good. Normally, they are slower to get back into action if a malfunction occurs.
Practice with your firearm makes all the difference in learning to clear a jam and return the firearm to full function. Most "malfunctions" are not the gun's fault but the user, who forgets to chamber a round or fails to effectively disengage a safety.
Related: DIY Gun Solvent
#4. A muzzle flash is a product of powder still burning as it leaves the muzzle of the firearm. In the dark, this destroy the eyes' ability to quickly recover, but it does light up a potential target for an instant. Soldiers and police have been taught to shoot in the dark with this technique. It does have a drawback, however, in that it gives the shooter's position away.
#5. The type and style of a firearm are important to know so that the user understands how to use it and feels comfortable using that make and model. The bottom line in any shooting is bullet placement (accuracy) and bullet performance.
I'd suggest buying cheaper ammunition so that there are more opportunities to practice with it and then more expensive "personal defense" ammunition to take into consideration bullet performance.
#6. Overpenetration (rounds going through multiple walls) with the unintended consequence of hurting someone in the next room or apartment or outside should always be a consideration. Intimate knowledge of the ammunition you are using is key to keeping innocent bystanders safe.
You may also like: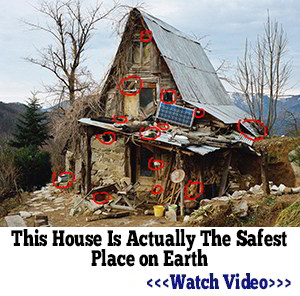 Awesome Places to Hide Your Guns
This Bug Will Kill Most Americans During The Next Crisis (Video)
How To Clear Your House When You Wake Up And You Think There Is An Intruder
Emergency Care For Gunshot Wounds
Some Thoughts on Defensive Rifles for Preppers that are New to Firearms