In prepping, "How much?" is always a good question. Often times the answer is a bit ambiguous and it boils down to two key factors; how much can you spend, and how much room do you have for storage. Obviously, most of us have constraints in both those areas, or the question would never come up in the first place!
Ammo, although certainly not the most important preparedness commodity, is definitely on the list and worthy of consideration. The simple answer to the question of how much ammo should you stock is "As much as you can!" But, sadly, we have to consider the financial and the special aspects of that and balance these with our other preps and the fact that it's kind of nice to have a normal(ish) life in these pre-collapse days.
My first important point is that your weapons and ammo supply are not your priorities until you have something to defend.
If the primary focus of your preparedness is guns and ammo, you are not going to be a survivor, you are going to be a looter or a Brigand, These are not noble goals, so it is important to have the attitude that the primary role of your weapons, pre or post collapse, is in hunting and defense. Defense using deadly force is an extreme measure, not to be taken lightly at any time, taking human life should always be a very last resort. That having been said, it is not out of the question, and sadly the odds that you will be put in that situation increase dramatically in chaotic times. So, being prepared for the possibility is prudent.
Beware: Ex Military Soldier's Survival Plan Is "To Hit Preppers"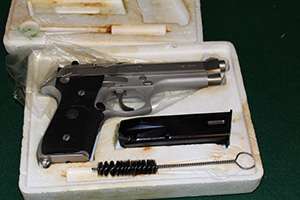 In both the hunting and the defense categories, it is best to have as much caliber compatibility as possible between weapons, thereby minimizing the number of different calibers of ammunition you will have to stock. It is perfectly acceptable to have guns around that are there for no other reason than that you like them, but it is important to have a set of core calibers that you are going to stock quantities of ammo for. Therefore, all the primary defensive handguns in a group should be of a common caliber and preferably use the same magazines, and likewise for primary defensive rifles and shot guns. In my home, we have settled on 9mm handguns (Taurus PT 92s), 7.62 x 39 (AKs) rifles, and the 12 gauge shotgun (Mossbergs and Mavericks).
Hunting
Let's take a look at hunting ammunition first. For hunting, the best thought is to have 2 calibers and one gauge.
Beginning with the gauge, you should pick your favorite shotgun for small game and fowl. I personally prefer the 12 gauge. I like the power and range it provides, the wide variety of loads, the availability of ammo, and the cost of ammo. I purchase field loads by the hundred for a bit over 20 bucks, at this cost it is relatively inexpensive to have 500 to a thousand rounds on hand which is a good number to start at. 1000 rounds of 12 ga. is a lot of rabbits, squirrels and quail on the table. In addition to field loads, you should stock some heavier shells as well, for waterfowl, turkey, and the like. For this I favor magnum turkey loads with number four shot (this is also one of my favorite rounds for the shotgun I keep loaded and handy at all times, for defense against intruders as well as late night visits from 4 legged raiders), and it is a good idea to keep a minimum of 200-300 rounds of this ammo available. You can do the same with a 20 ga. for a similar cost if you prefer the lighter recoil or if you have smaller shooters.
The .22 Long Rifle
The next work horse in your hunting arsenal is the .22 Long Rifle. This is an all around great small game caliber, and even has some utility as a defensive weapon in a pinch. >22 isn't as cheap or as easy to find as it was just a few short years ago, but you can still find 500 round bricks available for 50 bucks or so if you keep your eyes open. Grab a brick or two when you see them and have a little spare cash, or build your stock slowly with 50 round boxes. You should be able to get several thousand rounds together in a short time, at a cost which doesn't crash the budget. .22 has the added advantage of being incredibly compact; you can store a whole lot in a small space. I recommend having both long guns and handguns in .22 Long Rifle, and getting together as much ammo for them as you can, make 4000 rounds your minimum goal.
Related: Homemade .22 Cal Steampunk Gatling Gun
Big Game Rifle
The final hunting caliber is your large game rifle. In my area, our biggest critter is the white Tail Deer. My preference has always been the 30-30, but that's a personal choice. Another round I have adopted recently is the .45 Colt, I have a lever gun and a revolver chambered in this caliber. At short range it is more than capable of dumping a deer, and I have the added bonus of being able to use the common ammo in both the rifle and a defensive handgun (this can be done with other calibers as well, such as the .357 and .44 magnums). Just be certain that the rifle you choose has enough power to take down cleanly the largest game you are likely to encounter in your area. For your big game rifle, target 300-400 rounds stocked, which is plenty for many years of hunting.
Defensive Weapons
Defensive weapons should have a much larger supply of ammo.
Reason being is that you can burn a lot more powder in a 10 minute fire fight than you can in 10 years of hunting.
Ideally, this stock of ammo will do nothing but sit there, forever, and only be used for practice. But, you don't want to get caught up short if the need arises, running out at a bad time can get you real dead real fast.
For defense, I also recommend a three pronged approach. Each member of your group should have a primary defensive rifle, a defensive hand gun, and a tactical shotgun.
Related: Some Thoughts on Defensive Rifles for Preppers that are New to Firearms
For the shotgun I again prefer the 12 gauge. Stock at least 500 rounds of a mix of defensive rounds, 00 buck, slugs, and any other defensive rounds you like. I go heavy on the magnum turkey loads, they are good at close quarters and can be used in hunting as well, and they are less expensive than many Tactical loads.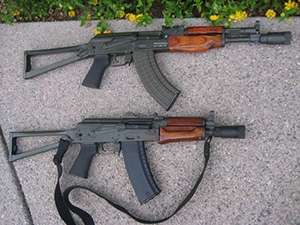 For your primary handgun, you should keep on hand at least 1000 rounds of defensive loads, Your best bets are 9mm, .45 ACP, or .40 SW. these are very common, which increases the likelihood that you might be able to get more ammo post collapse. Have plenty of spare magazines as well.
For your primary rifle, 2000 rounds is a bare minimum. You burn ammo fast firing from a semi automatic rifle with a 30 round magazine. Be aware of that fact. If you find yourself in a position to be firing in self defense you are going to burn some ammo! Here again, lots of magazines! There is no such thing as an "extra Magazine" in a life and death situation. For rifles, your best bets are the AK 47 in 7.62 x 39, or the AR in 5.56. these are good bets because they are very common, and the ammo is readily available and reasonably affordable. If you can find soft point and hollow point rounds it is a good idea to include then in your stock pile.
Related: Concealed Carry – Why Do You Need One
So, in Summary:
Hunting ammo should include (a minimum) of 1000 rounds of assorted hunting loads for your shotgun, 400 rounds for your big game rifle, and 4000 rounds of .22 Long Rifle.
Defensive ammo should include (a minimum) of 500 rounds of defensive ammo for your tactical shotgun, 1000 rounds for your handgun, and 2000 rounds for your rifle. For the rifle and pistol also have a good supply of magazines.
Once again, these stocks are targets for a minimum supply. There is no such thing as too much ammo! You don't have to run out and get it all at once, do it as you can budget it and keep an eye out for sales! Even if you haven't reached minimum goals, don't despair! Any ammo is better than no ammo so start putting your supplies together at a comfortable pace that doesn't exclude other preparedness measures.
You may also like:
Sniper Basics For The SHTF Survivalist
How to Slash your Electricity Bills by 80% or More (Video)
How to Build Your Own Ghost Gun
Emergency Care For Gunshot Wounds
Scare Them Off Or Shoot Them Dead?