Editor's note: This article was written by one of our most respected readers and opinion leader, Left Coast Chuck.
Event: On October 10, 2018, at approximately 0114, a red 2006 Chevrolet Colorado pickup truck crashed while failing to navigate a curve in the road. Two witnesses who were in bed heard the crash and called 911 to inform authorities that there had been what was presumed to be a motor vehicle crash.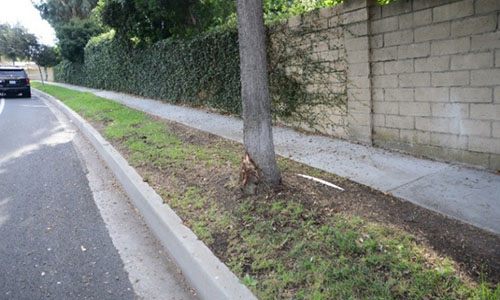 Responding sheriff's deputies arrived shortly after the collision. The first deputy exited his vehicle and saw a man who appeared to be the driver of the crashed vehicle as he was next to the vehicle.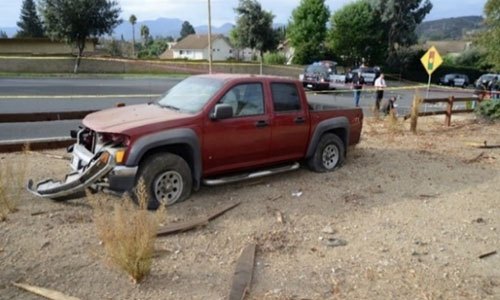 He observed that the man had a knife in his hand and was cutting himself on his arms. The deputy retreated back to his police unit, drew his service sidearm, notified dispatch that he was on scene and that he had drawn his weapon. He ordered the man to drop the knife. The man failed to do so. The deputy went to the trunk of vehicle and got out the less-than-lethal shotgun and loaded it with four rounds of beanbag.
By this time two other deputies, one of which was a senior sergeant with the sheriff's department arrived on scene and also drew their sidearms and ordered the agitated man to drop his knife. He started to advance toward them with the knife held head high as if to attack.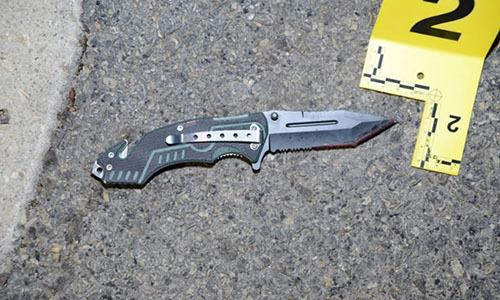 The sergeant ordered the deputy who arrived with him and had also retrieved a less-than-lethal shotgun from his trunk and had loaded it to fire a beanbag at the man. The deputy did, striking the man in the torso, the man kept advancing. The deputy then fired three more rounds from the shotgun, all striking the man in the legs with no apparent effect. The other deputy also fired a beanbag round striking the man in the legs to no effect.
By this time the man was less than 20 feet from the closest deputy and closing. It was at this point that the two closest deputies felt endangered and fired at the man with their service handguns.
The man fell to the ground. The deputies advanced, disarmed him, turned him face down and handcuffed him and summoned the two EMTs who had arrived on the scene and witnessed some of the events leading up to the shooting and the shooting itself.
The EMTs administered medical attention but failed to resuscitate the man and he was declared dead at the scene.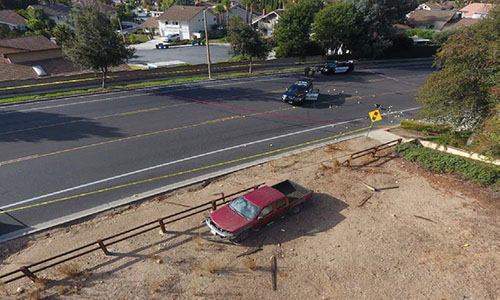 Michael Johnson, the decedent, (DOB: 09/13/92) was a white male, 5 feet 10 inches, weighing 165 pounds. He lived in Thousand Oaks, had never been married, and had no children. The 2006 red Chevrolet Colorado pickup truck was registered to Michael. He was an active student at Moorpark Community College.
On October 9, 2018, the night of the shooting. Johnson was scheduled to attend a class entitled "Procedures Justice System" between 7:00 p.m. and 10:00 p.m. However, he went to the Crown and Anchor Pub instead of attending class that night.
Johnson was employed as a police cadet for the Moorpark College Police Department and was not scheduled to work on October 9, 2018. He was interested in a career in law enforcement and had filled out a few applications for employment with local police agencies. He had no past arrests or convictions and he had no history of mental health issues. A search of his room found several empty alcoholic beverage bottles. A backpack found in his truck contained two unopened bottles of beer along with school paperwork.
Related: What the Government Can or Can't Do Under Martial Law
Video surveillance from the Crown and Anchor Pub showed that Johnson arrived at the bar at 7:08 p.m. He left the bar on October 10, 2018, at 1:10 a.m. The bar is located approximately .46 miles from where Johnson crashed his truck on East Hillcrest Drive.
From the time Sergeant King and Deputy Czyrklis started moving away from Sergeant King's vehicle to the time the last shot was fired was 19 seconds. A total of 13 shots could be heard during the incident, however, based on the physical evidence, a total of 15 rounds were fired. It is believed a few of the rounds were fired simultaneously from Sergeant King's and Deputy Czyrklis' pistols, causing the shots to sound as one. After approximately 15 rounds were fired, Johnson fell to the ground.
Six bullet fragments and 15 casings were collected at the scene. Eight of the bullets fired penetrated Johnson. The front of the belt had an indentation from a possible projectile strike. Johnson had minor abrasions to the front of his forehead and the left side of his head.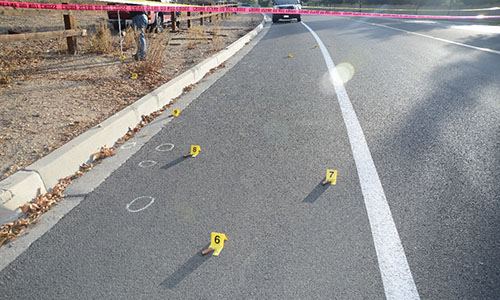 He had more than 15 minor lacerations to his left forearm. He had more than 20 minor and deep lacerations to his right forearm. The lacerations to his forearms appeared to be self-inflicted. Johnson had multiple abrasions to his lower torso, upper torso, and legs which appeared to be caused by the impacts of the less-lethal projectiles.
He had 10 bullet wounds to his upper torso and arms. Based on the locations of the bullet wounds, it appeared he was struck with eight bullets, as two wounds were from bullet re-entries. Three bullets were recovered from his left chest area, right lateral torso, and right pelvic floor. No other bullets were found. Johnson suffered gunshot wounds to the aorta, the vena cava, the liver, and the stomach.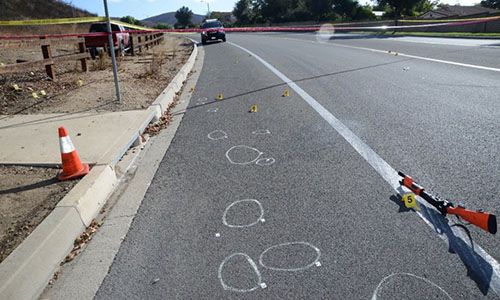 Dr. Young determined the cause of death was multiple gunshot wounds to the chest. A toxicology examination later determined Johnson had a blood alcohol concentration (BAC) of .27 percent at the time of his death. A toxicology screen of Johnson's blood tested negative for controlled substances.
The handguns used were a .45 caliber Sig Sauer and a .40 S&W Sig Sauer. As a side note, I assume that hollow point +P rounds were used by the sheriff's deputies.
Some might be inclined to criticize the shooting performance of the deputies involved. That criticism is ill-founded and is almost always based on a lack of experience in shooting at a moving target in an emotionally charged atmosphere. It exceeds the national averages for shootings by police officers in that the officers involved scored with 8 out of 15 shots — and possibly 9 if one considers the dented belt buckle — which is a 53% hit ration. The national average for such shootings is less than 20%.
Related: Scare Them Off Or Shoot Them Dead?
If you have not personally participated in such an activity I would suggest that silence on the topic is warranted. Punching holes in a paper target, running a course at a shooting house or even frequently engaging in paintball activities does not qualify one to pass judgement if you haven't actually been there.
All three deputies were equipped with body cameras. The first deputy on scene thought he had activated his camera but upon investigation it was found that it had not activated.
As a side note, with hollering at the man, notifying dispatch of the situation, getting his shotgun out of the trunk of his patrol unit and with the tension of the situation, I would think that failing to activate his body cam might be understandable. That was one busy, concerned deputy. It was developing into anything by a routine evening.
The two other deputies did activate their body cams and the cameras substantiated the stories of the six individuals who witnessed the incident. That was three deputy sheriffs, two EMTs and a civilian witness who had driven along the route and stopped when he saw the three sheriff's vehicles, the EMT vehicle and the decedent's vehicle.
Note: Good move. Try to avoid driving through an active shooting scene if at all possible.
Some conclusions by me: There were seven bullets which fell we know not where. A good reason not to be around a shooting scene.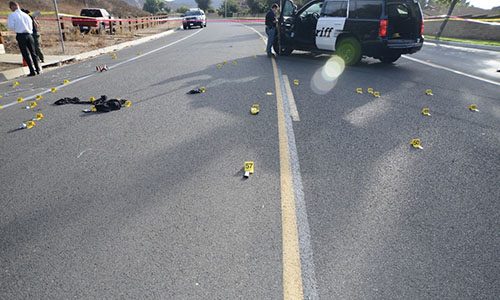 As police officers, they are protected from civil penalty and to a lesser extent from criminal penalty for damage their errant shots cause.
As a civilian, you will not have that protection. Your shots that do not strike the criminal will create liability for you if they damage property or wound people. It behooves you, if you use a firearm in self defense to do so prudently. Although the sergeant drew his taser to use, Mr. Johnson was advancing so rapidly, he didn't deploy it in favor of drawing his sidearm.
A law enforcement officer demonstrates for various police departments around the country how an attacker that is within 21 feet can advance and complete his attack before a defender can draw his firearm from a holster. It is called the Tueller Drill and is used to train police officers to react before an attacker is within the deadly 21 feet. I apparently didn't include how far Johnson was from the sergeant and the second officer but it was in the DA's report how far Johnson fell after being shot and it was well within the Tueller Drill distance.
Related: What Happens When the Government Becomes Your Worst Enemy
A chart showing what effects a .27 blood alcohol level might have indicates that confusion, disorientation and stupor may be expected from .20 to .29. Pain sensation is diminished so that one may not notice injuries sustained. Blackouts begin at this level of intoxication and events may not be remembered upon sobering up.
While I am not a physician nor a criminalist with experience in blood alcohol levels, I have listened to enough criminalists testify in court and had private conversations with many. I also attended a one day continuing education seminar on the effects of alcohol on the body presented by a medical doctor/medical examiner. The generally accepted theory is that the casual drinker will be comatose starting at .25. The common opinion is that only drinkers who have experience drinking significant quantities of alcohol can remain mobile at .25 and above.
Based on that posit, we have a 26 year old man who is already an alcoholic.
A further conclusion I feel is justified is that if your home is invaded and, as is more frequently than not, the home invader is intoxicated with either alcohol or drugs or both, he will not be feeling pain the way you might in a sober state. He also will not be capable of reasoned thinking. The only thing that will deter him from whatever it is he is doing will be enough force to stop him physically.
Five bean bags, one on the torso and four to the legs were not enough to deter this man. I have never been shot with a bean bag and hope to keep it that way. I understand they create a large lump and the next day or so you have an impressive bruise. In this case five such lumps did nothing to deter this individual.
I feel you should base your plan of home defense on the most destructive device the law allows you to have in your home, keeping mind that a high powered rifle at close range will penetrate through and through and you won't know where it will end up. It is generally accepted that even though it is a rifle round and the hoplophobes are constantly harping on its "high power" many shootists feel that the .223/5.56 round is ideally suited for home defense just because it is not the "high powered" round that it is reputed to be.
Related: Ways to Make Your Home More Defensible
Many states do not allow the .223/5.56 round for big game hunting just for that very reason. On the other hand, the venerable .30-30, while on paper delivers similar energy on the target at self-defense ranges, because of the heavier bullet, in some cases at least 2 x heavier and in other bullet weights, as much as 3x heavier, penetrates more and may pass through a human target at bad breath distances.
The district attorney of this county rendered a 41 page report on this shooting. It was my opinion, reading all 41 pages that the report was as complete as it could be. The DA investigator even interviewed the bartender on duty when Johnson arrived and departed before Johnson called it a night and a bar patron who offered to call Uber for Johnson when he left which Johnson refused.
The report included reports of what the two working body cams revealed and statements from all six of the eye witness as well as three people who heard the crash, one of whom foolishly went outside her apartment and was able to hear the transaction although her view of the scene was blocked.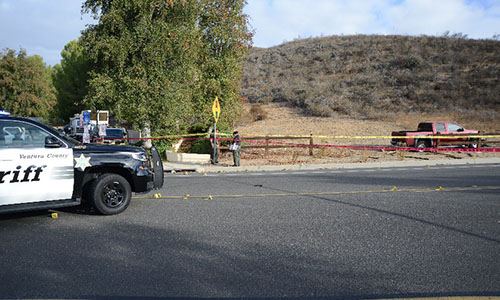 If you have occasion to hear something that sounds like a dangerous police encounter, do not go outside your home. Get to a place in your home furtherest from what is happening. It is much better to read about it than it is to be wounded by an errant bullet — or worse.
We will never know what set off this, up to the point of his death, model citizen, albeit probably with an alcohol problem, to go off the deep end. Folks who are opposed to present police procedures might spend time theorizing that a psychologist on the scene might have been able to talk this individual out of his course of conduct.
There wasn't a specific time line to all the events, but reading through times that were listed, this whole event went down in under a minute from the time the first officer arrived on the scene until Johnson fell to the ground.
There was only 19 seconds elapsed from the time the two other deputies exited their vehicles until Johnson collapsed. I don't know how much a psychologist could have accomplished in one minute with an armed individual who appeared to be bent on suicide by cop.
Just this past week we had another case of suicide by cop with very similar circumstances except that the individual was armed both with a knife and a handgun. Again, everything transpired in a very brief period of time, not leaving much time for social discourse. One might argue that the arrival of uniformed, armed police precipitate the actions of the suicidal individual.
So should he psychologist show up at the scene of an armed individual without police support and unarmed himself? I am not sure we would find many psychologists willing to take that risk. I know were I looking for employment, and assuming I were otherwise qualified, such a job would be low on my list of preferred employment.
You may also like: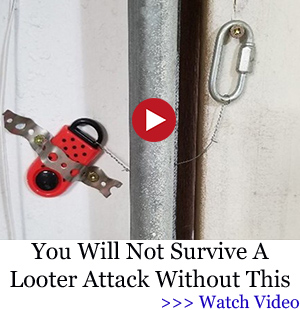 When To Speak To The Police, And When To Shut Up
Do You Know Why You Should Never Put A Tall Fence Around Your House? (Video)
The Police and Military when SHTF – Friend or Armed Foe?