Each year we head West on I-64 to Carter Mountain Orchard. This is a special trip because our oldest son's name is Carter and we joke and dream about the orchard being Carter's. While we have some peach trees on property, we have nothing as elaborate as the rolling hills of gala, fuji and pink lady apples at the orchard.
When making a trek out to an apple orchard you don't just come home with a couple of pounds of apples. My family and I, we all grab a large bag full of apples and we often end up with something like 20lbs!
Naturally, you cannot just eat 20lbs of apples in the raw form before they start to go sour. That means you must know how to do things, like bake and preserve.
I often wonder how many preppers go to orchards and berry fields to stock up on bulk fresh produce, in season, to bring it home and preserve it for the winter. When you think about it, it's kind of an interesting opportunity for preppers.
This could be a unique opportunity for urban preppers to stock up on high quality food they wouldn't otherwise have access to. If they can learn how to can and dry these fresh foods, it could be a huge help if they plan on bugging in.
One of our favorite things to make with all these apples is apple butter. That is because it's simple to make, cheap and lasts a long time.
Related: 50 High Value Items To Stockpile For When SHTF
Apple Butter History
In the middle ages German and Belgian monasteries were having great success with apple orchards and the yields were plentiful. Just like anything else, these large yields could be a bit of a challenge because the ripe fruit only lasts so long.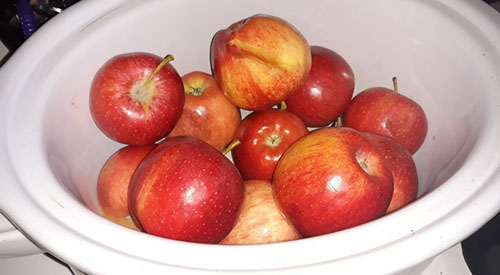 Necessity is always the mother of invention and these monasteries started making a highly concentrated applesauce, that would come to be the apple butter we know today. It would have been processed and stored long term, much in the same way that it is today!
Apple butter also enjoyed considerable popularity here in the States during colonial times. In these days, women would have been processing apples as they came into season. This was a massive undertaking and was taking up much of their time in the fall.
To make the apple butter in the 1700's women would have used pared apples boiled down with cider. It would have been very similar to what we eat in modern times, but I assume less sweet. This product would have been eaten throughout the winter, but it kept much longer than that.
Ingredients
5lbs of Apples (peeled, cored, diced)
2 Cups of Sugar
2 Tsp Cinnamon
¼ Tsp of Allspice
¼ Tsp of Salt
Instructions
Place all the ingredients into a slow cooker and stir them well to mix thoroughly.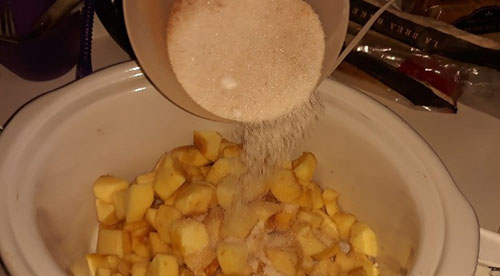 Cook the ingredients on high for one hour.
After hour one, reduce the heat to low and cook for 9-10 hours on low, stirring occasionally.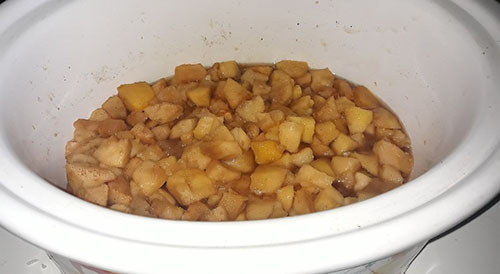 Remove the lid and continue cooking on low for 1 hour.
The more you stir the mix, the smoother it will be in the end.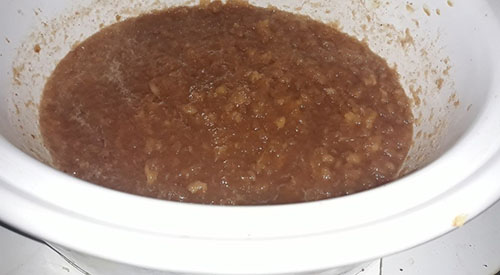 Spoon your mixture into sterilized mason jars to begin the canning process.
Leave a couple inches of head space in each jar.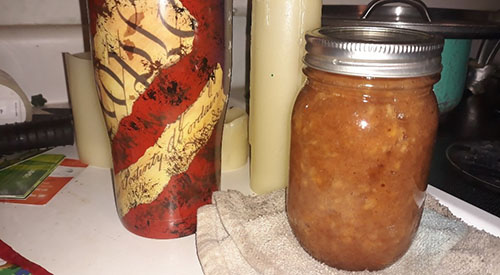 Wipe the rims of the jars clean, so your apple butter can seal properly.
Screw your canning lids on but, not too tight.
Canning Apple Butter
Apple butter can be canned using the water bath canning method. This means that you don't even need a pressure cooker to can this butter for your food storage prepper pantry. Let's have a look at some of the cook times for various sizes of mason jars.
½ Pints-Pints – 10 minutes, 6,000 ft elevation and below/15 minutes above 6,000 ft elevation
Quarts – 15 minutes, 6,000ft elevation and below/20 minutes above 6,000ft elevation
You can create a hot water bath in a large pot that will hold all your canning jars. Place a wire rack or canning rack into the bottom of the pot, to keep them from touching the bottom directly.
You want your jars to be off the bottom, not touching each other and submerged in about 2 inches of water.
Your processing time begins when the water comes back to a boil, after you have added the jars of apple butter to the water bath.
From here you can cover the pot and set the timer.
Related: Canning Amish Poor Man's Steak
After processing, remove the cans to a counter that is covered with a towel. Let these cool here over night. As the night wanes on you might hear the occasional click of a lid sealing. The outside air pressure will begin to push down on these jars of apple butter, sealing the food inside.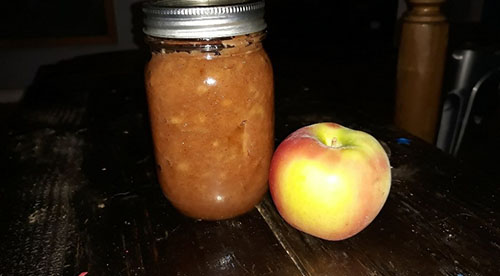 Don't forget to label and date these jars to assure you know when the oldest were made. This is very important because you could have carried over next year and it will be vital that you know which is the oldest.
It's been a long time since I started down this path of preparedness. There was a time when I saw prepping topics from one angle. Now things like food and water appear to me as many sided and many layered opportunities.
These basics of prepping appear to me almost as diamonds. From my experience, I have had the most success when attacking an issue from as many sides as possible.
Food storage is not just about buying extra food at the supermarket, it's about having emergency meals, long term dry food storage, growing a garden, raising chickens and other livestock, having some fruit and nut trees, understanding local and native plants and trees, and knowing how to cook from scratch, and of course, preservation.
Apple butter and the canning process represents a method that can affect preparedness on many levels. It means you can grow your own apples and you can put that food up for the winter. It's a full circle process that we could all benefit from, if doing it more often.
How much do you take from your garden and preserve for lean times?
You may also like: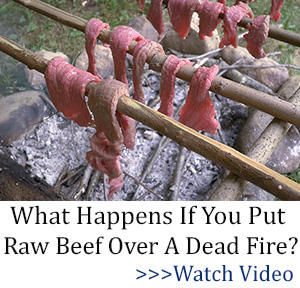 How To Make Delicious Lard With 2 Years Shelf-Life (+ 5 Tasty Recipes)
How to Make A Self-Sufficient Backyard on 1/4 of an Acre (Video)
Bean and Rice Survival Soup – Easy and Adaptable Recipe
What Do I Store in My Pantry As a Prepper?