Alternative Bug-Out Vehicles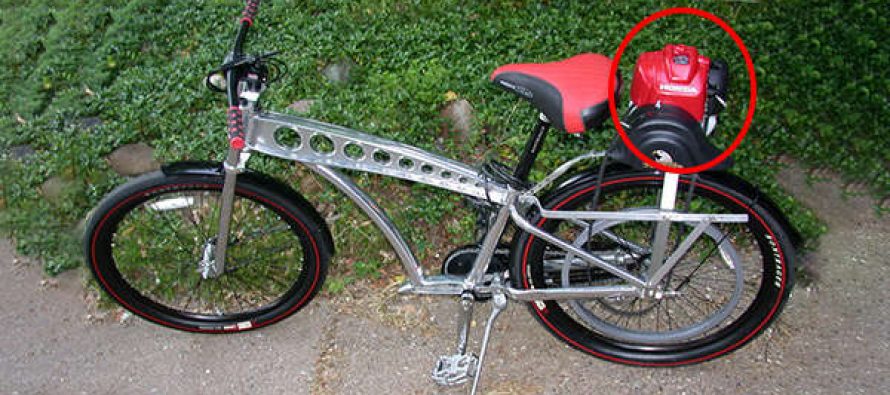 Claude's note: This is the forth part of article written by one of our most respected readers and opinion leader, Left Coast Chuck. Here is the first part, the second part and the third part.
RECUMBENT BIKES
At one time, a recumbent bike held the world's record for the most distance traveled on roads in 24 hours. "Wow!" you say. "That's the bike for me."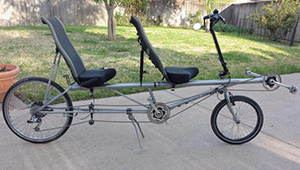 Well, there's a catch. The recumbent bike was highly streamlined, and the rider was not your average weekend rider. I don't remember the distance traveled nor who the rider was, but the 'bent was a Rans Screamer, which is a very fast bicycle. I have ridden a 'bent for very short distances on two occasions. One was a demo model that for some reason hurt my knees riding it, which is unusual. Typically a recumbent is purchased because it's gentle on the rider's knees. The other was a tadpole type 'bent – two wheels in the front and a single wheel in the back – which I tried my best to overturn because it looked like a spill waiting to happen. I certainly tried my darnedest to tip that bike over but was unable to make it happen. Looks can be deceiving. It was made in Oz, and I saw it at a bike show. I have never seen one again, so it may not have had enough interest to bring it to the U.S.
On flat areas and downhill, 'bents are faster than uprights, with the exception of tandem recumbents. It's on hills where uprights gain on 'bents. Because 'bents are heavier, they are definitely slower uphill. However, many riders with some kind of disability ride 'bents, and they are reportedly more comfortable on a long ride. They are difficult to transport due to their extra length, though, and they take up more room in your garage too. I must admit that until I wrote this article, I had not considered a recumbent as a bug-out bike. I will have to give that some thought, but I think I will stick with what I have for now. Everything I said about the components on an upright still applies to 'bents. Quality lasts.
Related: DIY Bicycle Generator
MOTORIZED BIKES
I don't own motorized bikes and haven't owned one since I was in Japan. I fervently hope they are better than the one I owned there, which had the precursor to continuously variable transmissions. Unfortunately, because it was a precursor, it spent a lot of time in the shop being adjusted. When it ran as it was supposed to, however, it was fine.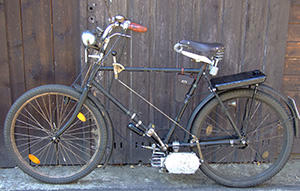 Motorized bikes in Japan at that time were limited to a 49cc engine. At 50cc the bike became a motorcycle, and one needed to take the very difficult Japanese driver's license test and get a license for the bike, so most troops used motorized bikes instead. They were two-stroke, buzzed like all two-strokes, and smoked due to the oil and gas mixture they burned.
If I were committed to a motorized bug-out bike, I would pick a gasoline-powered one. In an EOTW situation, gas will be available from a variety of sources for a while. However, when gas is finally gone or has gone bad, you will be left with a heavier bike to pedal around. Two writers wrote about how they converted a pedal bike to motorized in response to my other post. I looked online for motorized bikes, and all I could find were places that sell you a kit and the name of someone local who might install it for you. From that I gathered there could be either a liability issue they didn't want to address, or a legal issue with using the bike that they were skirting. If I were seriously considering a motorized bike as a bug-out vehicle, I would open a dialog with both the gentlemen who wrote about their adventures with motorizing pedal bicycles as they have far more firsthand experience in that area than I do. I would also check local laws regarding motorized bicycles if you plan to use it before the end of the world.
Related: No Gas, No Electricity… How To Cook Indoors Without Smoke
ELECTRIC BIKES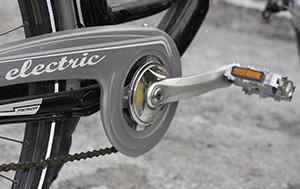 I would not consider an electric bike for bugging out. At present the distance one can travel on an electric bike, even a bike that charges while coasting downhill and pedaling, is limited. Eventually the charge will run out and you'll be stuck pedaling a very heavy bike, while also attempting to recharge the battery. While I am the first to admit I don't know much about the capability of various solar chargers available in the marketplace, I do not believe that you would be able to utilize a solar charger large enough to charge the battery while on the move. If I am wrong in that belief, I am sure someone will jump in with the necessary information regarding a solar unit that will charge an electric bike on the move.
Now, having said that, I see some merit in an electric bike for local trips if you are bugging in. You can leave it hooked up to a solar charger. An electric bike hooked up to a trailer will enable you to haul a heavier load on the trailer than a bike pedaled by human power alone. You can charge it in your bug-in location so it has a full charge each time you venture out. You don't want to get chased by a gang intent on evil, with a heavy load on your trailer, and have your power go out. If I decided to go that route, I would have backup batteries and would certainly explore adding extra battery power to the bike to increase speed and/or distance capability.
Having said that, in an EOTW scenario, the batteries will eventually die. In all my preps, I try to plan for the eventuality that everything modern will eventually die and be irreplaceable. Batteries may last ten years, but if the EOTW lasts 25, that leaves you short by well over a decade. Every electric bike I have seen is built like a beach cruiser. Weight is certainly not a consideration in building an electric bike. The frames are heavier, the wheels are heavier, and they have heavy electric motors and generators. Riding an electric bike with a dead battery is certainly going to build your thigh muscles. Pedaling a dead electric bike, even if you strip it of the motor and generator and all the other parts necessary for the electric side, you will soon be convinced that walking is better.
While that may be the state of electric bikes today, things are constantly changing, and it may be that some time in the not too distant future, an electric bike that charges as it drives and has a much greater distance and weight capability may hit the market. If that happens, everything above about electric bikes, of course, will change.
Certainly rubber tires and tubes won't last indefinitely either, but as someone pointed out, solids are available in the marketplace and would be something to consider for long-term tire/tube replacement. Further, in an extended period without tires/tubes, someone will devise a method to put something on bicycle wheels that will enable one to ride the bike, although probably not quite as fast nor as easily as with pneumatic tires. It could be animal skins with an intestine bladder that can be blown up. It could be animal skins with leaves and grass stuffed inside. A pneumatic rubber tire can be stuffed with leaves and grasses if there are no tubes. It rides rough and doesn't go as fast, but it's still faster than walking. It may be that solid wheels with wooden spokes take the place of pneumatic tires. I don't know what avenue some inventive mind will go down.
Related: DIY Stove Made From Used Tire Rims
OTHER MODES OF MOVING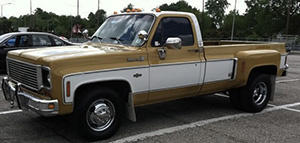 In almost every prepper novel and how-to book I have read, either the prepper has the foresight to have a 1975 Chevy dually, the only working motor vehicle for 100 miles around, or he's moving out on shanks's mare. There are only a few prepper novels where the hero is riding a bicycle. Steven Konkoly's series has the family riding bicycles until, fortuitously, the hero hooks up with a former Marine comrade who supplies him with armored-up Humvees and trucks.
On the Road is a novel I read where the hero used a shopping cart to move his and his son's gear on their journey. Everybody else was hauling all their gear in backpacks and walking. Let me state right here that hiking with a backpack may recall visions of hairy-chested mountain men, and may have former service people harking back to the days when they hiked in the deserts of Iraq or the Hindu Kush. Those were also the days when they were in their late teens or early 20s, and probably in pretty good shape. They also overlook the fact that most of the time they traveled in a helicopter or rode in a convoy, and were inserted to continue on foot. The days of slogging across Europe on foot are the days of your grandfathers. Our modern armed forces mostly move by vehicle.
In addition, most military operations depend on re-supply by air or by motor vehicle. If you are bugging out at the end of the world, unless you have that 40-acre farm just outside of town where you have prepositioned supplies, you don't actually have a supplied destination. If you are hiking to Uncle Harry's farm 75 miles away, you are hoping against hope that (1) Uncle Harry is going to welcome you with open arms and (2) that Uncle Harry and Aunt Sally have continued to put away the produce of their farm and aren't relying on weekly trips to Costco to supply their needs.
If you planned on bugging in but circumstances have developed beyond your ability to withstand it, and you are bugging out as a last resort, you are hoping to be able to survive until you reach some place where you can put down roots so that you and your family can survive until things improve. Unless you just resign yourself to your family enduring what I feel will become slave labor camps run by some governmental agency or independent local warlord, you are going to need to be self-sufficient. Self-sufficiency means hauling more than 30 pounds on your back, so let's consider some other ways to haul gear other than the F-150 in your driveway or the four Diamondback mountain bikes that are still sitting in the bike shop—or not, because the bike shop has been plundered while you were still trying to decide what to do.
Related: Affordable Vehicles That Can Survive an EMP
GARDEN CARTS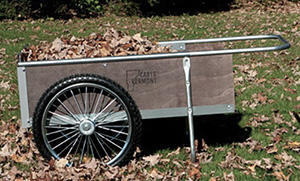 While your first choice may be different for your own reasons, the garden cart is my next choice for an alternative bug-out vehicle, after a bicycle.
We have all seen pictures of refugees fleeing from some approaching enemy during WWI and WWII, as well as other more recent armed conflicts. Many have hand carts that are loaded with more stuff than they should be carrying. However, two-wheeled garden carts are rated as able to carry up to 450 pounds. That's a lot of stuff, and with two people each pulling a garden cart, that is almost half a ton of supplies. Garden carts come with heavy-duty pneumatic wheels. A trip to the local bike shop will enable you to stock up on tire liners. Slime and prep the tires for goatheads, glass, and other tire-puncturing debris. You should also stock up on bicycle tire irons, patch kits, a set of spare tires, and several tubes. If you can buy wider tires than the cart comes equipped with, you should consider that. I think a non-folding cart would tend to be sturdier than a folding garden cart, although a folding cart would be easier to store until the ETOW.
I would purchase a cart that had a bow-shaped handle rather than two pole-like handles. Two people should be able to get inside the bow and pull the cart up a steep hill by leaning their weight against the bow easier than two pole-type handles.
If you have children that are too small to walk, a garden cart may be the answer to transporting them and the gear you need to survive.
Garden carts are available from a variety of sources, both locally and online.
GAME CARTS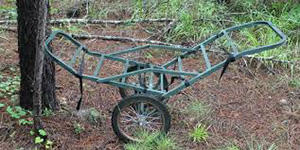 This is my number two choice for a bug-out vehicle. If you saw the picture of the bike with the game cart attached, you can see how much of a load it can carry. Game carts are made for hunters. You can see them at Sportsman's Guide, Bass Pro, Cabela's, and Midway; even Amazon has an extensive list of game carts.
They usually have two wheels and a large platform on which to pile the dead game. They are really designed for cross country hauling, as most game is not shot in the parking lot at Walmart but in some remote area that one either hikes to or rides to on an ATV. They are more expensive than hand trucks because they sell to a smaller market – there are fewer hunters than there are delivery drivers and warehouse workers. I would opt for the lightest game cart that has the highest weight rating. That seems contradictory, but with the game carts I have seen, it seems the more expensive carts are aluminum, and they also had the highest weight-hauling capacity. If you are into fat tire bikes, Rambo bikes have an attachable game cart. Be sure to check your credit card limit before you order that combo however.
Related: How to Conceal Weapons in Your Vehicle
FOUR-WHEEL WAGONS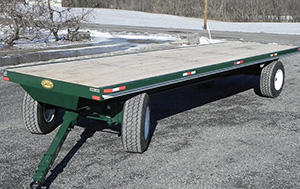 No, I am not talking about a Radio Flyer, although for lack of anything better, that could haul your backpack rather than you carrying it on your back. I am talking about industrial-capacity four-wheel wagons. I have seen them rated to 1,500 pounds.
I would get the heaviest rated wagon I could find that had removable sides. I would even consider a flat wagon before I considered one with non-removable sides. Yesterday I was in Harbor Freight, and the type of wagon I am discussing was displayed. It was flat and didn't have any sides. I didn't do an in-depth examination of it, however, so it may come with sides. It was rated for 1,000 pounds and was $80. If you want a cheap bug-out vehicle to haul the stuff you need to survive, this looks like the best bang for your buck.
While having four wheels is easiest for moving over smooth surfaces, that particular wagon at Harbor Freight had wide tires to make hauling over rough surfaces easier. Hauling your gear up a dirt mountain trail could prove to be a chore. However, there is nothing to prevent you from unloading your gear and moving it piecemeal up the mountain trail and then hauling the wagon up empty. In an EOTW situation, you are going to have to think outside the box.
If your children are too small to be able to walk any kind of distance, and if you need to haul a lot of gear to support four people or more, a couple of whom are not able to carry any kind of load, a four-wheel, industrial-capacity wagon may be a good choice.
Related:  7 EMP Proof Items for Your Bugout Bag
HAND TRUCKS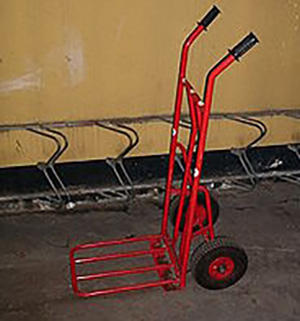 We're all familiar with hand trucks. We see them at stores, and UPS drivers use them to haul heavy loads to the door. I keep two luggage carts in our vehicle every time we leave town. At our age, my wife and I are in no shape to be hiking any distance carrying heavy packs. I consider our biggest risk to be while we are traveling in our car, so the hand trucks get put in our van every time we leave town, even if it is just to drive to Los Angeles for the day. Depending upon where in LA, we could be anywhere from 60 to 100 miles from home, and even making good time, it would take us six days or more to get home from common destinations in LA. Our hand trucks are lightweight luggage carts with two wheels that fold up. We don't need a heavy-duty hand truck like you might see a trucker use.
You can always haul a bigger load on a hand truck than you can carry on your back. Unless you are in good physical shape and frequently hike many miles, you will also be able to travel faster hauling your gear than carrying it on your back. So hand trucks and luggage carts are a way to carry your gear when you have to bug out or get home, and they enable you to move faster and carry more.
This load capability applies even if you are traveling over dirt paths or gravel roads. If the surface you're traveling on is so soft that the wheels get bogged down in it, you are going to have the same problem walking with a pack. Upon the approach of hostiles, carrying a rifle on a sling on my shoulder and pulling a handcart, I can get on the ground or into cover by dropping the handcart and can be ready for action quicker than I can shuck a backpack with a sternum strap, a waist band, and shoulder straps plus the rifle. If I need cover for the rifle, an extra-large lightweight lab coat will do the trick. If the weather is cold or inclement, a poncho will hide the rifle carried muzzle down. That's how we carried our M1s when I was fooling around with Uncle Sam's Misguided Children and we got caught out in the rain.
So hand trucks, one for each member of the family able to pull one – even the little kiddies; if they can't pull a 500-pound rated hand truck, they can certainly pull a lightweight luggage cart with their sleeping gear and clothes.
So why a hand truck? Why not wheeled luggage? Well, if that's all you have, you have to go with what you have. However, hand trucks are designed to go over unpaved parking lots, floors covered with debris, and other rough surfaces. Wheeled luggage is designed to be dragged through airport and terminals, or from your car in the paved parking lot into the hotel lobby. There are some large cargo bags that might take the place of a hand cart, but they seem a much more expensive option.
Related: My 5 Worst Fears for 2018
GROCERY CARTS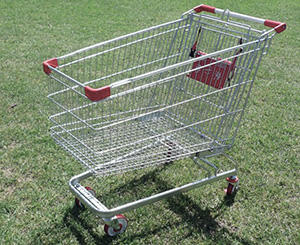 We have all seen the homeless plodding along the street pushing all their worldly goods in a grocery cart. Does that mean it's an ideal vehicle for bugging out?
No, far from it. The reason you see the homeless using grocery carts is because grocery carts are free. In California, stealing a grocery cart won't even get you arrested. It is a citable offense. That means the cop writes you a ticket. If you sign it, that is a promise to appear like you get when you blow through a stop sign. You won't get hauled off to jail, and the cop won't confiscate the cart because they don't have any way to transport it; they're not going to put it in their squad car. In our town, the guy who collects errant grocery carts only works downtown two days each month. So the cop tells the homeless guy he has just issued a meaningless piece of paper to take the cart back where he got it. The homeless guy says, "Okay, officer," and makes a pretense of heading off to the store from whence it came. If the cop is a hardcase, he will watch the homeless guy for a few minutes and then get back in his squad car and drive away.
As soon as the cop leaves, the homeless guy throws the ticket away and goes about his business. It's a formalized dance, and the price of admission is the taxes we pay and the price of groceries we buy at the market.
The grocery cart is, in my opinion, one of the worst vehicles to pick as a bug-out vehicle. It's better than a poke in the eye with a sharp stick, but not much. For one thing, the wheels are too small for progress over any surface except a paved parking lot or the floor of a market. In addition, in some cities in the PDRK, to cut down on the number of grocery carts all over town markets are required by law to provide carts that are difficult to remove from the parking lot. Some stores have opted for an RFID locking device that locks a wheel if you leave the parking lot limits. Others have put a bar on the cart that makes it difficult to go over curbs and similar structures. If a grocery cart is in your plans for bugging out, you might need a wrench to remove the locking wheel and swap it for a free wheel off another cart. However, in an EMP event or perhaps even a CME, the RFID. emitter may be disabled and you might not have to remove the wheel. I don't know enough about RFID to be able to assert any kind of opinion; it may be that all the carts are locked up if the RFID emitter is down.
Related: 7 Super Cheap Foods To Stockpile That People Usually Throw Away
Grocery carts are top heavy. If you have ever tried to wheel your grocery cart over a parking lot with a lot of broken pavement, you can visualize how that would work in an EOTW situation where the road may be littered with debris. If you have ever had a wheel catch some small piece of debris in the store and lock up so that three wheels turned and one wheel just skidded along, now visualize the roads covered with broken glass, shards of metal, small pieces of wood, etc. You would be clearing the wheels every 25 feet.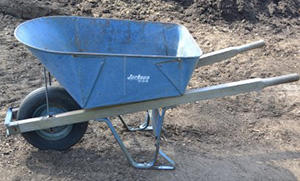 SINGLE-WHEEL WHEELBARROWS
Just below grocery carts, or perhaps on a par with them, is the single-wheel construction wheelbarrow. While still better than hauling a pack on your back, I personally have trouble keeping a wheelbarrow from tipping when it is heavily laden and I am trying to go over rough ground. You may be more skilled with a wheelbarrow than I am, but it would be low on my list of bug-out vehicles.
TRAVOIS
Trav…what?
If you did any reading when you were young about life among the Plains Native Americans, you probably read that they moved their villages by travois.
Before the Europeans introduced horses into the New World, travois were pulled by women, children, and even dogs that were hitched to it. They were ideal for a people who had not invented the wheel.
After the Europeans introduced the horse, someone figured out that they could hitch the travois to a horse and move a lot more gear.
The travois can handle travel over rough surfaces. The interstate highway system had not yet been installed when the Native Americans were chasing bison over the plains and the women were dragging travois after the men who were chasing the bison.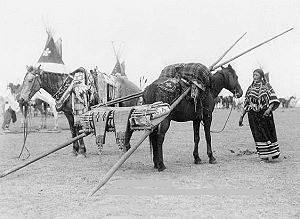 If I am forced to use a travois to escape, I plan on using the two parts of my extension ladder to make it. If I can attach wheels to the dragged end, it will make dragging it a lot easier. The ladder is aluminum, so it's lightweight, and it's rated to 250 pounds in its extension form, which means the ladder in travois form should be able to haul even more. The rungs are hollow, so I can run a threaded rod through the bottom rung and use it as an axle for the wheels.
The drawback to the travois is that it is noisy, even with wheels. Dragging a travois will be slower going than almost any other kind of vehicle. However, that said, it's easier to drag a travois than carrying that load on your back.
I hope this series of articles has provided some food for thought on various means of moving your gear other than the he-man-big-pack-on-back-go-live-in-mountains-eat-grubs-and-tree-leaves methods that a lot of "experts" seem to talk about.
In my view, carrying your gear on your back is at the bottom of the list. If there is absolutely, positively no other way to move your gear, then staggering off with your gear on your back is what you are left with.
If you are forced to carry your gear, that 75-mile trip to Uncle Harry's farm is going to probably take you two weeks or more. After the first day or two, you will be lucky to make five miles a day. You may walk more than that, but when you put a ruler on the map, you will be in for a disappointment.
In some areas, finding water will be relatively easy. If you are in SoCal, finding water is like finding an honest politician—few and far between. You will be spending a lot of time searching houses, offices, and businesses for hot water heaters. Of course, you will have to approach that task very carefully because the homeowner who is bugging in may not appreciate sharing his water stash with you. The looters may not have finished trashing the store you chose to search for a hot water heater or bottled water on the shelves. Preparing meals and taking care of bodily functions always take more time than planned. Finding a secure hiding place for overnighting may take a long time too. There are all sorts of ways for time to slip by that cut down on your daily mileage.
The longer you are on the road, the more time those chores are going to take. You may go three days without a hot meal, but eventually your body and your morale are going to demand something hot. Bugging out with a pack on my back that is so popular in all the survivor manuals and novels is absolutely the last thing I want to do. I would rather mount my pack on a skateboard than have to walk five miles with a loaded pack. I got enough of that when I was playing around with Uncle Sam's Misguided Children to last me two lifetimes. Been there, done that. I hated it then, and I am absolutely, positively certain that I will still hate it if I'm forced to do it. To badly paraphrase Patrick Henry, give me wheels or give me death.
You may also like: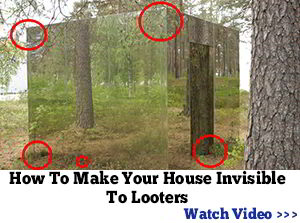 When It Comes To EMP Preparedness You Only Have Two Choices
You Will Not Survive An EMP Strike Without This (Video)
The Ultimate Bug Out Home For Just $250
14 Must-Have Canned Foods You Didn't Know Existed