First, let me give you a little background.
I am a retired Army Senior NCO, Retired Master Peace Officer, drug interdiction officer and for the last 4 years, a military-contracted counter explosive canine handler in Afghanistan and Iraq.
My job depended on finding things people did not what found. I have literally searched, and taken apart thousands of vehicles in my career.
This article is about where to hide your stuff in the vehicle. Since carrying a weapon in your vehicle is legal in most of the USA, this article is geared more to hiding your weapons from those uninvited looters and scavengers who are inevitably going to come around in a social/government breakdown situation. Yes, I'm talking about the proverbial SHTF times.
So, let us set some ground rules. We are going to talk about two types of vehicles, handguns and long guns, as well as ammo. These are no concealment techniques that let you get to your firearms at a moment's notice. This is about hidden storage that others, unless very skilled, will not find. This is for storage.
Imagine the following scenario: your vehicle is broken down and you have to leave it for a period of time as you need to find, tools, parts, or fuel. You can't reasonably carry everything, so you are counting on your hidden cache of weapons to still be there upon your return. Or, your vehicle is parked outside, the looters and scavengers come through the area and ransack every vehicle on the block taking what they can easily steal. You don't want them to find your stuff that was hidden. This is what this article is about. That being said, let's get to it.
Sedan
The modern sedan has plenty of places to hide weapons. I will start with the accessible places inside the vehicle.
Under the center console. The center console is held to the floor in most sedans by a series of plastic clips or a few Phillip's screws. Remove those and the console lifts up exposing a compartment that will house a rather large pistol and a couple boxes of ammo.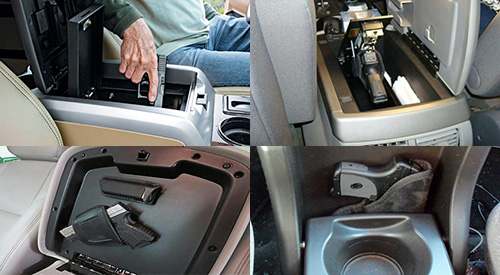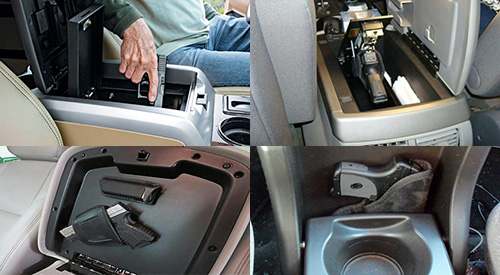 Seat Backs. The modern car has bucket seats. The back of the seats has a cover that simply snaps onto the seat and covers the springs. This area will conceal a pistol, ammo, and a short barrel long gun like an MP5 or Uzi.  Snap the seat back in place and no one will know it is there. This is also very fast to access if needed.  No tools required.
Under seats. I'm not talking about just on the floor under the seat. What we are talking about here is attached to the underside of the seat by tape, zip ties or something else. This keeps it out of sight if someone looks under the seat but it is still there if you just know where to look. Here are other 26 practical survival uses of duct tape.
Other examples: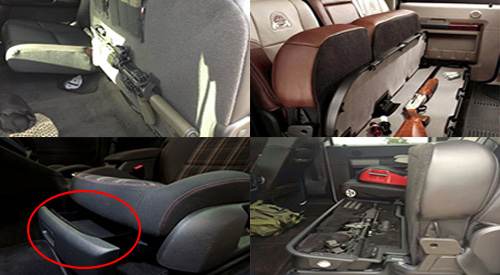 Inside door panels. You can hide a shotgun with a folding stock or a short rifle here. Clips and a couple of screws hold the door panels in place. You could remove the screws and leave them out but a sharp eye will notice something is amiss. My advice is to always put everything back the way it was so there will be no "giveaways" that there could be something behind the panel that is worth hiding.
Behind the radio. The radio will have four holes in the corners. Look at yours and you will see them. Most folks don't realize all you have to do is insert metal rods, about the size of a wire coat hanger in these holes and the entire stereo slides out, leaving a very large cavity to hide weapons and ammo behind.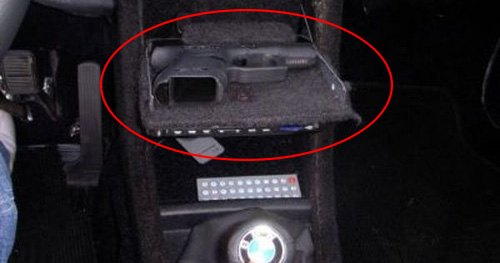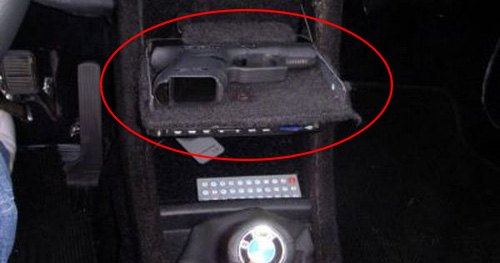 Now for the outside of the vehicle
Outside. The bumpers, front and rear have cavities under them that will hold a shotgun or rifle. Duct tape is a wonderful thing and you will be using it.
Open the hood. Inside the fender wells, you will see several places to hide your firearms. Inside the air cleaner box is a good place for a pistol.
In the trunk. I don't really suggest this area as it is very easy to detect but in a pinch, it may do. Pull the carpet away from the sides of the trunk. It will be attached to a cardboard backing. Place your weapons behind this, in the cavity that is in the lower part of the rear fender, and replace the trunk lining. If you have done this carefully, it will be undetectable to the untrained eye. I also suggest throwing some old rags or a little dirt in the area to make it look as if it has not been disturbed.
Other examples: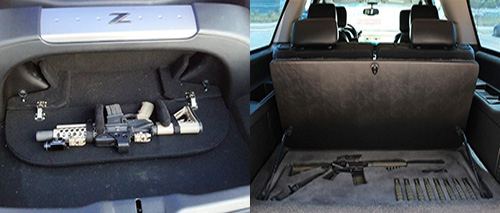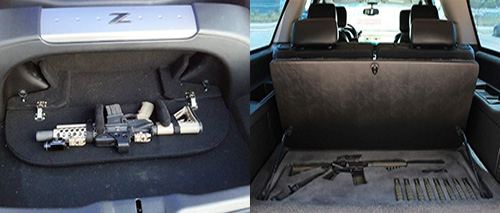 SUV or Truck
You have many more places to work with here. Count all of the same places mentioned for the inside of the sedan above. Those hiding places are common to just about all vehicles.
Starting at the front
The Front Bumper. Under the front bumper is a very large area to store weapons.  Tape them in a secure place. You can hide a lot of stuff here.
Front Fenders. From under the hood you have access to a very large area to place a rifle bag full of goodies.  It will fit in behind the fender well and be very hard to see without knowing it is there.
Air Box System. This is a common place for pistols and ammo. Placing a weapon here will not affect the operation of the vehicle.
Under the vehicle. The modern SUV/Truck frame is an I Beam type structure. This is a natural shelf for all sorts of things.  A few large black Zip Ties will hold a rifle, shotgun, and a lot more. These will not be visible from just bending down and looking under the vehicle. A person would have to get under the vehicle and really look for them to find your hidden arsenal.
Roof. The roof of all modern SUVs and Trucks is actually hollow. Remove the third stop light that is at the top and rear of the cab. Pull that out and you will see a vast area to hide magazines, ammo, and other items. The way to do this is to tape a string to each item with duct tape and string them together.  Replace the stop light after you have hidden your items in the roof section. Make sure you tape the end of the string to the back of the light or to an area that is concealed but you can reach again. Then to retrieve, all you do is take out the light, pull the string and the items come out one after another.
Tailgate. This is hollow. The inside can be accessed through the latch assembly OR by splitting the tailgate by removing the screws and bolts that hold it together. I have seen tailgates that were split and then resealed with silicone. To open you just cut the silicone with a razor-blade and pull the two halves apart. Not all tailgates are the same, so you may have to adapt to your situation.
Rear Bumper. Like the front of the truck, there is a vast amount of storage space.
Spare Tires. Placing something inside a tire is a real pain in the rear, but hiding an item on top of the tire is easy. Lower the spare tire; most are cranked down to the ground with the jack handle. Once on the ground you can place your items inside the rim and crank the tire back into place. This is a simple and readily available storage area.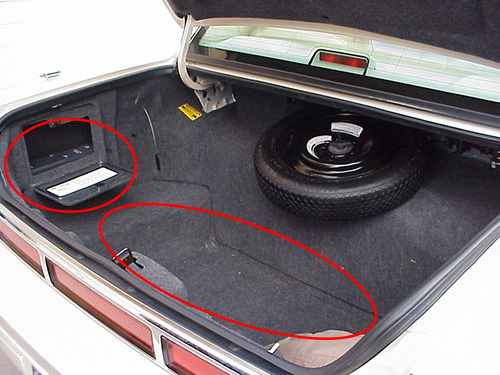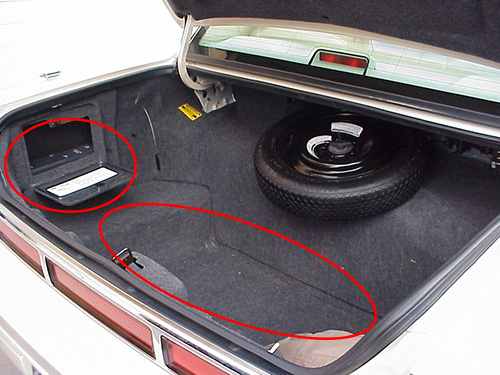 Depending on your ingenuity, time you want to spend, if you want to modify the vehicle or not, it is not hard to make your vehicle a rolling arsenal and no one would ever suspect was holding weapons and ammo in every corner.


End thoughts
If you really feel this may be something that you have to deal with, I suggest throwing your roving horde of scavengers off the trail. If you have to abandon your vehicle and you are pretty sure it will get at least looked at, give them something to go after. Leave a useless (as in not functioning) pistol or something in plain sight. Let them take that and stop searching. Basically, throw them a bone. The whole point about concealing your weapons so that the looters won't find them is just that: concealment. Make sure you leave no signs, no pointers that say "Hey, Look Here!". Do this and when you return to your vehicle from something as simple as a walk into the woods to take care of bodily functions, you can rest assure when you get back your stuff with be safe and secure.
You may also like
You Will Not Survive An EMP Strike Without This (video)
The AK-47 vs AR-15: Which Rifle is Better When SHTF?
Awesome Places to Hide Your Guns
About the author:
Jon Harris is a former Army NCO, Master Law Enforcement Officer, and Military Contractor for the Department of Defense and Department of State.