Claude's note: This is the third part of article written by one of our most respected readers and opinion leader, Left Coast Chuck. Here is the first part and the second part. 
Before we go further, I want to make sure that you are not confusing a bicycle as a replacement for a motor vehicle. If you have a motor vehicle that works, it is far better than a bicycle. Even the NVA used trucks on the HCM Trail whenever possible. In my opinion, the best bug out vehicle is an MRAP followed by an armored-up deuce and a half. However, if your choice is shank's mare or a bicycle, in my opinion, the bicycle is far superior to walking, hence the genesis of this opus.
SEAT BAGS
Every serious rider has a seat bag. The seat bag contains those items one needs to continue on one's journey. It contains one or more patch kits, tire irons, Allen wrenches that fit the various Allen screws on your bike, a spoke wrench, a chain breaker and a master chain link, one or more spare tubes and other sundries. I like to include two 8″ adjustable wrenches or an 8″ and a 6″. A bike pedal wrench is nice to have as getting at the nut for a bike pedal is sometimes difficult. Seat bags are a very handy item as a seat bag will keep all your tools together in one handy spot so that if you have to do road-side wrenching or flat repair, you can get right to it with everything in one handy bag.
Seat bags can come with just two straps to go through the slots on the back of your seat or two straps and a velcro strap to go around the seat post. For a larger bag the seat post strap in addition to the seat straps is handy as it limits the amount of bag sway when you are riding. You won't notice it at first, but by mile 40 or so the swaying of your seat bag will start to get more and more annoying. Seat bags vary in size from minimalist barely holding a patch kit to a rather large bag that probably can hold a week's worth of gear for the hard-core minimalist.
For a bug-out seat bag I would recommend the largest bag you can fit on your bike as you won't be asking a fellow cyclist who is passing by if he or she has the appropriate tool you need to complete the repair. You may not want to meet the fellow cyclist under an EOTW situation.
Related: Affordable Vehicles That Can Survive an EMP
TIRE PUMPS
There are two schools of thought on pumping up a tire. One involves using CO2 cartridges to inflate a tire. They are great. Instantaneous inflated tire with no tedious pumping. On the other hand, oops, I'm out of CO2 cartridges. Now what? The other school is old fashioned and relies on tire pumps. If you use Slime and tire liners, you won't need the tire pump much but when you need it, you will really need it. Do not skimp on the tire pump. It mounts on brackets on your bike generally on the seat tube. There are a variety of brackets available.
Some bikes come with brackets already brazed on the bike. That's one solution, but it limits your selection of pumps. Whatever bracket you use, make sure you have some way to insure that tire pump does not vacate its brackets as you are proceeding down the road. You can use zip ties, you can use velcro, you are only limited by your imagination. It should be secure. In a bug-out situation if there is more than one bicyclist make sure everyone has a tire pump. If you are solo, carry a back-up tire pump. There are small compact units that will fit in your seat bag but require more effort to inflate the tire. It beats stuffing grass and various items into your tire to try to get down the road. If you have room in your gear, a floor pump is really the way to go. Your pumps should have both Schrader and Presta valve ability.
BIKE COMPUTERS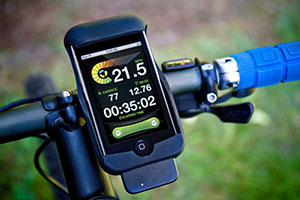 Bike computers are small gadgets the size of a wristwatch that can measure: speed, distance traveled, time elapsed, average speed, whether you are going faster or slower than average speed, elevation, inclination, heart rate, breath rate — I really don't know what all the modern bike computer can measure. You don't need all of that. There are folk who are interested in the minutia of every ride and track all kinds of data. For bugging out, only one measurement is really essential and that is how far you have gone.
You can't buy a computer that simple. But for your purposes get the simplest computer you can find. After you acquire it and set it for your bicycle, you then need to put it away with extra batteries in your faraday cage because it is liable to get wiped out if you don't. Put the instructions in the faraday cage with the computer. The computer can measure split distances, so you can tell how far you have traveled today and how far you have traveled since you started. The computer goes on your handlebar and reads its readings off your front wheel.
REAR VIEW MIRROR
I highly recommend a rear view mirror both on the bike and on your helmet. You do wear a helmet when you ride, don't you? Two things made me a really firm believer in helmets. I took a motorcycle safety course years ago. The instructor said, "I'm only going to say one thing about helmets." He held up a helmet that had one side all abraded down to the foam. He said, "I was wearing this helmet when I had to lay my bike down to avoid a driver who turned left in front of me. I walked away with some brush burns and this helmet."
On a Ride Across Kansas, a woman brushed her front tire against the bike in front of her. That caused her to veer across the road and into the path of a Ford Excursion on-coming at about 50 mph. Her head, encased in her helmet tore the sideview mirror off the Excursion. She had a broken collar bone and a mild concussion, some road rash and was stiff and sore the next day but stayed with the ride after spending half a day in the local ER getting checked out.
She didn't ride any more mainly because her bike was run over by the Excursion and totaled. I saw it in the bike shop where it was sent. It was totally crushed, including the frame. So wear a helmet even if there is no traffic. A simple spill due to debris you didn't notice on the road can have severe effects which are avoided by wearing a helmet.
Wear a helmet mounted rear view mirror. They provide a much better panorama of what is behind you because you can move your head and get a much broader view than with a fixed handlebar mirror. In a bug-out situation you are especially going to want to see what is behind you. If the first indication you have of some danger behind you is the crack of a round going by, that may be too late.
Related: Tools You Will Need When SHTF
WATER BOTTLE BRACKETS AND WATER BOTTLES
There are two main ways to carry water on a bike. You will need water. You will be exercising, burning a lot of calories which generates heat. Plastic brackets are lighter. Titanium is much lighter and much more expensive. Stainless steel is my idea of the ideal water bottle bracket. And I also like stainless steel water bottles. They can double as heating vessels to make coffee or to boil that suspicious looking water that now appears to be the only water for 100 miles in any direction. If the bottles are noisy, rattling in the bottle cages, even masking tape will quiet them down.
If you go the bottle cage and bottle route, get as many bottle cages as will fit on the bike. They can be attached with hose claps if you can't get them on any other way.
The other way to carry water is in a bladder on your back. If you decide to go bladder routine, get a bladder/pack combination that will allow you to carry a light jacket, perhaps extra ammo, food bars, a small first aid kit and other items that you will want in a hurry without digging through your main gear carrying bags. You may have to carry your rifle over your shoulder as you ride and that can get complicated if you are carrying a bladder bag on your back and your rifle on a sling.
HANDLEBAR BAG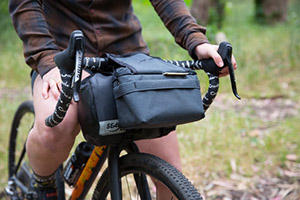 I don't like handle bar bags. I have used them. I may still have one or two put away in the shed. They are very handy, but in my opinion they also significantly affect the handling of the bike and make it squirrelly. The only thing I would hang on my handle bars is a bag that would contain my handgun and extra mags or ammo carriers. You might consider carrying a handgun on a belt with a holster. If I did that I would make sure that the holster had at least two retention points.
You don't want to drop your handgun as you are pedaling down the road. While we are on this topic, I have never tried this, so it is speculation, but I think you could carry a carbine length shoulder weapon such as an AK, SKS, US M1 carbine, short barreled AR, or similar shoulder weapon in a scabbard attached to the main bars of your bike. That would depend greatly on the configuration of your bike and how skillful you are at jury rigging something.
I would try to make something workable before I took off on my bug-out. It may be necessary to go off in some private area to test your invention to see how well it works traveling over rough terrain. That great arrangement in your garage may not stand the test of six hours on the road. Your neighbors might also take alarm and summon the gendarms if you are riding up and down your neighborhood streets with an AK strapped to the side of your bike, so testing should take place in a secluded setting. You are also going to have to test out your handlebar gun bag to see how well you can access it and how much it affects your bike handling.
I have only seen one handgun mounted on handlebars and it was probably sometime in the late 1990s or 2000 when I saw it and I wasn't aware of the possible need for such and didn't pay close attention to it. I can't even remember if it was a handgun in a bag or if the handgun was in a regular holster that had been mounted to the handlebars. I tend to think the latter because in the state where it was located, open carry was permitted and it would be easier to access a handgun in a holster than in a bag.
Related: How To Make Waterproof Matches At Home In 5 Minutes
HAULING YOUR MAIN GEAR
Gear can be hauled in racks and panniers; a trailer or both. The biggest majority of long distance bike riders favor racks and panniers. Long distance riders who favor trailers tend to favor a single-wheeled trailer. I am in a distinct minority. I favor a two wheel trailer that quickly unhooks from the bike. One of the biggest things to look for in racks and panniers is sturdiness. This is another item that should not be skimped on. Your panniers must be waterproof. Yes, you can put all your stuff in plastic garbage bags and get cheaper panniers but you will soon tire of constantly having to repack all your stuff because the plastic garbage bag has developed several holes and now leaks.
Orttlieb has been mentioned frequently on various biking webs as a superior brand of pannier. If you see some long distance riders at your local coffee shop, chat with them, ask them about their panniers, what brand they have and what they like and don't like about them. Panniers need to hang low on the bike. That significantly lowers your center of gravity.
Having a lower center of gravity is important in a strong cross-wind and even comes into play in riding into a headwind. Unlike a backpack where you want your heaviest items toward the top of the pack, in panniers you want the heaviest items in the bottom of the pack. Panniers will actually make your bike more stable as your center of gravity will be considerably lower than when riding seated on the seat.
Most long distance riders like a trailer that is a single wheel trailer. It follows the track of the bicycle and isn't much wider than the bicycle. It means you don't have to pay attention to whether you have enough clearance as you must if you have a two-wheel trailer. It won't carry as much gear as a two-wheeler but if you are going panniers and trailer, it may well represent the biggest load you can haul. It won't tip over as a two-wheel trailer will.
If you get the Costco magazine, this month on page 40 is an article about 3 bicyclists who rode 1294 miles in 19 days which averages out to 68 miles a day. The article doesn't say, but from the looks of their rigs, they probably camped many of those days. Two rode mountain bikes and one rode a recumbent bike. The recumbent has a trailer which I have not seen before and looks quite interesting. It is a two-wheel trailer. The other two chose racks and panniers. In fact I have used the handlebar bag that one rider has on his handlebars. It may be one of those in my shed. I disliked it immensely and only used it on a couple of rides never to use it again. So tastes can vary.
TRAILERS
If you google bicycle trailers you will see a whole panoply of kiddy trailers. Despite the fact that hundreds of homeless in California are riding around hauling kiddy trailers with their gear in them, that is only because they are cheap at thrift stores or are easily stolen out of garages where people haven't locked them or sillier still have gone to bed and left the garage door open. Kiddy trailers are designed to haul at most 75 pounds. They are designed to be light weight so the parents who don't ride regularly can haul them and to haul a maximum of a large dog or two small children. What you are looking for are bicycle cargo trailers. If you put that into google, you will see what I am talking about.
Two wheel trailers allow you to carry irregularly shaped items, very large items, very heavy items. You are only limited by the gearing on your bicycle, your physical conditioning and the weight limitations of the trailer itself. My trailer that I hauled around on my long distance rides had a light weight aluminum frame and a Rubbermaid Action Packer for a body. It was the ideal size for long distance riding, but would not be what I would use for a bug-out trailer. Unloaded, it had a tendency to tip over and I had to be careful how I approached curbs and driveways. I only tipped it once while it was loaded and I had incorrectly loaded it and hit a traffic cone which caused it to tip.
Nothing spilled because the latches on the box held. I stopped, set it upright and continued on. I don't know if all bike trailers are the same, but mine had to be loaded as I would load a two-wheel trailer hauled behind a motor vehicle. The weight had to be in the front of the trailer, not the rear. The day I tipped the trailer over I had mis-loaded it and placed the heavy items in the rear. I think that contributed to the tipping. If I were in the market for a bug-out trailer, I would look for a trailer that had a good load rating.
I would look for a trailer that was just a platform trailer with places to use to tie down cargo. Then I would use plastic containers with lids to hold my cargo. That way you can divide up the cargo so that you don't have to root through the whole trailer to find what you are looking for. I would mark the containers as to contents. That way if you have to offload something in a hurry you know what you can dump and what you shouldn't dump. I would use some method to fasten the lids on other than just the friction fit that most of the plastic containers have. That might include holes so that the lids can be locked on. Large cotter pins or bolts with washers and nuts through holes in the lid will hold it on in case of a tip-over.
It is my opinion that most of us will follow some kind of improved path in a bug-out situation. Unless you have a route that you know will be a brush-busting route, you are going to follow roads, bike trails, fire roads, cross-country electric rights-of-way, railroad rights-of-way or other man-made travel structures. If you have planned ahead and have a bike set up for bugging out, when you find out that your car won't start along with thousands of other cars, you will be ready to leave if you have to, cancover more distance, hauling more weight with less effort than if you are walking.
Weekly I would haul nine gallons of water from the water store to my home, up a rather steep hill in my bicycle trailer. That is 75 pounds of water counting the containers. While I could carry it on my back for a while, I could move much faster with a lot less pain with that load in a trailer than I could carry it on my back. I mention that load because I know exactly how much it weighed and how frequently I performed it. I am confident on a couple of my rides I actually hauled more but wasn't that interested in precisely how much it weighed to weigh every single piece. One final note, I saw a bike trailer rated at 450 pounds. Unless there were a dealer near by where I could test that trailer, I don't think I would get something that large.
One final note, if you are going to haul a trailer that uses the bike axle to attache the trailer, you will need the old fashioned axle nuts to hold the axle in. Quick releases on the axle will not work with a trailer hitch. They just don't hold with enough power with the extra stress that weight put on the axle. If you are going the trailer route with an axle hitch, you might seriously consider heavier axles. Yesterday I was reading a post by a tandem biker who talked about 10 mm axles bolts as opposed to the standard 3/8″ axle bolts or the 9 mm axle bolts common on metric bikes. He had managed to bend his axles by heavy loading on his touring tandem. I had never heard of that before and I don't know what kind of loads were involved but in the situation we are talking about, I felt it was something worth considering.
Finally the problem with, "My daily commute is 75 miles one way," or "Sometimes my job takes me a couple hundred miles from home. How in the world will I ever walk that far if the EOTW hits while I am that far from home?"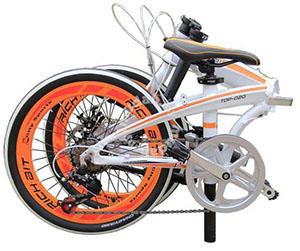 I think the answer is the folding bike. From the high end Bike Friday to the $114 low end Chinese import on Amazon, there is a wide range of folding bikes available. Go to Amazon and read the reviews of each bike on there before you spring for a folding bike. A folding bike will not be your bug-out bike. It will be the bike that you use to get home if something happens to disable vehicles while you are at work.
The two folding bikes I know the most about are the Bike Friday which is a high end folding bike suitable for cross-country travel. I talked to a rider who had ridden his Bike Friday from Hanoi down to Saigon now HCM City. I think that is only about 1400 miles but it still is a good distance. Another bike I am somewhat familiar with is the Dahon. At one time it was made in Japan. I don't know if it still is. It is very popular in Japan as space is at a premium in most Japanese houses and apartments. I would go for a 20″ wheel bike as opposed to a 16″ wheel bike.
The folding bikes come with a single chain ring and it usually is a compromise chain ring, not too high, not really low. If you are in any kind of condition at all, you should be able to climb most hills on the bike. I would equip the bike much the same as I would my bug-out bike. The only difference is you might not be able to get the precise gearing you want. If the bike comes with Presta valves, I would make a quick trip to my LBS (local bike shop) and get the rims drilled out to Schrader. I would pack the CO2 tire inflator and a very compact hand pump (with extra CO@ canisters). I would equip the tubes with Slime and snakeskins.
I would get the largest seat bag that would fit the bike. In this case I would go for plastic bottle holders and plastic bottles. I would have one stainless steel bottle for boiling water if I didn't have any other means of boiling water. I would make sure it had fenders and two luggage racks, one on the back and one on the front. I would get bags for both and carry trash bags for waterproofing. With a bike like this, depending upon the circumstances and locale, you should be able to get home from 150 miles away in 3 or 4 days. It depends upon how much evasion you have to take and road conditions. But 50 miles a day is certainly doable on a folding bike.
The saddle is probably a cheap version and so I would ride it for a while and see how it felt. If it was uncomfortable, I would make an LBS trip and see what they had in better seats. You might get your tires Slimed and gatorskins installed at the same time. Pick up your patch kit and look at his selection of tire pumps. You can shop for bike parts at Performancebike.com and BikeNashbar.com for on line bike goodies. I suppose Amazon also has bike parts but I have never purchased from Amazon.
I hope I have helped readers to feel more familiar with using a bike as a bug-out vehicle. It would be handy to have a bike in an EOTW situation because fuel will be in short supply or non-existent, depending upon what kind of emergency we are talking about. Even in the snow, many commuter bicyclists in northern states report that they ride their bikes in snowy conditions. If they are in a very snowy clime they buy studded tires and replace their standard tires with studded tires. You might have a hard time finding studded tires in SoCal.
You may also like: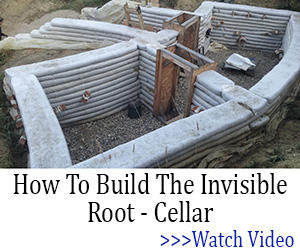 The Ultimate Bug Out Home For Just $250
How To Make Your House Invisible To Looters (Video)
If You See These 6 Signs It's Time to Bugout
11 Items You Shouldn't Have in your Bug-Out Bag