An EMP is a time machine.
In all my studying of the topic the EMP has the ability to either force us back to a time before electricity or sling us forward to a time where the lost ways of humanity combine with renewable energy generation and our adaptable ingenuity. Neither trip on this time machine comes without some growing pains. Getting to the future could hurt just as much as falling back into the past.
Forewarning
The trouble with the EMP blast is that you will have no time for evasive maneuvers. If it hasn't been planned for, stored away or protected then it will be lost. Most electronic items and items containing electronics will become little more than piles of plastic and metal.
What lies on the store shelves in that moment, the food, the tools, the medicines will be the last items to rest on those shelves. Within hours of the blast you will see calamity in the streets. You will witness the very worst from humanity as they struggle to eke out the last easy fix on food and water that they are going to get.
If the EMP comes from the sun the best scientists may know about it. Those with their eyes to the skies could see it coming. The problem is before it reaches earth that information would have to be given to world governments and then an announcement made to the public. This process would take too long and the solar blast would reach us in a matter of minutes.
There is no forewarning for an EMP. If you aren't prepared than you will be faced with an uphill battle. That said, if we were to get any type of warning some scientists believe that electronics that are turned off could fair better than those which are left active. Consider this from futurescience.com
There is truth to this recommendation (if there were a way to know that a burst was about to happen).  Equipment is more vulnerable if it is operating, because some failure modes involving E1 HEMP trigger the system's energy to damage itself.  However, damage can also happen, but not as easily, to systems that are turned off. (Source)
Following a dangerous EMP blast we, as a society, will be left with a very clear fork in the road. Neither scenario is very appealing in contrast with the lives we live today. Of course, preference gets thrown out the window when you lose the power grid and economic driver of the world goes dark.
Scenario 1: Into the Past
With the collapse of major infrastructures like the power grid and most of the electronics in your home you will be left with the stark reality that things have changed forever. Your survival of a post EMP will depend entirely on how you prepared.
Have you studied bushcraft skills?
Have you been pushing down a path of self-reliance and independence?
If not you will face a steep learning curve. The protections and conveniences that have built our comfortable society will be ripped away and left will be only the needs of survival. The pool of desperate individuals will grow quickly and soon there will be threats all around you.
In this scenario, you will be tasked with the following key issues to address:
Daily Source of Water
Daily Source of Food
Security
Self Defense
Sanitation Management
First Aid
Heat
These are seven issues you will need an answer for immediately following an EMP. Whether it comes pouring out of the sun or in the form of an enemy launched high altitude nuclear blast it will strain all the above resources.
Don't forget, you will also be competing against other desperate people who need to come up with an answer for the above listed as well. These will be parents, grandparents and neighbors. You may be forced to do some terrible things to keep your family safe.
Scenario 2: Into the Future
Towering buildings, jetpacks, AI, and robotics may all fit into your view of the future. I want you to consider for a moment that this future, the future we are heading towards, involves ripping up the land and carving all the minerals and resources of this planet. Following an EMP we will have a different outlook on the future.
The EMP will force us into a future that involves renewable energies like solar, wind and hydro power. It will be a future that forces us to relearn the lost ways of our ancestors. This will require that we create EMP proof energy systems that are either shielded from the EMP or stored away behind metal walls that will protect them from the effects of the EMP. There are some pieces of this future that sound very appealing. There is no doubt that we need a push to break free from these centralized producers of food and energy. The EMP would be more of a wrecking ball approach.
There are companies like Sol Ark that are now producing solar panels that are shielded from the effects of an EMP blast.
This future does not come without a price. You will have to ask yourself, today:
HOW MUCH POWER DO I REALLY NEED TO SURVIVE?
HOW MUCH AM I PREPARED TO INVEST INTO 'WHAT IF.'
Sadly, both scenarios will be rather unkind to the unprepared.  You may remember some years ago when the Heritage Foundation put out its proposal for national EMP awareness day headed by the leading expert in national security and foreign policy challenges, James Carafano. These were his comments on the effects of the EMP on both the US and the World.
The result of a massive EMP event could be devastating. Communications would collapse, transportation would halt, and electrical power would simply be nonexistent. Not even a global humanitarian effort would be enough to keep hundreds of millions of Americans from death by starvation, exposure, or lack of medicine. Nor would the catastrophe stop at U.S. borders. Most of Canada would be devastated, too, as its infrastructure is integrated with the U.S. power grid. Without the American economic engine, the world economy would quickly collapse. Much of the world's intellectual brain power (half of it is in the United States) would be lost as well. Earth would most likely recede into the "new" Dark Ages. (Source)
We live in a time of near infinite options. This makes the idea of an end of the world as we know it disaster so terrifying. There was a time when things like the economic collapse and the EMP were mere speculation, entertainment. As tensions continue to rise with North Korea and even Russia we see ourselves pitted against two military forces that would be desperate to survive a true war with the greatest military in the world.
Make no mistakes about it, the American military is still head and shoulders above any other. Despite what you may hear in the media. Still, a desperate nation could throw a hail Mary in the form of a high-altitude nuke that would dowse our nation and surrounding nations in a supermassive electromagnetic pulse. As we mentioned earlier, this would spark a collapse that all the aircraft carriers on the planet wouldn't be able to fix.
You may also like: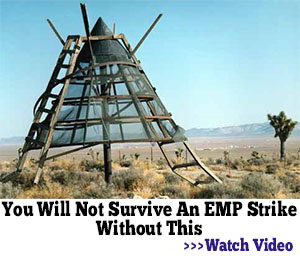 Affordable Vehicles That Can Survive an EMP
Smallest EMP Proof Battery Powers House For 2 Days (Video)
9 Places Where You Can Find Energy After An EMP
30 Survival Items You Forgot to Buy
15 Things You Think You Know About Faraday Cages But You Don't