Whether we're experienced survivalists or just starting out in preparedness, we constantly talk about the top items to include in a bug-out bag, get-home bag, or everyday-carry kit. However, with so much focus on what items to bring, you can easily end up with too much gear.  The point of these packs is to bring only the items you absolutely need to survive the SHTF scenario.  Anything more than that is simply weighing you down.  In this article, we will cover the top items to avoid in your bug-out bag to ensure you have the best chance of success.
#1. A Premade Bug-Out Bag
In my opinion the worst mistake a survivalist can make is trying to take the easy way out.  A prime example of this is buying a bug-out bag already stocked with gear.  This scenario has two big problems.  The first is that it allows the vendor to pack the bag with cheap products that will likely break the first time they are used.  They get to jack up their profit margin while the buyer does not know the difference.  However, the main problem is that this encourages people to trust that the bag itself will save them.  Most people that buy one of these bags will never open it up to learn about the items inside.  If you really want to be prepared for a survival scenario, take the time to buy your bug-out essentials one piece at a time.  Then learn how to use them properly.
Related: 11 Smart Tips to Make Your Bug-Out Bag Lighter and Smaller
#2. Too Much Water
Having water for survival is great.  However, having a way to purify water is better.  Water is heavy – really heavy. Enough water for just one day of survival weighs about 8 ½ pounds.  However, a filter or iodine tablets can purify hundreds of gallons of water and only weighs a few ounces.  If you are smart, you can almost always find a water source for purification.
#3. Too Much Food
Again, having food is great.  However, having dozens of cans in your pack does not make much sense.  In addition, a human can survive three weeks without food if needed.  Packs of MREs are expensive and heavy as well. It is much better to have the tools you need to gather food.  This can includes supplies to build snares and construct spears, or a field guide to help you gather wild edible plants.
Related: 10 Awesome Food Ideas for Your Bug Out Bag
#4. Alcohol
While it may be tempting to drown your sorrows with a stiff drink, it is not a smart move.  Alcohol will dehydrate you and make you less coordinated. The bottle can break, it is bulky, it is heavy, and it is one of the first things people will try to steal.  The only reason to bring any alcohol is potentially for bartering.
#5. Tobacco
This is similar to bringing alcohol.  While it is not nearly as heavy, tobacco will only slow you down.  You are best to kick the habit before you hit the trail.  You may want to bring a bit for bartering, but that is it.
#6. A Large Tent
While a small camp tent might be functional, a tarp or emergency blanket would be more functional.  Once you know how to use these items, they will take up less space.  Also, ditching the tent poles will help you save some weight.
#7. Large/Heavy Weapons or Fishing Equipment
I do love having a gun or bow with me when I need to survive.  They are great for getting meat and defending yourself.  However, some are just not practical.  I prefer to carry a handgun, a breakdown .22 rifle, or a small crossbow instead of a deer rifle or a compound bow.  A full sized fishing rod falls into the same category.  You can reduce the weight and bulk you're carrying by going with a breakdown rod, a gill net, or a simple fishing kit.
#8. Heavy Bedding/Clothing
While there are exceptions to every rule, I rarely strap a huge sleeping bag or blanket on my pack.  In most cases, you can survive just fine with dry clothes and an emergency blanket or bivy sack.  You can easily add 20 lbs. of weight to your pack if you go all out on bedding or other fabric.
#9. Large Electronic Items
While small items such as an emergency radio or a single cell phone make some sense, you can take it too far.  Bringing tablets, laptops, DVD players, or large radios will just add too much weight and bulk to your pack.  You are better off bringing a couple books, magazines, or maybe a handheld radio.
#10.  Large/Heavy Tools with Single Purpose
Quality tools are the backbone of any good bug-out bag.  However, you absolutely must take measures to conserve space and weight.  This means that an item like a multi-tool is perfect.  Instead of bringing a wrench, a knife, a socket set, and two screwdrivers, you can bring one multi-tool. Instead of bringing an ax, a saw, and a hammer you can bring a tool that has all three built in.
Related: Tools You Will Need When SHTF
#11. Climbing Rope
You may think that climbing rope is a good item for your pack.  While cordage is a quality item to bring, climbing rope is expensive and heavy.  You can easily fill up 2/3 of your pack with 100 feet of climbing rope.  A good alternative is 550 paracord. It can hold 550 lbs. of weight, and can easily be split open to use the seven interior strands.  If you are simply needing to keep your balance while you climb up or down an obstacle, paracord can do just fine.  In most cases, you can work your way around a sheer obstacle to find a more suitable path.
When you are assembling your bug-out bag, get-home bag, or everyday-carry kit, you need to ask yourself two primary questions: "Do I really need this?" and "Is there an item that would be smaller or weigh less?"  I like to go through my packs a few times each year to re-evaluate the contents.  I check the condition of each item, check expiration dates, and look for new items that have come to market.  This way I know that I will always be ready to use every item in my pack to its fullest.
You may also like: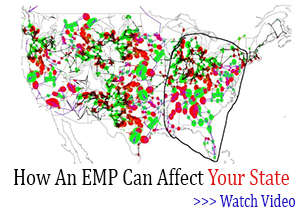 Top 5 Awesome Bug Out Vehicles You Can Actually Afford
How To Make The Invisible Root Cellar (Video)
DIY Dollar Store First Aid Kit
13 Shelters That You Can Build With A Military Poncho