Editor's note: This article was written by one of our most respected readers and opinion leader, Left Coast Chuck.
I want to start off by saying that I have no financial interest in any product I might mention in any of my writings. If I do happen to have a financial interest in the product, I will clearly state that. I also will only recommend products I have personally used and found to do the job they advertise. The only exception to that will be a product that is so well known throughout the bicycling community as to be an industry standard.
First, a bit about my my expertise to comment on this topic. As with almost everyone my age, I rode a bicycle almost daily from about age 7 or 8 until I was 16. I stopped riding a bike as soon as I got my first car, until I wound up overseas in the Marine Corps.
Once I got overseas I rode a bicycle, along with all the native folks in the lands where I was stationed. In Japan I did weekend touring on my bicycle, staying in small country inns – to the amazement of the local citizens, who in many cases had never seen a foreigner.
Returning to the States with a pregnant wife, I was unable to afford a car, so continued riding a bike for commuting to work and shopping. Moving to SoCal, the distances I had to travel and the traffic precluded my continuing bike commuting and I didn't ride for several years. When I finally moved to my present location in 1968 I again took up commuting to work on a bike, and continued that for several years. Then came about a twenty year break and in 1995 I again took up commuting to work on a bike and started engaging in weekend century rides.
A century ride is a 100 mile ride in a single day. In California there is at least one century ride someplace in the state every weekend of the year. I read a lot about riding in addition to actually getting out there and doing it. I participated in several week-long supported rides, usually covering between 300 and 450 miles in a week. I also participated in several credit card rides. I have not done a fully self-supported ride, but I have ridden the California coast from Eureka in the north as far south as San Diego on credit card rides.
There are also double century rides where the rider covers 200 miles in a single day. These rides always involve varied terrain including long steep hills. Many rides describe their ride by how many feet of up hill distance is involved in the ride. There is also a ride in SoCal where riders try to cover 500 miles in 24 hours. Not all riders are able to do that. I have never done a double century nor the California 500 ride.
Related: Top 5 Awesome Bug Out Vehicles You Can Actually Afford
A supported ride is where the organization that sponsors the ride for a fee provides transportation of your baggage, rest stops complete with snacks and toilet accommodations, and arranges for either portable showers at the day's end or some other shower facility as well as space for pitching one's tent, together with meal arrangements. Usually breakfast is arranged and recommendations are made for dinner. Supported rides are always group rides. The Seattle to Portland weekend ride is limited to 5,000 riders and is done in a single weekend with a variety of accommodations.
A credit card ride is one where the rider hauls his own gear, makes his own arrangements for all meals, and stays in a motel or hotel that he pays for each evening. He also usually has dinner in a restaurant. It is luxury self-supported riding. A credit card ride may be solo or in a group
A fully self-supported ride is one where the bike rider hauls all his gear, cooking utensils, tent, sleeping bag, everything he will need for the period of time he will spend on the road and usually camps out every evening. Many trans-continental riders are fully self-supported. A trans-continental ride may be solo, although it usually is done as a group.
Some survival authors denigrate using the bicycle as bug-out vehicle. The book on survival by Outdoor Life dismisses using a bicycle as only sort of a toy rather than what it actually is, a highly energy efficient device for covering long distances carrying a significant load.
Those old enough to remember can recall the problems the U.S. had interdicting the Ho Chi Minh Trail, where the North Vietnamese used bicycles to haul supplies south into South Viet Nam. Those were specially built bicycles made to haul cargo and for a good bit of the trip the bicyclist walked the bike, but it is claimed that they hauled up to 500 pounds of supplies on each bike. As I recall, the Ho Chi Minh Trail was reputed to be about 1,200 miles long.
A bicycle will enable you to cover long distances, moving a significant load, with far less energy expended compared to any other form of transportation.
To hike 30 miles a day while carrying a pack is quite strenuous. Covering 30 miles a day on a bicycle with panniers carrying your gear is much easier. Every summer there is a large group of people who ride across the U.S. on self-supported bike trips. They may ride singly or in a group, but they camp en route and usually carry their food with them.
Most typically a self-sustained rider will cover 60 to 100 miles per day on a bicycle. One can generally ride 60 miles a day without requiring a day of rest. If one is riding 100 miles a day or more, usually a day of rest is required every 5 days.
Covering 60 miles a day entails riding six hours at 10 miles per hour average speed. Once you're in the physical condition to do the ride, covering 60 miles with a full load of gear over varied terrain is relatively easy. I did it into my 70s. I stopped doing it due to an operation that precluded riding for an extended period, followed by an injury to a knee that left my knee in a condition that I wasn't sure would hold up to anything over a mile or two.
The qualifier however is that one must condition one's body to such riding if one plans on covering that kind of distance each day. If you are out of shape and it has been 30 years since you threw a leg over a bicycle frame, you should plan on limiting yourself to 15 or so mile days at the beginning. Even that is much better than one could do carrying a pack if one is out of shape. If you decide that bugging out on a bicycle is in your plans you should start to get in shape now by short rides around the neighborhood. You can expand that as you progress in fitness.
Related: Affordable Vehicles That Can Survive an EMP
During this period I would recommend staying off high speed, busy roads. I would also highly recommend reading the vehicle code rules of your state as they pertain to bicycles. Your eyes might be widened when you first read them.
In most states, bicycles ridden on the street are bound by the same rules as other vehicles. That means that the rules that pertain to a pedestrian do not pertain to a person mounted on a bicycle. The rules governing bicycles vary widely, so it is important to check your own state's regulations regarding bicycle riding. There are some very surprising rules concerning bicycles. In California cities can make rules as to whether one may ride on a sidewalk. In most California cities sidewalk riding is legal except in certain districts. In my town sidewalk riding is allowed except in business districts. Some cities forbid sidewalk riding totally.
When I was riding regularly I could ride 30 miles easily wearing my ordinary street clothes. There is a reason why you see long distance riders wearing tights. Those tights they wear cut down on rubbing tender parts. They also have a pad in them called a chamois because originally it was a piece of chamois. This protects your butt from bruising and chafing. You might also investigate various creams that ease chafing on long rides. My wife always used a product called Chamois Butt'r. There are other similar products on the market.
If I rode more than 30 miles I always wore my bike shorts, because even though I rode daily and my body parts were accustomed to my saddle and riding, more than 30 miles and my body parts started to feel the chafing. I wore mountain bike shorts which had bellows pockets and looked like regular clothing, but underneath had the padding and support necessary to protect against chafing. Mountain bike shorts come in styles for both men and women. Get the shorts appropriate for your sex. If you are confused about your sex, go with what Mother Nature provided for you in deciding what apparel to wear.
When riding a bike on distances that take more than an hour to cover, hydration is extremely important. It will keep you from cramping. Even if you are in good condition, if you don't maintain your hydration you will cramp. On distances of more than two hours, maintaining nutrition levels is important. There are all kinds of bars and drinks available to keep you from suffering that sudden loss of energy called "bonking", which is different from the way you may have used the term in college. Bonking is a sudden feeling of depletion that prevents you from continuing any further. It will continue until you raise your glucose levels to provide the energy that you need to continue the exercise. Many long distance riders do what they call "carb loading" the evening before a 100 or longer mile ride. They gorge on spaghetti or other starchy foods to provide the glucose they need the next day.
Folks who claim nutritional expertise say that the "typical" 150 pound man, riding at 12 miles an hour as I recall, will burn 600 calories per hour over his base metabolism needs. That will give you some idea of the calories you need to maintain. You need a balanced diet for long distance riding.
You may feel that all this is unnecessary because Uncle Fred's farm which is your bug-out location is only 75 miles away on the interstate. That's fine as long as you are going to be able to ride to Uncle Fred's farm along the interstate. However, it may be necessary for you to detour around that gang that is holed up on the overpass or to by-pass the town that has been taken over by some group that is stripping everyone of everything they have except their underwear before sending them on down the road. That 75 miles may easily become double that before you roll up Fred's driveway.
The next installment will cover things to look for in the hardware you might want to acquire.
You may also like: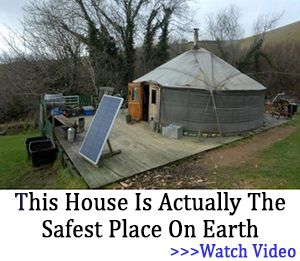 7 EMP Proof Items for Your Bugout Bag
What Happens When You Bury A Shipping Container (Video)
DIY Dollar Store First Aid Kit
The Only 10 Tactical Hand Signals You Need to Know
15 Weird Foods That Were Common During The Great Depression