A new year is, traditionally, something we look forward to with optimism. It stretches in front of us filled with possibilities, opportunities, new roads to explore. That's why we celebrate on December 31, and make resolutions on how to improve our lives.
But a new year is really just another twelve-month slice of the future, and it contains dangers as well as opportunities. Obviously we hope none of the bad things the future can hold will come to pass, but we have to be realistic – the world isn't always a friendly place. Good things will happen in 2018, but bad things can and will happen too. Some of those bad things have the potential to be truly disastrous, and we need to be prepared to face them if they happen.
It's always hard to predict what's coming down the road, but some things are more likely than others – so it makes sense to put more of our preparedness efforts into making sure we can survive those. A lot of what we do will be useful in any scenario, of course, but it still helps to have an idea of what we might face. Now that we've had a couple of months to see how 2018 is shaping up, here are five of the threats I'm most concerned about for the rest of the year.
M.A.D.
I've seen a few people saying that an EMP attack would be more destructive than a nuclear war. It wouldn't. An actual nuclear war would cause unimaginable devastation. Major cities would be flattened and burned by multiple strikes. Airports, harbors and military bases would be hit. Smaller warheads would take out freeway intersections and rail junctions. Parts of the country would be blanketed in fallout. Dust and smoke pumped into the atmosphere by the explosions would block the sun's light for weeks, adding cold weather to all the other hazards. Then, on top of that, you'd have the EMP as well. Every weapon would cause local EMP damage, and it's almost certain that high altitude EMP bursts would be included in the strike to maximize the chaos. A major nuclear war would be a lot worse than an EMP. Short of an impact from a slate-wiper asteroid it would be worse than anything I can imagine.
So a nuclear war would be bad, but how likely is it? Well, not as likely as it could be. This isn't 1983; the Cold War is over. On the other hand, it could come back. Russia is smarting from the treatment we gave them during the Clinton era, and they're steadily rebuilding their military. Russia's nuclear forces are the most powerful on Earth, and President Putin probably has the starch to use them if he thinks it's necessary. Putin is also pushing hard to rebuild Russia's influence in eastern Europe, and there are several places where a small border skirmish could grow into a confrontation between Russian and NATO troops. If that happens, nuclear war is back on the table.
Related: The First US Targets To Be Nuked
The Silent Killer
I've just explained why EMP wouldn't be as destructive as a full-scale nuclear war, but it would still be devastating – and it's a lot more likely than a Cold War-style missile exchange. There are two reasons for that. Firstly, it's a lot more survivable for the aggressor; our government might hesitate to launch a retaliatory strike on a country, killing millions of its people, because its leaders exploded a nuclear warhead in space. Secondly there are more countries who are capable of doing it right now or could be there in a matter of months.
A long-range nuclear missile is incredibly sophisticated. It needs to be; it has to deliver a warhead – possibly up to a dozen warheads for a MIRV'd missile – to a precise location. A Trident II submarine-launched missile can drop half its warheads within 65 feet of the target, letting it destroy even hardened bunkers with a relatively small weapon. An EMP attack doesn't need anything like that precision. As long as the rocket can get the weapon to a high enough altitude, it can detonate anywhere in a circle hundreds of miles wide and still blanket a huge area with its pulse. Every country that currently has nuclear weapons and several that could be very close to building them has the ability to attack with high-altitude EMP – and that includes rogue or unstable states like North Korea and Pakistan. An EMP might not be the worst thing that could happen, but it's a real risk.
The Virtual Killer
A cyber attack would be less destructive than an EMP, but it could still cause total chaos – and cyber attacks aren't just something that could happen. They're happening now, and already causing disruption on a large scale. The World Economic Forum estimates cyber attacks will cost $8 trillion over the next five years, and that's just the financial impact.
Think about how much of what's around you is vulnerable to hackers. It's a lot more than most people think. Pretty much everything that modern society depends on is run by, or with the help of, computers; most of those computers are connected to the internet. Power, gas and water can be seriously disrupted by a skilled hacker. Hospitals could lose patient records and see a lot of their sophisticated equipment disabled. Traffic lights might be shut down or reprogrammed to cause accidents. Air traffic control is vulnerable. As for most communications – including phones; a lot run on VOIP now – forget it.
A serious, coordinated cyber attack could easily disrupt us enough to cause social collapse – and from the attacker's point of view, it's even safer than an EMP. It's hard to prove who carried it out; even if you can pin down where the attackers were located, their government can claim it was nothing to do with them. Meanwhile the attack could cause a runaway collapse, where the failure of one system brings down others in a cascade it could take years to recover from.
Related: The Battery That Can Power Your Home Completely Off The Grid
The Invisible Killer
In 2014 there was a major outbreak of Ebola hemorrhagic fever in West Africa. This was far larger than all earlier outbreaks combined, because people are getting more mobile and the disease reached larger towns and cities. Horrifyingly, it also managed to reach out across the Atlantic and infect four people in the USA. We were lucky; all the cases were caught before they could spread further. We might not be lucky next time – and the virus is still out there in Africa. All it takes is one sick person to get on a plane and we could be facing a major epidemic.
It doesn't even take something exotic like Ebola. A bad strain of the flu could overload our medical system and push society to the edge of collapse – and maybe beyond. Preparedness is going to be essential in any kind of major outbreak. Expect stores to be quickly emptied by panic buying, and then probably looting; hospitals won't be able to cope, and everyone will be forced back onto their own resources. That's why it's vital to have those resources.
Your first priority in an epidemic is to protect yourself and your family from infection. That means minimizing contact with other people who might be carrying the disease. If you're self-sufficient and can survive for a few months without having to go outside your own property, your chances of being exposed are pretty much zero.
Related: 30 Supplies for Pandemic Survival
Trouble At Home
The USA is one of the world's great democracies, but too many Americans don't seem to respect the process anymore. The media is full of arguments about the Second Amendment, but in many ways growing disrespect for the First Amendment is a lot more worrying. Far-left gangs violently shut down any speaker they don't approve of. Millions of people flat-out deny President Trump's right to be president – they don't see any need to respect the election result if it wasn't what they wanted. Political agitators constantly whip up tension and hatred between races, between men and women, between red and blue states.
The anti-democratic extremists don't have the power to overthrow the US government – although when states like California openly defy federal law and declare themselves as "sanctuaries" for criminals, they might be closer to gaining it than most of us think. What they do have is the power to cause havoc at a local level, and if they coordinated their actions they could have a serious effect on law and order across multiple counties or even states. We've already seen that some fanatics, like Antifa, are willing to assault and rob anyone they define as a "fascist", which is most of us. A sustained campaign by anarchists, the far left and race-based groups could cause social collapse lasting days or even weeks – and the longer it goes on, the more it's going to test your preparedness. I think there's a serious risk of that happening, because powerful people aren't happy at the way democratic votes are going against them.
Most likely, 2018 will pass without any of these things happening. Then again, most likely it'll pass without you having a traffic accident – but you still pay for car insurance. If I'm ready to cope with any of the things I fear most in the coming year I'll also be able to handle anything else that goes wrong, and that's what prepping is all about.
You may also like:
How To Hide From Thermal Vision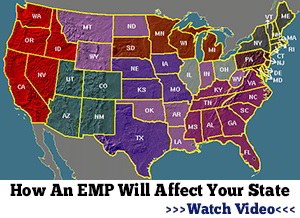 How To Build The Invisible Cellar (Video)
Affordable Vehicles That Can Survive an EMP