Claude's note: This is the second part of article written by one of our most respected readers and opinion leader, Left Coast Chuck. If you want to read the first part go to The Incredible and Efficient Use of a Bicycle as a Bug Out Vehicle (Part 1).
Bicycle Hardware to consider:
The time to change out the parts on the bicycle is before you whip out your American Express card. A dealer will be more willing to change out parts to make the sale than after you have taken the bike out the door, ridden it for a week or two, and then decide to change out parts. Parts that come off the bike brand new can be sold. Parts that have been ridden just a mile or two are used parts and can't be sold for liability reasons. So the time to configure the bike the way you want it is before you reach for your wallet.
Bicycle hardware among bicyclists is akin to guns among people who shoot. Ask ten bicyclists what would be the best bicycle to use in a bug out situation and I am fairly certain you would get twenty opinions. You'll know this if you've ever discussed guns for home defense – there are many opinions about what is best for home defense.
So you may have plenty of different opinions about hardware, but the following are my recommendations:
Be sure to get your bug out bike at a shop that deals exclusively in bicycles, bicycle parts, accessories and does bicycle repair work. Ask around in the bicycle community. If you see a bicyclist or group at your local coffee shop on Saturday morning, ask them where they get their bikes fixed or who they would recommend for help in buying and fitting a bike. You won't find your bug out bike at Wal-Mart or Target or any other big box store. While REI and other sporting goods stores stock bicycles, unless you are at a major REI store you won't find the advice a local bike shop can offer. If you are in Seattle, WA, the REI store has a great bike department. If you are in Tacoma, not so much. Stores like Dick's and other sporting goods stores are too generalized to maintain a competent bike department. They are mass marketers like Wal-Mart etc.
First, the frame. I would definitely go with a mountain bike frame. It should be made of chromoly steel. An aluminum frame is more rigid and won't rust. However, welding steel is fairly simple and will get you back on the move if something does break. Almost any journeyman welder will be able to repair your chromoly steel frame. An aluminum frame requires more advanced welding technique and isn't so easily repaired.
Related: Tools You Will Need When SHTF
I wouldn't buy this year's top of the line components; buy last year's top of the line, or perhaps top of the line from two years ago. Again, I would go with steel as much as possible. Steel can be pounded into shape if bent. Aluminum somewhat but not so much. Titanium – forget about it. Nothing else is as durable as steel. You aren't looking for components that will help you win the Tour de France. You are looking for sturdy components made of quality steel that will last a lifetime.
Gearing is a complicated subject. Gears are described by the number of teeth they have. Some gears have an offset which helps in shifting, but a beveled face on a tooth means it is not quite as sturdy as a straight tooth. Discuss gear selection with your bike shop technician. You can get the gears you want at the time of purchase at little or no extra cost while the components are new, because the shop can sell them as new parts. Once you have used them, they are used parts and the shop won't handle them.
Gears are described as chain rings and derailleur rings or cogs. The terminology is sort of self-explanatory. Chain rings are the big rings up front that drive the chain. Derailleur rings or cogs are the gears in back that change the ratio. If you go to bikecalc.com you will see what combinations give you how much travel for one rotation of the crank of the bike. Those distances are called gear inches. You don't need gears that will provide you with a lot of gear inches. They will make you go fast, but will also make it harder to pedal a heavy load up a steep hill. You want to tell your bike shop technician that you want a gear combination that will allow you to climb a vertical wall. That's kind of a bike world joke about low gearing. I would suggest a two-chain-ring combination called a compact chain ring set. This is a double chain ring combo. Typically on many mountain bikes, and especially on road bikes, you will see triple chain ring combinations. These are for more gear selections but don't necessarily translate into a wider range of gear selection. More gears are rather for maintaining your revolutions per minute. If your bike has 27 gears as opposed to 24 or 18, you can maintain your leg rpms easier than if there is a bigger jump from a lower gear to a higher gear. Much like a five speed manual transmission. You don't necessarily go that much faster with five speeds as opposed to four speeds because you are limited by how much power is transmitted to the rear wheels from the engine. You won't be concerned with maintaining your rpms in a bug out situation; you will be concerned with being able to pedal up a steep hill with a load on a rough road, and so you will really want low gearing on your bike. You will also want sturdy gears. There is only so much space on the rear axle for the derailleur, so if you have ten gears in the rear derailleur as opposed to eight or six the gears must necessarily be thinner to fit in that space. You will need a narrower chain to fit on the thinner teeth. A narrower chain is necessarily not as strong as a heavier duty chain. Tell your bike shop that you want a bike that is capable of biking along the Rocky Mountain bike trail on a biking/camping trip, or doing a trip along the AlCan Highway. That will give the shop a good idea of how to set up your bike. You are not interested in speed. You are interested in hauling power and strength of components,
For pedals I would suggest all metal platform pedals. Most bike aficionados will tell you that you have to have clip-ons. If you use clip-ons, you have to have rigid shoes with cleats on the bottom that snap into the pedal. The theory behind clip-on pedals is that you just don't propel the bike by pushing down on the pedal, you also pull up on the pedal on the up stroke and get the maximum benefit from both actions, pushing and pulling. That's true if you are trying out for a bike team on the international professional biking circuit. In the circumstances that you will be using the bike you will spend as much time walking the bike as you will spend riding the bike for many reasons:
Security – you want to go very slowly to check out suspicious circumstances
It's the end of the day and your butt is just too sore to sit in that seat for one second longer
Your feet are hot from poor positioning on the pedals and you just can't push that pedal down one more stroke
There are myriad reasons why you just cannot sit on the bike and pedal and you want to walk. It is much easier to walk in high top hiking shoes than it is to walk in biking shoes with metal cleats on the bottom. You should try to wear hiking shoes that have a fairly thick sole and a nice cushion inside, because your feet can become hot and painful and that makes riding difficult. If you need to cache your bike in order to proceed on foot, it's a lot easier to proceed silently in hiking shoes than it is in bicycle cleats. In addition it is easier to repair platform pedals than it is cleats, as they may need special parts unique to that particular cleat. You will see clip-on shoes that look like hiking boots. In my opinion they're a jack of all trades, master of none. Metal platform pedals will allow you to pedal your bike no matter what you are wearing on your feet, even rags. Clip on pedals will not, period.
Wheels: Steel, of course. I would get the widest wheels that will fit in the frame of your bike. Why bigger wheels – don't skinny wheels go faster? Only partially true, Cricket. Sure you see skinny wheels on the TdF riders. Are you going to have a team of highly accomplished bike mechanics with hundreds of pounds of spare parts following behind you in the team van? If so, go for the carbon fiber wheels. It doesn't matter if you crash, there is a EMT van following right behind the team vans. If you are going to depend on Joe's Welding and Blacksmith Shop for repairing your taco'd wheel, you are going to want steel. Again, you are going for strength. I would carry spare spokes for your wheels. I carry spare spokes in a piece of PVC tubing with caps on the ends. I glue one cap on and sand down the other end so that the cap goes on and off with a minimum of effort. I would insist on Schrader valves in the wheels. If they are pierced for Presta valves I would get them drilled and deburred for Schrader valves. Schrader valves are the standard valves that are on cars and U.S. made bicycles. Again, the pro tour wannabes insist on Presta valves because they are cool and are lighter. The truth is you need a special scale to weight the difference between a Schrader valve and a Presta valve – it's that small. You can get an insert if you need a tube and the only tubes you can find are Presta valve tubes. You can fill up a Schrader-valved bike wheel at a gas station or tire shop. In fairness, you can also buy adaptors for Presta valves that will allow one to use a Schrader valve type air device. It's handy to have adaptors for both valves in an EOTW situation. Be sure with your wheels that you leave room for fenders. Fenders make for cleaner riding when it is pouring down rain. Mud and other debris thrown up from the road is lessened with fenders. Even if you can't find fenders in the commercial market, you can make-do with plastic, a pair of scissors and other parts from your workbench. You definitely want fenders on your bug out bike.
Related: Top 5 Awesome Bug Out Vehicles You Can Actually Afford
Tires: I would go with the largest tires that will fit between your wheels and frame but still allow for fenders. You aren't worried about cutting three seconds off your 10 km time trial, you want a tire that will resist puncture and carry a heavy load. Eric talked about Slime inner tubes. If you have Schrader valves, you can buy Slime in an applicator bottle that will allow you to put Slime in your inner tube. You don't have to search out special Slime inner tubes. You cannot add slime to Presta valve inner tubes. In addition to Slime in your inner tubes, you can also buy tire liners – called "snakeskins" – to go inside your tires. These are belts that lie inside the tire between it and the tube that help make the tire puncture resistant. Be sure the mechanic knows how to install them correctly and that you observe how he installs them. They need to be installed properly or they will abrade the inner surface of the tire and cause an early failure. Again, the pro circuit wannabes will deride the use of Slime and snakeskins because they make your acceleration slower. Well, that comes into play if you are making a sprint for the finish line, certainly, but I don't have a team riding with me ready to swap out wheels if I get a flat. I have to sit down by the side of the road and fix the flat myself. I would rather ride than fix flats. So I will give up the two-tenths of a second difference in my sprint to the finish line to get way ahead of the peleton by not having a flat for the whole ride. As I was taking my bike off the bike rack on the back of my vehicle once, prior to starting a 60 mile ride I noticed a green spot where the Slime had leaked through the tube and the tire. It looked as if a goathead thorn had pierced the tire and tube and a little Slime had leaked out. I felt the tire and it felt hard. I hadn't ridden for a couple of days, so I knew it had happened some time prior. I decided what the heck, if it didn't hold air I had to either fix the tube now or later or it would hold for the ride. I decided to fix later. I never had to. The Slime sealed the leak and I rode the 60 miles and I don't remember if I ever had to fix the tube before replacing the tire due to wear. I almost forgot to mention. You can also buy extra heavy duty tubes called thornroof tubes. If you do that, you probably won't be able to get snakeskins in with the thornproof tube. But you can add Slime to a thornproof tube. My personal choice would be snakeskins and Slime.
I think all mountain bikes these days come with disc brakes. I would get the largest discs that can fit on your bike. With the weight you will be carrying you will need the larger discs to avoid brake fade on long descents with a heavy load. It is scary on a bike when you brakes fail due to overheating and you are rounding s-curves at speeds approaching 50 mph. The thought that goes through your mind is: if I hit just a walnut sized rock it is going to be really messy.
Related: If You See These 6 Signs It's Time to Bugout
The single most important part of the bike — the saddle. Do not skimp on a saddle. You will regret that you didn't pop the extra $30 for a better saddle the very first long day. Personally I like Brooks saddles. They are solid heavy leather, and eventually they will shape themselves to fit your butt like they were custom made. Brooks saddles are made the old fashioned way in jolly old Britain, and they are expensive – but they will last you your lifetime. HOWEVER your butt is not my butt. It just may be that a Brooks is not for you. Talk to the bike shop about their saddle exchange policy. See if they have used saddles to try out to see which one fits you. DO NOT SKIMP ON YOUR SADDLE. Your butt will punish you every minute of every day if you skimp on your saddle. There is no such thing as a value priced saddle. Every long distance bicyclist you talk to will tell you the same thing. They may have a different saddle that they find fits them better but that doesn't mean it's the saddle for you. You have to try them out. A big wide saddle such as you see on beach cruisers might look like it would be more comfortable than that kind of thin, hard leather Brooks saddle. True, if you are just going to laze along for a mile or so and then put the bike back in the rental rack. But in fifteen miles the sides of that wide saddle will start to chafe the insides of your thighs, and by twenty-five miles the insides of your thighs will be rubbed so raw that you can't stand to have your trousers rub against them.
So far we have only discussed the bike itself. We haven't discussed how to load the bike, tire pumps, patch kits, tools to take to repair the bike, parts that are absolutely essential for any long distance trip etc. That will be in the next segment.
If you have any questions about anything I have covered, post them and I will try to answer.
You may also like: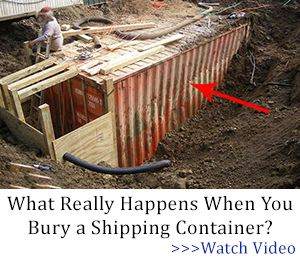 7 EMP Proof Items for Your Bugout Bag
How To Make Your House Invisible To Looters (Video)
How to Make 2400 Calorie Emergency Ration Bars
The Bug-Out Vehicle That Can Literally Take You Anywhere You Want