The police are being targeted and defunded across the nation. The politicians are paying attention, the criminals are paying attention, but they expect you to turn a blind eye to the short term outcomes of this push to demonize our police and make their important job many degrees harder.
What are these short term outcomes? Murder. Assault. Crime. All are on the rise and it all affects you.
Disclaimer: This article is intended for educational purposes only. We are not offering advice or legal counsel in any way. There are serious risks to life and limb as well as legal ramifications when you opt to act in self defense in this modern age. All of these scenarios present unique risks and the decision to act is left entirely up to the individual.
As preppers we are driven to act, based on the analysis of the current situation and some degree of foreshadowing. We are driven to act and that is why we do things like train, store food, buy weapons and network with others like us.
The summer of 2020 changed a lot of people in our nation. The cities were on fire while our major media outlets told us there was nothing to be concerned about.
Related: The Police and Military when SHTF – Friend or Armed Foe?
When the news is quiet about threats to life and dangerous people in our midst, even those outside the prepper ranks start asking questions.
One of the biggest questions is: WHEN TO LET THE POLICE INTERVENE AND WHEN TO TAKE JUSTICE INTO YOUR OWN HANDS?
Home Invasion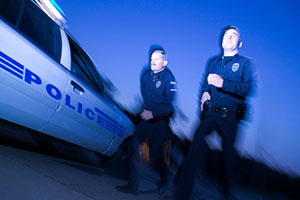 The average police response time is estimated at 10 minutes. Though, in rural or even semi-rural areas that wait could be much longer.
Even 10 minutes is an awfully long time to be under siege by someone breaking into your home. This is especially true if you are unarmed.
The gun control advocates are trying to assure that any guns that have are locked up in a safe, in your basement, so you have no possibility of using them when you need them most.
In a home invasion you should call the police. You should have EMS in route as soon as you hear the alarm or the glass break in your home but that does not mean you must cower and wait for the criminals to decide your fate.
Home invasions have become deadly in recent years and you should not count on the mercy of someone who is brazen enough to break into your home. Gather your family and be prepared to defend them if it comes to that.
Active Shooter
The mass shooting is a terrible scar on humanity. The attacks on soft targets like schools and churches also play on our worst fears. Paralyzed by these fears we have given a lot of power to these lunatic shooters. In many ways we are being trained to look at any maniac with a gun as an unstoppable force.
While the standard training for mass shootings tells us to run, hide and fight, there are many who believe otherwise.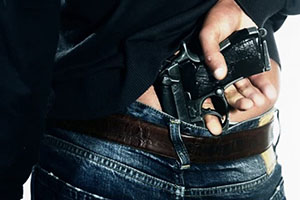 Tim Kennedy, green beret, UFC fighter and entrepreneur runs a company called Sheepdog Response which teaches a vastly different line of thinking.
It's one that centers around outsmarting, attacking, and disabling a shooter using superior numbers, strategy, and violence of action.
In a mass shooting you do not have to lay and wait for your chance to be a victim.
When Life Is At Risk
There are a number of situations that could put a person's life at risk from a human threat.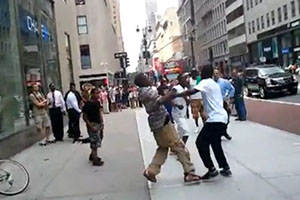 Most people don't realize that a simple street fight can actually end in someone never coming home.
To be knocked unconscious and fall onto the concrete or asphalt is nothing good for the human brain.
Sometimes the trauma is such that it can kill them.
When life is at risk and seconds count, you simply cannot wait on the police. We have to live with our choices, and you do not want to live with your decision to sit back and let someone get hurt or killed when you could have intervened and stopped it.
Related: When To Speak To The Police, And When To Shut Up
Riots And Unrest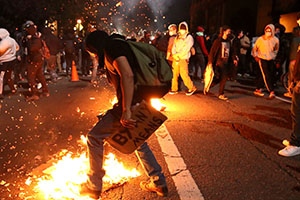 Do you want the truth about civil unrest and riots? It's pretty simple. The cops are busy. They have serious problems to deal with. If massive crowds of people overwhelm the police force, then all bets are off. So, if you round a corner and find yourself in the thick of a violent protest, you are on your own.
Forget about waiting for police to arrive. You have to understand they are not coming. If you are targeted, it becomes a game of survival.
How many people did we see knocked unconscious during the "peaceful" riots in the summer of 2020? Heads bounced off concrete and asphalt and the police were not available to help with any of that.
Natural Disasters
In the short term, it seems that natural disasters bring out the best in people and the worst in the long term. We are watching the state of Texas face something like this as I write this article. God bless them.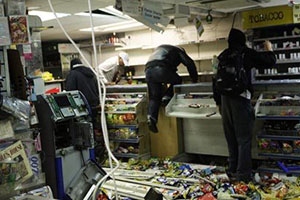 There are always going to be bad people who take serious risks during natural disasters.
There were looters who ran into the burning homes in the hills of California to steal valuables. This while the wildfires were closing in or already burning the homes!
Depending on the type of disaster sometimes the police cannot get to you.
However, you need to be prepared to defend yourself and your property if you come face to face with one of these devious opportunists.
What's More
Sometimes taking action or taking justice into your own hands is about the preservation of human life. It can also be about simply living with yourself. If you know that you could have done more to help someone, you will forever live in guilt that you didn't act when you could have.
We can never lose respect for our thin blue line. Police do a job that is not only a miracle but one that is less appreciated by the day. They cannot be everywhere all at once so, at times, you must be prepared to take justice into your own hands!
You may also like: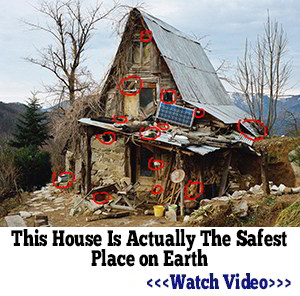 How to Avoid Being Targeted by Looters During a Period of Civil Unrest
World's Smallest Battery Powers House For 2 Days (Video)
3 Non Lethal Booby Traps From An Army Vet
Pressure-Canning Hamburger Meat for Long Term Preservation