It's becoming increasingly clear that the violence and rioting that is going on in cities across the country isn't going to stop anytime soon. Considering the amount of potential problems with this year's elections, there's a good chance that any election results will go to court, regardless of who wins. So in other words, there's almost no chance that things will be peaceful after the elections.
With that in mind, we need to be ready for whatever comes. While we don't want to be instigators of any violence, we certainly don't want to be victims of it either.
Reality says that we all have to go out sometime, even in the midst of pandemics and rioting. So there's a distinct possibility that you'll end up confronted by rioters when you least expect it. That's enough to make some means of defense part of your everyday carry (EDC).
Pistol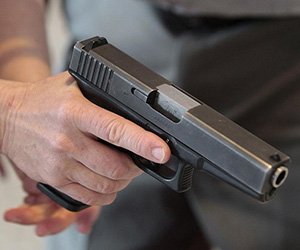 Your main weapon is always your concealed carry pistol. This is one time you want to be carrying it for sure. Even so, you want to do everything you can to avoid drawing it or even letting anyone know it's there.
Don't try using your pistol to put an end to the rioting, as that could end up backfiring and sparking an increase in the violence.
The reason to carry a pistol is for your own defense. If things get out of hand and you're in danger of life and limb, then you'll need to draw your pistol. But be sure that it's absolutely necessary, before even reaching for it, so that you don't telegraph its existence and location to the rioters.
Make sure you have at least two extra magazines too. You don't know what will happen if you start shooting. You may very well have to shoot your way out of the situation.
AR-15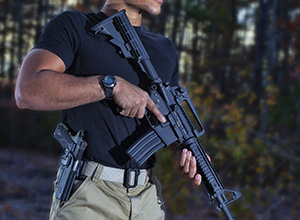 The AR-15 is the closest thing I can think of to a civilian firearm designed for this situation. The ease of use and speed of reloading, changing out its 30 round magazines, means that you can keep shooting as long as they keep coming after you.
Just make sure you stop shooting as soon as the danger to yourself is lifted. You don't want to be found guilty of your own murder spree.
I'd recommend a red dot sight for a situation like this, as it is the fastest and easiest optic for getting a sight on a target, even if the rifle isn't quite lined up right. Back that up with iron sights, even if you have to install them at an angle, so that you have something to use if your red dot goes out.
While this article is about the best items to carry, I'd use extreme caution about even carrying an AR-15 into one of these situations. If there are others who are carrying, then it's okay. But you don't want to be the only one carrying one and end up attracting attention to yourself. Better to keep it in the trunk of the car, and stay close to your car so that you can get to it if you need to.
Related: The Complete Guide To Cleaning And Lubricating Your Ar-15
A Stout Walking Stick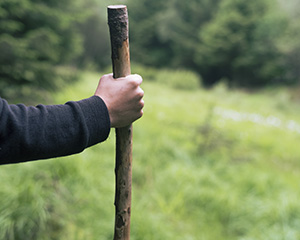 A good walking stick is a great weapon, if you know what to do with it. I'm talking about one that is five to six feet long here, not a gentleman's walking stick that's no bigger than a cane.
A longer walking stick like this can be used as a quarterstaff or bo staff, depending on which you are more familiar with. It gives you reach over any attackers, without having to resort to firearms.
If you're going to carry any sort of staff or walking stick, then you want to take some time to practice using it. This isn't the sort of weapon you can use effectively, without practice. Look online for videos which explain how to use them, then spend some time in the backyard getting the swing of it.
The biggest thing you want to be sure of, when using any weapon of this sort, is to make sure that nobody can get their hands on it. If an attacker grabs it, they might succeed in wrestling it out of your hands and attacking you with it. Then you'd be forced to resort to another weapon, like your concealed carry pistol.
Martial Arts Weapons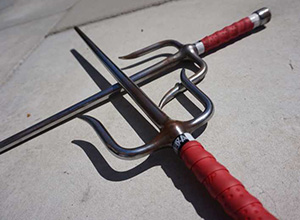 If you have training in the use of martial arts weapons, this might be the time to make use of that training. Such weapons would give you a distinct advantage in any fight you might end up in.
The trick is carrying them in some way that nobody knows you've got them. A heavy coat, like a ski parka, will help in this regard.
Like the staff, don't try using martial arts weapons if you don't know what you're doing. You don't want to be in a position where the weapons you are carrying can be turned against you and used to inflict harm on you.
That's likely to happen with any weapon that gets taken away from you.
Related: Common Tactical Knife Myths that Can get You Killed
Wasp Spray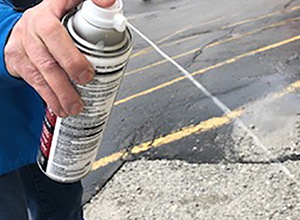 I've always had an issue with pepper spray in that it is such a limited weapon. You've got to be extremely close to the other person, almost putting it in their face. Then, you've only got enough spray for a few quick shots, before the can runs out.
Many people have recommended wasp spray as a replacement for pepper spray. Not only does it come in a larger can, but it's designed to shoot about 20 feet. This allows you to use it as a weapon to clear the area around you, spraying one person after another in the face.
I will warn you though, wasp spray is not considered a legal weapon in all states. So you've got to be sure that you meet the criteria for the use of deadly force, even though it isn't a deadly weapon.
Body Armor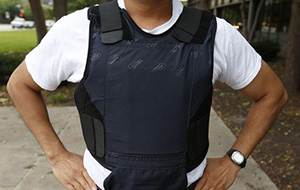 Regardless of what weapons you're carrying, if you're going to be anywhere near the rioting, I'd highly recommend wearing ballistic body armor. Even if the rioters aren't shooting, that armor could be useful.
Part of the way it works is to dissipate the kinetic energy from a round hitting it, spreading the impact out to minimize blunt-force trauma, while it also stops the bullet to prevent penetrating trauma. So, if someone knocks you over and tries to kick you in the chest, the armor would spread the force out, lessening the pain that it causes.
That body armor won't help your head though and wearing a military helmet might be a bit too obvious. But if you happen to have a motorcycle helmet around, you might want to keep it in your car. Motorcycle helmets aren't bullet-proof, but they are designed to withstand blunt-force trauma. So if you find yourself in a difficult situation, putting that helmet on could protect your head.
Related: How To Make Bulletproof Body Armor Plate
Your best course of action, with any sort of riots, is to make yourself scarce. There's really no way for you and me to win in that situation. While we may be tempted to go out and defend all we hold dear, even trying to do that could land us behind bars. And that's about the best we can expect. Dealing with those riots is really the business of the police and the National Guard.
This means staying away from the areas where rioting is likely to occur, especially the downtown area or a neighborhood where an event has happened that might spark violence.
You may also like: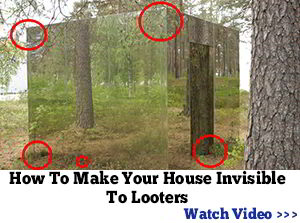 When Did Independence Become Illegal?
How To Make Automatic Backyard Traps and Alarms For Looters and Intruders (Video)