The current government shutdown is the longest on record, having surpassed the 21-day shutdown of 1995-1996, during Bill Clinton's presidency. According to what President Trump has publicly stated, as far as he's concerned, the shutdown could go for months or even a year. It's a classic case of the unstoppable force meeting the unmovable object, as the president battles with Democrat lawmakers over money to build a wall on our southern border.
But, while we call this a "government shutdown," it is more accurately a partial shutdown. Large portions of the federal government, including the military, were already funded by partial budget bills which were passed last year. There's only about 17 percent of the government which is not funded and some of those workers are still on the job, without pay, as the services they provide are considered essential, requiring them to be there.
The portion of the government that is truly closed down includes a lot of departments and agencies that the average citizen has no idea exist, nor of what they do. These are non-critical government functions, which many of us might very well be glad to do without, simply because we don't think they affect our lives in any way.
But what does affect our lives during the shutdown and how can we deal with those effects?
Government Workers & Contractors
Obviously the people who are going to be hit the worst by the shutdown are those who work for the government or who work for government contractors whose work is on hold, due to the shutdown. There are some 800,000 government employees who aren't receiving their paychecks right now.
It is unlikely that many of these government workers are preppers though; their political leanings just don't go that way. If they were preppers, they could survive off their stockpile, just as any other prepper would. For that matter, preppers who work for government contractors that are also on furlough due to the shutdown are probably doing just that; living off their stockpile and waiting until they go back on the job.
One thing to remember is that all of those people will still receive their paychecks; it will just be late. Whenever the shutdown ends, government workers will receive back pay. So they are essentially getting what will work out to be a paid vacation.
Since government shutdowns aren't as rare as most of us think, I hope that they at least have some money set aside, so that they can make it through this one, even if they aren't preppers.
Related: The Best 5 States for Living Off-Grid
Internal Revenue Service (IRS)
Probably the biggest impact this shutdown will have on the average prepper is in the filing of their income taxes and receipt of any refunds due them. While the IRS is not in full shutdown mode, there are no IRS agents to help people with their tax questions or problems. However, I can personally attest that they are still collecting money, even though they are shut down. So, the IRS is collecting money; but I doubt that people are going to see their tax returns on time.
This could be a problem for many preppers, as it's not uncommon for preppers to use their tax returns to make major equipment purchases. Without those returns, they'll have to wait to make those purchases. But the good news is, they'll still be able to make them, once the IRS is open for business and starts sending out those checks. We're only talking a delay here, not that refunds will be suspended.
To make best use of the time, while you are waiting for your return, make a list of the things you want to spend your tax return on and shop around for the best prices. If something you want to buy is on sale, but you can't afford it without your tax return, talk to the seller, perhaps they will extend you a rain check for when your tax return comes in or allow you to put it on layaway at the sale price, with a small deposit.
EPA, BLM and other Regulatory Agencies
There are a number of regulatory agencies shut down, which might affect preppers work on their homesteads or survival retreats. As some have already discovered, you can run into miles upon miles of red tape, when trying to build a pond to capture runoff, drill a well or even build on some pieces of land. While much of this is handled at the state or even local level, there is some that is handled at the federal level, especially when it comes to damming a stream to make a pond.
Some might take the government shutdown as an opportunity to build those projects, thinking they can get away with it. That would be a mistake, as the government won't stay shut down forever. All that would happen is a delay in reckoning between the individual prepper and the government, and I'm sure the government would make them pay for that.
On a more serious note, those who are trying to buy homes, homesteads or property may find that their loan application is delayed, due to a partial shutdown of the Federal Housing Administration. There's also a good chance that they won't be taking any new loan applications at all, until the shutdown is over. So, if you're planning on buying or building, you may need to wait.
Department of Agriculture
The news media has been making a lot of noise about the Department of Agriculture being closed and not doing inspections. But there are several problems with this bit of almost fake news. First of all, they don't do all that many inspections. There are actually many more inspections done by the food industry itself, in an effort to prevent disease and the resulting bad press. With the ease of defaming a company or product on the internet, it is these companies best interest to hold themselves to tighter standards than the government does.
But even if they didn't, food-borne illness can be prevented by properly cooking food. The microscopic pathogens that everyone is concerned about are uniformly killed by temperatures higher than 158°F. So, all that is necessary is to cook everything to an internal temperature higher than that.
There's a way of taking care of uncooked foods as well. Simply washing produce will do a lot. But if you're concerned that washing isn't enough, add a few drops of tincture of iodine to the water. That's what they do in Mexico, where the water is not safe to drink. It works extremely well.
Related: Is it Safe to Drink Old Stored Water?
National Parks and Monuments
The National Parks Service is one of the agencies that is slated to be part of the shutdown; so you're not going to see Rangers manning the parks. But that doesn't mean that parks and monuments will be closed. They will be open. In fact, the gates will be open and you won't have to pay the normal admission fee.
So if you were planning any winter camping trips, perhaps as a survival training time for your family, you can still take that trip. Not only that, but you can save some money on it. But you should plan on taking your trash out with you and don't expect there to be toilet paper in the bathrooms.
If You Own a Business
The preppers who are most likely to notice the government shutdown are those who own businesses. Many types of businesses interface directly with the government on a regular basis; either for inspections, permits or to do work for the government. If you own one of those businesses, you are likely to find it difficult to run your operations as normal. You may have some income loss, as a result of not being able to get the permits or inspections you need.
For the rest of us though, the shutdown really isn't going to have a lot of impact. Even the things I mentioned above are more nuisance level items than anything serious to worry about. We often say that government is more trouble than it's worth; and this is a good chance to see how true that is.
You may also like: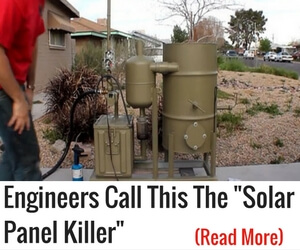 What's the Limit of Your Morality in a Crisis?

How To Make The Invisible Root Cellar (Video)
The Only 15 Rules for Your Prepper Pantry
The First Counties To Be Relieved By The Government After SHTF