The 4th of July is famous for juicy hamburgers fresh off the grill. After an emergency or unplanned event, it's important for everyone's morale to still have access to traditional comfort foods if possible even in times of crisis. Incorporating home canned hamburger into your long-term emergency food supply will ensure that the simple comforts of a home-grown holiday are safe at hand.
Home canning hamburger meat can be a great addition to your long-term food storage, adding protein and flavor to your meals without requiring refrigeration. Canned ground beef can last 3 to 5 years without deteriorating in quality, and can be edible even longer. The meat is pre-cooked and can be opened and eaten straight out of the can in an emergency, or heated and served as part of a quick everyday meal.
When you pop open the can, you'll have a layer of flavorful beef fat for frying, beef stock for a soup or stew, and ground hamburger meat for use in just about anything that calls for ground beef like tacos or pasta sauce. Since the beef is preserved in beef broth, it's ideal for use in a dish that can incorporate both the meat and broth, such as a chili.
Ground beef can be canned as crumbles or as browned hamburger patties. Hamburger patties are more versatile as they can be removed whole and eaten as burgers, or crumbled when they're used.
Related: 10 Long Shelf-Life Canned Foods Every Prepper Should Consider Stockpiling
Keep in mind that full hamburger patties often do not hold together well in the canning process, and you may have trouble removing them from the jar as a whole patty. If you're hoping to have a full shelf stable hamburger to warm on the grill, experiment with different hamburger grinds and sizes to find a method that works for you.
Canning hamburger meat, as with canning any meat product, requires a pressure-canner. Never can meat or recipes using meat with the water bath canning method.
How to Pressure-Can Hamburger Meat
Canning Pressure: 10 lbs under 1000 ft elevation (See notes for high elevation)
Head-space: 1 inch
Processing Time: Pints – 75 minutes, Quarts – 90 minutes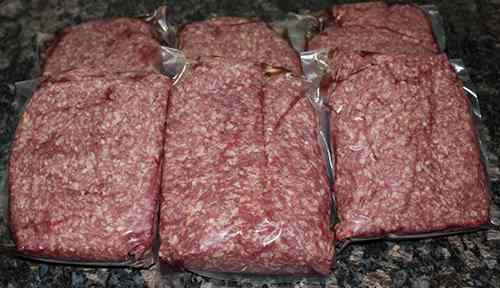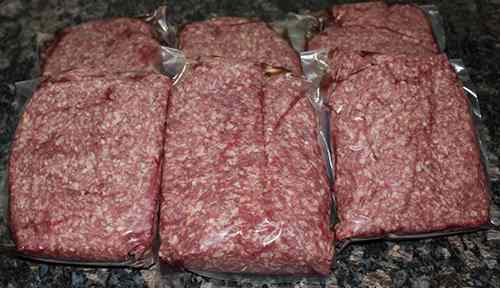 Begin by browning the meat in a pan in small batches with a little oil or fat of your choice. While the meat can be packed into jars raw, quickly browning it will greatly improve flavor and texture. A 10-inch cast iron can comfortably brown 1 pound of meat in 2-3 minutes, so work in batches until all the meat is just barely browned. A little raw still is ideal, so that it doesn't toughen as it fully cooks in the canning process.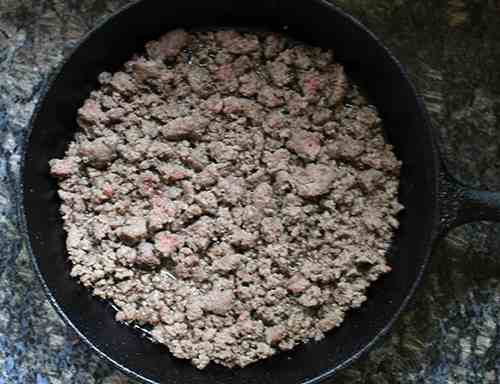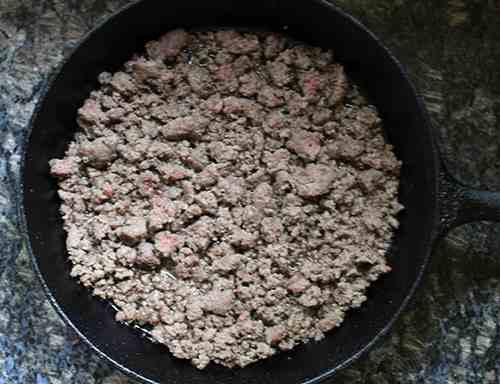 Season the meat to taste using salt and spices, but avoid using any recipes that include a starch or binder such as flour, egg, or bread crumbs. These ingredients can affect the canning process and cannot be used.
A pint jar can hold 3/4 to 1 pound of meat for canning, and a quart holds 1.5 to 2 pounds of meat. Try to have enough meat on hand to completely fill your pressure-canner, as it's much more efficient to can a full batch.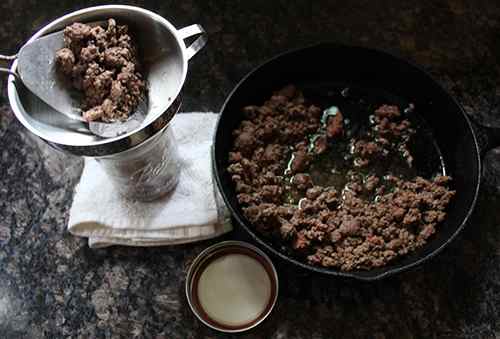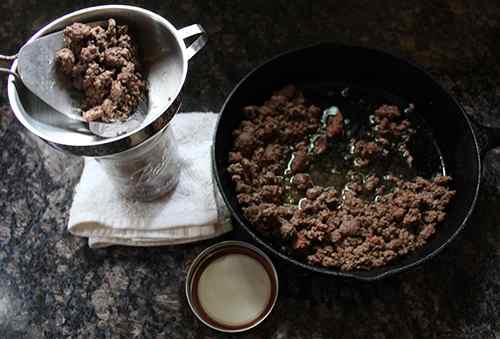 Add water to your pressure-canner and bring the water to a boil. Generally, instructions say add around 2 inches of water to the bottom, but this can vary based on your canner model.
Pack the browned meat into canning jars, pints or quarts, leaving 1 inch of head space below the rim. Fill the jars with boiling stock or water, still leaving 1 inch of headspace.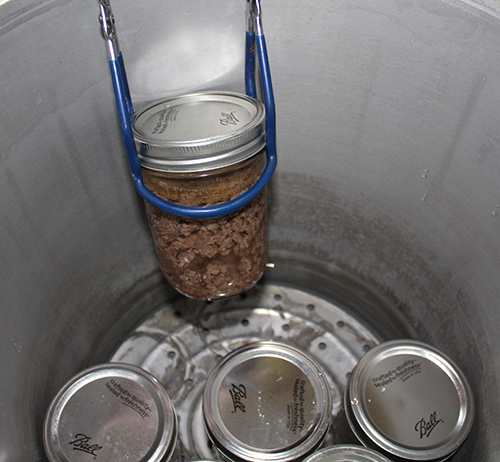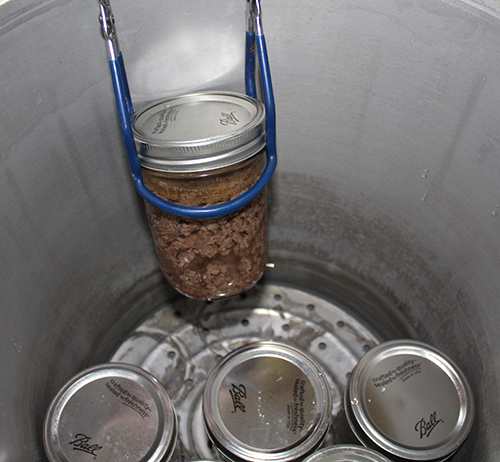 Cap the jars with clean, new canning lids, and attach a canning ring to each jar. The canning ring should be "finger tight." If the ring is too lose, you'll lose fluid into the canner and have partially filled jars, if the lid is too tight air can't escape and the jars have a small risk of braking in the canner. Ideally, set the jar on the counter and tighten the lid as tight as it will go with one hand.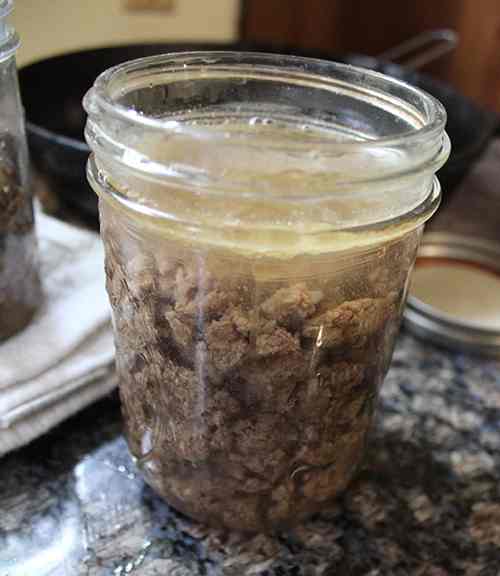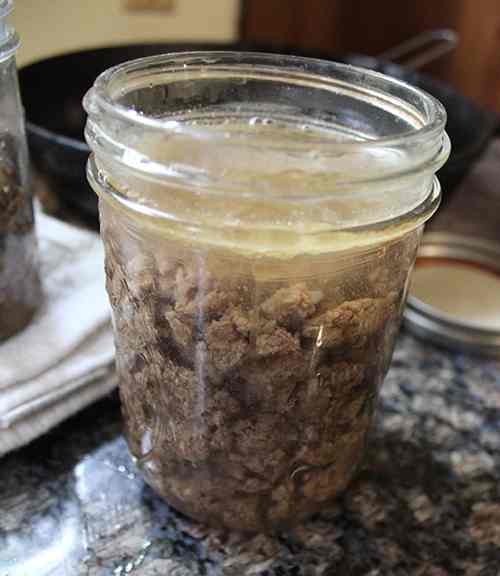 Once the band is tight enough that the jar itself begins to spin without the other hand holding it, it's called "finger tight." This part sounds scary, but really, there's a huge range that's acceptable, just don't crank them down too tight.
Arrange the jars in your pressure-canner according to the instructions. If you have a large double-decker pressure-canner, be sure to insert the divider between layers and stagger the jars so that they're not directly on top of each other.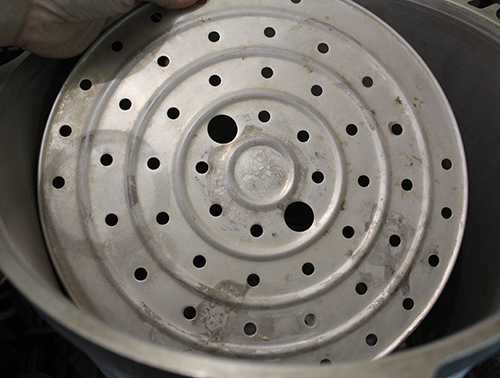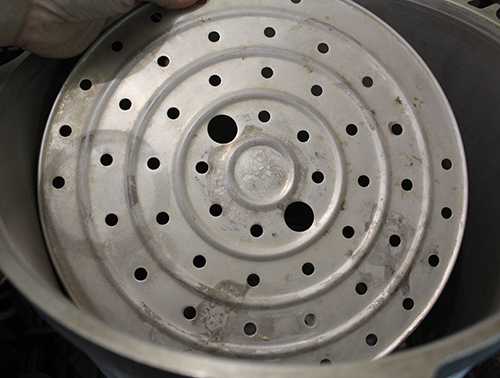 Seal the canner lid and for a weighted gauge canner, allow steam to escape from the valve for 7-10 minutes before adding the weighted pressure gauge. Use 10 pounds of pressure with a weighted gauge, or be sure to keep a dial pressure canner at or just above 11 pounds of pressure.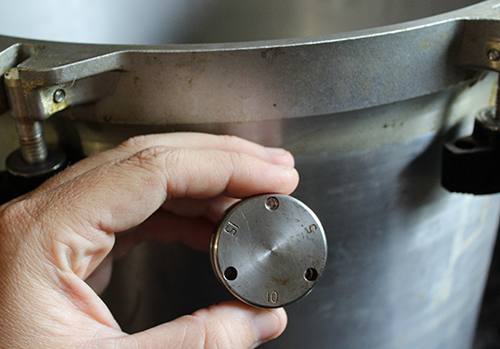 Once the canner is up to pressure, begin timing. Process for 75 minutes for pint jars and 90 minutes for quarts.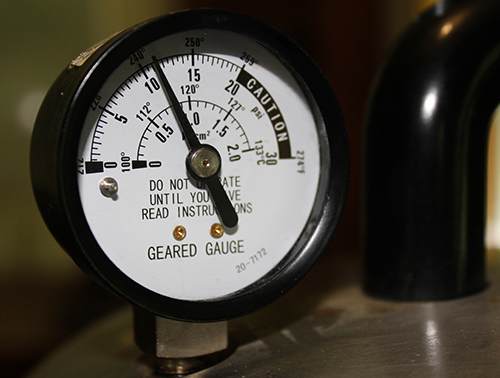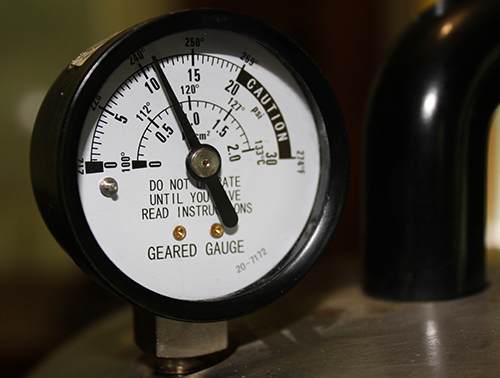 When the processing time is over, turn off the heat and leave the canner in place until it is back down to 0 pounds of pressure. Once it's at 0 pounds, remove the weighted gauge to allow the last little bit of steam to escape before unscrewing the lid.
Remove the jars and allow them to cool to room temperature before storing.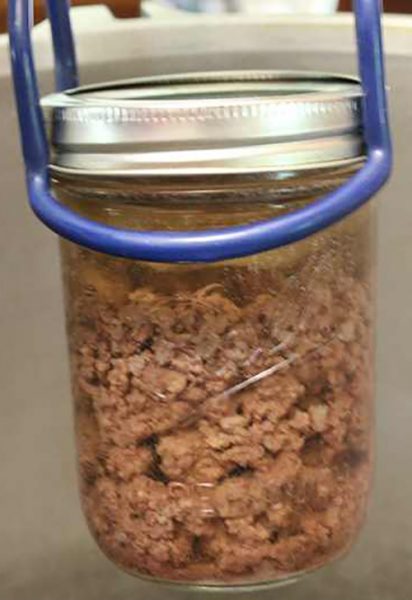 Be sure to remove the canning rings. Canning rings are only necessary during the canning process, and after the jars have cooled the vacuum from the seal itself will keep the canning lid sealed. Leaving rings on jars in storage can result in the rings rusting shut.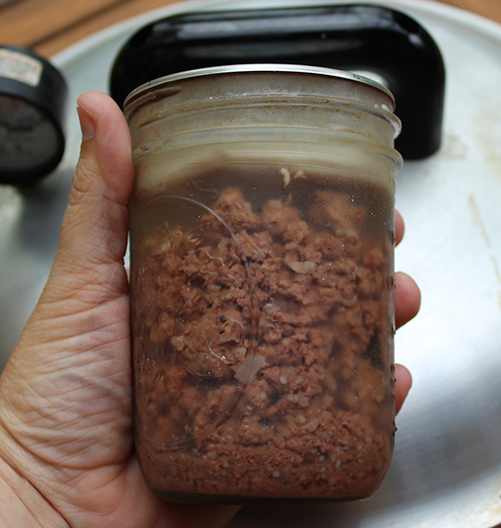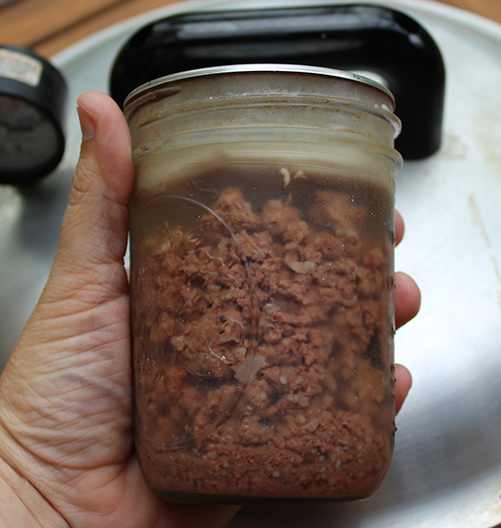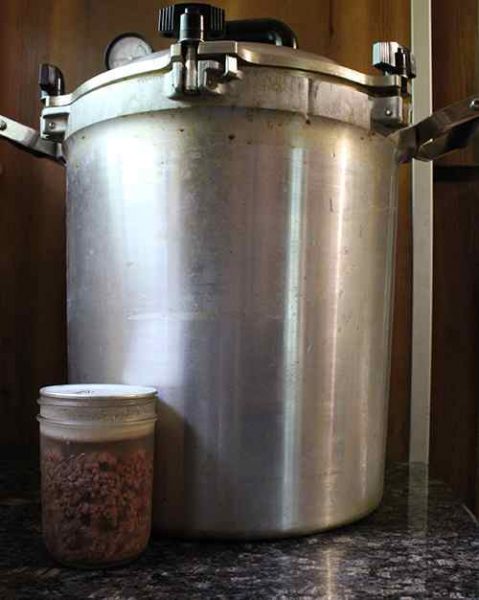 Notes: While many pressure-canners can accommodate a half gallon jar, the USDA does not approve canning meat in half gallon jars and does not provide canning timetables.
While some places on line will give you instructions for "dry canned" hamburger meat without using water or stock, this is not an approved method and will not guarantee food safety.
Above 1000 ft of elevation, canning pressure increases to make up for lower atmospheric pressure at high altitude.  For high elevation pressure canning instructions, see in the All American Pressure Canning Instruction Manual.
Happy 4th of July!
You may also like: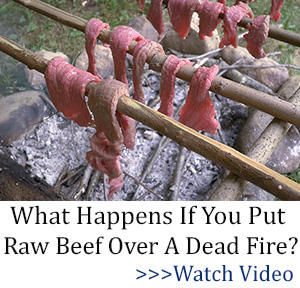 Delicious Recipes Using Cattails: "The Supermarket of the Swamp"
World's Smallest Battery Powers House For 2 Days (Video)
How to Make Delicious Biltong with 1 Year-Shelf Life
How To Make Survival Dandelion Jelly with 2 Years Shelf Life
10 Great Depression Era Strategies For Saving Money