This post was gladly contributed by Danny Major from Alpha Survivalist.
There isn't much any of us can do to stop a natural disaster or doomsday type scenario happening in our towns and cities. All we can do is ensure we are in the best position possible to ride out the worst of the situation and come out the other side in as good a shape as possible.
In other words, if you want to survive, you had better make sure you are as well prepared as possible – but where do you start?
There is a seemingly endless list of things you can 'prep', as well as many new skills you can learn that will undoubtedly help you in the future. However, for this article I am going to concentrate on just one thing- how to make your home as 'looter-proof' as possible.
Related: Home Security Tips From an Ex-Burglar
How to Make Your Home Less Appealing to Looters
If you think about it, the vast majority of homes in the US are not very secure. Sure they might have a top of the range alarm system fitted but let's be honest about it; who's going to respond to a 'bells and whistles' alarm system when all hell's breaking lose?
To deter looters you will need to look at other more effective methods, because your alarm system is simply not going to cut it. That isn't to say that a good alarm system isn't worth having; they are still one of the best home intrusion deterrents you can have. It's just that an alarm is of limited use when there is no law enforcement available to respond to it!
So let's consider the best ways to make your home a less appealing target for looters, or any other unwanted intruder for that matter.
Reducing your kerbside appeal!
I'm not suggesting you should make your property look like some run down hovel; far from it. What I am suggesting is to make your property look as unappealing a target as possible. Make it look like it will be far more trouble to break into than it's worth compared to every other house in the neighborhood.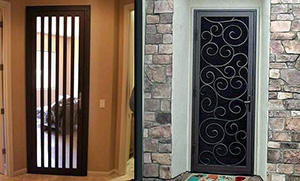 There are a few ways that can be used to encourage looters to target other properties rather than yours. The first is to have a visibly strong wrought iron storm door fitted that would obviously require a lot of effort to get through.
You could also grow large rose bushes or similarly thorny shrubs under all your downstairs windows; they may look beautiful but trust me, you would not want to force your way through one to get to a window, especially when there are other, nearby properties that don't have a dense barrier of thorns protecting them.
Strengthening your home
A new wrought iron storm gate and strategically placed rose bushes will certainly make it more difficult for a potential intruder to gain access, but to a hardened criminal they will be considered a mere hindrance. You will need to step up your game a little if you want to keep these types of vermin at bay.
To a professional criminal a storm gate is only as good as the lock securing it, so always try to get as good a lock fitted as possible; this obviously goes for all your windows and doors too.You can further strengthen all doors by fitting affordable door clubs, which will make almost any solid door impenetrable.
Most intruders will try to gain access to a property by forcing a door, but the next most common forced entrance is via a downstairs window. There are a couple of ways you can make your windows stronger; improve the locks on them as mentioned earlier, and apply a sticky transparent film that when applied thickly to the inside of your glass is designed to make them virtually shatterproof.
Related: No Power? No Problem! Methods for Home Security When the Grid is Gone
Don't advertise that you have something others will want!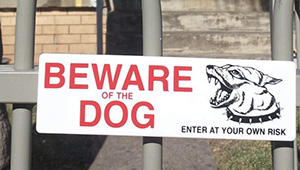 Signs can tell one person one thing, and somebody else something totally different. Take a 'Beware of the Dog' sign for example. It warns people that there is a dog on the premises; they will either give your home a wide berth or be stupid enough to get bitten, but the likelihood of someone stealing your dog is slim.
Now compare that to someone who puts up a sign advertising that they will shoot looters on sight, or that they are a member of the NRA. This type of signage will obviously deter a lot of looters – but there will be a few who will target that property specifically to steal the owner's weapons.
Even if those weapons are secured in a coded gun safe they will not be safe, because if someone is threatening to hurt your partner or your child unless you open it, you are going to open it.
Advertise you have a dog by all means, but it really is better not to advertise you have guns in your home, regardless how safe doing so makes you feel. Don't worry; if at some point an intruder gets past your strengthened security measures that will be the time to let them know you have a gun!
By the way, if I haven't said so already, having a guard dog trained to protect you and your family is a great idea.
Make it difficult for looters to reach your door, never mind opening it!
If you have strengthened your windows and doors as outlined above you shouldn't simply sit and wait for an intruder to try and force them open; you should at least make them work for that opportunity!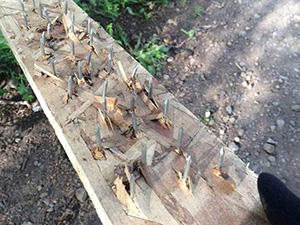 Making the navigation from the perimeter of your property to your actual house as difficult and as hazardous as possible for would-be intruders will not only make an attempt to loot your home even less enviable, but it will also provide you with more time to prepare your defense of your home against those stupid enough to try.
Defensive measures can include the use of barbed wire on surrounding walls and fences, trip wires that trigger all sorts of unpleasant surprises, to booby traps such as nail spikes (pieces of wood with large nails hammered through them that are hidden on the ground, waiting for unsuspecting intruders to stand on them).
Whether or not you put up notices warning people that there are security measures in place is up to you, but bear in mind not every one who comes calling will have ill intentions. Also, you will need to check your state laws regarding what you can use legally. However, in a SHTF scenario when there is no law enforcement to protect you, many people will simply do what they need to to protect their home and family, irrespective what the state legislative says.
Something that is often overlooked that could very well save your home
One item that should be in your home, especially in a situation when looting is rife, is a fire extinguisher!
It may seem a strange item to add to your list, but if looters are desperate to get into your home they will often place it under siege, but because of your precautionary measures and your defensive efforts they will not be able to gain access despite their best efforts. This will result in them becoming frustrated, especially if there are no other homes left to target, and they will start to resort to more extreme methods to force you to leave thus allowing them free unhindered access. Unfortunately, this might mean they try to burn you out.
That is why having a few extinguishers or strategically placed buckets of water lying around, ready to fight any potential firebombing attack, is a wise move.
Although the simple measures outlined above barely scratch the surface of what you can do to protect your home from looters and other criminal elements they will still dramatically help in improving your chances of avoiding being targeted.
You may also like: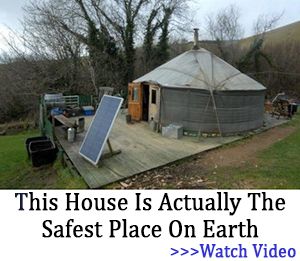 8 Items You Need To Bring if You Need To Leave In 10 Minutes
World's Smallest Battery Powers House For 2 Days (Video)
The Best Way to Train Your Dog For Hunting And Security
Ways to Make Your Home More Defensible
What's the Limit of Your Morality in a Crisis?