Everyone in the prepping community gets around to talking about bug out bags at one time or another. I've done it myself. There are no shortage of reasons why we all need to have a bug out plan and having a good, well-stocked bug out bag is an integral part of that plan.
But I've discovered something through the years. That is, one bug out bag just really isn't enough. It's not enough because I don't just have one situation I am likely to face. Survival scenarios don't work just like we expect. When I say that, I'm specifically thinking that we're probably not going to be sitting in our home, with our family all present, just waiting for something to happen. Chances are much higher that we'll be away from home, perhaps at work, perhaps elsewhere.
That single thought made me realize that one bug out bag wasn't enough to meet my needs. Our bug out bags are built with the idea of using them when we leave our homes, due to a disaster. That means we won't have it with us when we go to work every day. So it's not going to help us get home. That's actually for the best, because if we did have it at work and used it to help us get home, it probably wouldn't be ready to be used for bugging out. We'll have used some of what's in it.
So I don't count on my bug out bag to get home. Rather, I have a get home bag to do that; let's call it bug out bag number two. I keep it in my office, rather than the car, so that it is ready to use if an emergency happens while I'm at work. After all, I might not have my car with me.
Then there are those times when I'm away from home, but I'm not at work. In pretty much all of those cases, I can count on having either my or my wife's car with me. That's a good thing too, as I really don't want to walk around all the time with a bug out bag on my back. Both cars have emergency kits, which include a get home bag, as well as other car-related emergency equipment. That's bug out bag number three.
If I had a cabin in the woods, which I had established as my survival retreat, I would also have a bug out bag there, just in case I had to bug out from that location. But since I don't have that cabin yet (hopefully one day), I still only have three bug out bags.
Another way I might have four is if I had summer and winter bug out bags. In some parts of the country, that would make sense, as the gear you need for survival in the winter is considerably different from the gear you need to survive in the summer. Basically, you need a whole lot more to keep you warm. But where I live, that's not much of an issue, so I don't have seasonal bug out bags. Rather, I make a few changes to my bug out bag every spring and fall, preparing it for summer or winter. Those are basically clothing changes.
My Main Bug Out Bag #1
My main bug out bag is intended to be the one I'll use, if I am forced to abandon my home in a time of disaster or crisis. As such, I try to keep it as complete as possible, avoiding using it or the items in it for any other needs, regardless of what they are.
Compared to many people, my bug out bag is heavy on survival gear. That's because I'm not planning on going to a FEMA shelter or any other kind of shelter for that matter. I recognize the possibility that I might need to survive out in the wild and am prepared for it. However, it really isn't intended to be complete enough that I could just turn my back on society and walk away. I would need much more, in several key categories, to do that.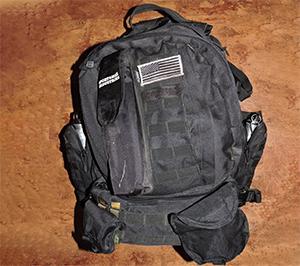 I'm using a tactical pack for this one, although I normally don't recommend using tactical packs. The problem with them is that they are too obvious. Others looking at it will likely think that you're ready for anything, if you're carrying a pack like this. You're better off using a standard backpacking pack, for that reason.
So, if that's the case, why am I using a tactical pack with MOLLE straps? Because I had it. If I have to, I'll throw a towel or other piece of fabric over it to camouflage it. In the mean time, the MOLLE straps give me the ability to tie things to the outside, increasing my carrying capacity.
This bag is mirrored by smaller bug out bags for every member of my family. While mine holds the majority of the tools and survival gear we'll need, each family member carries food, clothing and basic survival gear. We have the option of adding sleeping bags to that, should we end up bugging out in cold weather.
As mentioned earlier, I go through my bug out bag twice a year, updating it for summer and winter. At that time, I check the contents, ensuring that it is all in good condition. Some food items might be replaced with fresh ones. New items might be added, as I am always looking to improve my bug out bag overall. The same happens with each family member's bag.
So, what's in this bag? Here's a list, broken down by categories:
Shelter
Ultra-light tarp (in black bag with lettering) for making a shelter
Tough rescue blanket (the kind that won't tear)
Two rescue blankets
Emergency tent (made from same material as rescue blanket)
Two person emergency sleeping bag (made of the same material as rescue blankets)
Two ponchos
Roll of duct tape
100 feet of paracord
Two tent stakes (while tent stakes can be whittled from sticks, these are useful for soft ground, where the regular stakes won't hold)
One change of rugged clothing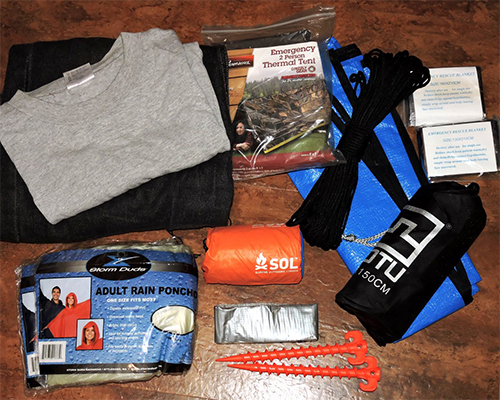 In addition to these items, I would be taking a seasonally appropriate coat, hat and gloves.
Food
Jerky (for meat)
Homemade dehydrated chili
Ramen noodles
Rice-a-Roni (removed from boxes and in plastic bags, so it will pack easier)
Macaroni & cheese
Backpacking butter
Instant coffee
Instant mashed potatoes
Dried fruit
Three kinds of granola bars
Please note that not everything is shown in this picture; I've merely included a representative sampling of the food that I carry. This bug out bag has enough food for two people, for five days.
Cooking Gear
Folding camp stove (essentially a rocket stove) – allows me to cook, without building a fire pit
Two aluminum water bottles – can be put in the fire
Aluminum backpacking cookware set
Two collapsible stainless steel cups
Two plastic bowls
Two sets of stainless steel cutlery
P-38 can opener (not shown)
Various spices
Survival fishing kit, including automatic reels

Water Purification
Sawyer portable bag-type, hollow-fiber water filtration system; good for 1 million gallons at 0.02 microns
Lifestraw personal water filter (each family member needs one)
WAPI (water pasteurization indicator) – lets you know when water reaches 160°F, the temperature at which all bacteria are killed
Halzone water purification tablets

Related: How To Store 100 Gallons Of Water Using A WaterBOB
Fire Starting
UDC Stormproof lighter (best survival lighter on the market)
Stormproof matches
Blastmatch
Metal match
Powdered magnesium (good tinder)
Wetfire fire starting cubes (tinder) (I actually have a lot more than these three)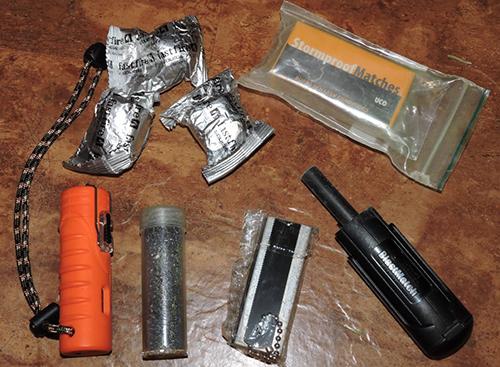 Any survival instructor will tell you that you need lots of redundancy in your fire starting methods. I have two primary and two secondary fire starters here.
Related: How to Make Firebricks (fire logs) and Wood Stove Logs for Free!
Personal Hygiene
Roll of toilet paper
Two toothbrushes w/toothpaste
Soap
Q-tips
Deodorant
Shampoo
Antibacterial hand cleaner
Comb
Insect repellant
Compressed towels (not shown)
Sewing kit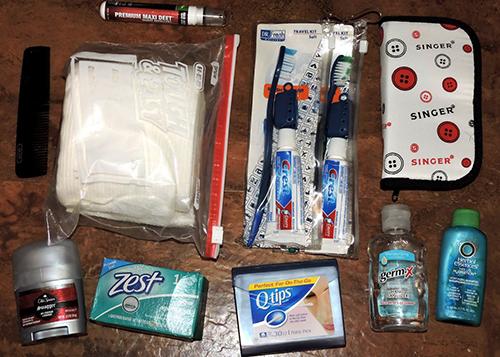 One thing that's notoriously missing from this bug out bag is a first-aid kit. That's because my intent is to take the first-aid kit that is included with bug out bag number three with me. I want it because it has more than I would otherwise put into a bug out bag.
Tools
Manual chain saw
Folding pruning saw
Folding shovel/pick combination
Camp hatchet
Multitool
Sheathe knife
Knife sharpener
Tactical light (high power)
Headlamp (not shown)
Spare batteries for tactical light and headlamp (not shown)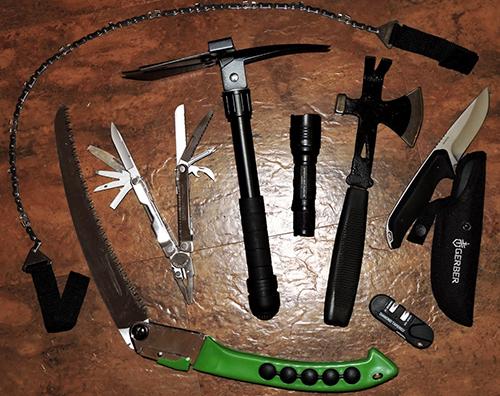 Having both a manual chain saw and a folding pruning saw is a bit redundant, but I have found that there are places where only one or the other will work, due to space limitations. The manual chain saw is small enough and light enough that I don't mind carrying it as well.
Signaling
Signaling mirror
Whistle
Waterproof note pad
Mechanical pencil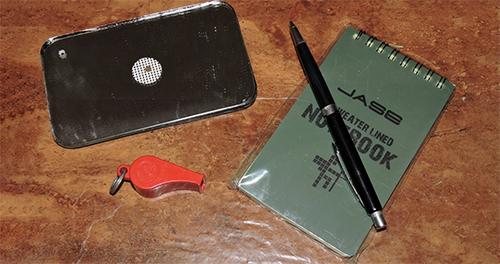 There are two items missing from this photo, a burner phone and a solar phone charger. When I went into the pack, both were broken; the phone by impact and the solar charger looks like the battery overheated. I will need to replace these two items.
Another thing that's missing from this pack is any sort of weapons. That doesn't mean that I'm not taking one with me, just that it isn't in the pack. I will have my carry pistol, which I carry everyday, as well as one of my long guns.
My Get Home Bag #2
My get home bags (this one and the car bag) are living tool kits, used to deal with a variety of the vagrancies of life, even dealing with day-to-day problems. Should I find myself in the position where I need to use the contents, it's really not a problem, as I just make sure that I replace it. That even goes for the food kept in these kits, which is used to help me control my blood sugar and then replenished as needed.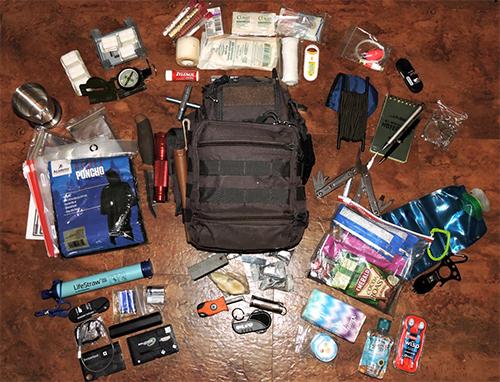 The bag itself is a Condor cross-body EDC Bag, made just for this sort of thing. It measures  about 10"H x 12"T x 9"D filled. As it sits, there's still a little bit of room in it, although I do have it fairly full.
Should it fill up and I need more space, the bag has MOLLE straps on the front and bottom, allowing me to add additional pockets. The MOLLE straps on the sides are where I've hung my sheathe knife, tactical flashlight (in a pouch), multi-tool and lighter (on a carabineer). Straps on the top will hold a light jacket securely while traveling.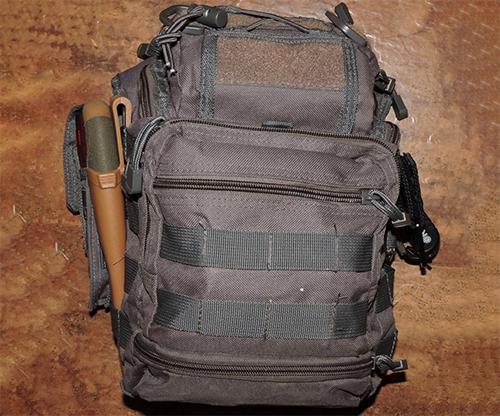 As these bags are intended to allow me to get home in a pinch, they are essentially super survival kits. There's more survival gear in them than most people would put in a survival kit; but less than what I have in my main bug out bag. They also have much less food and don't have a change of clothes.
Here are the things that are contained in my get home bag:
First Aid
Abdominal bandage
Knuckle bandages (in plastic bag)
Adhesive strips (in plastic bag)
Cohesive medical tape
Stretchy gauze
Neosporin (antiseptic cream)
Insect repellent
Alcohol wipes
Steri-strips
Tylenol/Ibuprofen
3 day supply of my personal medications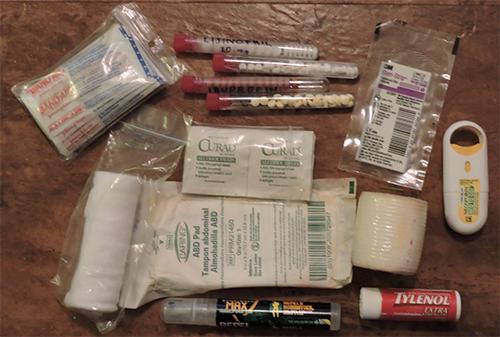 These items are carried in the top pocket for convenience.
Related: 5 First Aid Skills Every Senior Should Know
Personal Hygiene
Kleenex
Anti-bacterial hand cleaner
One-use toothbrushes
Deodorant
3 Compressed towels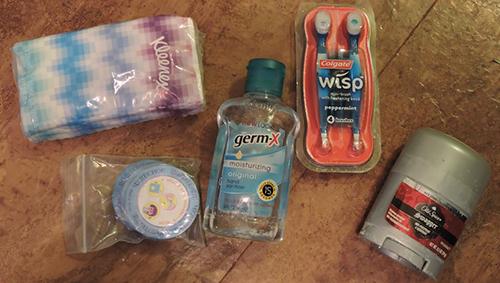 These items are carried in the front pocket.
Related: Toilet Paper Pills – The Best Invention You Didn't Know Existed
Shelter
2 rescue blankets
20′ paracord
10 yd duct tape (not shown)
Rain poncho (can be used as a tent)
Collapsible hand fan (for cooling)

Related: Emergency Shelters When You Are On The Move
Food & Water
Lifestraw water filter
Collapsible water bottle
Spare plastic bags – 4 (good for storing food and as extra water bottles)
Esbit stove w/extra fuel (works to heat food, even when there isn't any wood available)
Spork
Collapsible cup
P-38 can opener (not shown)
Snacks (jerky, granola bars, nuts)
2 – 12″ x 24″ heavy duty aluminum foil (not shown)
Fishing kit (line, bobbers, weights and hooks)

Related: Cheap Foods That You Can Buy At A Mormon Cannery
Tools
Flashlight
Spare batteries (for flashlight & my EDC flashlight
Sheathe knife
Knife sharpener
Multi-tool
Wire saw
Compass
Lock pick set
Pad of waterproof paper, w/ pen & pencil
Hose bib key (opens commercial hose bibs, where there is no knob)

Electronics
Phone charging battery
Car cigarette lighter adapter (not shown)
CR123 batteries (2)
Hair bands (for use as rubber bands) (in bag)
Paper clips & binder clips (in bag)
Safety pins (in bag)
Copies of my driver's license and passport (not shown)
Emergency contact phone number list (laminated) (not shown)
Mini office
Fresnel lens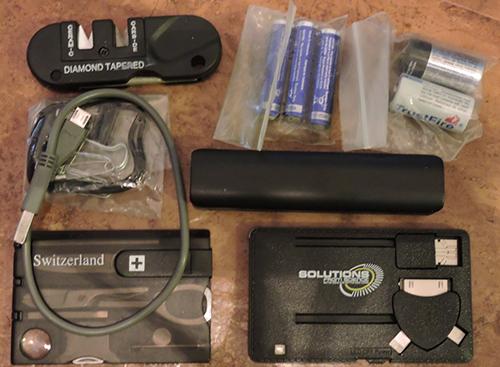 This is enough for me to survive for a number of days. I've gone into the woods with less than this and stayed for several days at a time. Of course, the resources that an urban situation offer to you are different than those you'll find in the wild; so you'll probably have to adjust your survival techniques a bit.
Related: Rescuing And Restoring Almost Dead Lead-Acid Batteries
My Car Bug Out Bag #3
My car bag consists of three parts. The first of these is essentially the same as my get home bag; the one I keep in my office. In fact, I built the two of them at the same time, ordering 3 of everything (there are two of these, as there's one in my wife's car too). That may seem a bit excessive; but by having the same gear in all these kits, I'm assured of having everything I'll need. I'm also assured of being able to find it, as it is in stored in the same location in all three kits.
If you look carefully in the picture below, you can see the same sort of cross-body bag in the trunk of the car, behind the roll of blue paper towels.
The second part of this bag is intended to take care of problems which are specific to being in the car. It consists either of things I need to take care of automotive emergencies, or things that would help me survive in my car, at times I might find myself trapped in it, such as during a blizzard. In such a case, having extra rescue blankets is useful, to help keep the passenger compartment warm.
The third item is a trauma first-aid kit that I made to keep in my car. It is used not only for my own needs, but so that I have a first-aid kit to help others with. There have been a number of accidents where I was the first to arrive and offer assistance.
I'm only going to list the additional items here; those which are not in by get home bag:
Tools
While it may not be practical to keep an entire tool kit in the trunk of a car, I do keep a number of tools; basically enough to do most roadside repairs.
Jack (not the one the vehicle came with) (not shown)
Star wrench – for changing tires
Jumper cables
Gas can
Water
Vehicle fluids (not shown)
Socket set
Combination wrench set
Reversible screwdriver
Pliers
Car jumpstart battery; useful for other battery-powered devices also
Tow strap
Emergency flashing lights (2)
30 foot steel cable with snap links (originally a dog lead, but useful for rescue operations)
Heavy-duty collapsible shovel
Machete
Tarp
Toilet paper
Blue "shop towels" paper towels
Hand degreaser
Flashlights and headlamps (not shown)
Various weapons (not shown)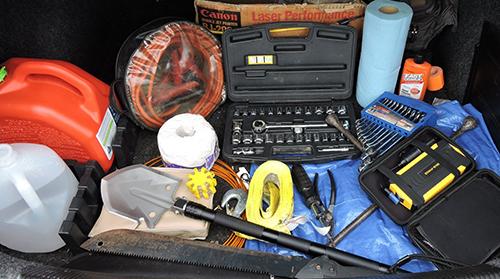 These items are specific to problems which might happen while traveling in a car. While they are often useful for other things as well, they were selected specifically with the idea of dealing with survival problems I might have while traveling in my car or bugging out in it.
Related: 13 Weird Survival Tools Every Prepper Should Stockpile
First-Aid
I have carried a first-aid kit in my car for years; long enough that I can't even begin to count the number of times I've used it. Whether it was coming upon a car accident, someone getting hurt during a recreational event, job-related injuries or kids falling off a bike, this kit has often been the closest first-aid kit I've had available. The current iteration is built into a travel shave kit. I have a larger one at home, which is my primary survival first-aid kit.
Note: I'm going to go clockwise, starting in the lower left
Adhesive cloth bandages
Cloth fingertip bandages
Cloth knuckle bandages
Alcohol towelettes (for disinfecting)
Tagaderm (for use in covering rashes, after putting on medicines)
Snake bite and bee sting kit
Israeli bandage
Antibacterial hand cleaner
Compressed gauze
Elastic bandage (for sprains and for use with the splint below)
Formable universal splint
(inside case, top down)
Latex gloves
Neosporin, a topical antibiotic
Benzoin (helps promote adhesion of bandages)
One-handed tourniquet
Cohesive medical tape
Sanitary napkins (make great bandages for large injuries)
Abdominal bandages
Surgical scissors
Hemostats – for closing off bleeding blood vessels

Food
In addition to these items, I also keep a number of food items in my car's trunk. I wrote about this earlier this year, in an article entitled "12 Foods I Keep in My Car at All Times."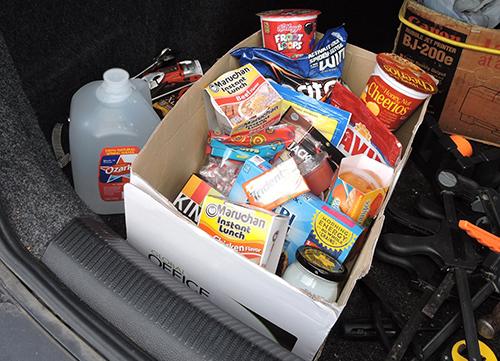 Although my car bug out bag is built around a bag identical to my office get home bag, I expect to augment it in the near future. I am working on a project truck, which will be my bug out vehicle. When I complete it, I will be expanding that kit, so that I have more in the truck, than I currently have in my bug out bag. Specifically, I'll have some larger tools (pioneer tools), sleeping bags and a tent.
You may also like: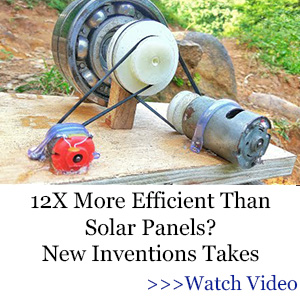 10 Awesome Food Ideas for Your Bug Out Bag
The U.S. Army's Forgotten Food Miracle (Video) (Video)
The Bug-Out Vehicle That Can Literally Take You Anywhere You Want
7 EMP Proof Items for Your Bugout Bag