While everyone hopes that they'll never need to break out a first aid kit, an event will inevitably arise that requires you to break out the bandages and maybe a whole lot more. Everybody, regardless of the level of their prepper status, ought to have a well-equipped first aid kit on hand.
While there are plenty of fairly comprehensive first aid kits available for purchase, really good quality kits with plenty of supplies can get expensive. There are kits out there that will cost you upwards of a couple hundred bucks. If a store-bought kit isn't in your budget, you might consider a DIY option. However, if you go shopping at the average drug store or even big box stores for all of the items that you'll need in your kit, it's a guarantee that you'll spend as much or more than you would if you just purchased a ready-made kit.
Related: 11 Unusual and Uncommon First Aid Items
The other issue with store-bought kits is that they don't necessarily contain items specific for the needs of your household. Of course, general first-aid supplies come fairly standard, but what about addressing your family's specific medical needs? Store-bought kits frequently don't have a lot of space for additions, either.
The solution to both of the above issues? A kit curated by you for your family, put together with items from your nearest dollar store.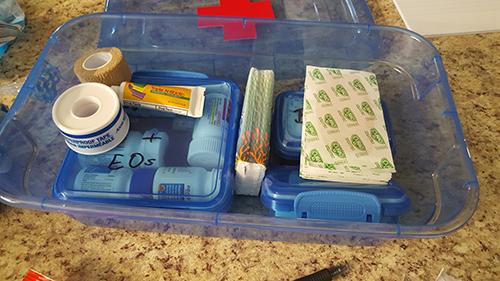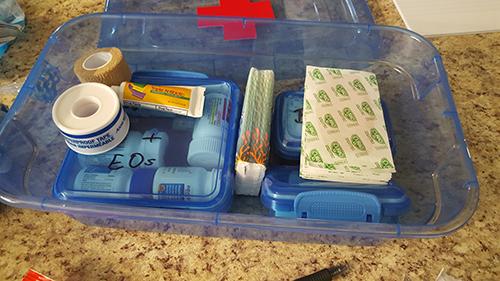 Here, the closest 'everything for a dollar' retailer was the brand new Dollar Tree store that just opened up this week. Though we had a Dollar Tree store in the next town over before this one, the new store had a much better selection of medications and supplies, plus a great selection of containers both to keep the kit organized and to act as a storage case.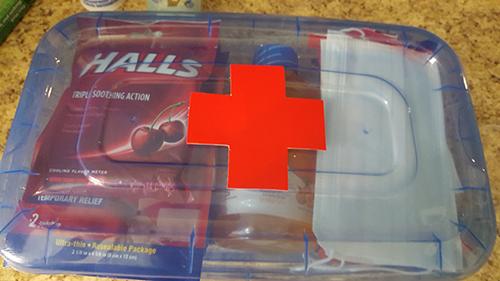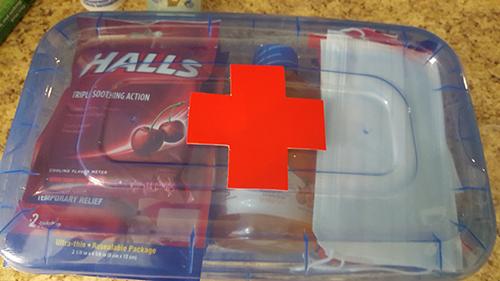 Let's go over some basic supplies that you'll need to get your dollar store first aid kit started. Later, we'll go through a few additions you might consider making based on common medical conditions or issues.
Basic First Aid Kit Supplies
Gauze pads – Ideally both large and small so you can deal with whatever size injury comes your way
Gauze roll – For injuries that need to be wrapped
Adhesive bandages – Pick up several different sizes and be cautious of the type of materials used in construction if there are any allergies or sensitivities to latex or other adhesives.
Triple antibiotic ointment – Put on bandages to help prevent infection and reduce scarring
Medical tape – For taping down gauze
Gentle tape – This 'tape' lacks the usual adhesives and only sticks to itself. It's great for applying pressure to wounds or overuse injuries like tennis elbow or carpal tunnel.
Thermometer – A digital thermometer is an easy way to check body temperature.
Hot and cold packs – I found great old-fashioned cold/hot water bottles that can be reused, and they seem to be pretty decent quality. There are also instant heat and cool packs in my kit.
Antibacterial wipes and hand sanitizer – Make sure hands are germ free before you begin first aid on yourself or someone else.
Nitrile gloves – Maintain basic precautions when it comes to other people's body fluids to prevent the spread of bloodborne pathogens.
Face masks – Reduce the risk of contracting or passing on airborne pathogens
Elastic bandage – These are a great multipurpose, reusable item that has many uses, from splinting, to supporting pulled muscles, to acting as a pressure bandage for wounds. Consider grabbing a couple, particularly if you have lingering joint injuries in your household.
Scissors – For cutting tape or bandages
Witch hazel – Gentle antiseptic that soothes skin; great for rashes or bug bites, cleansing small wounds, and general skin care.
Peroxide – For serious infection prevention and care, plus wound debridement
Alcohol prep pads – For quick disinfection of skin or wounds (but only use on open skin in a pinch, these will really sting!); may also be used to disinfect hard surfaces
Eye drops – For rinsing eyes and reducing eye irritation, plus providing relief for dry eyes
Cough drops – For coughs, colds, and sore throats
Tissues – Nothing is more miserable when you've got a cold than no tissues, plus these are great for basic clean-up in a pinch.
Tweezers – For removing splinters or other foreign objects
Garbage bags – To clean up messes effectively and reduce the potential for the spreading of infection
Electrolyte replacement drink – This is especially helpful in the summer or if you've got a house full of sensitive tummies.
Plastic boxes – These will be used to hold your kit, and the various components of the kit as well. An organized first aid kit is an effective first aid kit in an emergency situation.
Individualized Items and Why You'd Need Them
Medications – What you need will really depend on your family's unique situation, your climate, etc., but you ought to consider acetaminophen, an NSAID, allergy medicine, cold medicine, anti-itch topical medication, and stomach relief like antacids or Pepto. 
Candy or glucose tabs – If you have a diabetic in your household
Essential oils – If you have any go-to EOs that you use for your family, consider storing small amounts in your first aid kit, as well as some carrier oil.
Sunscreen and aloe – If you live in an area where overexposure is common
Epi-Pen or Benadryl – For severe allergies. 

Find out

 how to get free EpiPens.
Moleskin – For feet prone to blisters
Magnifying glass – For those with poor eye sight; You can't treat an injury you can't see clearly!
Penlight – For carrying out first aid treatment in low light
Related: The Only 4 Antibiotics You'll Need when SHTF
Putting Your Kit Together
First, create an inventory list to tape to the underside of the lid of your first aid kit box, and be sure you date the list and mark off anything that's used up (or replace it immediately).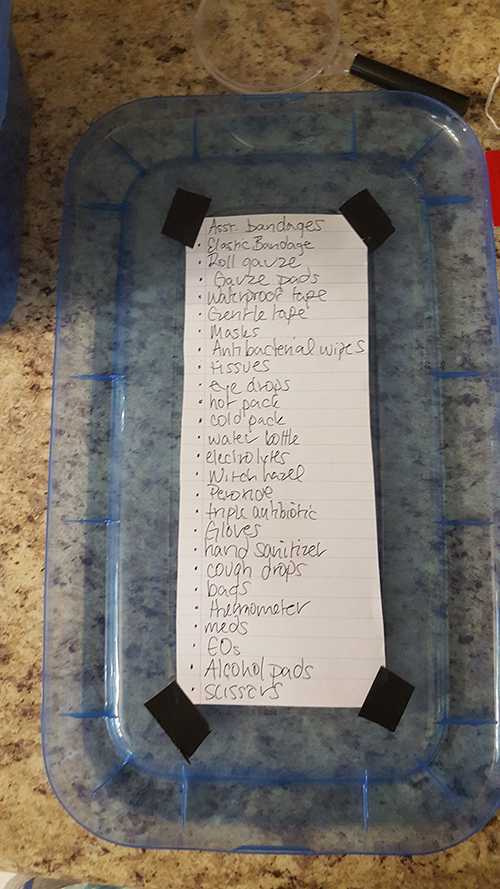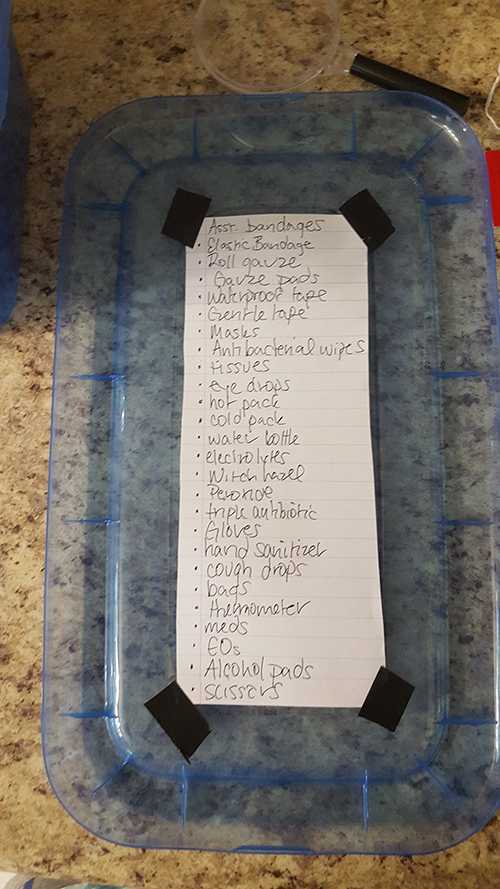 You can stick a large red cross symbol on the top of the lid to indicate universally that it's a first aid kit. Use a smaller lidded container for bandages, one for gauze, and one for medications to keep these items from getting wet in case of leaks. Create simple labels for each container. You can even use a permanent marker like I did rather than more formal labels.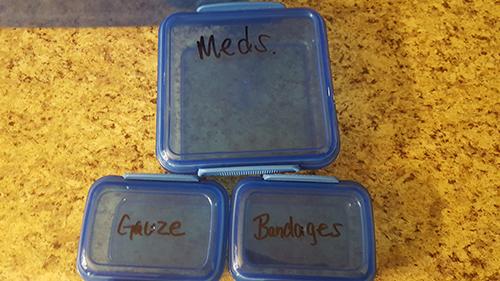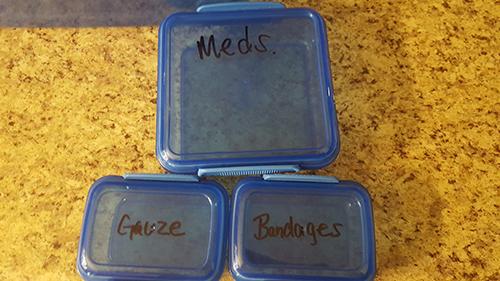 By utilizing discount stores like the Dollar Tree, you can create a well-stocked first aid kit for very little cash, leaving your family well-prepared and your bank account relatively unscathed.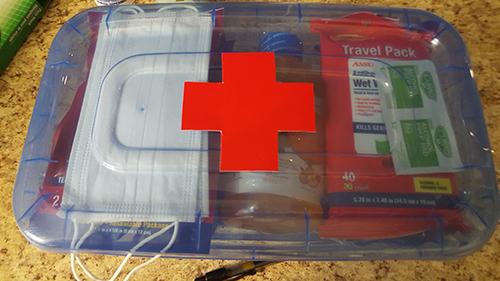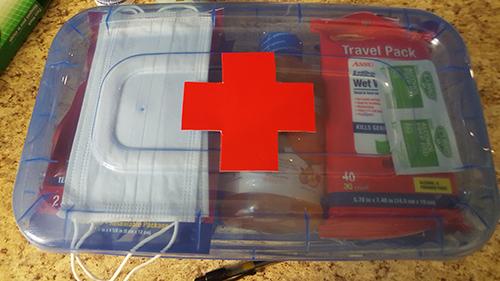 You may also like: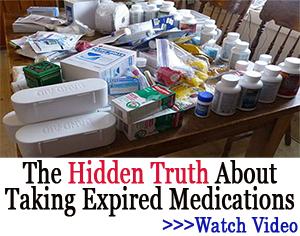 The First Counties To Be Relieved By The Government After SHTF
World's Smallest Battery Powers House For 2 Days (Video)
50 Prepper Items To Shop For At The Thrift Store or Yard Sale
5 Devious Strategies That Will Get Preppers Killed
The Only Plant That Should Be in Your First Aid Kit