How To Store 100 Gallons Of Water Using A WaterBOB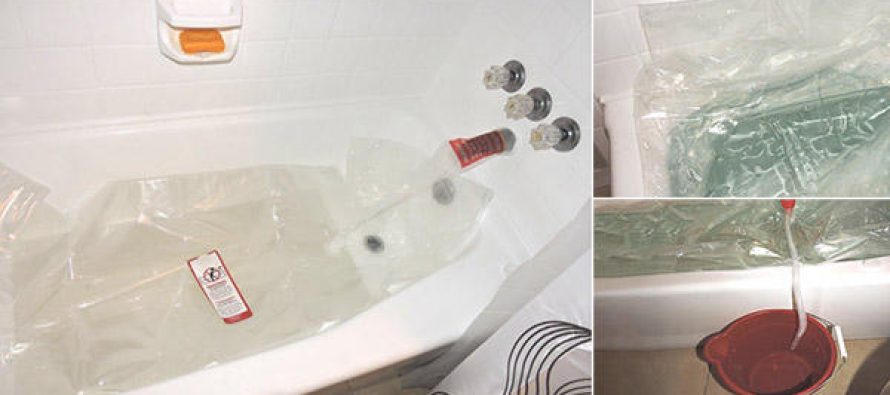 The WaterBOB is an excellent tool for last-minute emergency preparedness, especially for those who live in an apartment. Designed to hold up to 100 gallons of fresh tap water, it gives you a way to quickly store water in an emergency – even if you don't have the ability to stockpile large quantities of it on a regular basis.
Basically the WaterBOB is a large, well made plastic bag, with two threaded connections built into it. Made of heavy-duty BPA free plastic, it will keep water fresh and safe for up to 16 weeks. From everything I can see, it is well made, with thermally-sealed seams that are a good half inch across for strength.
Working with the WaterBOB reminded me a lot of filling and emptying a waterbed mattress, although the plastic isn't as thick or as pliable. But I'm sure that, once filled and sealed, it would be strong enough to lay on (if you had some reason to want to sleep in your bathtub).
I was able to fill the bag in 18 minutes, with the faucet on high. However, I was unable to put 100 gallons of water in it. Rather, according to my calculations, I put only 73 gallons of water in it, during my test. This was no fault of the device, just that the bathtub I was using wasn't big enough for it. I was working with a standard size apartment bathtub, which measured 54" long, 24" wide and 13" deep. A good foot of the bag was left sticking up at the end without any water in it, and it could have gone another three or four inches higher, if the sides of the tub were higher.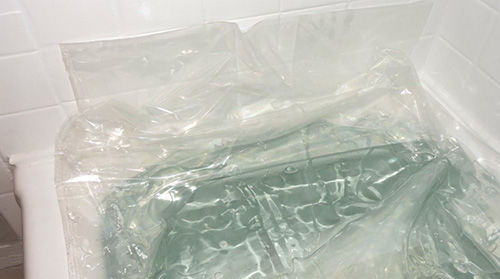 This is something to keep in mind if you choose to buy one yourself. While an excellent product in every regard, it is limited by the size of your tub. You really can't put more water in it than your tub can hold. When you get to the rim of the tub, you're as full as you can go.
Related: How to Build a Water Purification System in 10 Minutes
Filling was extremely easy. There are two threaded caps on the device, one in the middle and one towards the end. A plastic bag funnel, which comes with it, fits over the tub spigot and attaches onto the nearer threaded fitting. Then you simply open the faucet. I held the funnel in place with a couple of rubber bands, keeping me from having to hold it there with my hand.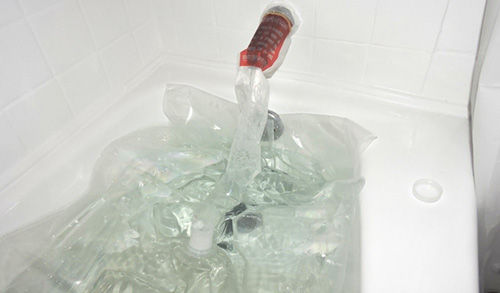 Once filled, the funnel is removed and the opening capped. The other opening is then used for withdrawing the water. This is done with a simple siphon pump that works fairly well, although slowly. The manufacturer recommends not leaving this pump attached, but rather, removing it and capping the opening when not in use.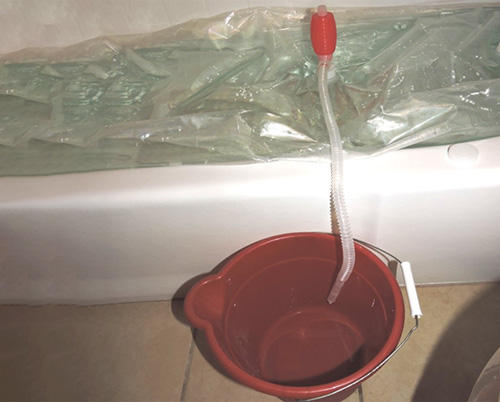 The siphon pump is fairly cheap and the cap on it wasn't very high quality –  but it worked, and that's what matters. I keep a couple of pumps of this type around anyway, for use with other things, so if there was a problem with this one I would just replace it with another.
My biggest problem with the WaterBOB was actually emptying it. But then, I don't think the manufacturer was thinking that people would fill it up then empty it again a few hours later. The idea is to empty it slowly, by using the water in it.
However, this did lead me to think about reusing the device. I would say that like many types of emergency equipment, this device is intended for a one-time use. Even working at it I found it hard to remove all the water and air, so that I could dry it off and fold it back up. On the other hand, folding wasn't really all that bad. I have mine folded up and stored, for the next time I need it.
But there's something else I did besides just empty it and fold it up; I washed it out with a weak solution of chlorine bleach. That way, I don't have to worry about algae, mildew or anything else growing inside it. A solution with 2% bleach is enough to keep it clean.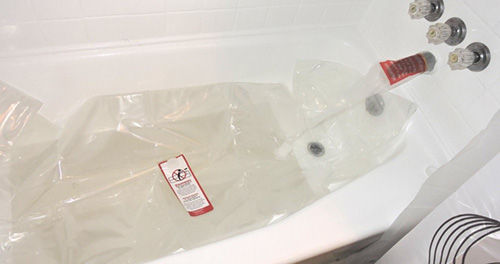 Overall I was impressed with this product, and I would recommend it to anyone, especially to people living in apartments. The ability to store as much as 100 gallons of water in a few minutes, in a way that will protect the water from contamination, is a real plus in an emergency situation. For the price, this product can help anyone be more prepared to face a disaster.
You may also like:
How To Make Your Own Solar Water Heater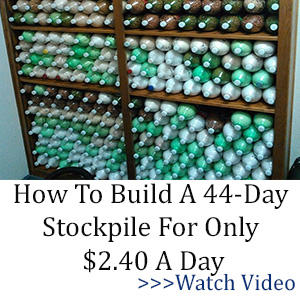 World's Smallest Battery Powers House For 2 Days (Video)
Homemade 72 Hour Emergency Food Supply Kits
How to Make Emergency Survival Bread