As the country starts opening up again, many of us are waiting with baited breath. The lockdowns worked to flatten the curve, but what now? Initial projections showed a surge in the number of COVID-19 cases, once the lockdowns were lifted, but no bigger than the original surge of cases. However, the models have been notoriously wrong all the way through and this may just be one more time in which they are wrong. We might very well see a larger surge than the first one.
Normally, we could expect a reduction in the pandemic in the heat and sun of summer. That's what happens with the flu every year. Ultraviolet light destroys viruses, so it would make sense that the virus would not do well in summer. But the people who are catching the disease probably aren't catching it outdoors, but rather indoors.
What this means is that the second surge, which the doctors predicted would come in the fall, may be here before we know it. Looking at the rise in cases worldwide, we might be seeing the beginning of it already. With that in mind, we need to ensure that our stockpiles are ready, before it is upon us.
Now is the perfect time to look over your stockpile, applying the lessons we've all learned in the last few months. I don't know about you, but I've seen that my normal stocking levels of things I need for the pandemic was too low. So I'm adding to those items now, in order to ensure that should the second wave be worse than the first, I am ready.
Related: How to Decontaminate Yourself in 5 Easy Steps when Back at Home from Infected Areas
Masks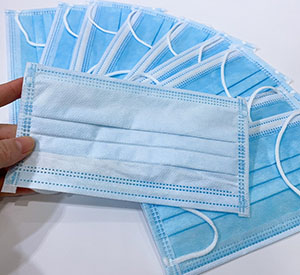 Our political leaders are finally waking up to the importance of masks.
Cities, counties and even whole states are being put under mask orders, in an effort to curb the spread of the virus. That should have happened months ago, but at least it's happening now.
If you are using surgical masks or commercial N-95 masks, you need to have enough of them that you can treat them like the disposable masks they are supposed to be. Medical personnel normally change their masks between patients, to help avoid the risk of cross-contamination. You may not need to do so that often, but the longest you should use one of these masks is eight hours, before disposing of it and replacing it.
If you're using homemade or commercial cloth masks, you don't need to worry about replacing them every day. But you shouldn't use them more than a day, without washing them. if the mask is doing its job and catching droplets of virus-rich spittle during the day, then when you arrive home, the mask is contaminated. Treat it as such and don't touch it again until it has been cleaned.
This means having enough cloth masks so that you can rotate them, not wearing them again until you do the wash. I'd recommend having at least a week's worth, as most people do their wash about once a week.
Face Shields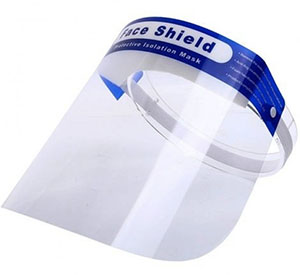 There's some pretty good evidence that face shields might be even more effective than masks. They cover the eyes, granting protection to that tissue, which masks can't. While they don't do a thing to absorb aerosol droplets, they can block those droplets out.
Medical personnel wear face shields, often in conjunction with masks. That should tell us something.
While I don't bother wearing a face shield everywhere I go, if I'm going into an area where there are a lot of people or where I know there are people who are infected with the disease, I will make sure to wear one. It's an inexpensive way of upping my security another notch.
Disposable Gloves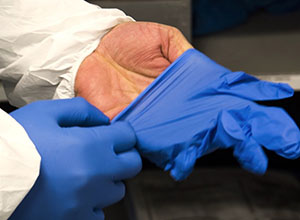 Medical experts are still recommending against the use of gloves; but that's mostly because people aren't using them correctly.
These, like the masks, are supposed to be disposable. That's important, so as to avoid cross-contamination. If you wear the same gloves into a number of different stores, you might just be spreading the disease with those gloves, rather than protecting yourself.
The only way to use gloves is to take them off and throw them away, as soon as you leave the store. That's what I've been doing when I go to Walmart and the grocery store. I wear them in those stores, because there are so many customers in the stores, touching items and then I'm touching those items as well. putting gloves on ensures that if I've picked up the virus off something in the store that someone coughed on, I won't be carrying it anywhere else.
If you're going to use disposable gloves, then be sure to get plenty of them. Fortunately, you can buy them in boxes of 100 (50 pair), an amount which matches up nicely with the number of masks that typically come in a package.
Disposable Booties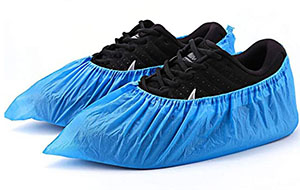 Stepping your PPE up a notch, you might want to consider buying disposable Tyvek booties to go over your shoes.
Studies have shown that the SARS-Cov-2 virus can be picked up on the soles of people's shoes, causing them to take it home with them.
These booties provide a way of making sure that there's nothing on the soles of your shoes that shouldn't be there.
I've been using booties like this whenever I go into any of the big box stores or supermarkets; basically anywhere where there are a lot of people. The more people there are in an area, the greater chance of infection. So, if I'm going to be wearing rubber gloves, I wear the booties as well.
Disinfectants of All Kinds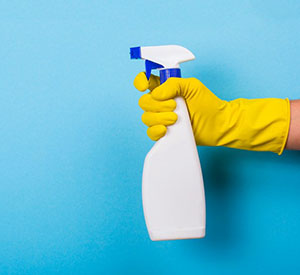 One of the things that flew off the shelves when the pandemic started was disinfectants. It doesn't matter if you were looking for disinfectant cleaner, rubbing alcohol or even bleach, it was gone.
Part of this was because many of those items come from China and our shipments from China were interrupted by them quarantining over there and ships being quarantined over here.
Nevertheless, we've all gone though a huge amount of disinfectants in the last few months, and there's no end in sight. It is essential that we all have the ability to disinfect anything that comes into our homes, so that we can ensure that we aren't allowing the disease in.
If you can't find other disinfectants, you can probably find bleach. Chlorine bleach is an excellent disinfectant. Mix it at a ratio of 1/3 cup bleach to 1 gallon of water. Other unusual things that can be used for disinfectants include:
3% hydrogen peroxide is an effective disinfectant
20 mule team borax, when mixed with water, forms hydrogen peroxide
Hydrogen peroxide is also the active ingredient in color-safe bleach
Windex has more ammonia in it than Clorox disinfectant spray
Disinfectant Wipes (If You Can Find Them)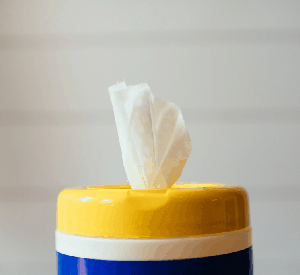 One of the hardest items to find is still disinfectant wipes. The Clorox wipes which are so popular use ammonia as the disinfectant, not chlorine bleach. This is important, as it is dangerous to mix the two chemicals together.
Ammonia is a gas, so you and I can't readily mix it into liquids in our kitchens.
So if we can't find these wipes in the store, we need an alternative. Fortunately, there is something else we can do, which will work just about as well.
If you can find the heavy blue paper towels that are sold in auto parts stores, you can use them to make disinfectant wipes. To fit them into a container, you'll need to cut the roll in half. A serrated bread knife works well for this. Then cut the core out of it, finding the last towel and loosening the end of it. In use, the roll of wipes is used from the inside out, rather than the outside in.
You'll want to make the bleach mixture I mentioned in the last section, adding 1/4 cup of dish washing liquid to it as well. That way, it can work as a cleaner as well. Soak the towels in it, until they are soaked all the way though. Then put the roll of now-wet towels into a container to keep it wet, along with a small amount of the liquid to keep them wet.
Please note that you must clean out any wipes container, before putting these wipes into it, as you can't mix chlorine bleach and ammonia. Another container option is to use one of the 35 oz. square peanut jars. These are just the right size for a half roll of the blue towels.
Hand Sanitizer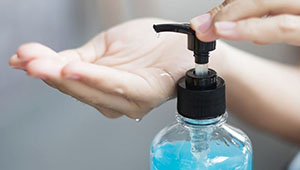 Currently there is plenty of hand sanitizer making it to the stores, although I still see stores running out of it. With the need to wash our hands constantly, you just about can't have too much hand sanitizer.
Please note that antibacterial hand soap and hand sanitizer aren't the same things. Hand sanitizer has a minimum of 70% alcohol, which is very effective in killing viruses. There are different chemicals used in antibacterial soaps, which are not effective against viruses.
If you need hand sanitizer and can't find it, you can make your own out of 91% rubbing alcohol and aloe vera gel. Please note that you can't use 70% alcohol, as by the time you mix it with the aloe vera, you won't have a minimum of 60% alcohol content, the minimum required for the hand sanitizer to be effective. The proper ratio of these two ingredients is 2 parts 91% alcohol to 1 part aloe vera gel.
Related: How to Make an Antibacterial Sanitizer at Home
Paper Towels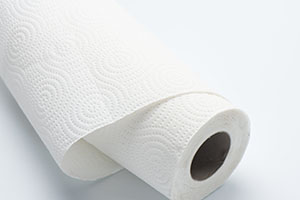 I've already mentioned the blue paper shop towels above. I've found them to be much more effective for disinfecting things than normal paper towels. Even the best paper towels will fall apart, if you try and use them to disinfect your groceries when you get home from the supermarket.
Having said that, you still need to stock up on normal paper towels. The stores ran out of them and will probably run out again. If we are going to keep our homes and vehicles decontaminated, then we are going to need to have paper towels. Cleaning cloths can be used, but they will need to be disinfected thoroughly and often, to keep them from spreading the disease, rather than helping us to decontaminate our homes.
Toilet Paper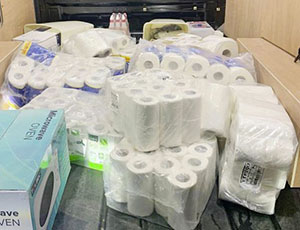 We all know that the grocery stores ran out of toilet paper from the first wave of COVID-19 and it will probably do so again. It still doesn't make any sense, because there isn't any reason why people would need so much toilet paper.
Nevertheless, it seems to be a part of the landscape in this pandemic. So, since so many other people are stocking up on it, we need to at least make sure we have enough for our family's needs, or we won't have any.
Bottled Water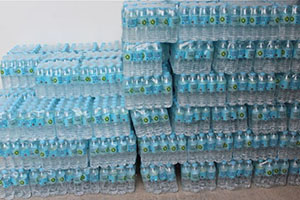 Water is another thing that people panicked on and stockpiled in the first round of COVID-19. Again, this doesn't make much sense, because there is no reason to think that anything will happen to our water supplies.
Nevertheless, people were panic buying water and will probably do so again.
So if you need bottled water to drink, rather than drinking tap water or your own filtered water, you might want to stock up again. Personally, I use my own filtered water.
Related: Does Water Really Expire?
Food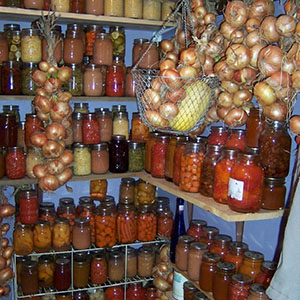 Many of us ended up getting into our stockpiles, when the grocery store shelves were all but empty. There were many items which were hard to get, because of other people stockpiling. But, that's why we have a stockpile.
The question is whether or not you have depleted your stockpile during the first wave.
If you have, then now's the time to restock it, bringing your levels back up to normal, before things get bad again. The grocery store is one of those dangerous places to be, because so many people go there. So stock up now, rather than later; preferably at a time when there aren't many others in the store.
Entertainment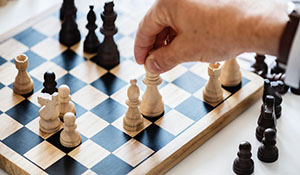 Many people suffered from some rather severe cases of cabin fever, due to being locked up in their homes for so long.
There's a chance that this added to the demonstrations and rioting associated with the killing of George Floyd.
People were uptight before that happened and that just gave them the push they needed, to put them over the edge.
The solution to this problem is to make sure that you can comfortably isolate yourselves in your home, without going stir-crazy. That will probably look different to everyone, as we are all different people. For some, it will mean having a good collection of books or movies; for others, some sort of hobby. I'd recommend a combination, so you don't get bored.
If you don't have a hobby already, then this might be a good time to start one, especially some sort of hobby where you are making something. It might be a good time to learn and old-time craftsman's trade, adding to your long-term survival skills.
You may also like: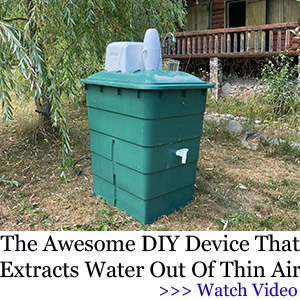 What Do I Store in My Pantry As a Prepper?
75+ DIY Projects For a Self-Sufficient Homestead (Video)
How To Protect Your Home During This Pandemic
The Best Foods You Need When Bugging Out