With prepping and survival comes bugging out and a bug-out-bag. Bugging out is simply quickly fleeing the area that is under threat to go to another place, that you have hopefully planned to go to. It is always a good idea to know where you will be bugging out to and to have a defined plan.
It is also essential that you have some sort of bug-out bag. It is normally designed to keep you going for 3 days, but some people like to pack for longer amounts of time. Now if you are older, there are special conditions you need to consider, such as weight of the pack, the difficulty of the journey to your bug out destination, and most importantly the food you will be bringing with you.
When it comes to the food, a good balance of weight and calories is extremely important. These foods below are on my list:
Powdered Peanut Butter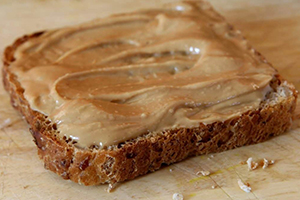 Peanut butter is number one on the list, as it has lots of calories. Two options are available when it comes to peanut butter.
You can choose either the classic peanut butter, or even powdered peanut butter.
The powdered peanut butter does have a very long shelf life, which is 4-5 years if sealed properly. This is something that you definitely need.
If you choose to go with the classic creamy peanut butter, the best option is MREs. MREs have a unique packing and are very easy to carry around, as compared to the commercial peanut butter in its round and often heavy packaging. The MREs are also weather resistant and made for difficult conditions that probably will occur when SHTF. The amount of calories per 2 tbsp. is 188 calories. This makes it perfect for a high calorie power-up.
Beef Jerky
Beef jerky is one of the best foods in the entire world for a bug-out bag. It is dried, has packaging to keep moisture out, and is super light.
Jerky actually originated from a South American native tribe that was called Quechua. They called the jerky "ch'arki" or "to burn meat". Later Spanish Conquistadors seen what the tribe had been doing and adopted the same principles and called their jerky "Charqui". From there, it spread and many places adopted the same practices.
We now know it as jerky. Pick a flavor that suits you and put that in your bag. One large piece of jerky has about 82 calories.
Rice or Mashed Potatoes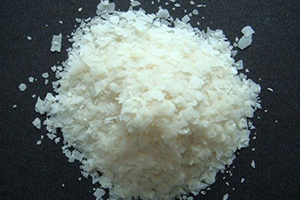 Eating foods with high calories may fill you, you think, but most of the time they don't. A great option for this is rice and mashed potatoes, as they are high in calories and filling.
As to what type of rice and potatoes to pack, go with instant. Instant rice and mashed potatoes are light and you can choose to put them in little bags or in a light Tupperware container.
Be sure to bring some sort of bowl and water to make your instant potato or rice in. Instant rice and mashed potatoes can last up to about 10-15 years.
Instant potatoes have about 97 calories in just 29 grams. Instant rice  has about 170 calories in one cup of cooked rice.
Related: Bean and Rice Survival Soup; Easy and Adaptable Recipe
Tuna and Chicken in a Pouch
This is one of the best foods I could think of to put in your bug-out bag. It hits pretty much every checkpoint: decent amount of calories, extremely light, and tastes pretty good.
These can be found in pretty much every grocery store and are very cheap as well, going for about a dollar in many places. In just a ¼ cup there is about 157 calories. Their shelf life is about three years if sealed properly.
Freeze Dried Food
Freeze dried food is a given when it comes to packing light. It is superbly light and packs a ton of calories that you wouldn't think is there. These can be found in many grocery stores and many different options are available as well. As far as calories, the macaroni and cheese, for example, has 320 calories in 1 cup. It also has a shelf life of about 25 years, which is more than enough for your bug-out bag.
Related: 50 Foods to Dehydrate for Your Stockpile
Ramen Noodles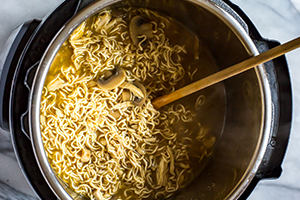 If you have ever had Ramen noodles, you will know that they are super light. So as long as you have water that you could boil you should be alright.
Ramen noodles have 188 calories in one serving. They have a shelf life of anywhere between 2 to 12 months, depending on the conditions it is left in.
These noodles are also high in sodium, but that is not necessarily a bad thing if you have been sweating a lot. Getting back that sodium from your difficult journey would be a great idea.
Pop Tarts
This may seem odd to bring but pop tarts are extremely lightweight and have 108 calories per ounce. They can also be eaten straight out of the package.
Trail Mix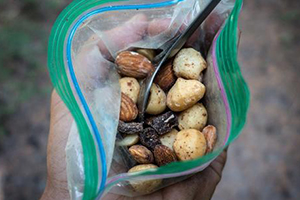 Trail mix is a great food to bring, as it gives you a mix of food groups and a power boost.
Some trail mixes even have chocolate, or you can make a mix of your own. The calorie amount is about 693 in one cup.
Related: The Lost Ninja Superfood
Candy Bars
Yes, these are not the healthiest but they do provide a lot of calories and are lightweight. Candy bars have about 209-261 calories each.
Instant Oatmeal
Instant oatmeal not only tastes pretty good, but are also so light. You can carry multiple packages in your bug-out bag. These have about 151 calories in one packet.
Sunflower Seeds
These are little, lightweight, quick to consume, and pack a good amount of calories. They also taste so good. Sunflower seeds have 205 calories in a quarter cup.
You may also like: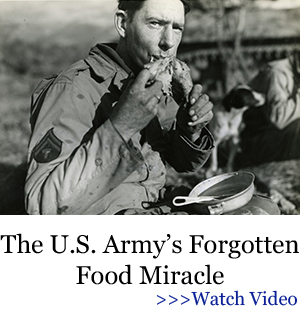 The SHTF Diet: Minimum Food And Water Supply For 3 Months
10 Things Cowboys Carried With Them in the Wild West to Survive (Video)
Is Canned Tuna Still Safe to Stockpile 7 Years After Fukushima?
How to Make 2400 Calorie Emergency Ration Bars Designed to Feed You for a Full Day