Waterborne illness is the number one killer on the planet. That is happening right now. While we are nestled in a cozy world of convenience many have to forgo school and wake up early each day just to walk miles for tainted, stained and disgusting water, in order to survive another day.
This same water will actually kill them if they are not careful about sanitizing it properly. It happens every day, and it happens mostly to children.
As preppers we understand the importance of clean water and how quickly the tap can run dry. Most major disasters are going to shut off water and shock the unprepared public. We see this during earthquakes and hurricanes all the time. The bottled water is one of the first things to disappear off shelves.
One of the most commonsense reactions to the way water supplies dry up in a crisis is to start buying your own supply when the sun is shining and disaster is far away. In this comfortable climate water can be had for a few dollars a case. Of course, storing bottled water comes with its own set of risks and issues.
Space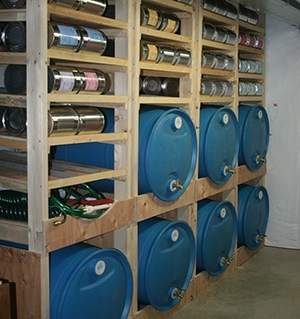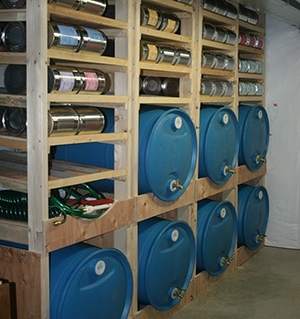 Cases of water take up considerable space. Now, if you keep two cases at home it may not be that big a deal, but what does two cases of 20-ounce water bottles mean for survival of a family of four? These two cases will give you 7.5 gallons of water in total. That's not even a full two days of water by the one gallon of water per person per day standard.
To achieve three weeks supply of water for a family of four, you would need 23 cases of water. Now that is a different space requirement.
Weight
Obviously, the weight becomes an issue at 23 cases. As with most things regarding water we often have a gross underestimate of what its really going to take.
One of the often unspoken issues with bottled water is that kids, wives, husbands and anyone else is tempted to tamper with those bottles. They want to take one to the gym or to the field. After a while your stockpile starts to deplete and that can be dangerous.
Related: Disinfect Huge Amounts Of Water With This Common Household Item
Container Types
Plastic Bottled Water
The water in the bottle has an indefinite shelf life. If not for the breakdown of the plastic, you could rely on bottled water to sustain you indefinitely. If the bottle has been opened that would be a different story. Of course, improper storage like serious temperature fluctuations and crushing weight can cause these bottles to open even when they appear closed.
Plastic presents a lot of challenges because the bottle itself will change over time. The seal will get compromised under bad conditions, and the water inside could become contaminated from the plastic leeching into the water.
BPA (Bisphenol A) is a chemical produced in large quantities for use primarily in the production of polycarbonate plastics and epoxy resins.
Why is there such interest in BPA?
Some exploratory scientific studies that have appeared in the public literature raise questions about the safety of ingesting the low levels of BPA that can migrate into food from food contact materials.
To address these questions the National Toxicology Program (NTP), partnering with FDA's NCTR, has been carrying out in-depth studies to answer key questions and clarify uncertainties about BPA.
Of course, these studies will never reflect the long-term, poor storage conditions that most preppers are going to be utilizing with their bottled water.
The BPA in bottled water will certainly affect the quality of the water over time, but it's a double-edged sword. When the time comes that you need that water I'm going to guess that BPA will be the last thing on your mind.
Glass bottled Water
Glass bottled water is one of the very best ways to keep water and most other liquids. Glass is an incredible container and completely natural. It will not breakdown and it will not compromise the seal on the product.
When glass containers are being mishandled they just crack or break. It's very easy to diagnose. One of the big issues with glass containers is storage and the space it takes to keep a lot of water around. Also, glass bottled water is sold at a much higher price point than simple plastic bottles.
Canned water
Canned water has a reported shelf life of around 30-50 years. While you might think this is a decidedly prepper-friendly product, canned water has also become very popular as a disaster preparedness choice for schools, hospitals, government agencies and public institutions.
As the food safety manager at a food bank I was tasked with discerning the true shelf life of varieties of canned foods. There is always time beyond that best buy date unless the can is damaged. That means this canned water is going to be good even beyond 50 years.
Now, if you institute any kind of minimal rotation you will never reach even a 30 year shelf life on this water.
Related: Storing Water for When Disaster Happens
Types Of Water
Shelf Life of Tap Water
There are many ways to store the tap water you have unlimited access to. What most people don't understand about tap water is that it has the potential to grow harmful bacteria over time. Sunlight can affect the chlorine levels in the water. If the chlorine levels are too low that bacteria will be able to grow, and it will continue to grow over time.
This means the water may have to be treated again or it could grow so much bacteria that it will look and taste horrible and could make you sick.
You also need to consider what you will store tap water in, and there are many options. WaterBricks are one of the best because they are designed for long-term water storage.
Shelf Life of Distilled Water
Distilled water is going to be the purest water source you can store. That is not always a good thing, of course. It will be void of trace minerals that the body needs.
As the air hits the distilled water, naturally the conductivity of the water will increase over time and some contamination will occur. However, due to the purity of distilled water, the contamination that will occur will be minimal compared to normal mineral water.
In saying this, the container you store your distilled water in will inevitably prolong or deteriorate the shelf life of your water. For example, plastic containers can seep unwanted chemicals into distilled water and reduce its quality at a rapid rate. Source
Shelf Life of Mineral Water
Mineral water is an incredible product, because it contains essential minerals like calcium, magnesium, iron, potassium, manganese and copper. Distilled water and tap water will not have these minerals at high levels. Minerals are something that most preppers don't consider as they stock the pantry with canned foods.
At the risk of sounding like a broken record, the water within the container is going to stand up to the test of time. The one advantage that most mineral waters have over tap water and distilled is that it is often bottled in glass. That means you have a vessel that is much safer for long term storage. Mineral water will not have the bacterial content of tap water and so you will be able to store it longer without worry.
The truth of the matter is that water doesn't go bad. This is particularly true when it is stored properly and in the right containers. That said, your preparedness plan for water should be diverse. While storing bottled water is one part of the equation, you should also have a water filtering option, identify local water sources, catch as much rain as possible and learn how to find water in the wild.
Like all things in prepping there is not one surefire answer to any problem. Water is no different. Not only will you want multiple sources but also having methods to sanitize that water will be necessary.
Still, to make an immediate impact on your water situation, a $20 bill and a corner of the basement or temperature controlled room can make a big difference in your preparedness level. This is base that you can expand on with what you have learned.
You may also like:
Is it Safe to Drink Old Stored Water?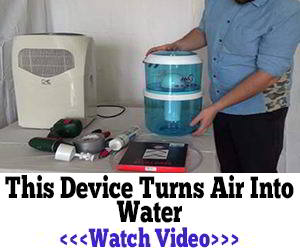 World's Smallest Battery Powers House For 2 Days (Video)
How to Make Your Own Distiller at Home To Filter And Desalinate Water
Building The Three Bucket Bio-Water-Filter