Prepping can take on many different styles. Some preppers focus on bugging in, while others focus on bugging out. There are those who are in the process of turning their homes into homesteads, while others are relying primarily on their stockpiles. Different people learn different skills and even put a different emphasis on learning those skills.
But even with all the diversity that exists in the prepping community, there are things in common. Probably the most central of these is stockpiling food and other supplies, to help us get through a disaster. Most preppers start their prepping right there and are usually still involved in increasing their stockpile, years later.
In this, food is often treated like our number one survival priority, even though it actually comes in third place. Maintaining our body heat and having clean water are higher priorities then food, even though food is also important. What makes those other things more important, is that you can die faster from not having them, than from not having food. Loss of body heat can kill you in 30 minutes, while lack of clean water can kill you in three days.
Even so, the pantry isn't an appropriate place to store home heating. Your backup heating system probably isn't going to fit there. Nor is it a good idea to be storing fuel for heating your home in the kitchen, where there can be open flame.
What's Your Pantry All About?
Before answering the question of what's stored in your or my pantry, I think it might be a good idea to define the purpose of the pantry. For non-preppers, this is just someplace to store whatever food is bought at the grocery store. But for preppers, it can be much more.
I have changed my view of the pantry to including my short-term disaster food storage. What I mean by that, is that in addition to being the place I look to (besides the refrigerator) when I'm trying to find food to cook or eat, I try to make sure that it has two week's worth of food in it at all times. Two weeks is enough to get through most short-term disasters, without having to dig into my main food stockpile.
Redoing the Pantry
Two weeks worth of food really isn't all that much. I've shopped on a two week basis for years, going once after each payday and buying pretty much everything I'd need for the next two weeks. So it's not unrealistic to think in terms of fitting two weeks of food in there. But in reality, I'm fitting more like a month's worth there, as I try and keep it so that my low point is two weeks. So, how do I do that?
Cleanup – Anybody's pantry is bound to have a bunch of stuff in it, that's just there because we managed to buy it on sale. Our family doesn't like it, but we keep it anyway, as if something magical is going to happen and their tastes are going to change. Better to get rid of it or at least move it to your survival stockpile, so that the space can be used for useful things.
Containers – Once you get rid of the stuff that's just taking up space, the next thing I did was to go to standard containers for a lot of my dry food items. The food we buy doesn't come in all sorts of packaging, which means that when we put it on the shelf, we waste a lot of space. I bought a couple of cases of plastic containers, all the same, from a wholesale supply, mostly to keep ants and mice out of my food. They hold breakfast cereal, various types of baking flour, sugar, pasta, oatmeal and anything else that makes sense. About the only thing I don't try and put in those containers is canned goods.
Standardization – We've developed a standard list of food that we keep in the pantry. These are things that we know we're going to use all the time, like pasta and oatmeal. Before going to the grocery store, we check out levels of those items and buy what we need to have, in order to fill the standard containers or to have as many cans of those items as we consider our normal stocking level. Items that are not part of that standard list, which are bought to try out or to make something special, are stored in another cabinet in the kitchen.
Filling the Pantry
Now, with the pantry properly organized, it's easy to fit my short-term survival stockpile in it. So, what's in that stockpile?
Food Items
Canned meat – This is pretty much just a survival item, although we occasionally use it. Our canned meat consists of a combination of chicken, salmon, tuna and corned beef. There are some other canned meats available, but those are our favorites.
Pasta – We're a big pasta family; a good source of carbohydrates, with a lot of variety. We stock four different shapes, including spaghetti.
Spaghetti Sauce – Not only good for spaghetti, but for covering the flavor of whatever else you might need to hide.
Canned Mushroom Soup – Great for turning that pasta into casseroles.
Other Condiments – I'm in the habit of buying condiments several bottles or jars at a time. For example, I'll buy four bottles each of teriyaki sauce, soy sauce and orange sauce, which I mix together to make a marinade for beef jerky. It's just more efficient to buy it that way.
Breakfast Cereal – While not a great survival food, it is something we eat most days.
Canned Vegetables – We stock a variety of different vegetables, all lined up neatly on their shelf, just like in the grocery store, so you can readily see what we have. I go full-depth even with ones we don't use very often, just to have the extras on hand.
Canned Fruit – Stocked the same way as the vegetables.
Rice – Always useful
Flour and Sugar – For baking and other uses. Since we use sugar for homemade fruit drinks,

my normal stocking level is about 20 pounds

.
Other Grains – I like making my breads with a variety of grains. I also like grains, like barley, for use in soups.
Instant Oatmeal – While we keep regular oatmeal in our survival stockpile, we use the instant oatmeal packets for everyday. There are plenty of these, removed from their boxes and stuffed into one of my standard plastic containers.
Granola Bars – I normally don't stockpile granola bars as survival food, but I do use them for snacks, especially when in the car or at events away from home. So we've always got a bunch of the better quality granola bars in our pantry. They work well as a survival food too.
Coffee and the Fixings – We're a big coffee family, so we keep plenty of coffee around, usually unground beans. I grind them by hand. We also keep flavoring syrups and other goodies to fix our coffee to our personal tastes.
Snack Foods – Yes, we do have some junk food in our pantry. I'm just as guilty of eating that as anyone, especially cookies. But I can't really say that the junk food we have has anything at all to do with survival, unless it's for surviving stressful days.
Water – We have other water storage in our home, but our first use storage is in the pantry. I normally have three cases of water bottles and a half dozen gallons there. That's enough for a short-term emergency, if all I'm concerned about is drinking water.
Non-Food Items
Since the pantry is my short-term survival stockpile, I need a few things there, which aren't food items. Just as with the food mentioned above, these items are there for everyday, as well as to get us through those short problem situations.
Small Gas Cook Stove and Fuel – In case the gas is out. I can use my barbecue grill as well, but this is small enough to use indoors, in the midst of a storm.
Paper Plates and Cups – In a short-term emergency, we'll use paper plates and cups, so that we don't have to wash them. I make a point of paper ones, rather than Styrofoam, so that I can use them as fire starting kindling as well.
Fire Starting Kit – Not only for the barbecue grille and fire pit, but for cooking as well.
Small First-aid Kit – We have a larger kit, but I keep a small one in the pantry to take care of emergencies. It seems like the kitchen is a prime place for accidents and minor injuries.
Dog Food – Maybe you don't have a dog, but I do. We keep the dog food in a five-gallon bucket, with lid, which helps protect it from the occasional mouse that finds its way into our home.
You may also like: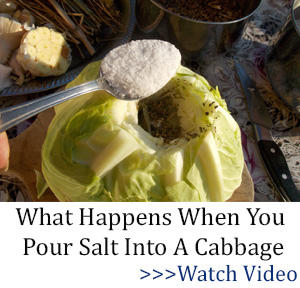 The SHTF Diet: Minimum Food And Water Supply For 3 Months
The U.S. Army's Forgotten Food Miracle  (Video)
Cheap Foods That You Can Buy At A Mormon Cannery
Meal Planning: A Month's Worth of Survival Food with 2000 Calories per Day