January 6th was heart-rending. To see people breaking into the capitol building, pilfering things there and causing both houses of Congress to be evacuated was something I never expected to see in this country. That's the kind of thing that happens in third-world countries, usually as part of a coup of some sort. Yet it was live and in color, for all the world to see.
But it did prove one thing. That is, radical extremists on both sides can do foolish things, including engaging in violence. In fact, there have been people arrested and identified in conjunction with the capitol riot, which are from extremist groups on both sides. Nobody has a corner on foolishness.
I will have to say that the full story about that event hasn't come out yet; and it's quite possible that it never will. As with so many other things in the news these days, what we're receiving is the commentary of pundits, disguised as news. Those opinions may have nothing at all to do with what actually happened, if another narrative fits their own political philosophy.
This is actually quite dangerous, as it helps to fuel those radical elements. The news media today is all about getting a reaction; how many "clicks" can you get. So they play to the more extreme elements on both sides of the political divide, and then measure their effectiveness by how big a reaction they get from those extreme elements.
That leaves you and I, as well as 99.9% of the rest of the population in the middle, where we are just trying to live our lives and make it until next payday. Even so, we need to concern ourselves with those radical groups; not so much who they are, as what they are likely to do.
As we all know, what they are likely to do is cause more trouble for everyone. Whether or not we are included in the group that they cause trouble for, is not something we get to choose. It's a more random chance than anything else.
Nevertheless, there are things we can do to minimize the risk and to make sure that we can survive, if we somehow get in their way and become a target.
Related: How To Survive When You're The Target Of An Angry Mob
Let's Talk Priorities
Before talking about specific actions to take, we need to establish what our basic priorities are. Understanding those priorities is an important part of making our decisions as to what we are going to do in light of civil unrest.
Priority #1 : Make sure that we and our families survive the incident without becoming injured or killed
Priority #22: Keep our homes from becoming vandalized or destroyed
Priority X: There are no other priorities
The vast difference between priority #1 and priority #22 is intentional. While stated as a bit of a joke, it is intended to show the vast difference between the two. When it comes down to it, we can rebuild our homes and replace our possessions, but we can't replace our family. Taking care of them comes first.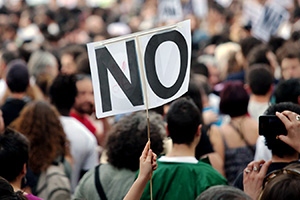 As for anything else, like our personal political opinion, that has to take a back seat to taking care of our families. Getting embroiled in the great political divide we have here in our country is a good way to end up becoming part of the violence, either as a rioter or as a victim. There really are no other categories.
Save your political opinion for times when it might make a difference; like voting and having a real discussion with others about the issues.
Step 1 – Avoidance
The most important thing for any of us to do is to avoid places and gatherings where riots are likely to spring up.
In today's heated political environment, that means avoiding all of them. People are already filled to the brim with frustration due to Coronavirus lockdowns and the problems we've all faced throughout the last year. It doesn't take much to make them go over the edge, which in a crowd situation, can very well mean the crowd turns into an angry mob.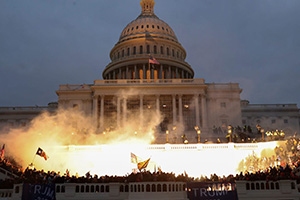 So, what are these places? They can be anywhere where people gather in large numbers. But they are most likely to be in public spaces, close to seats of government. Most of the protests and riots over the last year have taken place outside of municipal government buildings. Some have also taken place in front of state capitol buildings.
Political rallies or demonstrations of any kind are the most dangerous place to be. In many cases, it's not the people who are there for the demonstration who are the problem, but professional agitators who are brought in for the specific purpose of trying to turn that demonstration into a violent riot.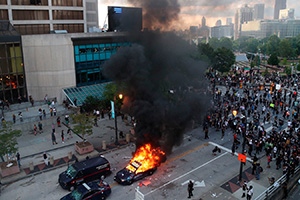 These people are trained in what they do. They know how to tap into people's anger and frustration, turning it into something ugly.
Once they get things started, they'll back off and sneak out of the crowd, so that they can avoid arrest and live to agitate another day.
What this means if that the violence that goes on with many demonstrations is probably not started by the demonstrators or for the purpose of the demonstrators. We've seen that in both the BLM demonstrations and possibly in the January 6th break-in of the Capitol building.
Saying away doesn't mean that you have to give up your political beliefs or even that you have to forego letting our elected legislators know what you think about the issues at stake. It just means finding other ways of expressing your opinion, like calling their offices or sending them an e-mail.
If You're Caught in a Violent Protest
Regardless of how hard you try to stay out of the fray, there's always a chance that you might find yourself caught in an emerging mob situation. That's obviously very dangerous. You might not even realize that there's an event happening or the event might end up coming to where you are.
Maintaining good situational awareness can help you avoid this. If you're constantly looking to see what dangers there might be around you, you're likely to see an emotion-charged crowd forming. That would be a good indicator that it's time to leave, before anything else can happen.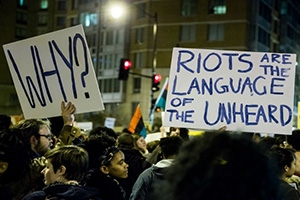 But even then, you might find it impossible to leave, without attracting notice. In that case, the most important thing to do is act like you're part of the mob. Basic mob mentality is that if you're not with them, then you're an enemy. Since enemies get attacked, it's much safer to act like you're one of them, than to act any other way.
That's not to say that you become part of the mob. Keep a clear head, so that you don't fall into that trap. It can be very easy to become part of what you're trying to avoid, if you let your emotions get the best of you. This is much truer in situations where you might agree with the demonstrators.
Rather, you want to work your way gradually to the edge of the crowd and then make good your escape. Don't take a direct line for the edge, as that might make you stand out. Rather, move slowly and gradually towards the edge, all the while moving in other directions, like a sailboat tacking into the wind. Then, when you are on the edge and the opportunity presents itself, you can slip behind something that hides you from the crowd's view and make good your escape.
What About Weapons?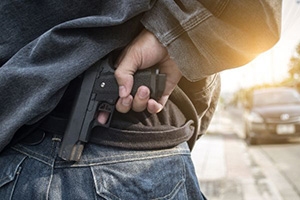 Even if you carry concealed every day, like I do, the last thing you want to do is take out your gun in this sort of situation. That goes for any other weapon as well.
There are just too many people for you to deal with, no matter how good you are.
Eventually, you'll either run out of ammunition or strength and then the crowd will have their own way with you, probably kicking you to death.
It's a problem of numbers. I carry a pistol with a five round magazine and two spare seven round extended magazines. So, with the round in the chamber, I have a total of 20 rounds. Even if I make a killing headshot all 20 times, I've done no more than scratch the surface of that mob, while enraging everyone else further. I probably won't have to worry about my self-defense case in court, because I won't be around to make that case.
If You're in a Vehicle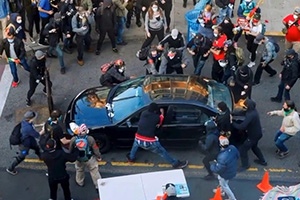 Being in a vehicle won't necessarily be to your benefit. While the vehicle body does offer some protection against thrown rocks and blows from baseball bats, the vehicle will suffer for it. Should things come to that, they'll probably go for the windshield and other glass pretty quickly; none of which will withstand much abuse.
Even if they don't break through the windshield, you may not be able to see well enough to drive safely.
Protesters who block traffic are counting on you stopping. But if you do, it makes you more vulnerable. You're actually better off if you keep moving slowly, pushing against their bodies and forcing them to let you through. Don't ram them and don't try to run them over, just keep driving ahead very slowly.
This is risky for legal reasons. While it is the sort of advice that has been given for decades, the laws in most states have never addressed the issue. Some states have passed laws which allow drivers to continue driving through the mob; but even then, there's going to be a point at which the courts say that there was intent to do serious harm, rather than just trying to get through the crowd.
Your only real defense here is to be doing it in self-defense. That means using the criteria that there is an imminent threat of life and limb.
In other words, there's an immediate threat that the mob will either seriously hurt you or kill you. They've singled you out and they are taking violent action against you, such as trying to rock your vehicle to turn it over.
Without something like that, you have a hard time proving that it was self-defense, so make sure you give the protesters ample opportunity to get out of your way.
Protecting Your Home
Even if you decide to stay home and away from any place where violence might occur, there's always the risk that the violence might come find you.
While the vast majority of these events happen nearby government buildings, it's not all that uncommon for the riots or protests to move beyond that area and into surrounding business districts and even residential areas.
If you live in an upscale area or the city mayor lives in your housing development, their home might be targeted, putting your family at risk due to proximity.
Related: 6 Traps to Place on Your Property Against Looting Rioters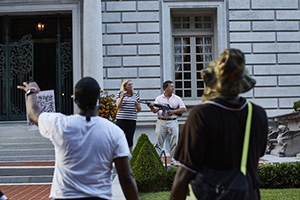 That's what happened in the case of the McCloskeys; the couple who were charged for defending their home in Saint Louis in June of 2020.
A Black Lives Matter protest broke into their gated community, because the mayor lived there and they were video-taped standing in front of their home, armed, protecting it.
The case became highly controversial, with the DA charging them with unlawful use of a firearm, about the lowest-level crime involving a firearm you can be charged with.
I highly recommend having firearms to protect your home; but not like the McCloskeys did. The mistake they made wasn't in having the firearms or being ready to defend their home, it was in letting the mob know that they did. That invoked anger on the part of some demonstrators, while putting them in jeopardy of criminal charges. Oh, and by the way, they live in a state which has enacted the Castle Doctrine into law.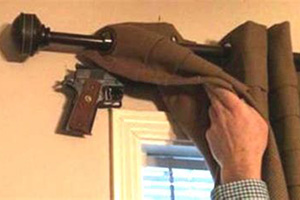 The secret here is to keep your defenses of your home hidden from view.
While you need to be ready to defend home and family, don't advertise.
In other words, don't go outside, brandishing a firearm.
If you're going to have a firearm on your body, either have it in a holster of slung across your chest with your hands off it.
There will be plenty of time to draw your gun if it looks like the mob is going to attack your home. Then and only then should you move to take action. Let them make the first violent move and make sure that you get it on video.
Should You Flee?
Different states have different stances on the Castle Doctrine or Stand Your Ground laws. It would be a good idea to find out what your state says. But regardless of that, you should think through whether you're going to abandon your home or whether you're going to stay to defend it.
While I'm a strong proponent of the Second Amendment, carry concealed every day and go to the range regularly for tactical practice, I also recognize the inherent dangers of using a firearm to defend myself.
My basic stance is to make sure that I am as prepared as possible to defend myself and my family and then do everything possible to avoid having to. I have no problem with the old phrase, "Discretion is the better part of valor."
In today's political climate, the idea that you can get off scott-free from killing someone in self-defense is wearing thin. Even though we technically still have that right, there is always the chance that you will be charged, just like the McCloskeys were. Thank God they didn't fire a shot, as that would have been worse for them.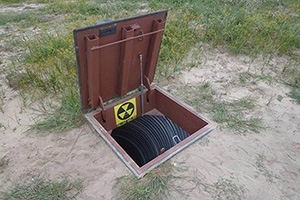 There is nothing shameful about leaving your home when there is violence nearby and heading to a safer place.
There is no guarantee that you won't be the one to get shot, rather than successfully defending your home.
You're better off not taking the risk.
If You Have to Fire
Should you find yourself in a position where you have to take up arms in defense of your home, there are a few basic rules that you should endeavor to follow. First, make sure that any action you take is without a doubt action taken in self-defense. That means letting them take the first shot, even if that puts you at risk.
Secondly, get it on video. Have a family member take a video of everything that's happening, so that you can concentrate on defending your home. That video is evidence you can use to defend your actions, especially if it shows that the mob started the violence.
If you do have to take a shot, make sure that the person you shoot at is actually a threat, taking time to aim carefully so that you don't miss. If there are several who are a threat, try to shoot the leader, as taking out the leader will tend to demotivate others and could lead to breaking up the attack.
You may also like: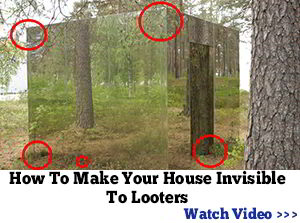 5 Best Guns to Have Against Looting Rioters
US Nuclear Target Map. Do You Live in The Danger Zone? (Video)
7 Ways To Not Waste A Good Crisis
How To Make Gun Powder The Old Fashioned Way in Less Than 30 Minutes