In-depth research between 2004 to 2008 shows that more than 400,000 violent victimizations occurred in garages.
At the same time, another study shows a staggering increase in robbery victimization from 2016 to 2017. Plus, the FBI Uniform Crime Report reveals 1,247,321 violent crimes like rape, murder, robbery, and assault in a single year.
All these alarming statistics show that it's vital you protect yourself at all times. To ensure that, you need to weaponize practical self-defense items in your pockets and car at all times.
Below we discuss the top self-defense weapons you should keep in your car for maximum on the road protection:
How to Choose a Self-Defense Weapon
Present-day, the self-defense industry offers an extensive range of weapons, which may make choosing the perfect self-defense weapon a challenging task.
Typically, buyers pick the ideal self-defense weapon through personal preference and how they'll be carrying it. But apart from that, consumers should consider the following things:
1. Can You Injure Someone with the Weapon?
You should also decide on if you will be able to use the weapon when you need to? Some people's response to danger is freezing up. Therefore tools like panic alarms and other audible alerts are a necessity. That way, they can either chase away the perpetrator or alarm people about your location.
Related: How To Prepare Your Car In Case You Have To Live In It
Otherwise, self-defense devices like tasers, pepper spray, pocket knives, tactical pens are tools you can keep in your car, as well as use to injure the offender.
2. The Weapon's Size
The size of your weapon defines its functionality. You can hide the pocket knife in your purse or pocket, as the name suggests. However, it's difficult to hide an ax.
3. Affordability
While it's true your safety should be your priority, some weapons aren't necessarily the best but cost a lot. Thus, before stepping into the market, be sure to craft a budget for yourself.
4. Local and State Regulations
You should also check that your state allows you to employ your chosen weapon. Since some areas require residents to carry a permit for self-defense tools, it's best if you check in with your state and local regulations on weapons.
Self Defense and Safety Items to Always Keep in Your Car at All Times
Here's a comprehensive list of the top self-defense and safety items you should keep on you in the car at all times:
Pepper Spray
Pepper spray is probably the most popular self-defense weapon due to its ease of functionality and portability.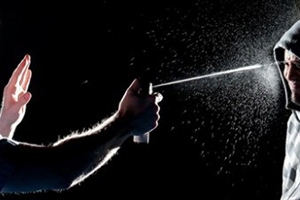 The small defense tool can easily fit in your car, purse, or your pocket.
Plus, it's pretty easy to spray the assailant with pepper spray. The spray not only causes instant pain but also inflames the mucous membranes. The effects of which make it difficult for your perpetrator to open their eyes or breath properly.
Pepper sprays are available in an array of ranges and spray patterns.
Related: How To Make Pepper Spray
Typically, mists and sprays that boast a shorter range are comparatively easy to inhale. On the flip side, pepper sprays with remarkable range don't affect the assailants breathing by much.
Tactical Flashlight
One self-defense tool users often overlook tactical flashlights. Manufacturers fabricate flashlights from airplane-grade aluminum to ensure the product is robust, shock-resistant, and weather-resistant.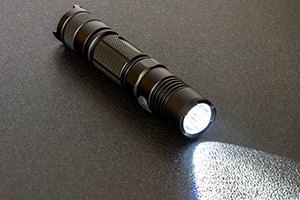 Moreover, tactical flashlights are comparatively brighter than conventional flashlights and provide visibility across the length of a football field, i.e., about 50 feet. In addition to this, you can choose between three settings; low, medium, and high. That way, you can use the brightest strobe to blind your assailant temporarily.
Manufacturers serrate the edge of the flashlights to allow users to use them in a plethora of different ways. You may use it to hit the perpetrator, as a digging tool, or even to break out of your car's window.
Taser Device or Stun Gun
Taser devices and stun guns are two potent weapons buyers can use to protect themselves.
These futuristic and compact devices are the perfect alternative to carrying a gun. Plus, they are available in different styles, sizes, and capabilities.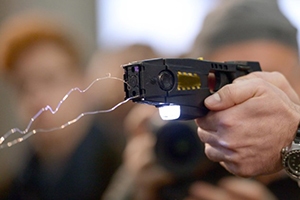 However, before purchasing these tools, vital buyers know that there's a difference between taser devices and stun guns.
Both tasers and stun guns employ wires to attach to the assailant's clothes/skin to deliver a powerful electric shock.
However, the difference is that you can shoot tasers from a distance, whereas you need to be near the target to use a stun gun.
These non-lethal devices require you to pull a trigger to allow the prongs to reach your target and render them immobile. That way, you get sufficient time to make a hefty escape.
Self Defense Keychain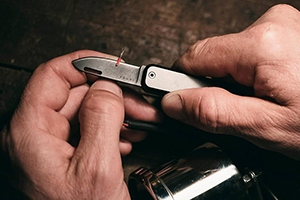 If you aim to purchase easy-to-carry self-defense tools, then a self-defense keychain is a must-have.
Available in plenty of various styles like stun guns, keychain balls, knives, kubotans, and pepper sprays, self-defense keychain offer top-notch compatibility and effectiveness.
You can even purchase safety keychains that double as full brass knuckles.
Self Defense Lipstick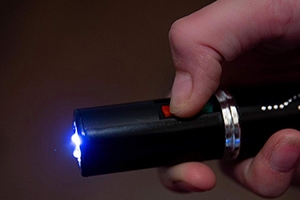 If you're seeking a small and easily concealable self-defense product, the self-defense lipstick stun gun is the perfect tool for you.
Not only do these fit in your purse perfectly, but they're the ideal alternative to typical hand-held tasers as well.
Related: The Most Powerful Non-Lethal Weapon Against Invading Rioters
Tactical Knife
What makes a tactical knife the perfect self-defense item is its convenient disguises and substantial impacts.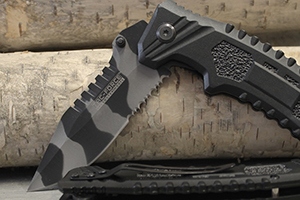 You can choose between knives boasting sharp points and blunt ones depending on personal preference.
Moreover, you can clip tactical knives to your clothing, belt, or the inside of your purse. It ensures you can quickly and swiftly grab the knife when necessary.
When purchasing a tactical knife, you should follow the 3/3 rule, which refers to choosing a 3mm thick and 3 inches long blade.
Personal Safety Alarms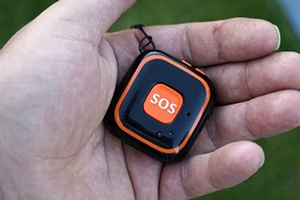 Our brain's design triggers either one of two physical responses; fight or flight. Unfortunately, not everyone can fight back during such dangerous situations.
For this reason, it's always a smart idea to keep personal safety alarms on you at all times.
That way, you can utilize the loud emissions to scare away your assailant. If not that, you'll at least grab the attention of passersby.
A bonus tip for users is to sound the alarm and throw it further from you. It ensures your attacker is unable to silence the alarm.
Tactical Pen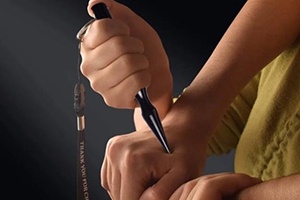 The best multifunctional weapon that transforms everyday objects into fantastic self-defense items is the tactical pen.
These devices perform similar to writing instruments, but you can use them to stab or jab your attacker as well.
If you purchase a fancy version, you can even enjoy using tools like screwdrivers, knives, and flashlights.
Self Defense Ring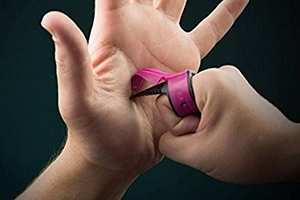 Self-defense is paramount in the modern world, so the market offers diverse tools and weapons.
Jewelry is probably the last thing that crosses your mind when considering easily concealable products.
Realted: How to Conceal Weapons in Your Vehicle
A self-defense ring is ideal for those going on a run since you can wear it similar to a standard ring.
However, if someone attacks you, you can punch the target and hurt them via the spikes on the ring.
Brass Knuckles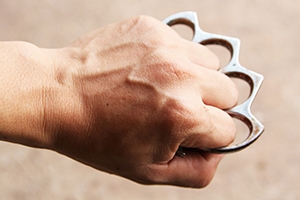 Brass knuckles blend functionality with portability.
All with a dash of contemporary style! These self-defense items are available in a wide variety of styles and designs, although each offers the same effect.
In fact, these sturdy and somewhat heavy self-defense items can be brutal enough to break your attacker's nose.
Related: Best MMA Self-Defense Techniques
Sap Gloves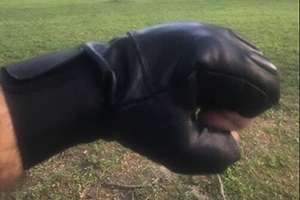 Sap gloves, otherwise known as weighted gloves, are the ideal way to amplify your hits and punches.
These are super discreet, which means buyers can wear them without the attacker realizing the intensity of the punches about to come.
The best part?
You can choose between sap gloves and hard knuckle gloves to select gloves that best meet your functionality needs.
The Strike Light
The Strike Light is a revolutionary self-defense item featuring an array of different tools in a compact design.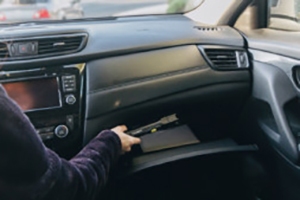 The device combines features of a flashlight with a baseball bat to produce the perfect self-defense tool.
The LED flashlight of the device offers users to sift through multiple light settings.
That way, you can use its powerful beam to blind your attacker.
On the flip side, the sustainable, top-grade aluminum construction of the device allows you to use it like a baton.
The sharp teeth and endpoints of the flashlight ensure a powerful impact on your assailant.
The Takeaway
Living in a violent world where crime is prevalent, you must always prepare for the worst. That's why you must select the best self-defense weapons to protect yourself and your property.
Moreover, the market offers an extensive range of self-defense tools featuring various sizes and features. It means you can easily find the best self-defense weapon for you.
You may also like: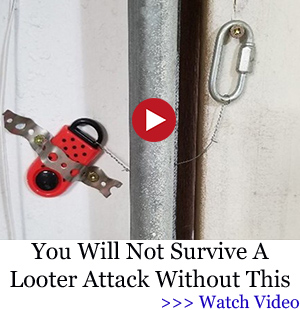 The First Thing You Need To Do When The Gas Price Rises Above $5 Per Gallon
What An EMP Affects And How You Can Protect Your Electronics, Car, Mobile Phone (Video)
How to Can Simple Tomato Sauce from Fresh Tomatoes and Peppers