By Diane Watkins
Prepping is difficult when you have very little extra money, and I've been living that reality for a few years. Initially, when hard times hit, we pulled back on prepping and began living off some of our stores. I admit that having a food supply really helped us, but eventually our supplies dwindled and we realized that we had to turn the situation around. We had to start increasing our stores again.
When this realization hit, I nearly panicked. We had used most of our food stores, just trying to survive from paycheck to paycheck and I had no money to replace them. The only way was to stockpile what I could find for free.
Related: 10 Great Depression Era Strategies For Saving Money
The first realization you come to is that prepping is a frugal way of life, or at least it can be. To prep for free, you need to decide that you will never waste what you can save. Sometimes this is difficult, but with an organized plan you can do it.
Food for Survival
Let's start by discussing your food preps. If you decide to use every bit of food, never wasting any, you will save on your food budget. But most people don't want to eat the same foods every night until it is gone. My old habit was to eat leftovers until we tired of it, then it eventually got thrown away or fed to the family dog. I realized that my leftovers were free food for my survival stockpile. Here are just a few of the ways I make this work for me:
Dehydrate all leftover rice, pasta, and beans. We rarely eat these leftovers, and they work wonderfully well as dehydrated meals. Dehydrated rice and beans become the "instant" version that only need a few minutes in boiling water to become a tasty dish again. Many people make their hiking and camping meals this way. I just apply it to my leftovers. Once they are dehydrated, I use my food saver to vacuum pack them for storage.
Can leftover meats and some meat dishes. Did you have a quart or two of chili leftover from dinner? Put it in canning jars and pressure can it according to proper canning procedures. I usually save a pint or two here or there in my freezer, then when I have a canner load, I do them all at once. Of course, sometimes we pull it out and have it for dinner, too. Additionally, with the leftover fat you can render lard. Here's how to pressure-can hamburger meat for long term preservation.
Dehydrate leftover bread. In my area, local food pantries give away a lot of bread. I take what I can use, and extras are dehydrated and turned into "Instant Stuffing Mix." You will find recipes for stuffing mix with a simple Google request. Experiment and find one your family likes. I use my food saver to create single meal stuffing mixes.
I also attended a couponing class to learn the secrets of getting food for free. I became good at it, and am able to score quite a bit of free food. I've gotten pancake mix, cornbread mix, muffin mix, lots of free pasta, some frozen foods and lots more. I don't go overboard, but I can tell you that when you stack coupons, you can get free food. I even scored a bunch of free mixes where I was paid 12 cents each to take them home.
Free fruit from the neighbor's trees. In our area, many yards have fruit trees. But often, the fruit will just rot on the tree. The family eats what they want, but they don't bother with the rest. When I see a tree full of ripe fruit, and no-one picking it, I will stop and ask the owner if I can have a few (or buy a few.) Usually, they'll reply to take as many as I want, as long as I pick them. I can fruit, make jelly, and sometimes dehydrate fruit that I get this way.
Free food samples. Many of the food storage companies are willing to send you free samples to try their products. They are hoping you will try them out and order more. However, you can certainly order the free samples and put them in your 72-hour kit or bug out bag. Then, when you do have money to spend, try them before ordering.
Condiment packs. Do you ever order takeout? If so, stock up on condiment packs to go with your order. I keep a gallon jar of condiment packs that I use in my kits. These don't keep forever, though. You'll want to replace them every year, at least.
Yes, strangely enough, I find people giving away food on Craigslist all the time. A few weeks ago, a guy in my area gave away several 100 pound bags of navy beans, pinto beans, and red beans. Often, you'll find free vegetables when gardens are overflowing. Can them, dehydrate them, or freeze them. Of course, be careful when meeting people you don't know.
Free formula. I signed up for a coupon list for babies when my grand-kids were born. One day I found free formula samples in my mail box. Those went straight to my prepping supplies. I don't have any babies here, but someone will be happy to receive them in a time of need. I also get reams of coupons for formula which I pass on to young mothers.
I save my drink bottles, wash them, and refill with water for storage. When we first moved to Florida, I would spend way too much money on gallons of water when a hurricane was nearby. We would keep them through hurricane season, then use them and buy more the next year. I realized I was wasting money on water that I could easily get for free. So, I just started refilling our drink bottles with tap water. We don't drink much soda, but my husband works outside in the heat, so he drinks a lot electrolyte drinks. These are nice quart bottles for storing water and other supplies. Here are 30 smart ways to reuse things that you usually throw away.
Household Items
Here is another place where couponing really pays off. You can regularly get toothbrushes, toothpaste, dental floss, shampoo, razors, and other personal care products for free with coupons. And don't forget to ask the dentist for free samples when you go in for your checkups.
Free Stuff for the Garden
The most valuable freebies in my garden are the seeds that I get from my heirloom plants. It is easy to save seeds from year to year. I vacuum pack mine and store them in a cool cupboard.
Free plants, grown from the roots of your kitchen vegetables. We live in Florida, so we have a long growing season. I plant the tops of pineapples, root my celery and regrow it. There are a lot of vegetables that can be planted this way. One lady near me simply replants either the roots or seeds from everything they eat. She has a thriving hydroponics garden combined with quite a few fruit trees.
Free plants from neighbors who have extra. Most herbs outgrow their space quickly and you end up dividing them. Ask your neighbors for roots or cuttings from herbs, medicinal plants, and edibles that you might enjoy. And, of course, share you own excess.
Free compost and mulch. Often you will be able to score free compost and mulch from your county or from tree trimmers in your area. You need to be careful about these items, however. I've found that they are sometimes full of insects and other pests.
Pine cones for fire starters. Pine cones burn quickly and hot. I collect them in the fall for use year-round. We don't have many pine trees in my area of Florida, but whenever I visit relatives further north, I usually come home with a bag full. Here are 10 trees every survivalist should know and why.
Sand Bags. Whenever there is a good chance of flooding, our county offers free sandbags and sand. You have to get there early, because they go fast, but it is a good addition to my hurricane preparedness.
Free Furniture and Shelving
This can be a Craigslist or freecycle item, or you can just keep your eye out for discarded items awaiting pickup. When my last child moved out, I decided to turn his room into a pantry. It was perfect – right off the kitchen. I told my husband my plan and we started scouring the roadside for shelving and cabinets. You're right – my pantry shelves don't match. Maybe someday I'll paint them all, but in the meantime no one but me sees them. You'll be surprised how many useful items are put out hoping someone will cart them away. You need to look when the sun is shining, however. A good rain can ruin furniture and finishes.
Prepping Supplies
You probably already know that you can get free buckets from commercial kitchens. Some places have caught on and now charge a nominal fee, but often you'll see them sitting out beside the dumpster. I always ask, but they usually say to take as many as I want. Ask at delis, fast food restaurants, bakeries, etc.
Popcorn tins. These are getting harder to find, but I love the 3- to 5-gallon size popcorn tin for storing foods. They are rodent proof and a convenient size for storing food in Mylar or food saver bags. I also use smaller tins in my pantry for my everyday supply of rice, popcorn, etc. You can often get these free at Christmas, but I also sometimes find them cheap at thrift stores (not free.)
Flashlights, tarps, batteries and more. Harbor freight used to offer coupons for free items with no purchase required. Now the coupons require a purchase, but you still get a free item when you go in for other tools. I save these coupons and we use them for the small LED flashlights, headlamps, and tarps whenever we need anything from Harbor Freight.
Related: Prepping on a Budget – How To Get Survival Supplies When You Have Almost No Money
Prescription Medicines
Medicines are a difficult category for preppers, because your insurance company and doctor control your supply. However, it is possible to refill your prescriptions a few days early each month, so that you slowly accumulate a surplus. Be aware of expiration dates, rotating your supply. Over time you should be able to build up at least a few weeks supply. I personally have several prescription ointments that I use. I refill the prescription as soon as I am eligible every month, even if I haven't finished the old tube. Over the past year, I have built up a two-month supply by squeezing every drop out of a tube before I toss it. Many pills can be managed the same way.
Related: Vet Doctor Shows You How To Use Veterinary Drugs Post-SHTF
Free Samples
I've mentioned a few free samples that are available above, but you will find much more if you look. I've seen internet ads for free fire starters, free paracord bracelets, small multi-purpose tools, and many other free things offered on survival websites. Also, if you email companies with an honest review of their product, they will often send you a coupon for a free item. I never ask for the freebie, but it is often given as a thank you. This usually works with the large food manufacturers and household products.
Related: 50 Low-priced Items That Will be Invaluable when SHTF
Free Books and Information
Don't discount the value of the free information that is available on the internet. You can get free prepping books and cookbooks on Kindle (and you don't need a Kindle device, use the app.) You'll find lots of good advice and information on how to get started prepping.
Over time, it all adds up. You don't need money to get started prepping, in fact all the things I've mentioned here are free, and I'm sure you will find more if you think about it. Some of you probably have your own secret ways to get free stuff. How about sharing your methods in the comments below?
You may also like: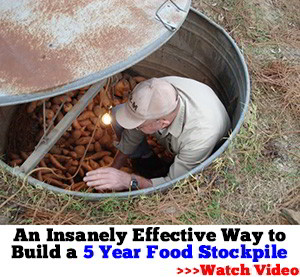 10 Long Shelf-Life Canned Foods Every Prepper Should Consider Stockpiling

Do You Make These Fatal Mistakes In A Crisis?  (video)
Debunking Expiration Dates: What You Need to Know
How to Consume Oak – Nature's Powerhouse