There is a myth that prepping, and survival gear are too expensive for the average person to buy. It isn't true. Thrift stores often carry vital implements for prepping at a reasonable price.
Gently used, and sometimes even new, these items will leave you feeling organized and ready for most situations, without much expense. This article contains some of my prepper discoveries from a local thrift store.
One must diligently search local thrift stores to find prepping items. However, if you have patience, it can really pay off.
Out of all these items, many survival experts agree that the most important ones are:
1. Proper clothing
2. The means to light a fire and the area around you to boil water and stay warm
3. A survival knife
4. Materials for shelter
Depending on your circumstances of course you do not need to stop with this shortlist. Keep hunting for your supplies so you will be prepared in all circumstances.
Lighting Options Ensure Survival Success
Experts recommend that you have at least three different methods for lighting.
#1. Headlamp – so you can always keep both hands free.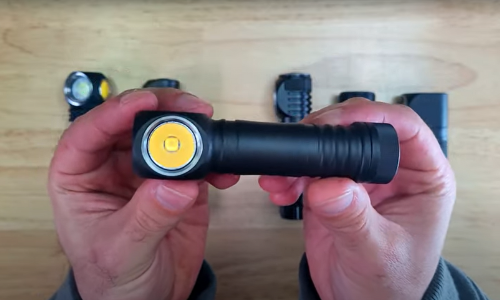 #2. Matches in a small waterproof container – they will not get wet, and you will have a reliable way to start a fire.
#3. Flashlights are a must. Military flashlights with safety features are the best. Always have a supply of backup batteries.
#4. Candles serve as an additional source for lighting – even battery-operated ones are useful for home-based emergencies.
Related: DIY Tallow Emergency Candles
#5. A striker for lighting fires.
#6. A lighter stored in a zip lock bag for backup, in case other lighting methods fail.
Collect Shelter And Bedding Items
#7. Sleeping bags are important. Look for the ones that keep you warm when the temperature drops below freezing or below zero.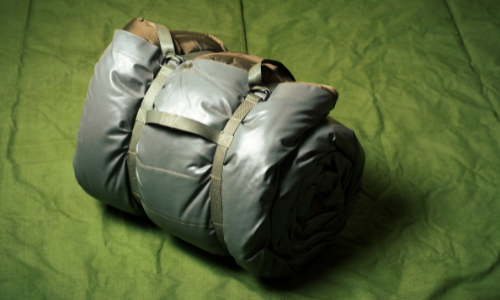 #8. Tarps are used for creating shelters, floors, and weatherproofing.
#9. Tents are ready-made, easy to store and create a practical shelter quickly.
Related: Tents That Turn Into Bunkers if You Just Add Water
#10. Foam mattresses serve as makeshift furniture and padding underneath your sleeping bag.
#11. Mylar sheets generate extra warmth and are very easy to store. They are often used as emergency blankets during rescue operations
#12. Blankets are often available in thrift stores. They are durable and provide extra warmth.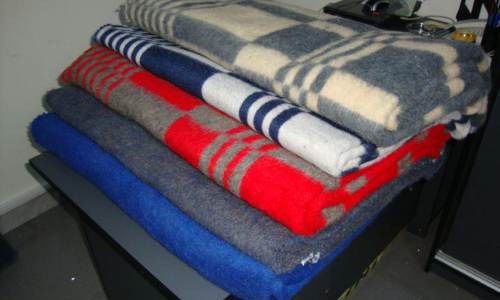 Acquire A Collection Of Clothing Layers
Reliable weatherproof clothing is essential.
Recently, during an ice storm that led to a state of emergency in my neighborhood, I gratefully wore the following layers nonstop, for four days.
#13. Coats are also good bedding options and are one way to stay a bit above ground to avoid insects and damp conditions.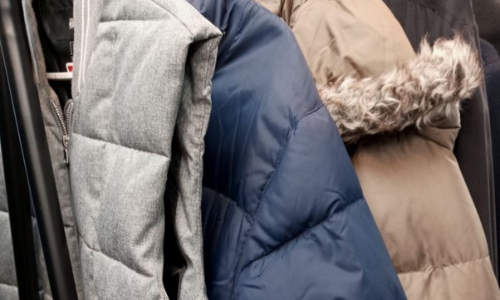 #14. Heavy waterproof rain jacket preferably with pockets along with a parka.
#15. Fleece jackets, especially with extra pockets for storing essential items are helpful
#16. Wool sweaters and wool pants (common in thrift stores, especially after the winter when people want to get rid of them) can be worn under your fleece layer and on top of your long underwear.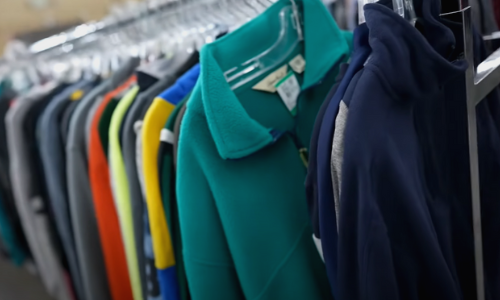 #17. Rain ponchos keep you dry when you are outdoors performing tasks in inclement weather for long periods of time. They store well and you can even keep them in a pocket in case the weather suddenly turns.
#18. Heavy waterproof gloves are key. You must keep your hands warm and dry for tasks.
#19. Boots (hopefully waterproof) are a must.
Make Sure You Have Items To Secure Objects
You will need items to tie, bind, and secure objects. A quality cord that resists breaking is a critical prepper item.
If you can find a paracord, it is so strong that it can saw through very lightweight items like a zip tie. A small piece of it can even serve as a fire starter.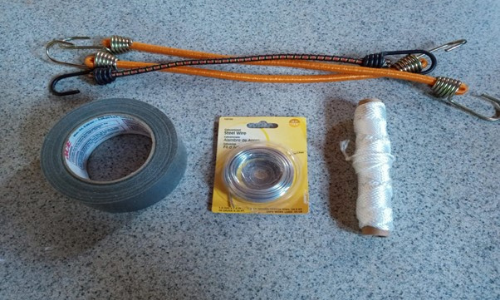 You can use the sturdiest cords to suspend your food up high, away from bears and other animals.
Sometimes a thin cord can be fashioned into a fishing line. However, you might want to look for proper fishing gear at a thrift store.
Related: How To Catch Fish With A Bottle
#20. Duct tape can bind most things together and patch holes.
#21. Sturdy nylon cord comes in various thicknesses, and it is well worth keeping a variety of types.
#22. Steel wire
#23. Bungee cords secure tarps and help anchor objects at risk of blowing away.
Stock Up On Critical Safety Supplies
#24. First Aid Kit – Hopefully your kit will include the following (#26 through #35)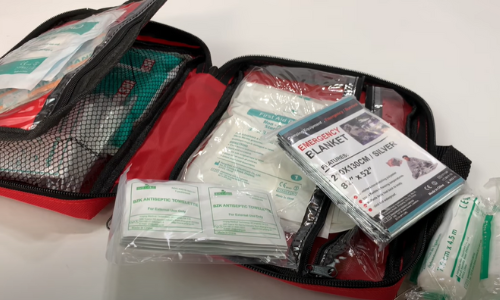 #25. Pressure bandages and a tourniquet will treat bleeding.
#26. Antiseptic will disinfect a wound.
#27. Airway opening supplies are important. However, it is just as important to learn how to use them properly.
#28. An instant ice pack or Biofreeze works well quickly.
Related: 10 Medical Supplies to Stock Up on Before it's too Late
#29. Burn gel to treat burns is crucial because during survival situations burns are much more likely to occur.
#30. Splints for sprains and fractures will provide support for those who cannot get to a medical facility easily.
#31. Powdered hydration fluid mix alleviates heat stroke.
#32. A selection of gauze and bandages keeps you prepared for different types of wounds.
#33. Small scissors help you cut medical supplies to fit a particular area.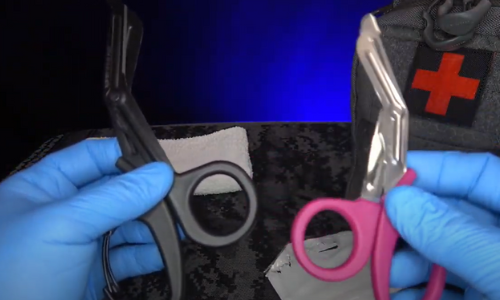 #34. Back-up ice packs and a cooler to keep them in will help you treat an injury for a longer duration properly, keeping pain and inflammation at bay.
Extremely Important Prepper Items Include:
#35. A manual, not a digital, compass that will work under all circumstances.
#36. A signal glass (or small mirror in a protective case) to create reflective flashes that allow people to locate you.
#37. Carabiner clips are great for attaching various items together and take up little space.
If you live in a wooded area, consider things like:
#38. A hard hat to protect your head from falling branches or other loose, flying objects in a windstorm.
Related: 5 Wilderness Survival "Rules" That Are Actually Myths
#39. Reflective safety vests will help make you more visible in poor weather to others.
Obtain User-Friendly Food And Water Items
#40. A single-wall metal water bottle for boiling water over your campfire or stove takes up less space than a large pot.
#41. Collapsible water bottles do not take up much space and you can utilize several at a time.
#42. Camp stoves provide an easy method for meal preparation.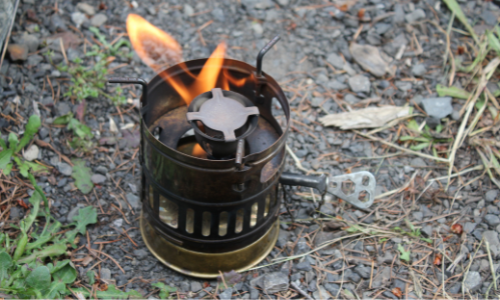 Always check the amount of time your stove's gas cylinder will last. Aim for a five-day supply to cook two meals per day and boil water if needed.
Have Tools On Hand For Important Tasks
#43. Bow saws are important, especially if you live in a wooded area because storms often mean road obstructions due to loose limbs. Of course, it's also a tool to cut your firewood.
#44. Compact tool kits are all-purpose and are quite handy. I found this one at a thrift store for three dollars and look how many tools came with it!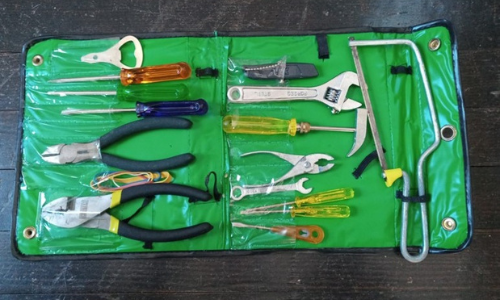 It even has a small hack saw and an Exacto knife. I keep the mini kit in my car.
#45. Utility knives are one of the last items on the list, but one of the most important for just about every activity.
Don't Forget Your Gardening Tools
A prepper depends on gardening, so gardening tools are vital for all seasons.
#46. Shovels (a collapsible shovel) may help you dig a foundation for your shelter, plus create your gardening rows.
Related: How To Start A Survival Garden From Scratch
#47. Hand trowels, etc. are year-round prepping tools for digging up weeds. Do not forget however to learn which of those weeds you are digging is edible. Many of them are and foraging responsibly can help you endure a survival situation.
Storage Products Secure And Organize Your Possessions
#48. Backpacks – the more pockets the better!
#49. Waterproof plastic tubs for storage are very handy if you live in an area where flooding is common, but also to keep things critter resistant.
Don't Forget Your Survival Book
#50. Survival Books – You cannot survive a crisis without knowledge and skills. Once the internet is down, you can't expect to remember everything you've ever read, so it's best to have a written guide that might even save your life.
When you are finished gathering your items, organize them in one location so that they are easy to find. Although the survival books you find may give you prepping knowledge, we all need practical experience.
People need to remember practical survival skills when under stress. Experts recommend trying your prepping items out before you require them.
Test them first while backpacking, camping, or during a temporary power outage. As they say, practice makes perfect – one could also say that prepping makes perfect as well.
You may also like: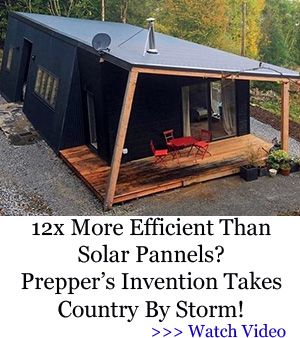 How To Make Delicious Lard With 2 Years Shelf-Life (+ 5 Tasty Recipes)
5 Ingenious Ways To Refrigerate Your Food Without Electricity (Video)
US Natural Disasters Map. What Calamity Do You Need To Prepare For?
How To Prepare Your Car In Case You Have To Live In It
Why You Should Get A Dog For When SHTF