Survival show hosts make surviving in the wilderness look like a walk in the park. Don't be fooled into thinking that the bush contains a veritable buffet of food.
Unfortunately, the mainstream perception of wilderness survival is fraught with misinformation and half-truths like these 5 myths that will get preppers killed.
Myth 1: Living off the land is easy: basic necessities are everywhere
Survival shows have especially made this myth take off. The concept that whatever danger you find yourself in, there is a fairly straightforward way out (as long as you have the right knowledge) is a hot seller right now. However, living off the land in the wild is not as easy as it seems on T.V.
Shelter may be needed immediately, and if you don't know how to find the right materials and get yourself set up in short order, you could be done for. Here is a simple way to find shelter in the wild without actually building it.
Myth 2: Food and water are everywhere, you just need to know how to find them
Related to the first myth, the idea that it is easy to find food and water in the wilderness is perpetuated by the ease in which television survival experts seem to find their meals. You may notice, however, that none of these experts are in the wilderness for significant periods of time in these shows. Although it is true that in many climates there are a lot of edible plants around, it is also true that most of them are very low in calories, and are not available for much of the year.
On top of that, unless you are an expert in plant identification, there is a chance you will poison yourself with a look-alike. Likewise, it is unlikely that you will promptly find wild game and be able to hunt it and process it without the right skills and tools.
Unless you are lucky enough to find a large amount of nuts and abundant high sugar fruit, you will have difficulty getting enough calories from the wild. Yes, you can get your vitamin C from pine needles, and many wild foods are packed with nutrition, but it's the calories you need to keep yourself going for more than a couple of weeks.
Water can be equally challenging to find, especially clean water. You may find a stream, but it is impossible to know without laboratory equipment whether the stream is contaminated with biological or chemical threats. You may have a good drink and then end up losing all that hydration and more through diarrhea and vomiting if the water source is contaminated (not to say that at times it may not be worth the risk).
Better to go into the wild prepared with survival rations and a good water filter, as well as extensive knowledge of wild foods high in calories, including where to find them in a given ecosystem, and when they are available. Cattail roots, for example, are among the most nutritious high calorie foods common in many ecosystems. Cattail is also known as the supermarket of the swamp because of it's many survival uses. Certain nuts are also good, if you know how to process and store them (hint: roasted, cool, dark, and dry).
Myth 3: You must find food immediately when lost in the wild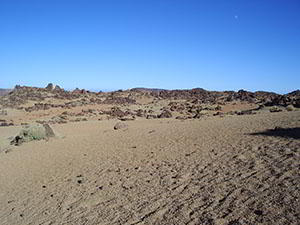 You may have noticed in fictional shows and movies that people often get desperate for food just after they go into the woods. However, you can survive up to 6 weeks without food, so this should not be your top priority when you are lost in the wilderness. Instead you should be looking for shelter and water, and the order of importance depends on the situation you are in.
Quite often, shelter may be first. If you are in a blizzard in the mountains, for example, or even in a mildly cool night area, the energy you lose trying to stay warm and comfortable can easily do you in, so shelter, and possibly fire, are your first priorities.
If you are in an exceedingly sunny and hot climate with no shade, shelter will be equally important to maintain hydration and health (and do your best to fashion a hat and other cover if you don't have any). If you are in a stable climate with optimal temperatures (including at night), no rain, and plenty of shaded space, water may be your first priority. Only when these two necessities are taken care of should you turn your attention to food.
Myth 4: Starting a fire is as easy as rubbing sticks or banging rocks together
Starting friction fires or fires from sparks created by banging rocks together is not easy and requires a lot of practice to get the hang of, and even then is not possible without the right conditions and materials. Starting a fire with any technique can be difficult in damp or windy conditions even for a seasoned expert with the right materials.
If you're lucky enough to be in an area with flint or quartz, you may be able to create sparks to light your tinder with the right rock banging technique, but again, it will take a lot of practice, and ideally direction from an expert at first. Likewise, friction fires also require patience and skill.
Myth 5: Play dead during a bear attack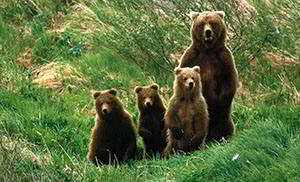 Do not be fooled by what you have seen on television or have heard in stories. Playing dead when faced with an aggressive bear can actually get you killed. You probably know that running or climbing a tree is also futile, but bears are not stupid and they will usually try to kill you until you are really dead. If you see a bear trail, steer clear, and bring bear spray with you when you are in bear habitat, making plenty of noise to keep the bears at bay.
If you do see a bear or other predator such as a mountain lion, do not play dead as a first line of defense. Instead, try to make yourself look bigger by opening up your jacket and extending it to your sides, stand tall and make lots of noise. Only if you are already being mauled and there is no hope of fighting back (ideally with a hard or sharp object to the eyes and nose) should you consider playing dead in hopes that the bear will no longer see you as a threat. Even then, your only hope is that the bear isn't hungry and was simply trying to neutralize a threat.
You may also like: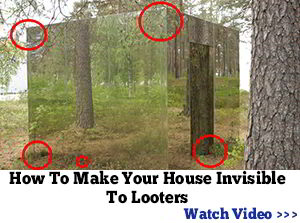 3 Quick Shelters (The Last One is Invisible!)
The Medical Guide You Can Use In The Wilderness (Video)
How to Make Candles out of Pine Resin (With Pictures)
The Ultimate Bug Out Home For Just $250