Two engineers Peter Brewin and Will Crawford came up with a totally innovative shelter that basically works like instant soup: "just add water".
Yes, the magic of this shelter is that when it is sprayed with water turns to concrete within 24 hours. Just like the title:
Tents That Turn Into Bunkers!
The shelter arrives folded in a wooden crate and, once positioned, an electric fan is activated which inflates the plastic inner part until it can support itself. Water is then sprayed on and, 24 hours later, it is hard as a rock.
The Concrete Canvas Shelter can be deployed by 2 people in less than 1 hour and is ready to use after one day making it probably the easiest and fastest hard construction that you can build. The hard shell and lockable doors of a Concrete Canvas Shelter provide a level of security not possible with soft skinned structures, protecting stores, equipment and personnel.
According to the inventors, the shelters provide safer living space as unlike tents they are lockable, fireproof, cool in the sun and will last for decades.
[responsive_youtube https://www.youtube.com/watch?v=LBHVKFCoYFc]
Would it be Useful for Preppers and Survivalists?
Well it seems that the Concrete Canvas Shelter would make a decent bunker!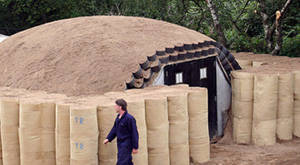 First, this shelter has been designed to withstand a very high distributed compression load, enabling berming by sandbags, earth or snow. This gives the shelter excellent thermal properties and can provide protection against shrapnel, blasts and firearms.
Second, it can be easily camouflaged either by burying it into the ground or by camo-painting it.
Third: according to the inventors "The Concrete Canvas Shelters are designed as part of a modular system. So units can be docked together to create arrays of structures to suit operational requirements." This means that if you want to enlarge the bunker to shelter another family who want to contribute financially, you have this choice.
Forth: It doesn't says in the video, but because of its shape, this shelter would make a good tornado shelter. And it's fireproof.
Releted: Find The Closest Natural Nuclear Bunker to Your Home
The only problem is that the company is based in UK and the company that distributes the shelter in US (Miliken) is too small to offer good prices. The shelter costs between $20.000 and $30.000 without tax depending on its size and other factors.
What do you think about these tents that turn into bunkers? And what would it be a fair price for it? 
You may also like:
Earthbag Homes: The Ultimate Bullet-Proof Retreat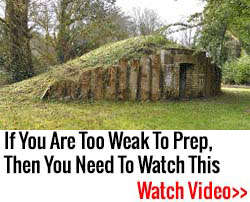 This Bug Will Kill Most of the Americans during the Next Crisis (Video)
Screw You Guys… I'm Building my own Bunker