For thousands of years, candles were the main source of illumination for people all over the world. Knowing how to make candles was considered to be common knowledge. People would set aside a day to render fat to make the candles they would need for the coming year.
At the turn of the 20th century, everything changed. A new machine made it possible to create over a thousand candles an hour— making it easier and more affordable than ever to simply buy candles instead.
Around this same time, electricity was becoming more common, and the artful tradition of making candles for the year ahead would soon be forgotten. Now, this once common skill is almost gone. As a result, many people today would feel lost in the dark without modern light sources.
Modern Candle-Making
Luckily, candle-making isn't completely dead. Some people make candles as an artistic hobby using materials like soy, paraffin, or beeswax. In fact, it can be hard to find candle-making tutorials online that don't use these substances.
While these waxes do have their advantages—they will likely become expensive and hard to find in the event of a widespread long-term blackout. For this reason, it's wise to know how to make candles using readily available materials and tried-and-true methods.
By following the same methods that were practiced by our ancestors for thousands of years, we can be more than prepared for when the lights go out.
Related: 7 DIY Projects To Have Ready When The Lights Go Out
How to Make DIY Emergency Tallow Candles
Although tallow candles were available at various shops throughout the centuries, most families preferred to make their own. Tallow, or suet, is made of rendered beef or sheep fat but other animal fats were sometimes added if not enough tallow was available.
It's important to note that pig fat is the exception to the rule as it doesn't render the right texture to make a good hand-dipped candle. If you need to use lard for your candles, be sure to have plenty of other fats in the mix or opt for a container candle instead.
You can save and freeze fat collected overtime to make the candles you need. Additionally, some butchers are more than happy to sell or give away beef fat to customers who ask in advance.
Types of Tallow Candles
There are two kinds of tallow candles: hand-dipped and container candles. Hand-dipped candles are the most traditional candle-making method. However, depending on the quality of the fat used to make the tallow, they can take longer to harden.
Related: How To Make a Bacon Grease Survival Candle
This type of candle is created by twisting a cotton string into a wick and dipping it repeatedly into the tallow until a candlestick forms to the desired thickness. Container candles are made by pouring rendered tallow around a formed wick inside of a jar or other vessel.
For both candle styles, you will need:
A crockpot, heavy-bottom pot, stockpot, or a double boiler. Plus, a second pot for filtering and collecting the finished tallow.
A colander or funnel.
A low-heat source.
1 – 3 lbs. (0.4kg – 1.3kg) beef fat cut into small chunks with most of the meat and gristle removed.
Prepared wick or braided/twisted cotton string. (Use thicker wicks for larger candles and thinner wicks for smaller candles.)
Glass containers such as mason jars or reclaimed tin cans (if making container candles)
Cheesecloth or similar material
Herbs or oils to improve scent or as a natural insect repellent. (optional)
Rendering Fat
While rendering fat might be the most time-consuming step when making DIY tallow emergency candles, it's also a very rewarding experience.
There are two popular rendering methods: wet rendering and dry rendering. Wet rendering is when you add water to your fat while in the pot, and dry rendering uses no water.
Wet rendering is most often used when a crockpot or slow cooker isn't an option as it helps to prevent burning and cuts down on any lingering "beefy" smell in the finished candle.
Dry rendering is ideal for rendering tallow that will be used for cooking as it is more flavorful, but since we're making candles, the method of preparation is completely up to you.
How to Render Fat
1. Place your fat in a large pot on low heat. (If wet rendering, add water until fat is almost submerged)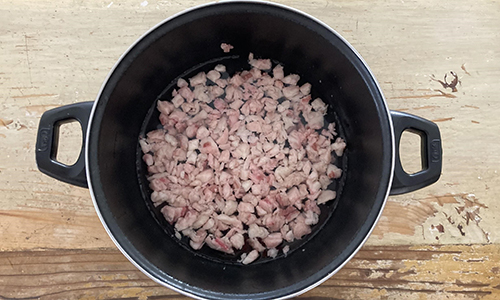 2. Allow the fat to simmer for 3-6 hours and stir with a wooden spoon every 5-10 minutes or so to prevent burning.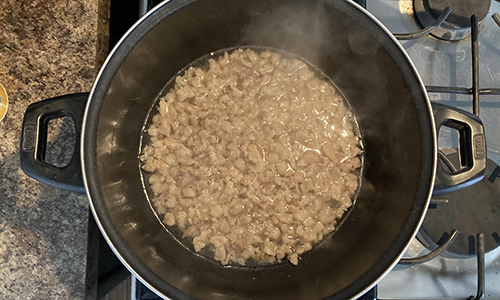 3. Your tallow is finished when the water is almost gone and a layer of glossy liquid fat pools around the remaining pieces.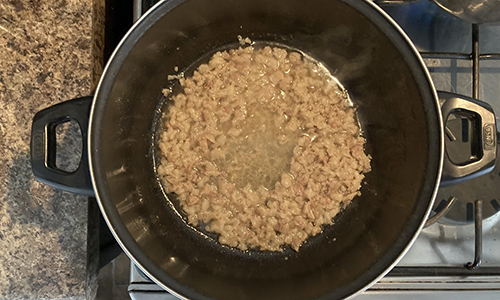 4. Turn off the heat and allow the mixture to cool for about 20 minutes.
5. Line your colander or funnel with cheesecloth and place a second pot beneath it.
6. Pour the liquid tallow and remaining fat pieces through the cheesecloth and gently push down with a wooden spoon to collect as much as possible.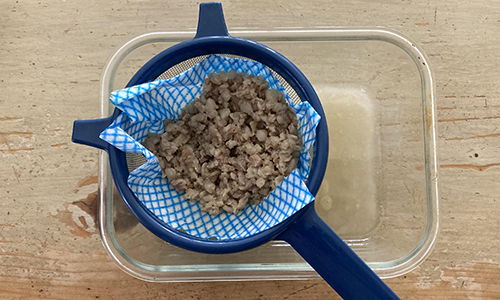 7. Reserve the fat pieces for frying cracklins, if desired. (Hint: you can reserve the excess fat from the cracklins and add it back to your liquid tallow reserve!)
8. Place the pot of strained liquid in the fridge overnight or until the tallow solidifies and rises to the top.
9. Remove the solidified tallow from the top and insert it into a storage container, if desired. Then, get ready to make some DIY emergency tallow candles!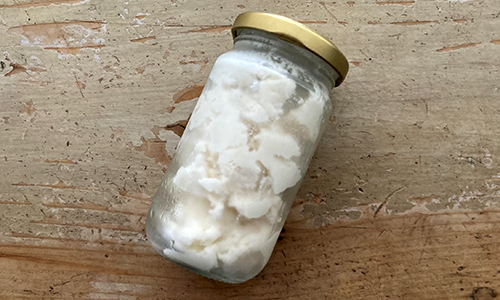 Making Your DIY Tallow Emergency Candles
Working in batches if necessary, you'll begin by melting the pieces of tallow in a double boiler. If you don't have a double boiler, you can rig up a DIY version instead.
To do this, place a small pot into a larger pot that is half-filled with water. You can also use an empty tin can or mason jar placed into a half-filled pot of water. I used a mason jar since my tallow was already stored inside.
Whether you choose to make hand-dipped or container candles, the preparation is the same.
Follow these steps to prepare your finished tallow for candle making:
1. Break your tallow into chunks.
2. Place the chunks into the top part of your double boiler.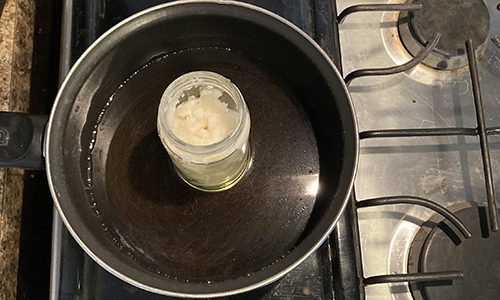 3. Heat the water below until the tallow melts.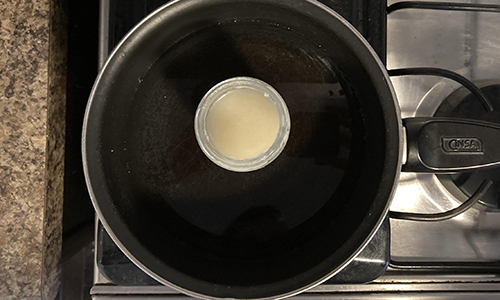 4. Once the tallow is completely melted, turn off the heat and allow it to cool for a few minutes.
5. While the tallow is cooling, prepare your wicks and containers.
6. Optional: Add herbs and oils to the melted tallow.
For Container Candles:
1. Set out your open containers.
2. Place your twisted cotton wick at the bottom center of your container. You can keep it in place by using weights, paperclips, or pencils.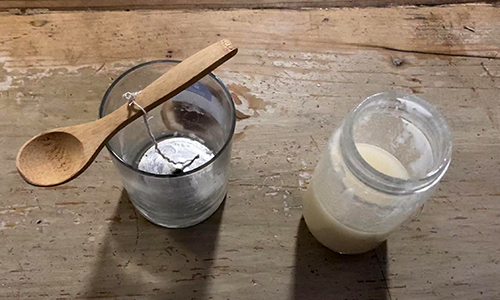 3. Once the tallow is cooled slightly, pour it into the container around the wick.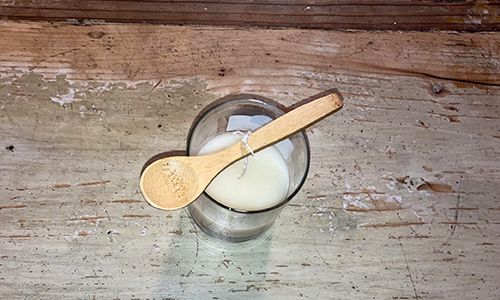 4. Allow the wax to harden and trim the wick if necessary.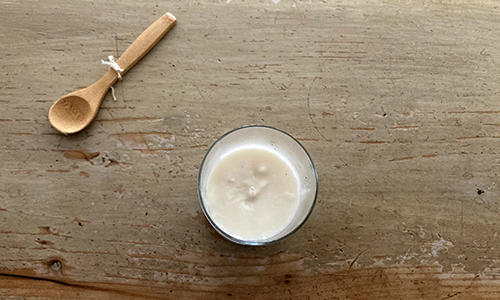 5. Your DIY tallow candle is ready to use!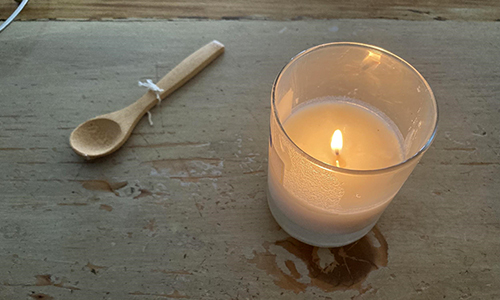 6. Repeat to make more candles.
Note: Be sure the tallow is still melted before starting a new batch.
For Hand-Dipped Taper Candles:
1. Optional: Prepare a cool water bath in a pot or other deep container then set aside. This will speed up the process so you won't have to wait for the candles to dry between dippings.
2. Hand-dipped candles allow you to make two candles at a time. Cut your cotton wick using twice the length you want your candles to be, plus a little extra to hold onto in the middle.
Related: How To Make 30 Hours Survival Candles with Soy Wax
3. Hint: On each end of the wick, you may attach a weight of some kind to make the dipping process easier.
4. Wrap the center of the wick length over your middle and ring fingers. Allow the ends to hang down evenly on either side. You can also use a pencil, stick, or anything else you have on hand.
5. Slowly dip both lengths of the wick into the melted tallow making sure the wicks aren't touching. If you didn't attach a weight to the ends, the wick might float the first few times you dip them. This is normal.
6. Gently lift the wicks from the tallow and allow them to cool for a few minutes. (You may dip them in the cool water bath to speed up the drying process)
7. Once dried, dip them again. Repeat until your candles are as thick as you want them.
8. Hang them to dry over a hanger, drying rack, or clothesline.
9. Optional: You can roll the candles between your hands before hanging them if you want a more even burn.
10. Cut the wick in half to separate the two candles and trim them to the desired length before burning.
11. Repeat to make more candles.
Storing and Caring For Your DIY Tallow Emergency Candles
In earlier times, people would store their tallow candles in root cellars or hang them up in a cool spot away from direct sunlight. This helped to prevent them from melting or going rancid. Keeping your candles upright in a cool spot is your best bet for long-term storage. Properly stored tallow candles can last for 2-3 years.
Although tallow candles are notoriously slow-burning, the total burn time varies depending on the length and thickness of your tallow candles. A small container candle will burn more slowly but give off less light. Likewise, taper candles will produce more light but burn at a quicker pace. With this consideration in mind, you can expect an average burn time of several hours with either method.
Either of these high-quality, slow-burning candle styles will provide hours of bright, even light. Best of all, you'll be keeping the tradition alive with an art that has been practiced for generations.
You may also like: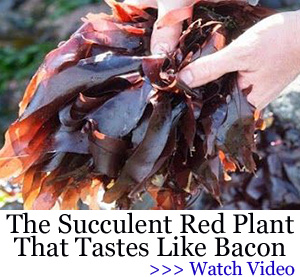 10 Survival DIY Projects You Can Start on Your Property Right Now
The Forgotten Shelf Stable Food You Need for Healthy and Vital Fats (Video)
The Arthritis Formula You Can Find Hanging In Your Backyard
10 Prepping Items You Can Buy at the Salvation Army