Hmmm…refrigerate, to be or not to be?
If you have ever wondered if a certain food item should be kept in the refrigerator or not, read on! I have had some doubts recently because some of my foods were going bad long before I thought they should be turning.
So, I looked into what foods are better off when they are refrigerated…or NOT.
And in a case of SHTF, it's good to know that these items don't require refrigeration when it's not available.
I don't think I'm the only one that has assumed the fridge is good for keeping everything fresher, longer. Am I?
I already knew about some of these, to be honest. But, some really surprised me. Maybe some will surprise you too!
Related: 10 Foods You Should Never Store Together
Garlic
Garlic will actually deteriorate at a much quicker pace when it is kept in the fridge.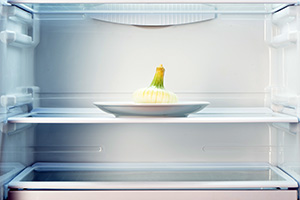 The reason is because of the added moisture that is present at refrigerated temperatures. Keep it in a dry area at room temperature, that has decent air circulation, but away from direct light.
So, on the counter it is! Also, it's best to keep it in its whole form until ready to use.
Nuts
I personally don't keep nuts in the fridge. But, I know people who do, or did.
Cooler temps might help maintain their natural oils, but it can also alter or diminish flavor. If you are going to use them in the near future, in an airtight container in the pantry will work very well.
If you aren't going to use them for quite some time, skip the fridge and go right to the freezer.
Honey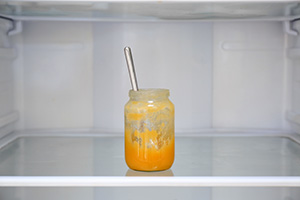 This is one that I think is common sense. Have you ever tried to squeeze a honey bottle, or pour some out, after it's been refrigerated?
Not only does it require more muscle than I care to work just to get a teaspoon of honey. Refrigeration also speeds up crystallization.
Butternut Squash
Refrigerating a butternut squash can lead to its quality diminishing due to the moisture inside the refrigerator.
As long as it's kept whole, it should do better on the counter at room temperature.
After it's cut, it can be stored in the refrigerator for 3-4 days, or frozen for a year.
Onion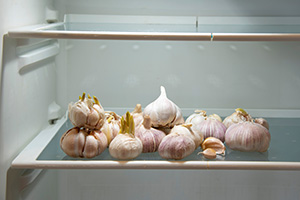 Whole onions should be kept in a cool, dark, and dry place.
Refrigeration can cause the natural starch to spoil quicker.
However, once they are cut, it's best to keep them in the fridge in a sealed container.
Pumpkins
As if I could fit one in my fridge anyway, but pumpkins should be allowed to "cure" in natural sunlight. This will toughen the skin to help keep them fresh longer.
Afterward, keep them in a dry and dark location that is ventilated, but no colder than 50° F (10° C).
Once they are cured and kept properly, pumpkins can last up to 6 months.
Related: How To Preserve Your Whole Harvest For Winter Without Refrigeration
Olive Oil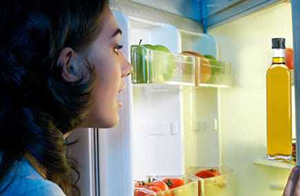 When oils are kept in the refrigerator the consistency and color most likely will change, leading to a lesser quality product. On the flip side, olive oil will also deteriorate quickly in heat or sunlight. Therefore, olive oil is best when kept in a cool and dark place such as the pantry or cupboard, rather than on the counter.
Melons
Uncut and unripe melons should be stored at room temperature, such as on the counter. This helps with ripening and flavor.
However, once cut, melons should be refrigerated in an air-tight container to maintain the freshness and flavor.
Potatoes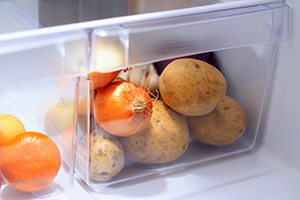 As with onions, the potato has starch that will turn into sugar when cold, which will affect the flavor and color.
It's best to keep (unwashed) potatoes in a burlap bag in an area out of direct sunlight.
Same with sweet potatoes, in case you are wondering.
Coffee
What?? This could explain a lot, but I now know that coffee will quickly take on the smell of other refrigerated ingredients.
Not to mention, the moisture from the fridge will alter the taste as well.
Related: How to Keep Moisture and Pests Away from Your Food Stockpile
Bread
Bread that will be consumed within a few days should not be refrigerated.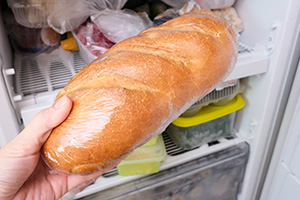 Just as with potatoes, the refrigerator will change the natural state of the bread and turn it stale quicker…just the opposite of what people think when they put it in there. If it's going to be longer than a few days, put it in the freezer. You can pop frozen bread into a toaster or oven to make it fresh again.
Hot Sauce
Another interesting find, because my hot sauces are in the fridge as I type this.
While it's not harmful to store them in there, it's just not necessary.
The vinegar and heat of the chilis will keep them safe, even when kept at room temperature after opening.
Avocados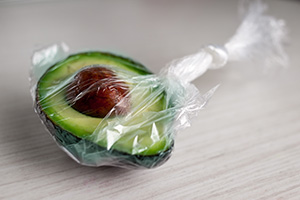 Interesting. This is one that I had wrong. If you have an avocado that needs ripening, it should be kept at room temperature for at least 4-7 days. Keeping them cold will hasten the ripening process. However, once it has become ripened, it can be kept in the refrigerator until you are ready to eat it.
Peanut Butter
I don't keep my processed peanut butter in the fridge, never even considered it. But, I do know that some people store their natural peanut butter there.
However, the cold temps will cause the oils to separate quicker and it will become much harder to mix again when cold.
Also, remember what I said about oils in the fridge earlier. So when the oils separate, they are subjected to the same discoloration and loss of flavor as just a bottle of oil is. If you are going to consume it within 9 months, leave it in the cupboard.
Bananas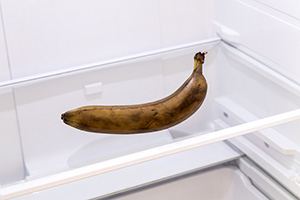 Warmer temperatures, around 59-68°F (15-20°C) help a banana to ripen properly, and this process stops at colder temperatures, such as the fridge.
Not that I eat the skin, but the colder temps will also turn the skin black much quicker.
Dried Spices
Good, I have never kept a dried spice in the fridge. Condensation will build up and ruin them.
Dried spices can safely store in the cupboard, while maintaining freshness and flavor for up to a year.
Related: 10 Spices That Make Your Food Last Longer
Dried Fruits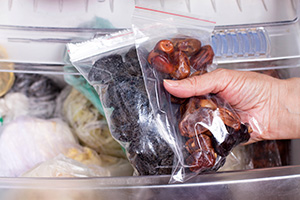 I didn't necessarily know this, but got lucky that I didn't think they needed refrigeration.
The moisture will alter the flavor, texture, and overall length of time they will stay good. They should be kept in an air-tight container for maximum freshness, for up to 6 months.
Ketchup
Another surprise. But it makes some sense, I suppose. It is debated on whether or not ketchup must be stored in the refrigerator or cupboard. The high level of vinegar, sugar and salt makes it safe to store at room temperature, some people say.
I hadn't given it thought before now, but I do notice ketchup bottles left out in restaurants. But, old habits might be hard for me to kick at home though.
Processed Pickled Veggies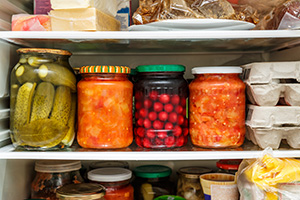 As long as the jar does not become contaminated, by something like a dirty utensil, the preservatives used should help the jar of pickled veggies to stay just fine in a cupboard.
Just make sure the lid stays on tight, and keep an eye on the "use by" date.
If you have made your own, it might be best to store in the fridge, because you most likely didn't add as many preservatives.
Related: 5 Unusual Things To Pickle
Soy Sauce
You might notice a label stating that it should be refrigerated.
But just like ketchup, soy sauce is kept on the tables at restaurants.
Citrus Fruits
Many citrus fruits are more flavorful and juicy when they are kept on the counter or in a cupboard. If you plan on consuming them within 2 weeks, keep them out.
However, if you plan on having them around longer, put them in a plastic bag first, then store them in the crisper drawer in the fridge.
Fresh Soft Herbs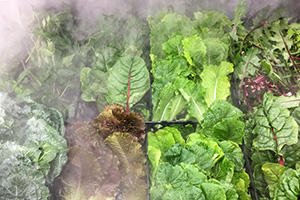 Soft and fresh herbs should be treated similar to fresh cut flowers, in a glass container with fresh water, and clipped ends. This includes herbs like parsley, basil, mint, dill, or coriander.
When they are stored in the fridge they tend to wilt and get soggy due to the moisture in there.
However, hard herbs should be stored in the fridge, wrapped in a paper towel and kept in an air-tight container, placed in the crisper drawer. Hard herbs include thyme, rosemary, oregano, or sage.
Tomatoes
I'm pretty proud, because I knew this one, and never keep my tomatoes in the fridge until they are cut. They sit on my window ledge until I am ready for them.
Cold temperatures will damage the membranes of the tomatoes, making them mealy and watery. They will also have far less flavor when cold.
I hope I was able to share a few items that surprised you, so you can enjoy these items more now that you know.
What are some items that you keep on your counter that other people probably keep in their refrigerator?
It's valuable information to have, not just to save space in your fridge. But, also if you don't have access to refrigeration.
You may also like: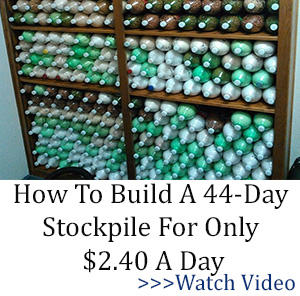 7 Mistakes To Avoid When Harvesting Rain Water
What To Do With All Your Frozen Food Once The Power Goes Out (Video)
How To Make Dandelion Honey Butter
What Will Your Rights Under Lockdown Be?
13 Ways To Keep Your House Cool In The Summer