Birds chirping, grass turning green, people gathering outside, moods seem to be lifting…all signs point to it being spring! Oh, and let's not forget one of the most obvious signs…a nice yellow field of dandelions in the lawn. There is no disguising a field of dandelions. They are easy to spot and can be found all over.
Some people consider the brightly-colored blossom a weed, while others see it as a gem with so many possibilities. It doesn't even require back-breaking labor that comes along with most landscaping, because nature does all the work for you by planting and spreading dandelions every year.
One perk of having an abundance of dandelions at your hands, is that you can have a tasty dandelion honey butter in a very short amount of time. The yellow blossom adds a sweet and rich flavor to the butter. So, it's a unique addition to a basic butter spread for your morning bagel, afternoon muffin, or some cornbread with dinner. And, only 3 ingredients are necessary…butter, honey, and dandelion blossoms.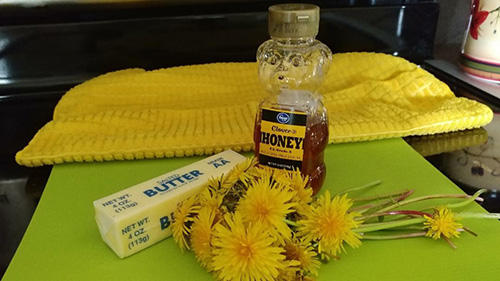 In addition to dandelion honey butter, there are many other great uses for dandelions. People are using them to make other edibles such as cakes, cookies, pasta, and wines. And, there are several non-edibles that benefit from the addition of the blossoms and greens. Items such as soaps, lotions, and infused oils are also enriched with dandelion blossoms and greens.
Even if you don't have any in your own yard, you probably don't have to wander too far to find all you need. And, because many people still view them as weeds, they probably wouldn't mind if you took a few off their hands.
Why Add Dandelions to Edible Treats?
Great question! It's not just a gimmick, or to add an extra step into your food prep. Here are a few reasons to give incentive…
Extra Nutrition – For such a little plant, dandelions are loaded with vitamins and minerals such as A, B1, B2, B6, E, K, calcium, potassium, iron, and magnesium.
Convenience – It can't get more convenient than dandelions, because it plants itself, probably right out your door.
A Storable Plant – Because they aren't around in colder climates, it's great that they are so easy to store to use in the winter months. Simply add the yellow blossoms to a jar of honey. There's 2 of the ingredients all ready to go for the dandelion blossom honey butter recipe below. I guess it can get more convenient!
Durable and Reliable – Just ask someone who can't seem to get rid of them…they are abundant and quite stubborn when you don't want them around.
So, why not reach out into your backyard to add flavor and nutrients to an edible treat or meal?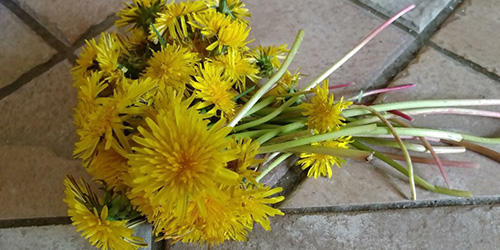 Collecting the Dandelions
Before you go out to collect dandelions, you need to make sure they haven't been sprayed with a pesticide or weed killer before using them for any digestible or even topical item. Even washing them before use would be risky, if they have been sprayed.
Also, bees love dandelions and rely on them for pollination. So, collect what you need, but leave the rest. Fortunately, you don't need very many to make the dandelion blossom honey butter.
For one batch, you will only need about a quarter cup of blossom, omitting the greens and stems. So, you can leave the stem in the ground and just pop off the blossom head. Shake off any dirt or debri that might be there, before placing them in a cup.
If you want to utilize more of the plant, you could take the greens as well, to make a dandelion salad or a yummy pesto. Just keep in the mind that the yellow blooms are sweet, while the remaining part of the plant is bitter.
Making the Sweet Buttery Topping
For one batch, you will need the following:
¼ dandelion blossoms (just the yellow petals)
¼ butter, softened to room temperature
3 Tablespoons honey
Unlike the stems and leaves, the yellow blossoms have a sweet and delicate flavor, and will add some culinary depth and nutrients to the spread. The following easy instructions will give you a tasty break from the mundane butter found in stores. While you are at it, you can make your own butter too! But, that's another article. For now, here is what you need to do:
#1. Remove the yellow blossoms from the greens, measuring ¼ cup.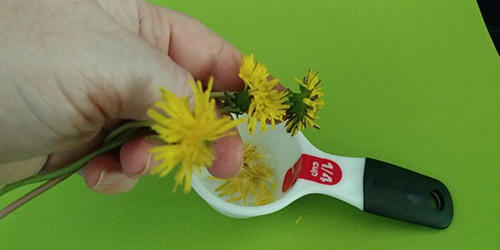 #2. Add the honey to the softened butter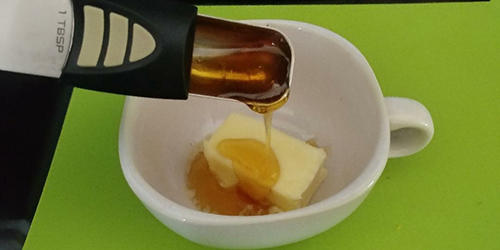 #3. Mix the butter and honey, whipping until well blended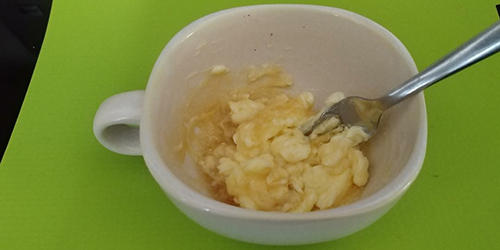 #4. Add the blossoms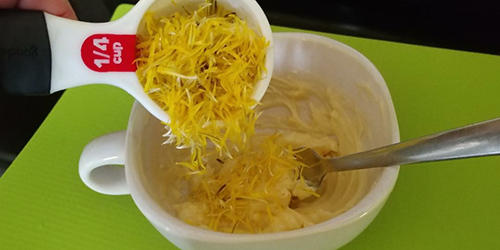 #5. Stir until well blended (can be stored in the refrigerator for up to 3 months)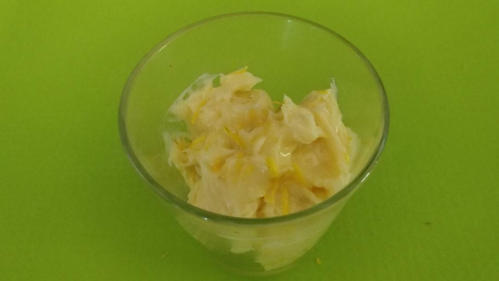 #6. And last, enjoy!
You may also like: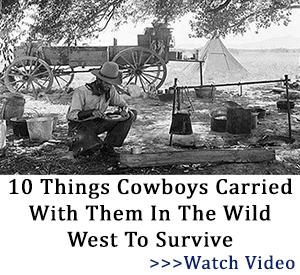 Making Butter at Home, Like Our Grandparents
What Happens If You Add Honey To A Coconut (Video)
How To Can Potatoes for Long Term Preservation
When Grocery Stores Go Empty; A Back Door Shopping Strategy
How to Make Homemade Bread in a Can