You know a good prepper pantry just by seeing the organizational skills of the owner. My earthquake-proof shelving is stocked full of enough food to last my family years without resources.
It didn't get that way overnight; it takes years of trial, error, and research to get your food storage ready for disaster.
A well-organized prepper pantry is so satisfying to look at. By grouping different varieties of non-perishable foods, you can optimize their shelf life, saving you money and resources down the road.
Sometimes, certain foods should not be stored with other foods to keep them fresh. No matter what you are storing, the food stock should be kept in a cool, dark place such as a basement.
Here are 10 foods you should never store together in your non-perishable food stock.
Canned Foods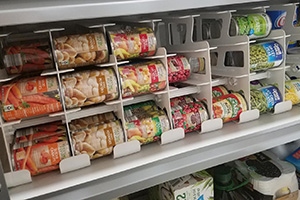 I keep all of my canned foods separate from the rest of the stock. This is because my canned goods are located on a sloped shelf.
This way, I can easily rotate my cans by ¼ turn every few months, I can easily see if any cans are damaged, and I can consume the oldest cans before their expiration date.
No can will get left behind and any damaged cans can be discarded.
Cans should also be kept away from any potential moisture. Moisture causes corrosion, which can then penetrate the food inside, making it inedible.
If you are rotating your cans now and then, you will notice before corrosion gets out of hand.
Related: How to Build Your Own Wall Hanging Can Rotator
Food in Glass Jars
Glass jars are not my first preference in food storage, although they do offer some tasty food when compared to canned.
The bottom line is that glass can break, and you do not want glass shards around any bags or items that glass could penetrate.
Keep your glass jars tucked away in a location that potential broken glass will not cause harm.
Boxed Foods
Any foods that come in a box, such as flavored rice or macaroni and cheese, should be stored separately from other non-perishable foods.
Any inkling of moisture and these foods could grow mold and become unsafe for you to eat.
Related: How to Keep Moisture and Pests Away from Your Food Stockpile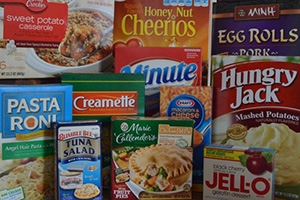 The foods should be rotated out more frequently than canned foods and should be kept on a high shelf away from potential moisture.
Removing the food from the box and storing it in Mylar bags will preserve them for even longer, but still, give the bags their shelf for organization and optimal freshness.
Rice
Rice in particular draws moisture out of the air as it ages, causing it to go bad.
Ever wonder why you put your wet smartphone into rice to draw the moisture out?
This is why! It is imperative to store rice in a vacuum-sealed bag away from any moisture.
Dry Vacuum-Sealed Foods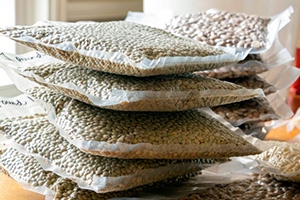 We can all agree that a vacuum-sealer is one of the most important tools for a prepper's food stock.
When storing my beef jerky, dried beans, barley, and other grains, I keep all dated and labeled dry foods next to each other.
This is to stay organized but it is to also take an extra step in keeping moist foods away from dry foods.
Keep any vulnerable bags far from the glass jars, as broken glass could easily penetrate a vacuum-sealed bag.
Related: How to Dry Can Beans and Rice for 20+ Years Shelf Life
Wet Vacuum-Sealed Foods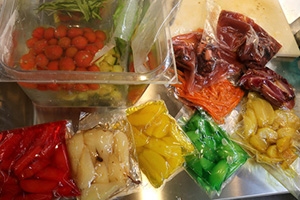 Moisture is not your friend when storing non-perishables. Moist foods are stored separately from dry foods, especially when they are in similar food storage bags.
It's great for organization and an extra step in keeping moisture away from boxes, cans, and other storage bags.
Flour
Flour can take on some interesting flavors if not stored properly. It absorbs moisture from the air, so airtight storage is a must.
Flour, baking soda, spices, and other baking ingredients are typically kept in airtight fresh-lock containers in a separate location within the food storage.
Sweeteners
Any sweet items that you have stored such as honey or maple syrup, are kept up and away from other items.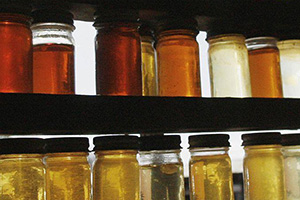 Never store your sweeteners on the ground where insects can easily access them.
This could bring insects to other parts of your storage as well, so store the sweet stuff on the highest shelf that you can, away from easily penetrative boxed foods or food storage bags.
Honey oxidizes metal, so be sure to also keep your honey away from cans and metal brackets.
MREs
Any prepared foods that need next-to-nothing to heat and eat should be stored together, away from the other foods in your stock.
Related: What Happens When You Eat Nothing but MREs
Self-Heating Meals
Temperature and moisture control are so important when storing non-perishables.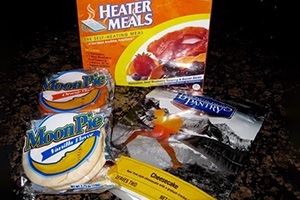 Self-heating meals are foods that come with a heating element. Any potential accidents are unlikely to come from the heating element, but I like to err on the side of caution.
Self-heating meals have their place, away from other foods, just in case the self-heat triggers by accident.
What's More
As we know, water is the arch-nemesis to so many of our non-perishable foods. However, we will need water storage to survive, whether that comes from large jugs kept in storage or collecting rainwater.
Keep all water far away from every single food on this list. Water and moisture corrode cans, spoil rice, and disintegrate outer food boxes. This is the most integral part of storing food for the long term. If you can store your water in a separate location, that would be optimal.
Having awesome food storage for a disaster is not as easy as throwing things on a shelf in your basement. The organization is key, and I like to keep like-foods close to one another.
Keep water storage far, far away from your non-perishables because moisture can wreak all of your hard work. Keep glass jars and penetrative packaging far away from each other so there are no accidents in case a jar breaks.
Once you get the hang of food storage, you will have a level of newfound security, knowing you can feed your family for years without a grocery store.
You may also like: 
Urbanites Moving To Rural Paradise Ruining It For The Locals
An Insanely Effective Way to Build a 5 Year Food Stockpile (Video)
How to Make The Coolest Wool Boots Ever, Easily
Investing For Preppers – 12 Things That Won't Lose Value In A Crisis
Why You Should Place Matches In Your Plant Pots