The ability to defend one's life, home and family is something that's enshrined in the U.S. Constitution. While it's common to think of the Second Amendment as dealing with firearms, the amendment goes far beyond that, giving US citizens the right to own any and all types of weapons.
While Congress and the various states legislatures have passed laws that have placed limitations on that fundamental right, the battle is still ongoing, with laws in some states increasing our freedom to use that right, while other states seek to limit or even eliminate it.
Leaving the politics out of it, there are some very valid reasons to avoid using certain types of weapons for self-defense. Just owning any weapon doesn't guarantee your safety, especially if you don't know how to use it effectively.
Criminals use guns and knives to scare their intended victim; but that doesn't mean you can do the same. Yes, some criminals may turn and flee, while others will try to take that weapon right out of your hand, especially if they don't think you'll actually use it against them.
What this means is that what works for one person may not work for another. While there are plenty of weapons that are impractical for any of us to use; there are also those which people who are trained can use effectively, even though the rest of us can't. We might think we look like a formidable foe with that weapon in our hands, but to others, we might look like clowns.
Regardless of the weapons that any of us choose, we must make sure that we take the time to be well trained in their use. There is no magical weapon out there, which will make up for lack of skill. Even shotguns, which many people refer to as "point and shoot" weapons, need to be aimed if you want to hit your target and take out the threat.
With those thoughts as our basis, let's look at some specific weapons that should be avoided for one reason or another. I'm sure some will disagree with me on my selections here, but I'll give my reasons for including them in my list.
One thing I need to point out here is that my objection to many of these is only as self-defense weapons. That doesn't mean that you can't or shouldn't have them; merely that if you do, make sure that they're not self-defense weapons in your mind. Stick to weapons which you can use effectively and within the constraints of the law.
Related: The 5 Best Pocket Handguns For Self-Defence
The second major point to consider is who you would be facing with these weapons and how they will be armed. The old adage about not bringing a knife to a gunfight still applies. With that in mind, weapons that might be usable in some situations may not be usable in others.
Fully-Automatic Firearms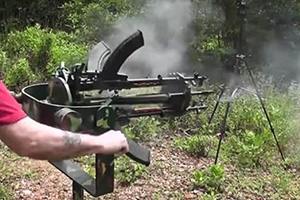 Perhaps the most dangerous mistake I can imagine is to use a fully automatic weapon for self defense. One of the big risks in defending ourselves with firearms is the possible of collateral damage. Bullets don't just drop to the ground when we miss the target, they keep on going.
Even worse than that, they can go through pretty much anything in a home, even a brick wall.
Anyone with military training knows that recoil causes the shot pattern from fully-automatic firearms to rise as shots are fired. After two or three shots, all that's happening is drilling holes through the air.
Even so, those bullets are going to come back down to the ground eventually and when they do, they'll still have enough velocity to cause considerable damage, perhaps even to kill.
Related: Home Security Tips From A Military Expert
Any use of a firearm in self-defense has to be carefully aimed fire, regardless of what we see on television.
High-Power Hunting Rifles
Hunting rifles are effective weapons for use against people, but aren't a good idea for self-defense. The big problem in most cases is that they are just too powerful.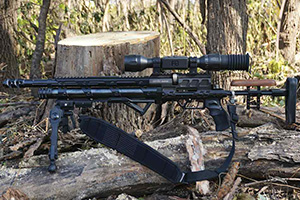 In one test, a .308 Winchester 150gr bullet fired at ballistic gel penetrated to 18.3".
Put simply, what that means is that if you shoot someone with that round, the bullet is likely to go through them, retaining enough velocity to kill someone beyond them.
The other problem with hunting rifles is that they are really too long to use as an effective weapon inside the home.
It's hard to maneuver that long a firearm around corridors and walls, bringing up the possibility that the gun's muzzle will become caught on a wall or doorframe, causing hesitation at the wrong moment. Keep the gun, just don't use it for home defense.
Drones
Drones have become increasingly popular in recent years. Law enforcement, border patrol, military and civilians all use drones for a variety of different purposes. Of course, most military drones are armed, as they are used to hit targets without having to have soldiers put boots on the ground.
But just because the military uses missiles on drones doesn't mean that you should modify yours to carry weapons, even though some people have done so.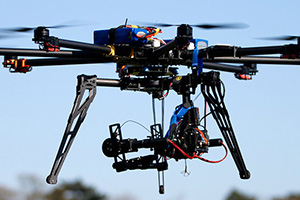 The big problem with shooting from drones, like with a number of other things I've mentioned here, is accuracy. It's unlikely that you'll succeed in hitting your target, without hitting something else too.
Keep in mind that military drones don't fire bullets, they fire guided missiles.
Those are area weapons, even when used against a specific building or vehicle. Collateral damage is accepted as the cost of doing business; but the courts won't see it that way when it comes to you and I doing it.
Related: Why You Should Get A Drone For When SHTF
Grenades
Yes, some people actually have grenades in their home.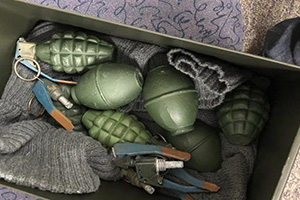 They either bought them on the black market or have them somehow leftover from their military service. That's an awfully dangerous trinket to keep around; essentially a bomb.
If someone were to pull the pin, either as a joke or out of ignorance, the results could be deadly.
Grenades have a 5 meter kill radius, but shrapnel can travel as far as 230 meters. With that being the case, there are few places where one could be used in self-defense, without putting yourself or innocent bystanders at risk.
The same problems would exist for any other explosives. While using them might look cool in movies, the reality of using them is something that's not nice and neat. Collateral damage is the rule, not the exception.
Anti-Tank Weapons and Grenade Launchers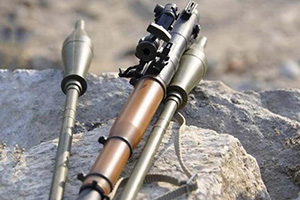 Speaking of explosives, there's something about anti-tank weapons that makes it so they appear in movies and television shows a lot.
I've seen many a scene, where an anti-tank rocket was used in an urban environment, usually against a gang or organized crime.
The problem with these weapons, besides being illegal to use, is that they cause considerable collateral damage. That's obviously something we want to avoid, as we are criminally liable for any injury or death that we cause.
Related: Self-Defense Weapons That Are Illegal In Your State. Do You Have One Of Them?
So, shooting that gang member's car that keeps speeding down your street with the sound system cranked up to full is a guaranteed way of changing your address to government housing, with even worse neighbors than that gang member.
Vehicles
While a vehicle might be an effective weapon, it's a dangerous one to use.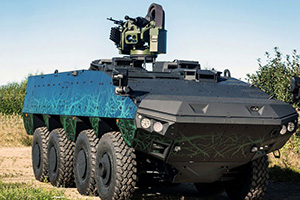 Chances are just about as good that you'll get hurt crashing into someone, as your succeeding in hurting your intended target. While I can see situations where running over a gunman who's getting ready to shoot would solve the problem, that's not an action to be taken lightly. It would probably be better to draw your sidearm and deal with them that way.
Related: Top 5 Awesome Bug Out Vehicles You Can Actually Afford
Military vehicles are even worse. Arnold Schwarzenegger owns his own tank, but he doesn't use it as a weapon.
As I understand it, the main gun on that tank has been disabled; so about the only way he could use it as a weapon would be to run someone over. That's actually pretty hard to do, unless you're running over a car that's stuck in traffic.
Booby Traps of Any Kind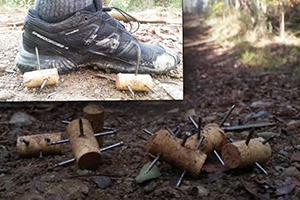 I've read a number of articles at one time or another, which talked about using booby traps as part of your home's defenses. There's just one problem with that… it's illegal. Getting caught with booby traps set up, let along having some neighborhood kid get hurt on one, is just too big a price to pay.
But what about in a post-disaster situation, where there's a breakdown of society?
Related: 3 Non Lethal Booby Traps From An Army Vet
Even then, using booby traps is risky. You can be sure that there will be people who are keeping track of everyone who will be forced to defend themselves during that time.
While they may not turn that over to the DA's office right away, there will come a day when they do, hoping that those who dared to defend themselves pay the price for having done so.
Autonomous Weapons
These kind of fall into the category of being booby traps. They're also usually fully-automatic, counting on a mass of fire to take out a target, rather than precision aimed fire.
So even if they do take out a bad guy for you, the legal cost of having that happen is just too great, no matter how cool they are.
Martial Arts Weapons
I can see very few situations where martial arts weapons would be useful in an armed confrontation, even for someone trained in their use. About the only time they are useful, is if the person wielding them is facing someone else who is similarly armed or bare-handed. While that possibility does exist, the likelihood isn't all that high.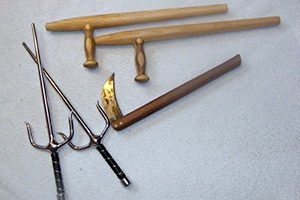 The big problem I see here is someone taking those weapons and using them against you. Unless you are extremely well-trained in their use, you'll have a hard time stopping them.
Unless your name is Deadpool, those katanas won't do you much good against bullets.
At the same time, using those weapons against someone who is unarmed or armed only with a knife could be seen by the courts as using excessive force.
Swords and other Melee Weapons
I'm a fan of medieval weaponry, but I don't have any of it as part of my self-defense arsenal.
While I might fantasize about using it to stop a criminal, I realize that it's just not practical. In my opinion, those weapons have the same problems as the martial arts weapons I just talked about.
Wasp Spray
Many writers in the prepping and survival sphere talk about using wasp spray in lieu of pepper spray as a self-defense weapon. The arguments are that wasp spray will shoot 20 feet and is more effective than pepper spray.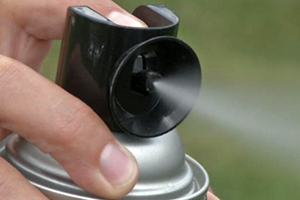 While those are good arguments, they ignore one very important thing – wasp spray can cause damage, including blindness, that pepper spray won't. Should you use wasp spay as a weapon against anything but a wasp, chances are pretty high that the courts won't look kindly upon it.
It's unlikely they will take that as a "reasonable" self-defense move, unless there is nothing else available.
Related: How To Make Pepper Spray
On the other hand, I have yet to hear of a case of wasps taking anyone to court for using wasp spray against them.
Tactical Pen
Before talking about tactical pens, let me say that I own a few of them. They're the pens I carry on a day-to-day basis, mostly because I like how they look. I've also found that you can usually get away with carrying them on a plane. But as a weapon of choice? I don't think so.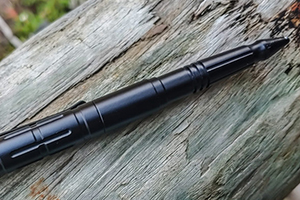 The tactical pen is a bit of a joke as weapons go. It's a desperate person's weapon, when they don't have anything else they can use, such as on that airplane.
But as for any other time? If you can carry a tactical pen, why aren't you carrying something more effective?
But the big problem with tactical pens, like many other weapons, is that people carry them, without being trained in their use. Personally, I don't know of anyone offering lessons in using a tactical pen as a weapon, other than a few videos on YouTube.
So what are you going to do with it, if you ever have to use it to defend yourself? Have you thought about that?
Fake Weapons
There are a number of different fake weapons around, ranging from decorative swords intended to hang on a wall somewhere to phone cases shaped like a pistol.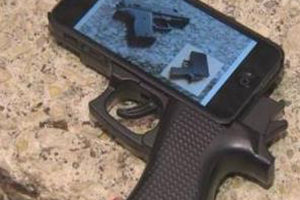 The problem with any of these is that they really aren't weapons.
Anyone attempting to use them as such, is probably trying to scare away their attacker. But if they don't succeed, they'll have their hands full of something that doesn't work.
The other problem with many of these is that they can get you killed. There haven't been a lot of cases, but there have been some significant ones, where someone armed with an airsoft gun or other fake gun has gotten shot by a homeowner or police officer.
When you point such a weapon at someone, they have to assume it is real and react accordingly. The red tip might give it away and save your life; but if you paint over that, like some people do, then you're just asking for someone to shoot you.
Flerken
What Marvel fan amongst us can forget Nick Fury using the flerken (looked like a cat to me… and to him too) as a weapon in the Captain Marvel movie? While that made for some great comedy, I'll have to say that the flerken wasn't a very effective or reliable weapon.
But that brings up an important point; that any weapon we choose to use must be reliable or we shouldn't pan on using it at all. We avoid some pistols as self-defense sidearms because they have a tendency to jam or stovepipe.
If we reject a pistol because we can't rely on it to work when we need it to, why wouldn't we reject a flerken or any other weapon that we couldn't depend on?
Best to Stick to Pistols
Looking at the dangers involved in using a lot of these weapons, it's clear why pistols are the only sensible self-defense weapon to choose. Granted, there might be some situations where a rifle or shotgun would be better, but that's only when there's enough room to maneuver with them held up to your shoulder.
Pistols are reliable and effective. But don't count on the pistol to do everything for you. Make sure you have the proper training, so that you can use them well.
Your ability to fire accurately will be greatly compromised by the adrenalin flowing through your system in such a time of need, so you really need to train to be better than what you'll need in the moment.
That goes back to the Spartan Army's saying of "Their drills are bloody battles and their battles are bloody drills."
You may also like: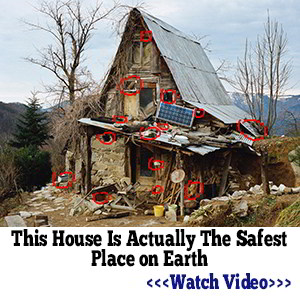 How to Create a Vehicle Emergency Kit
10 Things Cowboys Carried With Them in the Wild West to Survive (Video)
What Will Happen With Cryptocurrencies in the Next Economic Crisis
Prepping for Disabled and Elderly Populations (part I)