I'm sure many of you have either lived by, or heard great stories from the grandparents, about using or consuming bacon grease for cooking. My grandfather was a butcher and loved a good fat sandwich. I loved everything about him, except that. But, to each their own.
Anyway, many counters in the past have hosted canisters of bacon grease ready to use for adding flavor in cooking and frying up tasty dishes, such as potatoes. This grease was often just left out on the counter, and not refrigerated at all. And, it seems that people survived just fine.
Now, some people today might think that this is taboo and that it should be refrigerated, if not even used at all. However, I think you should use your gut instinct on this. Mine says that there are probably enough natural and added preservatives in some meats, especially pork, that it creates a favorable environment for preventing bacteria to thrive.
Take bacon. It's cured in salt, which is an effective preserving agent. In fact, store-bought bacon also has nitrates added, due to its preservation tendencies.
In addition to the salt in pork, grease in itself can serve as a preservative because it does not allow for air to penetrate or bacteria to grow. It can act like a seal, much like using wax to seal homemade jams and jellies. So, what about lard?
Related: 25 Survival Uses For Leftover Bacon Grease
Lard as a Meat Preservation Option
While lard might not contain much salt, or other chemicals, it's still fat. And, being pork, I tend to think that it would have some natural salt and preservatives in it.
Even so, the grease alone will act like a sealant and will help to keep bacteria at bay. It basically locks it out and protects the meat. In other words, sealing meat in lard can be an effective way to store meat for months, especially the colder months. Now, just keep in mind: this is for cooked meat, not raw.
While lard may be easy to make, I chose store bought to use for this article. Either is fine though.
Needed Supplies
Some of the supplies used can vary, depending on what you have and what you prefer. But, it's a short list:
Meat – I have known and read about pork and beef, but nothing on chicken yet at this.
Lard – This can be either homemade lard or store bought.
Crock or Canning Jar (and lids) – The size will depend on how much meat you plan on preserving.
Pans – You will need pans for both cooking the meat, as well as heating the lard. Or, one can be used for both (see my instructions).
Funnel – This will make it easier to pour the lard over the meat, if you choose to use canning jars instead of a crock.
Related: Canning Meatloaf for Meals in a Jar
Now, let's get started. At this time, I am only going to use a small amount of meat and lard, because it's for the purpose of this article. However, when doing this for a batch for storing for the family, the amounts of product would be much larger.
I am also using a canning jar at this time. My instructions will be based on that, not the crock. But, I will add a few comments regarding the use of a crock at the end.
Step 1
First, cook the meat. It should be thoroughly cooked by the time the jar is sealed. Considering that the meat will still be hot when placed in the jar, as well as hot lard being poured over it, it's most likely that the meat will continue to cook slightly, maybe a couple degrees.
So, if you use a meat thermometer, stop the cooking process a couple degrees short of your desired temperature. I am using pork sausage patties.
Step 2
Put the meat in the jar (either whole, or sliced). Lightly place the lid on it to keep it warm while you move to the next step.
Note: You could do steps 1 & 3 at the same time, as long as you keep an eye on both. I chose to do them back to back, but melted the lard in the same pan that I used to cook the sausage patties. In hindsight, I would have used a smaller jar. I only wanted enough meat in the jar for 1 meal for my family, and the quart is a little bit larger than I needed.
Related: Pressure-Canning Hamburger Meat for Long Term Preservation
Step 3
Melt the lard in a pan, so it's hot and easy to pour. Again, I used the same pan…easy to clean and also grabbed some of the grease and flavor from the cooked sausage.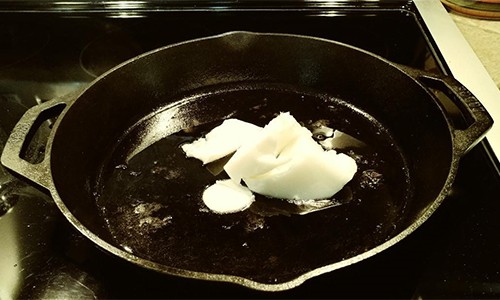 Step 4
Pour hot lard over the meat in the jar.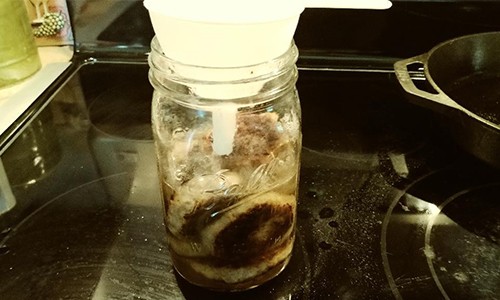 Step 5
Place the lid and ring on the jar and tighten.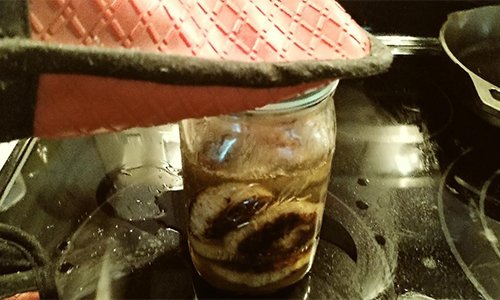 Step 6
Wait for the seal. Pop! It was sealed rather quickly.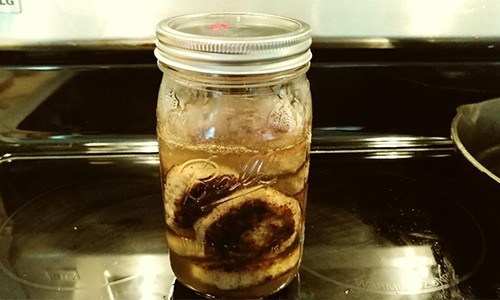 Whether you use the canning jars, or a crock, make sure to store the container(s) in a cool and dry location. It does not have to be refrigerated. But, it has to be cool enough that the lard will not melt again.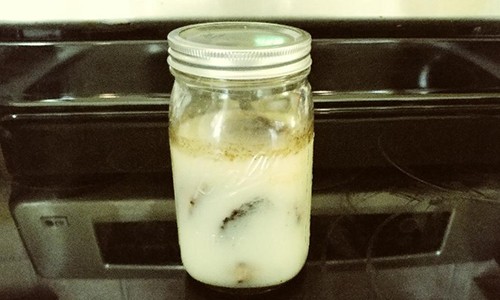 Now, if you use the canning jar method, it might be difficult to get it sealed again once you open it. So, this might be best if you want to preserve small batches separately. You might be able to re-seal it with more hot lard and a new lid. However, I have never tried to re-seal a canning jar.
If you use a crock, the amount of meat you can preserve will depend on the size of crock you use. By using this method of storage, you can take out what you want to use, and simply add more hot lard to cover the meat.
Related: How to Can Your Leftover Turkey
Tips on Using the Crock Method:
Place the cooked meat into a dry and sterilized crock, cover the meat completely with the hot lard. Cover that with a piece of clean wax paper, then cover the wax paper with the crock's cover. When you want to take some meat out to use, make sure to cover the remaining meat with more hot lard and cover again with clean wax paper and the crock's cover.
The less often the meat is disturbed, the better results you should have in the end.
Preserving meat in lard is not meant to be for years, but rather months…preferably the colder months so the meat and lard do not warm up.
You may also like: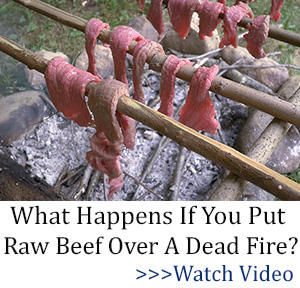 How To Stockpile Lard, The Calorie Rich Survival Food Of The Great Depression
This Homemade Device Can Power Up Your Entire House 7 Days in a Row (Video)
Is it Safe to Drink Old Stored Water?
Medicinal Uses for Activated Charcoal