The way the coronavirus epidemic is going, a lot of us must be breathing a quiet sigh of relief that we're preppers. The whole country – in fact half the western world – is now rushing around trying to do things we all took care of long ago. We don't need to panic buy canned food and toilet paper, because we already have stockpiles that will last through the epidemic. We're not afraid of being thrown back on our own resources for a while, because we actually have the resources to get through that. We're even prepared for society to fall apart; that's part of a lot of SHTF scenarios.
Don't relax too much, though. The odds of coronavirus actually bringing society down aren't high. It's potentially a serious crisis, but not on the scale of an EMP or major civil unrest. The chances are our society will come through it, creaking and wobbling in places, but basically still stable. The question is how it will be changed by the experience.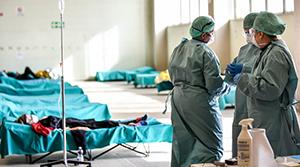 Most people expect the government to help protect them against epidemics like this. Politicians at all levels are getting involved, taking steps they hope will slow the spread of the virus. That's all great, but the problem is a lot of those steps involve restricting our civil liberties.
Related: Do You Know Your Rights Under Martial Law?
Dangers to freedom
Preppers tend to value civil liberties more than most people. We're independent, and don't like having our lives run for us; we'd rather make decisions for ourselves. The problem is that most responses to an epidemic involve some restrictions on our freedoms. Travel gets restricted. Public events are outlawed. Emergency regulations get passed to prevent panic buying and hoarding.
There's a balancing act here and governments aren't very good at it. These rules all make sense when there's an epidemic going on. If one part of the country has cases of coronavirus you don't want potentially infected people traveling from there to areas the disease hasn't reached yet. Having our freedom to go where we want restricted is never a small price to pay, but if the alternative is spreading a lethal virus to new states, new cities, it's a price worth paying. The same goes for banning sporting events and other public gatherings. We treasure our right to freely assemble, but does it make sense to have thousands of people packed together when one of them could be sneezing out clouds of virus?
The Constitution is an instruction manual for a free society; it's not a suicide pact. It makes sense to accept some of these restrictions on our freedom when there's an imminent danger from something like coronavirus. The problem is that instead of imposing sensible, moderate restrictions early enough to do some good, then removing them again when they're not needed anymore, politicians tend to leave it too late and overreact. Then the new rules have a nasty habit of becoming permanent.
Related: 15 Modern Laws That Would Get Our Grandfathers Arrested
What can we expect?
One of the most sensible things the government can do to slow the spread of coronavirus is to ban public gatherings. The virus seems to be a lot more infectious than scientists thought just a couple of weeks ago; it can hang around in the air for up to half an hour, and infect people more than ten feet from the carrier. If you have thousands of people close together, and any of them are infected, they could potentially infect hundreds more.
Sporting events are being played without spectators. So far this is all happening voluntarily or after "advice," but as the virus spreads we could see local, state and federal governments passing actual bans on public assemblies.
Even most libertarians agree this is reasonable – but what if politicians start to use these bans against political meetings or legitimate protests? The First Amendment affirms our right to free assembly, and it does that for a reason – so we can put pressure on the government if we don't like what it's doing. Maybe we can accept the government suspending this right, temporarily, so we don't all get a dangerous disease, but you can bet a lot of politicians will be tempted to turn suspension into abolition and take this right away permanently.
Restricting movement is another way to fight epidemics. In the age of air travel, disease can spread with frightening speed. Ebola is a disease that's always been confined to a few small areas in Africa, mostly because it kills its victims before they have a chance to get very far. Then in 2014 a Liberian man who'd helped an Ebola victim got on a flight to Dallas.
We dodged a bullet there. The Liberian died; two nurses were infected, but recovered. There was no mass outbreak of Ebola in the USA – but there could have been. A flight ban from infected areas is a sensible thing for the government to do. The thing is free travel is another constitutionally-guaranteed right – it's in the Privileges and Immunities Clause – and it's one that's key to a free society. Again, this is a right that we'd seriously miss if the government kept restrictions in place after the epidemic's over.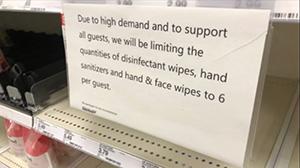 Finally, there's something we're already starting to see stores do voluntarily – rationing goods. A lot of people respond to the growing worries about the epidemic by panic buying. Things like face masks, hand sanitizer, soap and bottled water are running out in a lot of stores. In the UK people are panic-buying toilet paper for some reason. Stores are starting to tell customers there's a limit to how much of these items they can buy.
If people keep buying these items in bulk the government could step in to limit supplies. The US Surgeon General has already appealed for people to stop buying face masks because medics are having trouble getting them. The next step is for emergency laws to ration what people are allowed to buy – and even, possibly, a ban on "hoarding" rationed items. That's obviously a serious threat to preppers, because stockpiling essential supplies is a pretty huge part of our preparations.
Realistically, the choice right now is simple: Accept some temporary restrictions on our civil liberties, or potentially watch thousands of Americans die unnecessarily. The danger is that once government has grabbed more power over our lives they won't be in any hurry to give it back. As the coronavirus epidemic starts to fade away – and it will – we need to be alert for any sign that temporary restrictions aren't becoming permanent.
You may also like: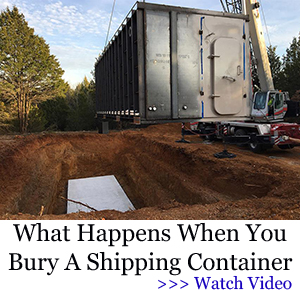 How The State Will Strip You Of Your Rights When SHTF
How To Make Medicine At Home (video)
6 Bug In Mistakes That You're Probably Making Right Now
I Lived In A Post-SHTF World For 3 Years, And This Is What I Learned
Top 5 Awesome Bug Out Vehicles You Can Actually Afford