We can't see in the dark, and that's a bad thing. Yes, this is a pretty obvious statement, but that doesn't make it any less true – or any less of a problem for a prepper. For a big chunk of the day, our vision is seriously reduced by lack of available light.
Sometimes that's just inconvenient; it's hard to work in your vegetable plot when you can't see what you're doing. Other times it can actually be dangerous.
Night is a time when predators come out, both animal and human. In darkness it's much easier for them to move into attack range without being detected, or lie in wait to ambush their prey – and the prey they have in mind might be you.
What are you supposed to do, though? Spend all night cowering in your house, hiding from the dark?
Related: How To Hide From Thermal Vision
One solution is to use night vision equipment, but there's a problem – night vision equipment is expensive. Military-grade systems cost thousands of dollars, and even a basic observation device will usually run to a few hundred.
On top of that, a lot of the cheaper systems are active infrared. They have a built-in IR illuminator that can't be seen with the naked eye, which lights up the scene for the viewer, but if someone's hiding behind a bush they're still hidden.
Night Vision For Your Phone
There's one affordable device that's a bit different, though – the FLIR ONE thermal imager. This is a passive infrared system; it picks up the heat emitted by objects, and displays that on a screen.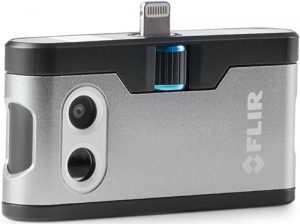 That means it works even in complete darkness, and doesn't need an IR illuminator. It can pick up warm objects behind colder ones, as long as the barrier isn't too solid.
What's interesting about the FLIR ONE is that the device itself is just a thermal sensor and a battery, in a small package that connects to a smartphone. Its image is displayed on the phone's screen, which means you get a bigger display than most night vision systems, as well as access to the phone's other features.
The third-generation FLIR ONE costs around $200 and comes in two versions, for iPhones or Android phones with a USB-C connector. Inside the box is a small zippered case, which contains the imager and a USB-C charging cable.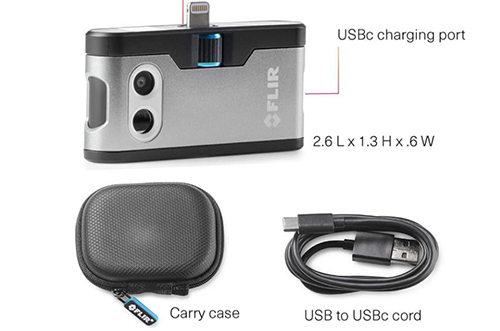 Meet The FLIR ONE
The imager is extremely small – just 1.3 inches high, as wide as an iPhone and just slightly thicker at 0.6 inches. On top there's a connector to plug it into the phone; under it is a knob that adjusts the height of the connector to suit phones with or without a case.
On the front are two cameras – one thermal and one visible light. On the bottom is a USB-C port, to charge its internal battery, and an on/off button. It's solidly built and feels like a quality item.
To use it, the first thing you need to do is fully charge the imager's internal battery. While you're doing that, download the free FLIR One app to your phone.
When everything's ready open the app, plug in the imager then switch it on; after a few seconds the thermal picture will appear on your phone. It's quick and simple, and also totally reliable.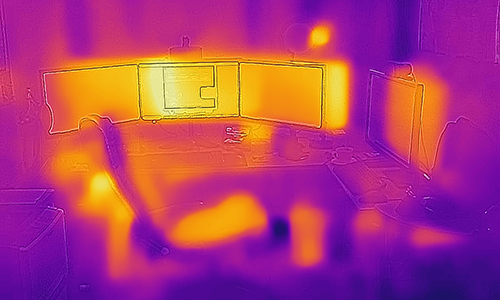 When I first looked at the FLIR ONE's thermal image I couldn't believe how good the resolution was. After a closer look I realized it wasn't that good; a lot of the detail you're seeing isn't from the thermal camera.
It uses the visible light camera to draw an outline, which adds a lot of detail to the image and can be very useful. The problem is that the visible light camera won't work in complete darkness, and the thermal camera on its own has a much lower resolution.
In fact the resolution of the thermal sensor is just 80×60 pixels. That limits its effective range; at long distances, if a warm object only covers a small part of a pixel, that pixel's average temperature won't be different enough to register.
So how far away will it pick up a human or an animal?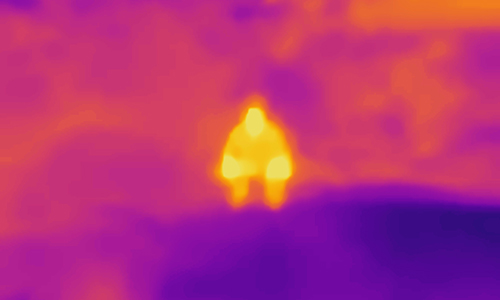 Testing Its Performance
I tested the FLIR ONE by taking it into town and observing people in the street – and it worked. Obviously it doesn't perform like a military surveillance device, or even a $500 thermal hunting scope, but it will easily pick up a person at over 50 feet.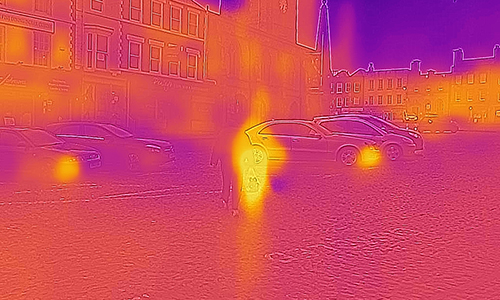 I did notice that the thermal and visible light images don't line up perfectly, especially at shorter distances, but you can easily work out what you're seeing.
Related: Camouflage and Concealment: The Art of Staying Hidden
For the next test I headed into the country to photograph some sheep, and this time I covered the visible light camera for most of the shots so the image is thermal-only. As expected, that made the image a lot less detailed – but it did detect a lot of sheep.
There were a bunch of them scattered around the field, and they showed up clearly out to at least 70 feet.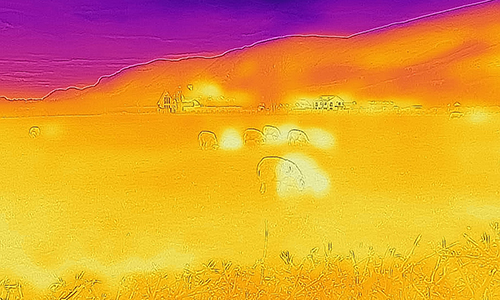 Limitations
What the images don't show is that there was another group around 300 feet away, and they didn't show up at all.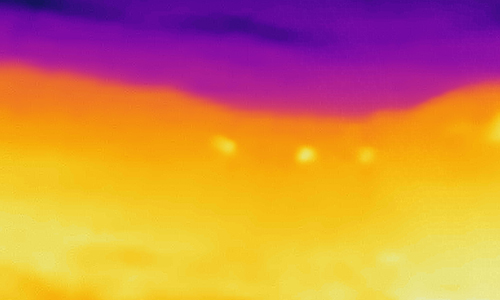 There were some buildings around half a mile away that did show up, and I'm pretty sure that's because they were big enough to cover at least one whole pixel on the sensor.
So the FLIR ONE has limitations, but it does work. Could you use it for long-range surveillance? No – but could you use it to scan your yard and check for intruders? Yes, definitely.
It takes about 40 minutes to charge the device, and a full charge will keep it running for about an hour.
It isn't supposed to draw any power from the phone's battery but I did find that my iPhone ran out of power a little faster; that's probably because it was constantly showing video, rather than any direct power draw.
It's quick and easy to take either photos or video with the FLIR ONE app; they get saved to the phone and can be stored or shared as normal.
Is It Worth Buying?
My only real complaint about the FLIR ONE is that it can occasionally fall off the bottom of the phone; there's nothing holding it in place except the connector.
I'm thinking of designing and 3D printing a new case that will hold the phone with the imager attached, to solve that problem.
Apart from that it's a surprisingly capable little gadget that will give you a new view of the world at night.
You may also like: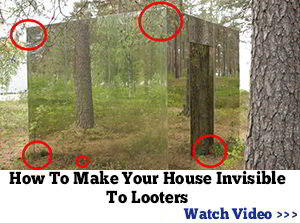 How the Government Shutdown Affects Preppers
The Awesome DIY Device That Turns Air Into Fresh Water! (Video)
Herb Farming at Home: a New Business?
How to Can Your Leftover Turkey