Modern surveillance technology can be scarily effective, and it's getting better all the time.
The first night vision device I ever used was an old Individual Weapon Sight, a huge starlight scope that cost as much as a pretty good car and weighed more than the L1A1 battle rifle it was mounted on.
Now a few hundred dollars will buy you a much more effective night sight that weighs a few ounces, or a good set of night vision goggles – but night vision is old technology now.
The state of the art in surveillance is thermal imaging, and that's a lot harder to hide from.

Thermal imaging is also called passive infrared. It works by picking up the infrared radiation – basically heat – radiated by objects, and displaying the different temperatures. It doesn't matter how expertly camouflaged something is – if it's warmer or cooler than its background, it will show up.
The effective range of a thermal imager is from a few dozen yards for the smallest handheld units, up to thousands of yards for large military surveillance systems and weapon sights. And, while imagers were once heavy and incredibly expensive systems that needed to be cooled with refrigerated gas, they've become a lot smaller and more affordable.
Less than $2,000 will buy you a rifle scope that lets you shoot out to more than 300 yards in complete darkness. For $600 you can get a hand-held imager with a range of over 100 yards.
You can even get a $249 plug-in module for your smartphone that will pick up a hidden object a few yards away by its thermal emissions. These days, if someone's looking for you it's smart to assume they have a thermal imager to help them.
Does this sound like bad news? It is.
Unlike standard night vision devices, thermal imagers don't need any light at all to pick you up. They can see through mist and smoke. They penetrate rain and falling snow, although those can reduce their range by more than half. If a thermal imager is scanning for you it's a lot harder to hide.
But it isn't impossible, and if you know what you're doing you have a good chance of evading detection. Here's how to do it.
Remember The Basics
Hiding from a thermal imager follows the same basic principles as hiding from anything else. Your challenge is to avoid standing out in the sensor display. If your pursuer has a conventional scope you do that with camouflage; if he has a thermal imager you'll need to adapt your techniques, but the basic aim is the same.
Hide Behind Things
A thermal imager is like any other sensor; it can't see you if you're hiding behind something that blocks the signal it detects. The thermal radiation you give off can penetrate some things that would hide you from visual detection, but it can't penetrate everything.
If you're moving across country, use the ground. No imager can see through a hill or rolling ground, so if you can put terrain between you and it, you're invisible.
Solid walls will conceal you, too. Stud partitions or drywall won't reliably block your body heat, and some military systems can see through a single layer of brick, but a brick cavity wall or masonry is enough to hide you.
Be careful with vegetation. Light brush or grass won't block your body heat, but heavy undergrowth will. If you're deep enough in the woods you're also safe from detection – from ground level, at least.
An airborne thermal camera, looking down, can see through a light forest canopy. On the other hand, old trees with a dense canopy can conceal you from all but the most sophisticated military imagers.
Block Your Body Heat
If you trap heat, the imager can't detect it. Unfortunately, if you trap all your body heat, you're at risk of overheating and becoming a casualty. However, the less heat you're radiating the closer the imager has to be before you stand out enough to be detected. Just wearing a field jacket instead of short sleeves can cut the imager's range by five to ten percent, and every little helps. Bare skin stands out more clearly than clothing, so minimize it.
Some people have suggested that wearing a wetsuit will hide you from a thermal imager. It won't. The problem is that the suit will quickly warm up until it's at the same temperature as your body.
An oversuit made of space blankets won't hide you either, but these lightweight sheets do have some uses. They reflect heat, and any that's reflected back towards you won't reach the imager to reveal your position.
Turning the blankets into clothing has the same problem as a wetsuit; they'll quickly warm up. If you use them as a liner in your shelter, however, they'll cut down the heat that escapes and can slice a good chunk off the imager's range.
Think about where and how you shelter. Under a tent or shelter half you'll stand out clearly on thermal; in a cave you won't. If you're in the woods, a shelter with a roof of branches and dense brush will dramatically reduce the range you can be detected at; if you can put a layer of soil on top you'll cut it even more.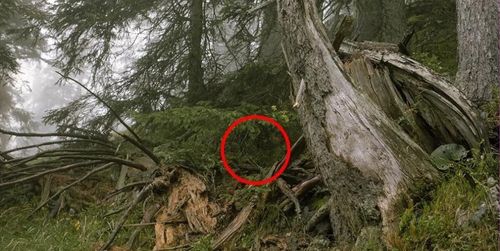 In winter thermal imagers are extremely effective, because they're scanning for warm objects on a uniform cold background – but you can turn that against them. Snow is a great insulator, so if you dig a snowhole in a drift, then shelter inside that, you'll be very well concealed.
Match Your Background
It's very difficult to precisely match your background as a thermal imager sees it; different materials radiate heat in different ways, and you'll never be able to disguise yourself as a rock.
However, temperature contrasts make things a lot more obvious. If your background is close to body temperature you'll be much less obvious, and while you won't be invisible the detection range will fall. On sunny days look for backgrounds that absorb heat, like brick walls or bare earth, and try to stay between those and locations where you think an imager is likely to be.
Use sources of heat. If you need a place to hide, and a nearby building has an air vent that's pumping out hot air, sit under it. The whole area will be above ambient temperature, and that can help mask your body heat.
Stay near water, especially in warm weather. If there's a lot of moisture in the air it will hold a surprising amount of heat, and this will help to reduce your contrast. Here's also how you can turn it into an endless source of drinking water, using this DIY device.
Your best chance of hiding in the open is against a confused background. On a uniform background like snow or an empty parking lot you'll stand out clearly.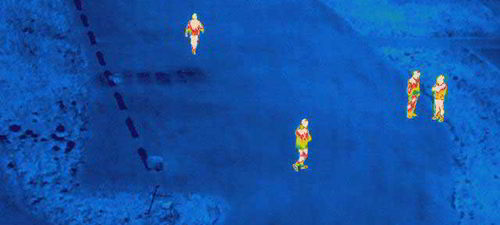 If there are lots of different materials, all radiating heat at different rates and wavelengths, the imager's picture will be more confused and you stand a much better chance of blending in. Thermal imagers aren't magic; they just look at the world in a different way. If the picture the operator is looking at is a mess you're going to be much harder to pick out.
In an emergency, set things on fire. Multiple heat sources will confuse the picture and give you a chance of slipping away. And, while smoke generally won't block the picture, if you burn the right things it can help. The military use white phosphorous or rubber-impregnated smoke shells to block thermal pictures, because they fill the air with burning particles and create a wall of heat that's opaque to the imager.
If you can burn stuff that throws off lots of soot and burning particles, that will seriously cut down the imager's range. Old tires can fill the air with dense, hot black smoke. Shredded paper will put up burning fragments. The fires themselves will be very obvious, but the messy picture they create might give you the chance you need to slip away.
Use The Crossover
There are two times in the day when thermal imagers don't work very well; just after sunrise, and again just after sunset. These periods are called thermal crossover, and the change from day to night conditions dramatically reduces contrast in a thermal imaging view.
It's very hard to predict how long thermal crossover will last. On a bright sunny day it can be a few seconds, which is useless to you, but if the weather's overcast it can last several minutes. High humidity will extend the length of crossover, and so will wind. If you have your own thermal imager you can check to see if crossover is having an influence – but be aware that military imagers will overcome the effect faster than commercial ones.
A Few Don'ts
Wetsuits, drysuits and Arctic clothing won't work
Lining your clothes with space blankets won't work either
Thermal imagers aren't like infrared security lights; moving very slowly won't hide you
Hiding behind glass is not effective – and many military systems combine thermal and optical imaging, so they can see through glass anyway
There's no doubt that hiding from a thermal imager is difficult. Don't give up, though; with some knowledge you can reduce the sensor's detection range, and that can give you the edge you need to stay concealed. A thermal imager isn't an all-seeing, Godlike adversary; it's just a camera with some special tricks, and it can be fooled.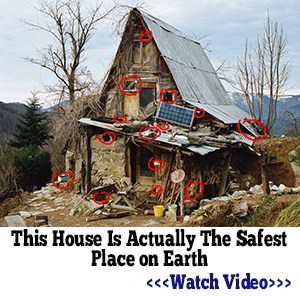 Amish Long-Lasting Recipes Every Prepper Should Learn
7 Actions to Take Immediately Following an EMP Strike (Video)
I Lived Without Running Water For One Year. Here's What I Learned
How To Recondition Old Gasoline
Harvesting and Using Dandelion Roots – The Natural Detoxifier