Do you ever get the feeling that someone is peering over your shoulder? It could be at the ATM or when you are on your cellphone. You might feel like someone is watching and most of the time you are right. Those its not the eyes around you that should worry you. If you own a mobile phone google, Facebook and government know almost everything about you!
You either know about all of this already or you are going to walk away feeling very uncomfortable and maybe a little trapped.
This article will not only be a look at what Facebook, Google and the Government know about you, but we will also provide some links that allow you to affect what they know about you. Yes. There are many things these entities are doing, with your permission, that you don't know about.
These "services" have off switches and you can take advantage of those if you read on.
They Know Where You Are
Both Google and Facebook are very up front about giving you the ability to tell the world where you are. Their services are tied in with your GPS technology and you have agreed to that long before you started posting or doing anything else, they offer.
You can even get solid proof by following this link to see your own personal timeline. Google is very transparent about this data but its none the less chilling!
Make no mistake about it, if your phones tracking is on, they know where you are. Most people know about this and some even work to counteract it but there are millions that do not, and Google keeps tabs on all of them.
They Know What You REALLY Like
Google uses two mediums to really understand what you like. You know, the person you are in front of your phone is the person they want to know. The nasty things you search at night when the family is asleep, they want to know that, too.
The first method they use to really get to know you, is to save all your activity. All of it! Again, they are terribly transparent if you know where to look. This means things you have searched and things you have searched and deleted are all logged. Unless you have been very diligent and deleted things across devices.
If you are interested, you can see your activity profile with Google HERE.
The other method is your advertising profile. While Google does not sell your personal information, they basically remake you based on a variety of characteristics and interests. They are not allowed to sell your exact age, but they can certainly say that you fall into a demographic/age bracket.
This ad profile is what they use to make money on ads. They can target you with ads based on the things you search, like, places you visit and a variety of other things. In essence they know what gets you to act when you are on your device and they sell that to ad agencies. This is arguably much more powerful than your personal information.
You can stop these targeted ads by going to this link HERE.
They Can Watch You
Yeah. I know, its creepy but its true. Along with information about everything you use on your phone, everything you watch, what you like and where you go, even your calendar, you have also given Facebook and Google permission to use your microphone and camera!
Facebook and Google Stockpile Everything About You
Both services offer you options to download all the storage they have on you. Not sure how you feel about that but its definitely a service they offer. Its likely something, they will charge a lot of money for one day. Now, the most alarming part about this is the size of what you download. For all the information on you, you might need close to a gigabyte of space or more!
I have read of people requesting this information from Goggle and needing 5GB of data space for that file! That is huge.
Big Brother Is Just As Bad
The cloud has changed everything. The US Government can understand your entire daily routine based off information that doesn't even live on your device!
To be honest, the government doesn't have enough agents or time to track all of us with precision. However, if they were to raise an eyebrow over something that you were doing or saying. They could hone in on an individual and suspend a lot of the rights you think are part of your birthright.
We have watched scenarios like this transpire before our very eyes. We have seen the government burst from its shell and attack with full force. From pressuring tech companies to crack cellphones to people being washed from our society altogether.
Its not that they are watching you right now, but you must be honest with yourself and understand that they can, when they want to. Beyond the governments scope of surveillance, they can also tap the aforementioned Google and Facebook for all the information in their storage.
Privacy is a dissolving feature of our society. There is no getting around that. Unless you take steps from birth you are going to be part of a heavily surveilled state that can set its sights on you whenever it pleases.
What are you going to do sue the Federal Government?
The State will skirt the constitution whenever it sees fit and in this divisive day and age, there aren't even swaths of the population to stand up for you. So, what is a person to do? Well, its more of an excuse to live free and be yourself.
If you like buying ammunition and stockpiling weapons, everyone knows about it anyway. You might as well enjoy it! In any ways the prepper idea of OPSEC has been shattered by all this and maybe that's a good thing.
We can get to the task of preparing the rest of the world for the high tides ahead.
You may also like:
9 Places to Scavenge After SHTF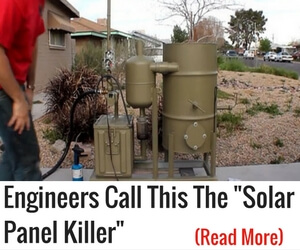 If You Are Too Weak to Prep then You Need to Watch This (Video)
Frugal Prepping: How to Get Cheap and Reliable Ammo For SHTF
5 Maps You Should Have At Home