For many wild animals, staying invisible is the key to survival.
Prey animals don't want to attract the attention of predators; predators want to be able to sneak up on their prey without being seen. The result is insects that look like leaves or sticks, gazelles with coats that blend into the colors of the African grasslands, and leopards whose spotted fur fades to invisibility in a sun-dappled forest.
Humans are a lot more visible than most wild animals. We're social creatures, and safety in modern society depends on other factors – being able to spot when it's time to leave the bar because there's about to be trouble, or remembering to lock the doors before you go to bed.
If society collapses, however, that all changes. When law and order breaks down you have to take full responsibility for your own safety, and one of the best ways to do that is to stay inconspicuous. If you have weapons and the training to use them you might be able to deter or fight off an attack, but it's better to avoid being attacked in the first place.
Armies teach that camouflage and concealment are different, but related, skills. Concealment is making yourself harder to see; camouflage is changing something's appearance so it's harder to notice. Camouflage doesn't need to involve making whatever you're camouflaging look like something else; as long as it doesn't look like what it actually is that's good enough.
Camouflage and concealment techniques will vary depending on what you're trying to hide, but there are always four basic principles to follow:
#1 Shape
This is the most important factor in not being seen.
Some shapes are rare in nature. Straight lines are one example. Perfect squares or rectangles are another. The human eye is naturally drawn to anything that looks out of place. It's also drawn to anything that looks familiar. Vehicles, buildings or the shape of a human being will all stand out unless they're disguised. The most effective way to avoid this is to break the shape up using a camouflage pattern.
Good camouflage patterns don't work by mimicking the background; their effect is to disguise the outline of a familiar or unnatural shape by breaking it into smaller, irregular ones. Contrasting colors are the best way to do this.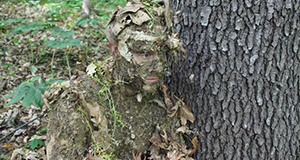 The best way to conceal yourself is with camouflage clothing. Patterns that mimic leaves or tree bark are popular with some hunters, but military patterns are more effective. They can also be used in different types of terrain without losing effectiveness. The best are Crye MultiCam or the very similar British military issue Multi Terrain Pattern. British DPM is nearly as good, with the old US Woodland camo a fairly close third. Avoid the ACU pattern; unless you're trying to hide in a cement factory or on the moon it's basically useless.
If you're carrying a pack or wearing a load carrying vest break up the outline by tucking foliage into straps and loops; change the foliage if you move into a different type of terrain. Wear a boonie hat to help conceal the shape of your head – you can add foliage to the loops on that, too. In dense woods camouflage cream on your face and hands is a good idea. Use different colors to darken the pale parts of your face, like the nose and cheekbones, and lighten darker areas such as your eye sockets. Diagonal stripes of a contrasting color will help to disguise the distinctive shape of a face.
Vehicles and small buildings can be painted to make them less visible. Flat olive green is a lot better than nothing; contrasting shades of green, brown and mid gray, in irregular patches, is perfect. Look at military vehicles to see how shapes are disguised.
Another option for small buildings and parked vehicles is a camouflage net. Don't just drape this over the top; support it on poles or cut branches to create an irregular shape. If you're using poles fit some kind of spreader to the end, or the net will slip down over them. A simple crossbar will do, or you can nail a plastic bowl to the end.
#2 Shine
There are shiny things in nature, but they do attract attention. One of the most common reflective things is water, which both animals and humans are often looking for, so the less light you and your gear reflect the better. Remove jewelry. If you're wearing short sleeves keep your watch in a pocket or on a cord around your neck. Camouflage cream will kill the reflections off your skin, which can be very visible. If you're using binoculars or a rifle scope the lenses can give you away. Get an old military scrim scarf (there are plenty of these on eBay), stretch pieces over the front lenses and tape them in place. Because it's a loosely woven net you can see through it, but it kills most of the reflection.
Shine is a big problem for vehicles. Remove or paint any chromework, or cover it with 90mph tape or burlap. When vehicles are parked cover the windows and lights with burlap or old sacks.
Windows on buildings can be covered with mosquito nets or door screen material. Again this will let you see out, but it will catch most of the reflections off the glass. Spray the material with flat paint; if you have right the paint, spray it light brown then add darker green patches. Pay attention to breaking up its edges to hide the square shape.
#3 Shadow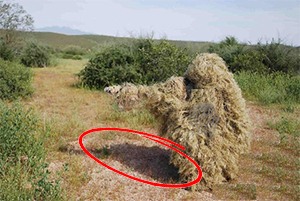 Most people don't consider shadow when they're trying to conceal something, but it can be a real giveaway. Imagine you've camouflaged yourself effectively; your shape is broken up by camouflage clothing and your skin is smeared with contrasting shades of cream. You've hidden your shiny watch. From any distance your distinctive human outline is obliterated, replaced with a patchwork of faded green and brown. But it's a sunny day and you're casting a clear, dark human-shaped shadow.
It's also possible for vegetation to be dense enough to conceal you, but still let enough light through to cast your shadow on the ground. Always be aware of the position of the sun when you stop to rest or shelter. If you're moving inside a tree line but throwing a shadow outside it, the movement of the shadow can reveal that you're there. Move further into the trees if you have to.
Go look at a parked car. There's a very obvious dark shadow under it. That can easily give away the position of a camouflaged vehicle, even if it's under a camouflage net. Hang a skirt of burlap or old sacks round the bottom of the body when you're parked up, or fill in the gap with light brush. If you can park in vegetation that comes up to the door sills that's good. Pay attention to the shadows under the wheel arches too.
#4 Silhouette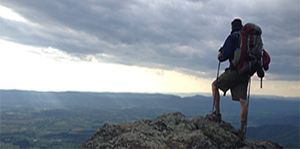 A silhouette is basically a shape against a contrasting background. The classic way to reveal your position by silhouetting is to cross the skyline. Anyone at or below your level will see your outline silhouetted against the brighter sky. If you're following a ridgeline don't move along the crest; stay off to one side, far enough down that the ridge is between you and the sky. If you have to cross high ground look for cover – trees, or a dip in the ridge. If you have to, crawl across the crest to reduce your silhouette as much as possible.
The sky isn't the only thing you can be silhouetted against, so you need to stay aware of what's behind you. It doesn't matter how well camouflaged you are – walk in front of a white wall and you'll be silhouetted. Try to avoid moving in front of anything that's a strong contrast with your clothing or vehicle.
Picking the right location is a huge aid to minimizing silhouettes, especially for overnight camps or more permanent shelters. If you're in cover you aren't silhouetted against anything – so build your shelter in the woods, or encourage trees to grow around your retreat. Pick locations surrounded by higher ground so anyone approaching will be silhouetted but you won't be.
Camouflage and concealment need a bit of work, but the effort is definitely worth it. If you can keep yourself concealed you're at much lower risk of being attacked; you control your contact with other people – because they don't know you're there. Whatever disaster has happened to society, your chances of getting through it in one piece are a lot higher if you can conceal yourself, your gear and your shelters.
Learning how to camouflage yourself is one of the things that I've learned from a well-known army officer vet Steve Walker, for whom I have all the respect in the world. Watch his video and learn quite a few efficient fast-tips about "camouflaging" your home in time of war or social chaos.
You may also like: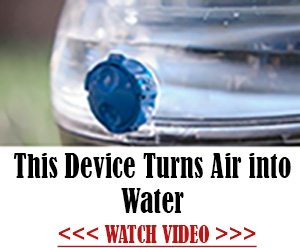 What Should You Do in Case of a Terrorist Attack?
This Bug Will Kill Most of the Americans during the Next Crisis (Video)
DIY Rattle-Can Camo for Weapons and Other Gear
10 Awesome Food Ideas for Your Bug Out Bag