DIY poor man's pie – it's a staple in my dinnertime repertoire. There are lots of recipes in my family that are supposed "family secrets" exclusive to my family tree alone. However, as it turns out, most of those recipes can also be found in other families. So much for a big secret!
Some of my favorite "secret recipes" shared by my family are zucchini relish, a classic apple pie, and of course, poor man's pie.
Poor man's pie is a recipe that's been passed down to me from many generations ago. Although I inherited the recipe in one of my mother's cookbooks, I'm not exactly sure where it originated in my family.
I always thought it was my family's and my family's alone – but after doing some digging, it turns out that poor man's pie is actually something beloved by hundreds of thousands of people around the world. And as it turns out, each family puts a slightly different spin on this classic.
Here's my family's DIY poor man's pie recipe – and some tips on how you can make it for yourself! No secrets here.
What is Poor Man's Pie?
In researching this article, I learned that there are actually a few different variations on poor man's pie. Most of them (including the one that I will write about here) are meat-based pies that make good use of whatever you have on hand – things like canned cream of mushroom soup, potatoes, and ground beef.
There's also a poor man's pie variation that is more of a sweet pie, made out of things like a light cream and white sugar. Some even have pecans. This is generally referred to as Amish poor man's pie.
My poor man's pie recipe is a dinnertime staple that I love for several reasons.
For one, it's a real "stick to your ribs" kind of meal. It's made out of heavy foods like ground beef, mashed potatoes, corn, and cheddar cheese. It's similar to shepherd's pie, if you're familiar with that recipe, but has a unique flair with the addition of cream of mushroom soup to make it even heftier!
Now again, it's important not to confuse this recipe with Amish poor man's pie. I've had Amish poor man's pie, too, and it's equally delicious – but more of a dessert pie.
Related: Canning Amish Poor Man's Steak
The poor man's pie recipe that I'll detail in this article is sometimes also referred to as sausage and oat pie (because it can also be made with those ingredients) or Scottish pie.
Why is it Called Poor Man's Pie?
Now, why is this recipe referred to as poor man's pie? You'll probably get a good idea of just why, exactly, after reading the list of ingredients.
Poor man's pie contains simple ingredients that are not expensive – things you likely already have in the pantry. You don't need to run out to eh store and spend $100 on fancy ingredients that aren't versatile and that you'll never use for any other recipe.
Instead, you'll rely on one of the cheapest cuts of meat you can find (ground beef) and the cheapest vegetables (beans and potatoes).
It is s important to note that many of the ingredients in this recipe can be substituted for whatever you happen to have on hand. For instance, ground beef can also be substituted for ground venison, ground lamb, or ground turkey.
Related: How To Preserve Beef in Glass Jars
You can use any kind of vegetables instead of corn and green beans, such as tomatoes, carrots, or peppers, too (I personally like the corn and green bean versions best myself, though).
Of course, you can make this casserole without the cheese – though I wouldn't personally recommend it unless you have some sort of lactose intolerance, since the cheddar cheese is really the cherry on top of this amazing dish.
How to Make Your Own Poor Man's Pie
Prep Time: 10 minutes
Cook Time:  35 minutes
Total Time: 45 minutes
Yield: 8 servings
Type of Cuisine: American/Scottish
Ingredients
● 1 lb ground beef (can substitute lamb, turkey, venison, etc)
● 1 can (10.75 oz) cream of mushroom soup (can substitute cream of celery)
● 1 can (16 oz) green beans, drained
● 4 cups cut red potatoes
● 4 Tbsp butter
● 2 cups shredded cheese (any kind, sharp cheddar is best)
● Garlic powder to taste
● Onion powder to taste
● Salt and pepper to taste
Related: 50 Foods You Can Turn Into Powder To Last Longer
Instructions
1. Preheat your oven to 375 degrees F.
2. While the oven is preheating, brown the ground beef in a cast-iron skillet over medium heat. It should be crumbly and fully cooked, taking about ten minutes. Season the meat with your spices (to taste), then drain the excess grease.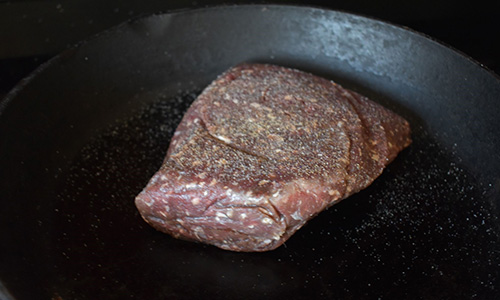 Stir in the green beans and cream of mushroom soup, then bring the mixture to a light simmer.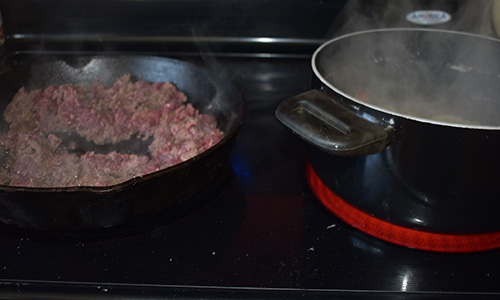 3. Peel and boil your potatoes, then mash with the butter.
4. Once the oven has warmed, spread the beef and soup mixture into a casserole dish.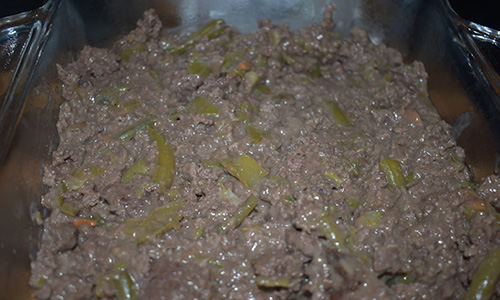 Spread the mashed potatoes atop the ground beef and soup, then sprinkle cheddar cheese over the entire mixture.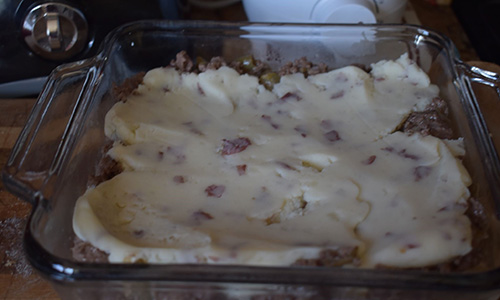 5. Sprinkle salt and pepper atop the casserole.
6. Bake until the mixture is heated through and the cheese is brown and bubbly, or for about 20 minutes.
7. Serve hot and enjoy!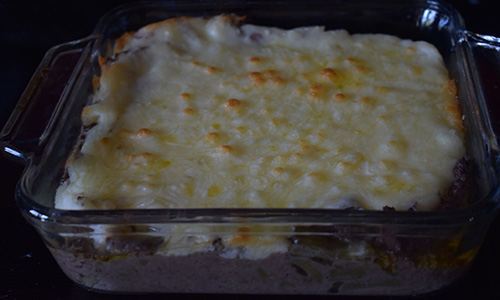 DIY Poor Man's Pie: Other Recipe Notes
That's all there is to it! Easy enough, right?
If you have any leftovers (you probably won't!) you can reheat them in the microwave or pop the entire casserole back in the oven to freshen it up before serving.
This recipe is so easy to make that I recommend whipping up a few and stashing some in your freezer for busy weeknights.
It freezes remarkably well and should keep its quality for about three months after being frozen (though it will of course remain safe to eat long after that time).
Feel free to play around with the ingredients and substitute in or swap out your favorite and least favorite foods.
DIY poor man's pie is a recipe that is sure to become one of your family's preferred dishes – so give it a try tonight!
You may also like: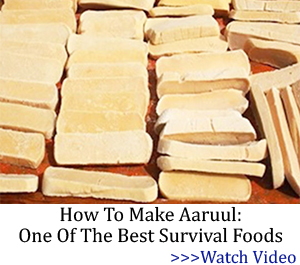 One-Week Meal Plan From The Great Depression
The Succulent Red Plant That Tastes Like Bacon (Video)
5 Lost Survival Lessons I Learned from the Amish
Whatever You Do, Don't Chop Down This Backyard Tree