Having an organized food stock is one thing, but being able to creatively cook recipes from that stock is a whole other ballpark.
Living on beans, rice, and canned/farmed veggies is perfectly healthy and will keep you nutritiously fed. Learning to cook a wide variety of dishes from packaged staples and preserved foods leads to an understanding of what exactly survival means.
Understanding how to cook from your food stock is extremely important, but what happens next? Being able to store the delicious recipes that you've created is half the battle.
Storage
Cold storage feels like it is forever dwindling and is not a long-term solution, and not everyone wants to invest in expensive Food Saver bags and machines. Dehydrators can also run you a pretty penny, but they are not necessary with a little innovation.
One way to dehydrate without special equipment is to use your oven. The lower the temperature, the easier it is to dry out your food. Each oven model is different, so check yours to see what your lowest possible temperature is.
For certain air circulation, especially when drying fruit, it's a nice trick to place a fan in front of the oven with the door cracked 1-inch. This keeps the air moving around the food, removing even more moisture. Fruit is not the only thing you can dehydrate in your oven.
These DIY long-lasting energy bars only call for 7 ingredients (including plain water!) and are simple to make and dehydrate for long-term storage.
These lemon-flavored bars contain whole oats, flax seeds, and honey for protein, nutrients, and a burst of energy.
Related: How to Make 2400 Calorie Emergency Ration Bars Designed to Feed You for a Full Day
Ingredients
● 2 cups old-fashioned oats
● ½ cup flax seeds
● 2 cups powdered milk
● 1 cup sugar
● 1 3-oz. package lemon jello, unprepared (or your favorite flavor – just avoid getting pudding!)
● 3 tablespoons water (plus more for mixing)
● 3 tablespoons honey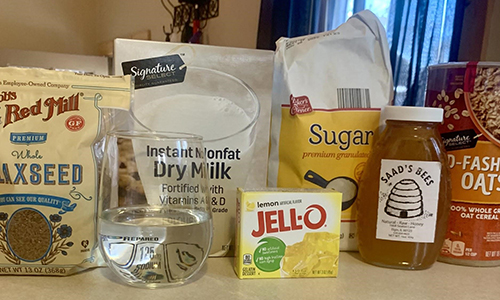 Process
#1. Preheat the oven to 200 degrees F.
#2. To a large bowl, add the oats, flax seeds, powdered milk, and sugar. Mix with clean hands until everything is homogenous and set aside.
#3. To a small saucepan, add the jello dry mix, 3 tablespoons of water, and 3 tablespoons of honey. You will not be preparing the jello as per its package directions, so no need to prepare it beforehand.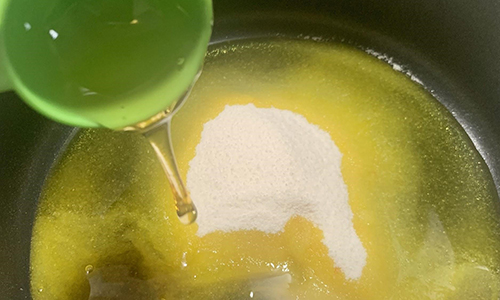 #4. Turn the heat to medium-low and bring this mixture to a rolling boil, stirring constantly. Allow the jello to boil for 1 full minute before removing it from the heat.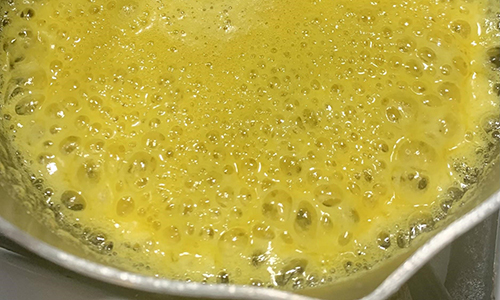 #5. Pour the hot jello mixture into the bowl with the oats and flax seeds. Allow the hot jello to cool slightly before mixing with your hands. This is the best way to ensure all of the dry mixture is moist enough.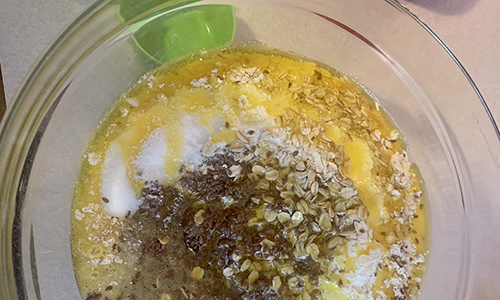 #6. Add water 1 tablespoon at a time if the mixture is too dry. Mix the dough again after each tablespoon of water. You do not want this mixture to be too wet, otherwise the bars will not have as long of a shelf life.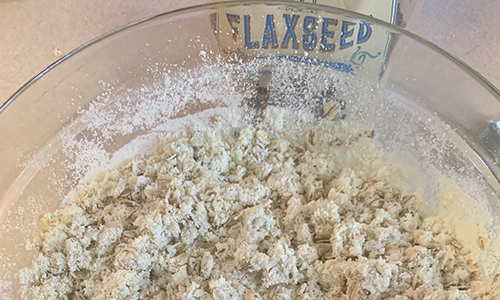 #7. Once the oat mixture holds together in a log when you squeeze it in your hands, it is ready.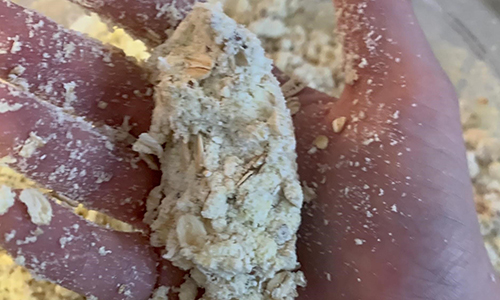 Related: How I Make My Own Cough Mixture
#8. Line a 9×12 baking dish with parchment paper or foil. I highly recommend using parchment, but used foil in this recipe because it is what I had on-hand. Using a measuring cup, press these bars firmly into the lined baking dish.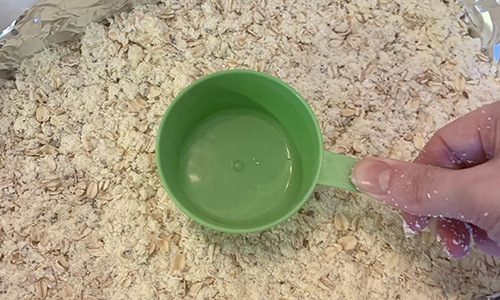 #9. Using a sharp knife, cut your bars out prior to baking. Just run the knife though the pressed oat mixture, being sure to cut all the way through. This will save you from crumbling later, as these bars dehydrate in the oven.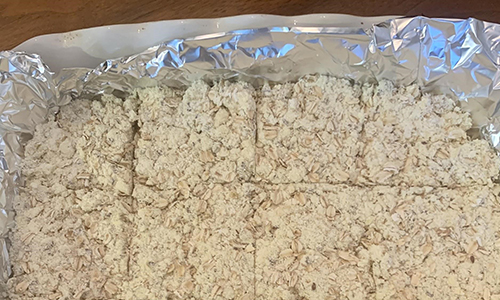 #10. Place the bars in a preheated oven and bake for 1½-2 hours or until very dry and crisp. The low oven should totally dry out the bars.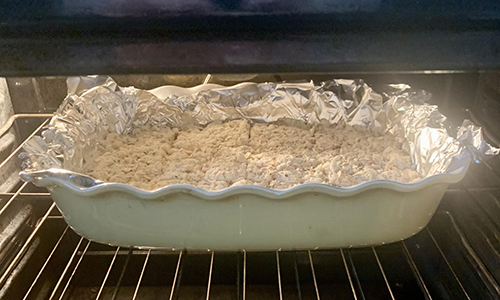 Related: How to Dry Plums for Long-Term Storage Just Like Grandma
#11. Remove from the oven and allow to cool. Store in an airtight container, mylar bag, or even a vacuum-sealed bag. These bars should last 1 year and provide energy anytime you need a boost.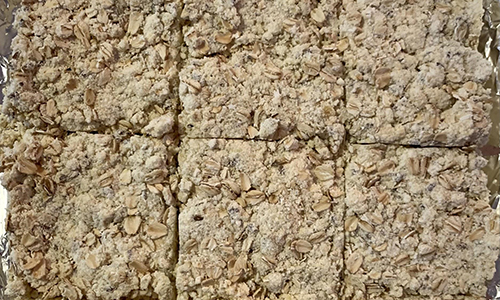 Storing for Up To 1 Year
Because these bars dried out so much in the oven, most of the moisture is removed from the dough. This works to our advantage because there is less of a chance that bacteria will creep in during storage.
The simplest solution is to store in an airtight container in a cool, dry place. For an added layer, you could store these in a ziplock or mylar bag, sealed, and then placed inside an airtight container. No special equipment required.
If you are a huge fan of mylar bags, purchase some quart-sized mylar bags with oxygen absorbers. Store your bars ¾ of the way full with 1 CC oxygen absorber and seal well. Mark each bag that you seal with the recipe name and date of seal. I like to add all homemade recipes in my stock to my food rotation list along with my packaged foods.
If you already have the equipment, feel free to vacuum-seal these bars and mark them for your food stock. You can seal the bars and cut into individual portions so that you never have to reopen a sealed bag. The nice packaging adds a little something special, especially if you make these energy bars for kids.
I like to keep boxes of dry jello mix in my stock. It's something that can be added to many dishes, like these long-lasting energy bars, and is fun to eat as a treat. Lemon-flavored jello was used in this recipe, but feel free to use any flavor that you like. Just be sure you're using jello and NOT pudding. Pudding is not the same as gelatin!
Also, feel free to add additional nuts, poppy seeds, sunflower seeds, or anything else that you like in your granola bars. Dried fruit works, although be sure it is very dry, crisp fruit such as freeze-fried strawberries or blueberries.
Final Thoughts
When you are creative with your food stock, your mind and belly are happier.
You can make a wide range of recipes with all of the food you have in your stock right now! It's all about knowing what you like and what you have at your disposal.
Once the recipe is done, make sure to store the extras in a proper way to maximize the yield.
You may also like: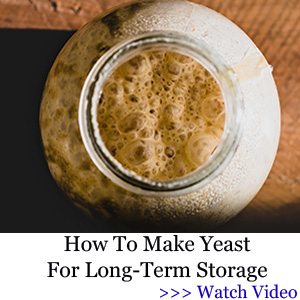 10 Good Spots To Hide Your Food In A Crisis
The Succulent Red Plant That Tastes Like Bacon (Video)
Why Doesn't The Government Want You To Be More Independent
The Only 4 Knots That You're Going To Actually Use In A Survival Situation