2020 has been a very trying year. The current global pandemic just dropped on us unexpectedly, causing a lot of anxieties including food and supply shortages in many households everywhere. At one point, many had been fighting over what little inventories some grocery stores and markets had.
But these circumstances have still managed to bring out the best in a lot of people, preppers or not. We see many who were up to the challenge of acquiring new skills and learning to adjust to fruitfully cope with the difficulties of the times.
This season is a good reminder for you to learn how to make your own food and provisions out of the everyday items that you already have at home. One greatly essential food that you can start practicing with or begin learning to make is no-knead sourdough bread. Not only is it easy to make, but it also requires just a few ingredients.
Sourdough bread is a very practical method of bread baking for preppers. You can make a delicious loaf of no-knead sourdough bread using just water, flour, and salt. Sourdough bread also has a longer shelf life than the typical bread you can buy in-store.
Making The Bread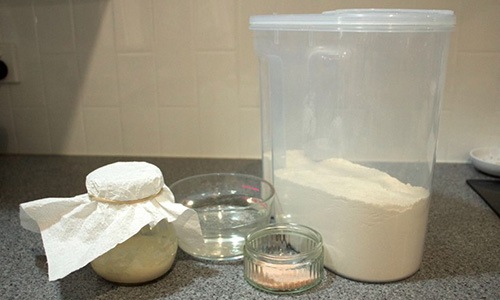 Ingredients:
50g or 1⁄4 cup of active sourdough starter
*You can keep reproducing sourdough starter for generations, literally. It's quite easy to make. All you need to do is mix flour & filtered water into a stiff dough, then leave it for a few days until it starts to turn gray and bubbly. Make sure to feed it with equal parts of flour and water every few days to keep it thriving.
Related: How To Cultivate Your Own Wild Yeast Starter
350g or 1 & ⅓ cups  + 2 tablespoons of warm/lukewarm filtered water
500g or 4 cups + 2 tablespoons of bread flour
*Any type of grain-based flour will work well for making sourdough. But bread flour works best.
9g or 1&1/2 tablespoons of sea salt
Preparation:
#1. Feed the sourdough starter at least four to eight hours or more before you use it for baking.
#2. Whisk the starter and water together in a large bowl.
#3. Add the flour and salt. Keep mixing until a stiff dough is formed. Finish by mixing it thoroughly with your hand to fully blend the flour in. The dough should feel dense and sticky.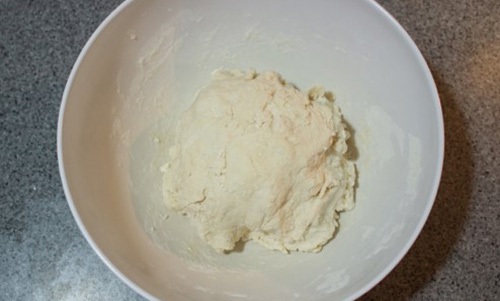 #4. Cover with a damp towel and let it sit for 30 minutes.
#5. After it's rested, work the dough into a smooth shaped ball. You can do this by grabbing the sides of the dough and folding it over and pressing your fingertips into the center of the dough. Repeat this around the dough until it tightens.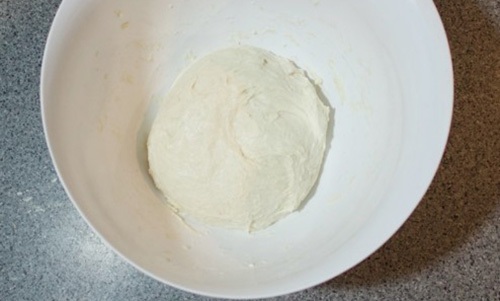 #6. Cover the bowl with a damp towel and let it rise overnight (at least 8-12 hours) at room temperature. The dough should be double its size, and it should no longer look dense.
#7. Place the dough onto a lightly floured surface and shape it there until it's round. Flip the dough over and let it sit for around 5-10 minutes.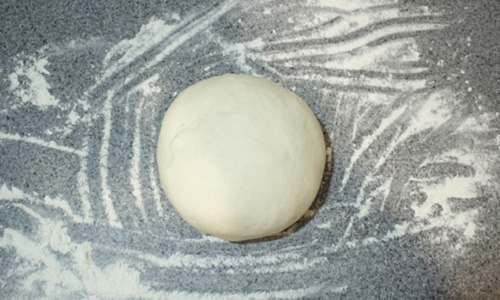 #8. Place a sheet of parchment paper or a towel in a bowl with the seams extending down. Sprinkle the towel or parchment paper freely with flour. You may also use a floured proofing bowl. Put the dough into the bowl and cover. Let it sit for around 30 minutes to an hour.
#9. Preheat your oven to 450 degrees Fahrenheit. Place a cast-iron pot or any other oven-safe pot in the oven with a lid on to preheat. And take it out once the dough is done resting.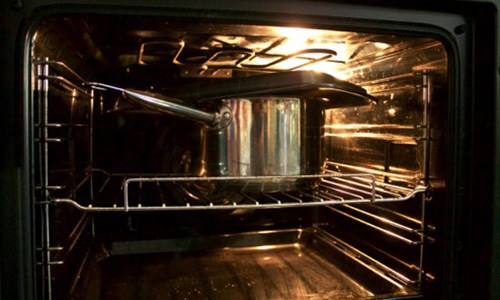 #10. Prepare a piece of parchment paper that has enough length for you to be able to pull the bread out of the pot. (You will gently place the dough onto this paper later with the seams facing up.)
#11. Using any sharp tool, score the bread with one line or with a cross pattern (or however way you want). And place it in the pot and put the lid on.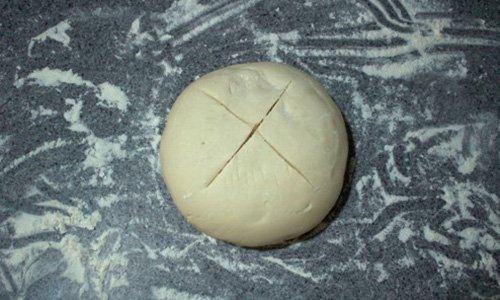 #12. Place it in the oven and bake for 20 minutes. After this, take the lid off and continue to bake the bread uncovered for an additional 25-30 minutes.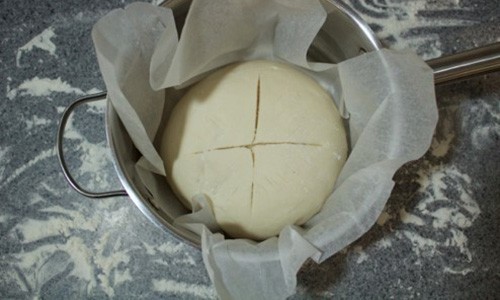 #13. Once the loaf is done, transfer it to a cooling rack. Let it cool for 30 minutes to an hour before you slice it.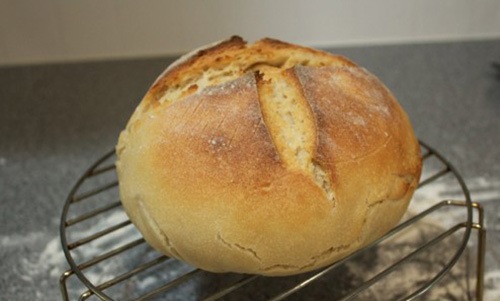 Slice, serve, store, or enjoy!
How Long Can Sourdough Bread Last?
No-knead sourdough bread generally has a lifespan of between 4-5 days at room temperature. But if you decide to freeze the sourdough bread, it can last for about 3-6 months.
Sourdough bread has natural mold-resistant properties, and it contains less moisture than other types of bread, which is why it usually stays fresher for a longer time. The natural acidity contained within a loaf of sourdough bread also deters bacteria.
Related: How to Make Emergency Survival Bread
Storing The Sourdough Bread Properly
You would want to let your fresh loaf of sourdough bread breathe. The best way to store a fresh loaf is by putting it in a cotton bread bag, a paper bag, plastic wrap, or by wrapping it in a large tea towel. These storage methods let the air circulate and prevent the bread from drying out too quickly. Place the loaf of bread in a fairly cool place for it to maintain ideally normal moisture levels.
For sourdough bread that's about three days old, it would be ideal to store them in an enclosed container. You can make use of a bread box, a plastic container, or a Ziploc bag. Leaving them out for too long will cause them to dry out and become too stale and hard. But enclosing them will trap the loaf's moisture, leaving the crust with a soft texture.
You may also use natural beeswax wrap to store your sourdough bread. Beeswax wraps are naturally porous and won't trap too much moisture in the loaf.
What To Avoid
Do not store the sourdough bread in the fridge. A fridge is a very dry environment and will make the bread harden too quickly. Storing the sourdough loaves in a plastic bag is also not a good idea since the plastic bag may cause the bread to moisten. If the bread becomes too moist and warm, it will most likely develop bacteria.
Related: How To Prevent Your Food from Spoiling?
Freezing Sourdough Bread
If you want to store slices or loaves of sourdough bread for a prolonged period, then you will have to wrap them in cling wrap, Ziploc bags, or Mylar bags and place them in the freezer. Make sure to squeeze out any excess air in each loaf of bread's wrapping before you seal it. Also, remember to protect your bread from freezer burn by wrapping it thoroughly. And you must let the bread cool down first before you freeze it.
As mentioned earlier, if it is stored properly in the freezer, sourdough bread will last anywhere from 3 to 6 months. Keep in mind, however, that its flavor and freshness will not anymore be the same the longer you store it. But, if you follow these steps well, then the frozen loaf may still taste almost as good as a fresh loaf when you consume it.
Slicing the loaf of bread before you freeze it may be more convenient if you only want to defrost one or two slices at a time for consumption.
Refreshing The Bread After Freezing
When thawing the bread, leave it at room temperature in the bag for several hours or overnight (depending on how big the loaf is). After it has fully defrosted, it should be ready to eat. You may also re-bake or toast the sourdough bread if you want it to be crispier and have the same texture as a fresh loaf of bread.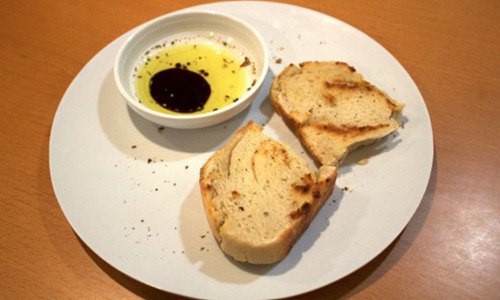 A slice of sourdough bread may only take around ten minutes to defrost at room temperature before it's ready to eat. Because a slice defrosts quicker, the bread will retain its fresh taste and texture.
Sourdough bread can be served however way you like. This delicious bread takes minimal effort to make and is composed of simple ingredients. Be prepared for any shortages by honing your baking skills by practicing with this no-knead sourdough bread.
You may also like: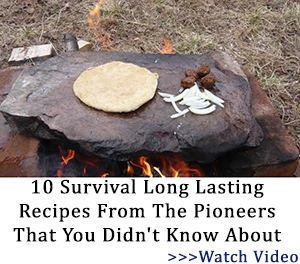 Canning Pasta Sauce for Long Term Preservation
How to Make Bark Bread from a Tree that Grows on Almost Every Street in America (Video)
What Is The Best Way To Store Water For SHTF?
WARNING: Top 1% Farmer Voices His Concerns About The Coming Food Crisis