Spring is the time of year when nature awakens from its winter slumber and offers up a bounty of wild edibles just waiting to be harvested.
Whether you're an experienced forager or just starting out, there's no better way to enjoy the season's offerings than by canning them for later use.
Here are 15+ wild edibles for spring canning that you won't want to miss.
Important Note: Always be aware and current on canning safety.
Many things cannot be safely canned, for example. Morel mushrooms are highly prized mushrooms that can not be canned as they release toxic hydrozines when cooked. Canning traps this poison, leading to a form of botulism.
Ramps
These wild plants, including wild leeks, are highly sought after. Many people love ramps or wild leeks for their pungent garlic and onion flavor.
Ramps can be canned in a pickling solution to create a flavorful addition to any meal.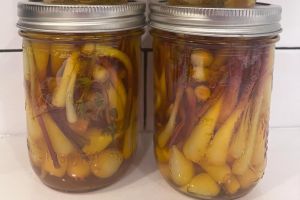 Caning: Easily create pickled ramps using ramps, water, white vinegar, sugar, salt, bay leaves and mustard seeds.
Begin by cleaning the ramps well, trimming the roots and tops. Pack the trimmed ramps into a 1-quart jar, and cover with the combined ingredients before sealing the jar.
Related: The Most Dangerous Plant Look-Alikes
Allow the ramps to soak in the brine for at least 2 weeks before eating. However, adequately sealed, pickled ramps can last a long time in storage.
Fiddleheads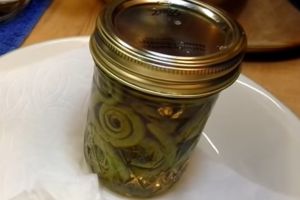 These young fern fronds are a springtime delicacy and can be canned in various ways.
Canning: One easy recipe for canning fiddleheads is to boil vinegar, sugar, and salt, pour the mixture over the fiddleheads, seal the jar, and process for 10 minutes.
Wild garlic
One of the most popular items to forage is wild garlic. The bulbs of this plant can be canned in vinegar-based brine to add a unique flavor to your dishes.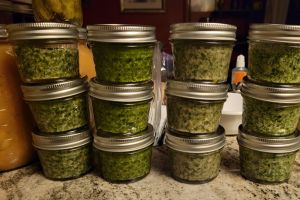 Canning: While you can use wild garlic to create sauces and pesto, add it to soups, or use it in cooking, the easiest canning solution is to create a wild garlic paste.
Using only fine salt and oil, you chop the leaves before placing them in a processor to create a mash.
Next, add salt and oil until it becomes a paste. Garlic paste can be safely stored in a sealed jar in the fridge for up to 6 months or can be kept longer if properly sealed with a canner.
Dandelion Greens
These bitter greens are found in abundance. While they are usually viewed as pesky weeds, dandelion greens can be dried, frozen, or canned in a simple vinegar-based brine.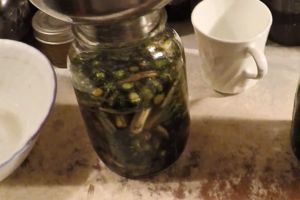 Canning: To make 7 canned quarts, you will need approximately 28 lbs. of dandelion greens. Ensuring they are thoroughly washed, steam the greens.
Fill jars with loose leaves, adding a small amount of salt to each jar. Cover the leaves with boiling water, leaving 1 inch of headspace.
Process in your canner for 70-90 minutes, depending on jar size. Some people use vinegar, add honey, or even use crush chili peppers. There are many recipes online to make a variety of flavorful creations.
Stinging Nettle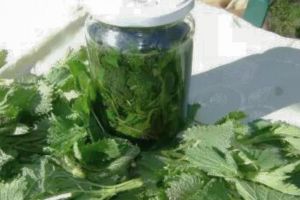 Stinging nettle is a nutritious plant that can be canned in a water bath canner and used to make a tasty and healthy addition to soups and stews.
Canning: Fresh nettle is super easy to preserve with canning. All you need is stinging nettle, salt, mineral water and canning jars.
Add 1 tsp of salt to each jar and fill to the rim with mineral water—process for 10 minutes and store in a cool, dark place.
Wild Asparagus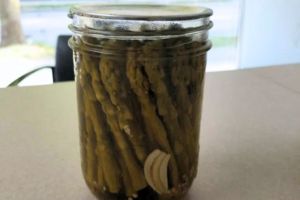 This springtime favorite can be canned in a water bath canner to preserve its delicate flavor for later use.
Canning: Fill canning jars with trimmed wild asparagus and boiling water – leaving 1 inch of headspace and allowing them to soak for 3-5 minutes. You can add salt or any other desired flavors.
Process the jars in your canner at 10 lbs. pressure for 30-40 minutes.
Elderflowers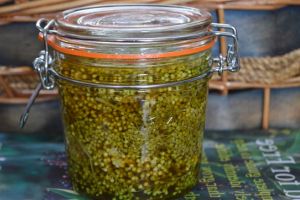 These fragrant flowers are often used in jellies and jams.
However, elderflowers can be canned in a simple syrup solution to make a delicious and refreshing summer drink.
Canning: Pickling elder flowers is simple.
Bring 1-2 cups of white vinegar, 1-2 cups water, and 100-150 g of sugar to a boil. Pour the mixture over 10+ elderflower heads and allow it to cool. Seal and store this mixture for a few months or extend storage time using a canner.
Wild Strawberries
If you are overrun with wild strawberries, there are many ways to store them for later use. These small, delicious berries can be used in jam, frozen, or dehydrated.
Related: How To Make The Long-Lasting Native American's Wojapi Sauce
Although wild strawberry jam is good, these delightful treats can also be canned through water bath canning or stored in simple syrup. Canned wild strawberries will last 18 months or longer, depending on the process.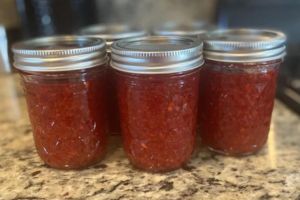 Canning: Use 2 cups of water and 3 ½ cups of sugar to create a sweet syrup. Begin by coating the strawberries in sugar, ensuring all the berries are well-coated.
Allow the strawberries to rest for 5-6 hours by covering them and placing them in the fridge.
Transfer the now syrup-covered strawberries to a large pot and heat over low-medium heat, stirring occasionally.
Scoop the hot strawberries and syrup into your prepared jars, leaving ½ inch of headspace. Transfer the filled jars to a water bath canner. The jars need to process for at least 10 minutes. Check your seals and store them with a label and the date.
Blackberries, Serviceberries, Wild Plums, Cherries, Blueberries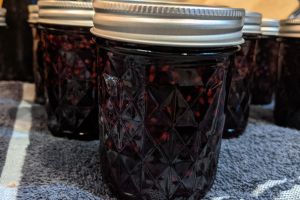 All these juicy berries can be canned in a water bath canner to make jams, jellies, and syrups.
Canning: Similar to the process for wild strawberries, you can also use a water bath canner to preserve blackberries. You can follow the steps explained in the canning instructions for strawberries.
Rose hips
These vitamin C-packed fruits can be dried for storage, turned into jelly, or canned in a simple syrup solution to make a tasty and nutritious tea.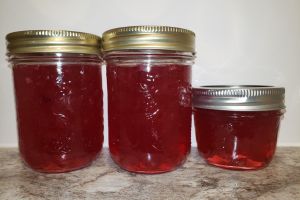 Canning: Chop the wild rose petals by hand or using a food processor. Add the petals to a pot with 4 cups of water and bring to a simmer for 20 minutes.
Drain the liquid into a storage container using a fine mesh strainer. The liquid should be clear. If the liquid is not clear, strain it again.
Related: My Grandma's Method of Canning Eggplant
Pour the liquid back into the pot and add 4 cups of sugar and the remaining 4 cups of water. Simmer until all the sugar is dissolved.
Add your rose hip syrup to jars, leaving a ½ inch headspace. Add the lids, and place the jars in your canner and process for 10 minutes.
Red Clover Blossoms
So sweet and powerful, Red clover blossom flowers can be canned in a simple syrup solution to make tea or used to create clover-blossom jelly.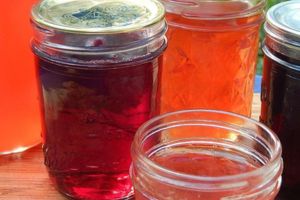 Canning: Begin by removing all the stem parts from the blossom and washing them. Bring 4 cups of water to a boil, turn off the element, and add the flowers.
Cover and let soak for 45 mins. Stir and let sit overnight. Strain the liquid back into the pot and compost the red clover blossoms.
Heat 4 cups of your blossom infusion liquid, 4 cups of sugar, approximately ¼ cups of lemon juice, and a pouch of powdered pectin until all the sugar dissolves, stirring often.
You want to heat the mixture to 220 degrees to allow proper setting. Fill your canning jars, leaving ¼ inch headspace—process for 10 minutes.
Wild Violets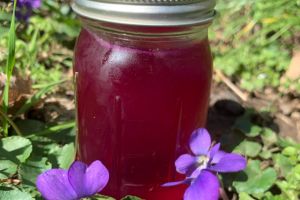 One way to preserve wild violets is by canning them in a simple syrup solution. This technique creates a tasty addition to a wide range of desserts and sweet treats.
Canning: You can use the directions above to create a violet jelly or turn these fragrant flowers into tea.
Wild Carrots
These flavorful greens can be canned in a simple vinegar-based brine to add a unique flavor to salads and other dishes.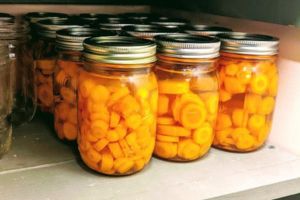 Canning: Whether wild or store-bought, cut the carrots into the desired size and place them into canning jars. Cover the carrots with boiling water and 1 tsp of salt, leaving 1 inch of headspace.
Close the jars, wipe the rim, and place them in your canner to process for 25-30 minutes, letting them cool when finished.
Purslane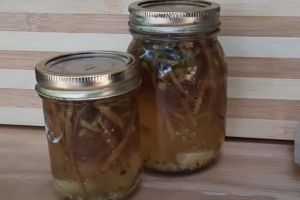 This nutritious plant grows in abundance in many gardens. It can be canned in a simple brine to make a flavorful addition to salads and other dishes.
Canning: You can safely can wild greens with a pressure canner. You start by washing the greens well, then blanch them.
Pack the greens into jars, leaving 1 inch of headspace. Fill the jars with boiling water. Wipe the rims, attach the lids, and add to the canner to process for 1-1 ½ hours, depending on the jar size.
Wild Mustard Greens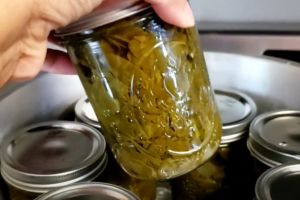 These flavorful greens can be canned in a simple vinegar-based brine to add a unique flavor to salads and other dishes.
Canning: Wash the greens thoroughly. Drain the water and cut through stems and midribs. Blanch your greens 1-pound at a time, followed up by steaming them for 3-5 minutes.
Place your canning jars in hot water while cleaning and blanching your greens, removing them only when you are ready to use them. Add ½ tsp. salt for each pint or 1 tsp. for quarts, along with loosely-packed greens.
Add boiling water with 1-inch headspace—process pints for 70 mins at 10 lbs pressure and quarts for 90 mins at 11 lbs. Let your jars cool for  12-24 hours.
There are so many delicious things growing all around us. Why not make the best of it and forage for some of your food?
Canning what you forage allows you to safely store foods that would otherwise spoil. There are many unique recipes for various foods.
Spring into canning with these ideas, or share your own canning tips in the comments.
You may also like: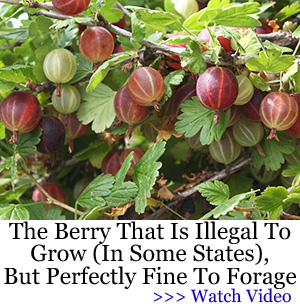 Best Methods To Spot Fake News
The Medicinal Plants Doctors Are Begging People To Grow (Video)
How To Make Turmeric Powder For Treating Inflammation When SHTF
The Best Prepper Items To Leave As An Inheritance
The First States That Will Go Down In A Collapse. Do You Live In The Red Zone?