Turmeric, or Curcuma longa, is a member of the ginger family, native to South-East Asia. It forms large rhizomes which are harvested for their use in cooking and traditional medicine.
As well as lending an attractive yellow color to dishes, turmeric is used for its anti-oxidant and anti-inflammatory properties.
The active compounds in turmeric are curcuminoids, most notably curcumin.
It is this compound that is thought to be responsible for the positive medical effects of turmeric supplementation.
How To Use Turmeric For Inflammation
There are a number of scientific studies supporting the use of turmeric for the treatment of inflammation and pain.
Osteoarthritis patients are a particular target, because of the long-term nature of the disease and the risk of side effects that come with standard medications.
Turmeric has been shown to improve pain scores and physical function, as well as blood markers of systemic oxidative stress. It has been shown to work as effectively as ibuprofen and diclofenac, but without the gastrointestinal risks, in trials of up to 3 months in duration.
Many studies on turmeric for inflammation are based on 500mg of turmeric extract three times a day. Higher doses of 2g turmeric extract have been trialed as a pain relief treatment, and found to be as effective as acetaminophen at relieving pain within 2 hours.
But there can also be side effects of using turmeric in the long-term, and it is recommended that you shouldn't exceed 8g of turmeric extract per day for more than 8 months.
There are also specific groups of people who should avoid using turmeric at medicinal levels. These include people with gastrointestinal conditions, gall stones or bile duct obstruction, iron deficiency and estrogen-sensitive conditions like endometriosis or breast cancer.
Pregnant women and those taking blood thinners like warfarin should also avoid taking turmeric for inflammation.
Properties of Curcumin
To get the greatest effect when using turmeric for inflammation, it is important to understand the properties of curcumin.
The amount of curcumin in fresh turmeric varies widely, depending on the variety of turmeric and where it is grown. It can be less than 1%or more than 8%. But on average, one teaspoon (5g) of turmeric powder contains around 200mg of curcumin.
Curcumin is not soluble in water, but is soluble in oil and alcohol. This means that using it in teas or infusions will not have a beneficial effect unless the grounds are consumed as well.
Related: How to Make Your Own Turmeric Drops
It also means turmeric stains on hands and kitchen equipment are hard to clean with soap and water, but respond better to warm oil.
The curcumin molecule degrades in heat and light. This means turmeric should be stored in a dark container or in a cupboard, and care should be taken when heating it. Cooking turmeric for 10 minutes can drop the curcumin content by 30-50%, and cooking for 30 minutes or more degrades 85% of the curcumin it contains.
However, some research suggests that the resulting compounds also have similar medical properties to curcumin, so it is unclear whether heating affects how turmeric can be used for inflammation.
Still, if you want to be certain to get the most out of your turmeric, avoid heating it during the preparation of the powder, and add it at the end of cooking dishes.
How To Make Turmeric Powder
For a dose of 500mg curcumin three times a day, you will need 45g powdered turmeric each day. It takes around 150g of fresh turmeric to produce 45g of dried powder. This fresh harvest is around 500g.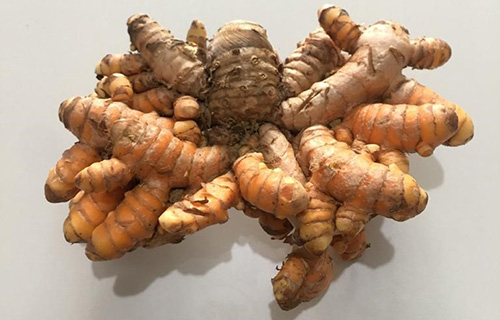 Gloves are recommended when handling turmeric and be aware that it might stain your kitchen equipment as well. The first stage in making turmeric powder is to wash and peel the turmeric.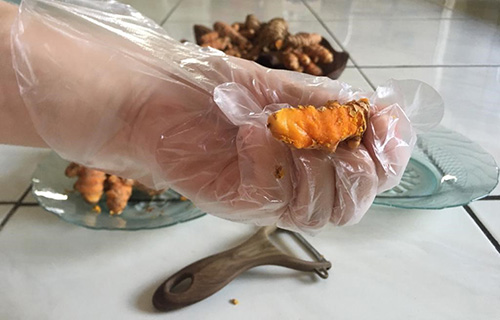 The only reason for peeling is to be sure that you have removed all traces of dirt from the turmeric. The skin is very thin and comes away from fresh turmeric very easily if you rub it with a sharp knife.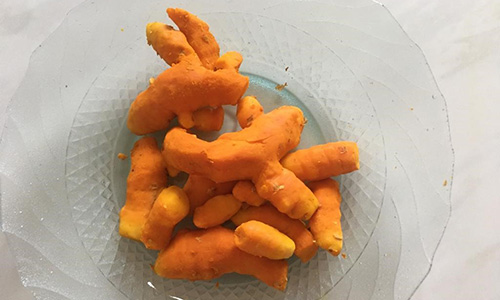 The next step is to grate or slice the turmeric so it will dry easily. I prefer using a peeler to make thin slices of turmeric, because the slices are easier to separate and dry than grated turmeric.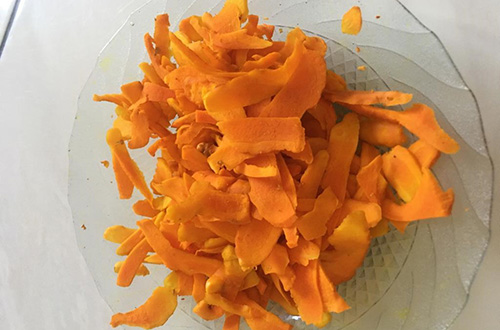 There are various options for drying the turmeric slices:
Drying Method

Pros

Cons

Oven Drying

2 hours at 130°C

Highest heat so curcumin damaged

Dehydrator

Several hours at 100°C

Balance between speed and heat

Need a dehydrator
Won't work without electricity

Air Drying/ Sun Drying

Several days

Natural
Lowest heat means maximum curcumin
No electricity: Fully SHTF ready

Takes up to 14 days
Weather-dependent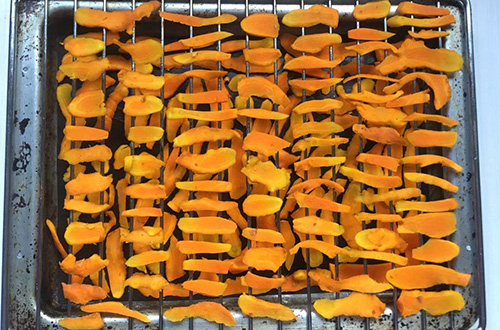 If you want to preserve as much curcumin as possible in your turmeric powder, there is no doubt that sun drying is the way to go.
This can be a risky choice depending on the weather, as a rainy spell or too much humidity can make it moldy.
Related: Should You Throw It Out? These Moldy Foods Are Still Edible
If possible, start the process on a sunny day so that as much moisture as possible comes out of the turmeric in those first few hours.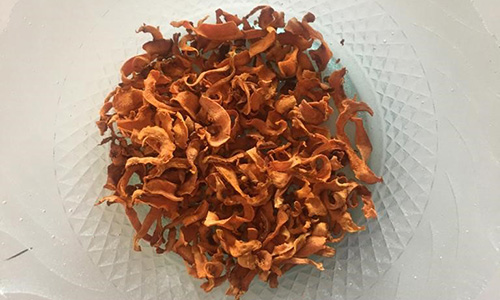 The test for whether your turmeric is fully dry is the snap test: the strips should be brittle, and snap cleanly when you bend them.
If they are still soft or bendy, they still need longer. This batch took ten days to fully dry.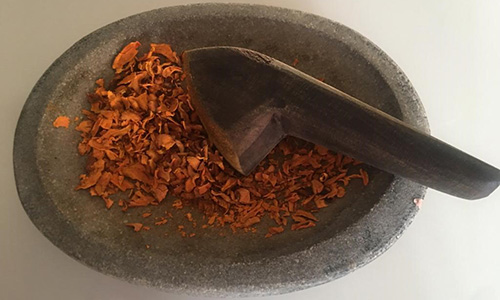 Once dried, it's time to grind the turmeric into a powder. You can do this by pulsing in an electric grinder, using a hand grinder, or a pestle and mortar.
The process can take a while, and it's worth sieving the powder periodically to separate out the larger pieces that need more work.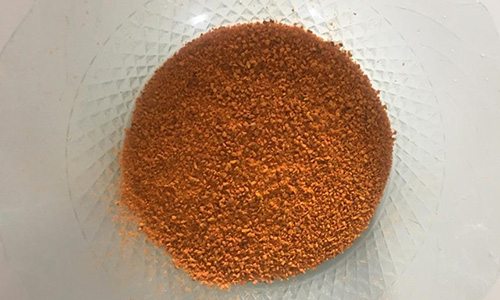 Store your turmeric powder in an air-tight glass jar.
It should be good for a year, although if you are using it to treat inflammation, chances are you will use it up much sooner.
You may also like: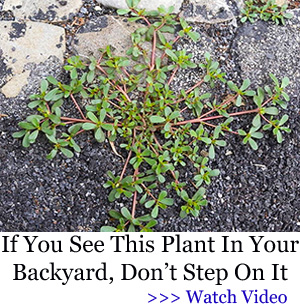 How To Make A Meat Powder That Can Last 5 Years
What Happens If You Pour Honey Over Turmeric (Video)
8 Plants That You Need To Know How To Harvest Seeds From
The Best Way to Train Your Dog For Hunting And Security
Why You Should Replace Your Painkillers